McIntosh "Green Lights" MT2 Turntable
low profile, high performance
Since its founding in 1949 by Frank McIntosh the company that bears his name has flirted with non-electronic analog gear, but only rarely did it produce any, though of course for decades records and to a lesser degree pre-recorded tapes were the primary sources of music. McIntosh produced its first AM-FM tuner, the MR55 in 1957 and later became well known for its MR67, MR71, MR77 and MR78 tuners, the latter two designed by Richard Modafferi, who was a Senior Engineer at McIntosh from 1968-1974. The aptly named Modaferri, who is still with us, continues doing mods to his designs as a consultant to Audio Classics located in Vestal, NY, nearby to Binghamton where McIntosh was founded and still headquartered at 2 Chambers Street. I picked up an MR67 in wood case at a garage sale for $50 some years back and had Richard do his magic.
In the mid 1950s McIntosh released at least a half dozen LPs on its own label but then stopped. Between 1983 and 1987, with a push by company co-founder the late Gordon Gow, McIntosh did get involved in the stereo cartridge business, having two moving coil models, the MCC800 and MCC1000, built In Japan to company specifications. It also manufactured a moving coil "head amp", the MCP-1 to boost the low output to make the two MCs compatible with McIntosh moving magnet phono sections built into some of its preamplifiers. By this time CDs were "taking over" so McIntosh exited the cartridge business.
In the late 1970's an MIT engineer names Bob Graham, yes that Bob Graham approached McIntosh with a unique inverted tungsten carbide bearing unipivot arm he'd developed. Gordon Gow helped Graham get a patent for the design and a number of McIntosh prototype arms— the Graham design—were produced, but the dawn of the CD era was upon the audio industry and the company decided to not market a tonearm. Thus was born Graham Engineering.
The rising popularity of vinyl records and turntables left McIntosh with an empty slot to fill. The company had stuck to electronics and in order to create a McIntosh branded turntable, it had to look outside to have turntables made by specialists to its specifications, which made a great deal of sense.
McIntosh markets 4 turntables, one of which, the MTI100 is a Bluetooth equipped "all in one" design needing just speakers. You needn't be a turnable genius to note that the MTI100's mechanical "guts" are built for McIntosh by VPI Industries. The other 3 are more traditional models, with the the MT2 reviewed here, costing $4000, the least expensive. The MT10 costs $12,000, the MT5, $6500.
Though the MT2 was introduced back in 2018 it's still in production and when once was offered for review, I decided a review makes sense. All 3 of these models appear to be built to McIntosh's specifications in Germany by Clearaudio—a company with decades of turntable and tonearm experience and with a well-deserved reputation for having high-precision "in-house" machining capabilities.
The MT2
The MT2 is a two speed (33 1/3, 45rpm) belt drive design, featuring a CNC machined 6.25 inch diameter, .96 pound aluminum sub-platter rotating on a polished and tempered Teflon-coated steel shaft/sintered bronze bushing. The flat belt rides on the sub-platter periphery and a brass pulley atop a polymer isolated servo-controlled D.C. motor driven by a "Wall-wart" type voltage stabilized power supply. Basic stuff, well-accomplished. The full-sized, 5.07 pound, 1" plus tall dynamically balanced POM (polyoxymethylene) platter is nicely machined and topped with a supplied record mat, though of course you can roll your own. Trim pots on the chassis rear allow you to independently adjust both speeds, though accessing the recessed screws is not easy.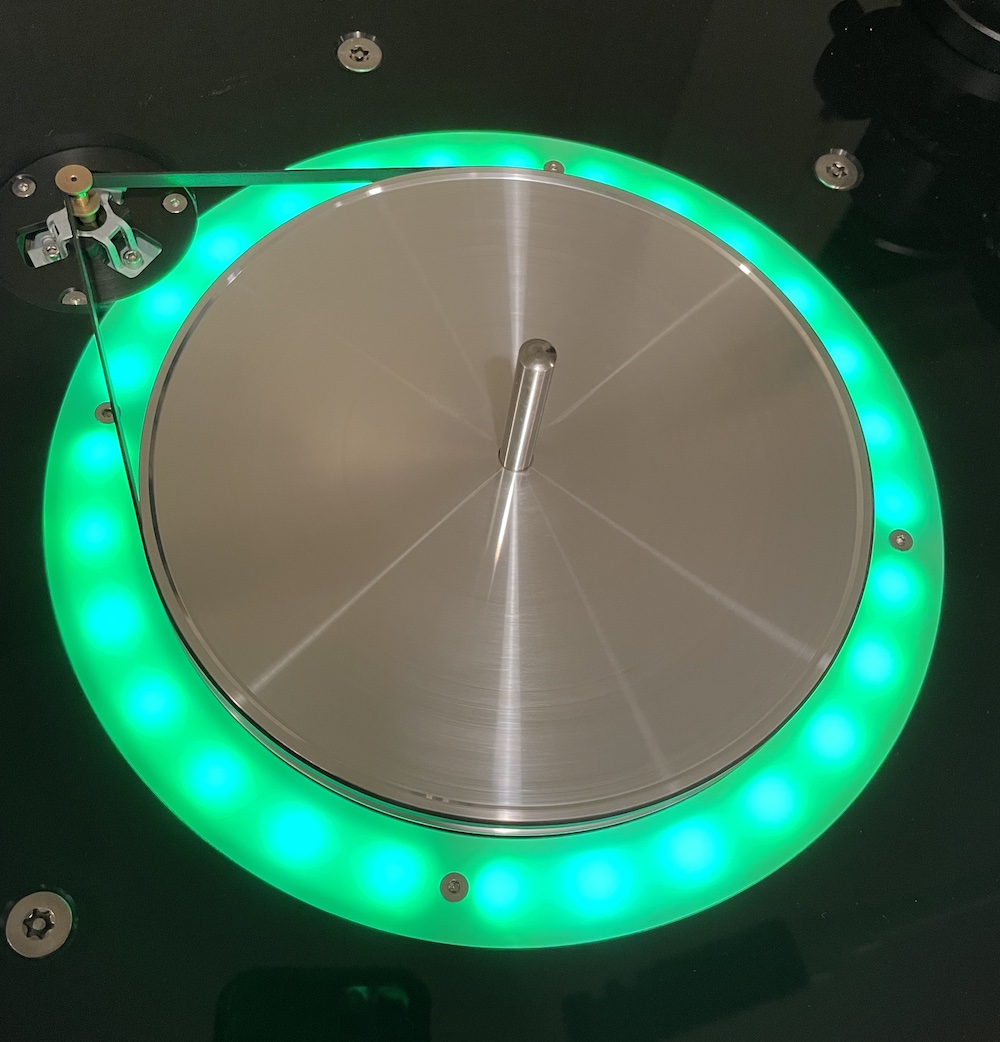 Subplatter, flat belt, pulley, polymer isolated D.C. motor and LED green glow
The approximately 17" x 15" chassis is a resonance optimized, highly compressed black lacquered wood chassis. Top and middle acrylic plates also absorb vibrations. Custom designed fiber optic light diffusers and extra long life LEDs produce the traditional McIntosh green glow, here, more modestly and IMO more tasteful done than on the bigger 'tables. The chassis sits on height adjustable feet.
The straight pipe approximately 8.8" tonearm (McIntosh provides neither arm length or effective length so I measured pivot to spindle distance) is of specially damped dural aluminum. The fluid damped vertical bearings have high precision ceramic surfaces, while the horizontal one is a gimbaled sapphire type. Tracking force is set by moving the counterweight on the rear stub. McIntosh provides a basic tracking force gauge. The arm allows for VTA/SRA adjustment but not azimuth. Anti-skating is of the lever/weight type. No markings are provided on the level corresponding to tracking force.
At some point subsequent to the MT2's introduction McIntosh switched the supplied cartridge from a Sumiko Blue Point Special 2 ($449), high-output moving coil to a $299 Sumiko Moonstone moving magnet design. That could be a supply chain issue or perhaps the company preferred the Moonstone's sound. The well executed instruction manual still describes the Blue Point set up procedure.
Set-Up
The instructions feature excellent unpacking and set-up illustrations and guidance. Remove the protective mesh from the vertical bearing shaft, place the belt around the sub-platter periphery and crowned pulley, carefully lower the main platter atop the sub-platter, level the turntable, remove the packing material from the arm and you are pretty much ready to go once you've plugged in the turntable and added your own RCA to RCA phono cables. The back of the chassis has a clean layout with easily accessible RCA jacks and a ground lug.

There's also a green tinted dust cover that protects the platter and arm as well as a record "puck" that goes over the spindle once the record is on the platter. You have to remove it to use the dustcover.
The idea here is "out-of-the-box-and-just-about-ready-to-go" set up ease. The Moonstone comes installed and even the counterweight is on the shaft set to the proper tracking force. Same with anti-skating and SRA/VTA.
The instructions tell you to check the tracking force, which is a good idea. I measured 2.9 grams instead of the recommended 2. I also used the WallySkater to check anti-skating and found it came factory set with too much anti-skating applied. While "plug and play" is a noble goal especially when selling a turntable to a vinyl "newbie" it rarely goes as planned and usually requires a bit of "tweaking". I suspect every McIntosh dealer selling this or any of their turntables will either unbox and check these things before sending customers home with them. At least they should.
Well-Tuned Sound and Good Measured Performance
Using the MT2 is simple. There's a single McIntosh style knob on the left side of the chassis top to set speed or off and that's it. Out of the box the MT2 spun at an average of 33.4 rpms, which for all intents and purposes is "spot on". 45 was equally good. You can tweak it if desired using a pair of potentiometers accessible on the chassis rear. Shaknspin app measurements were very good: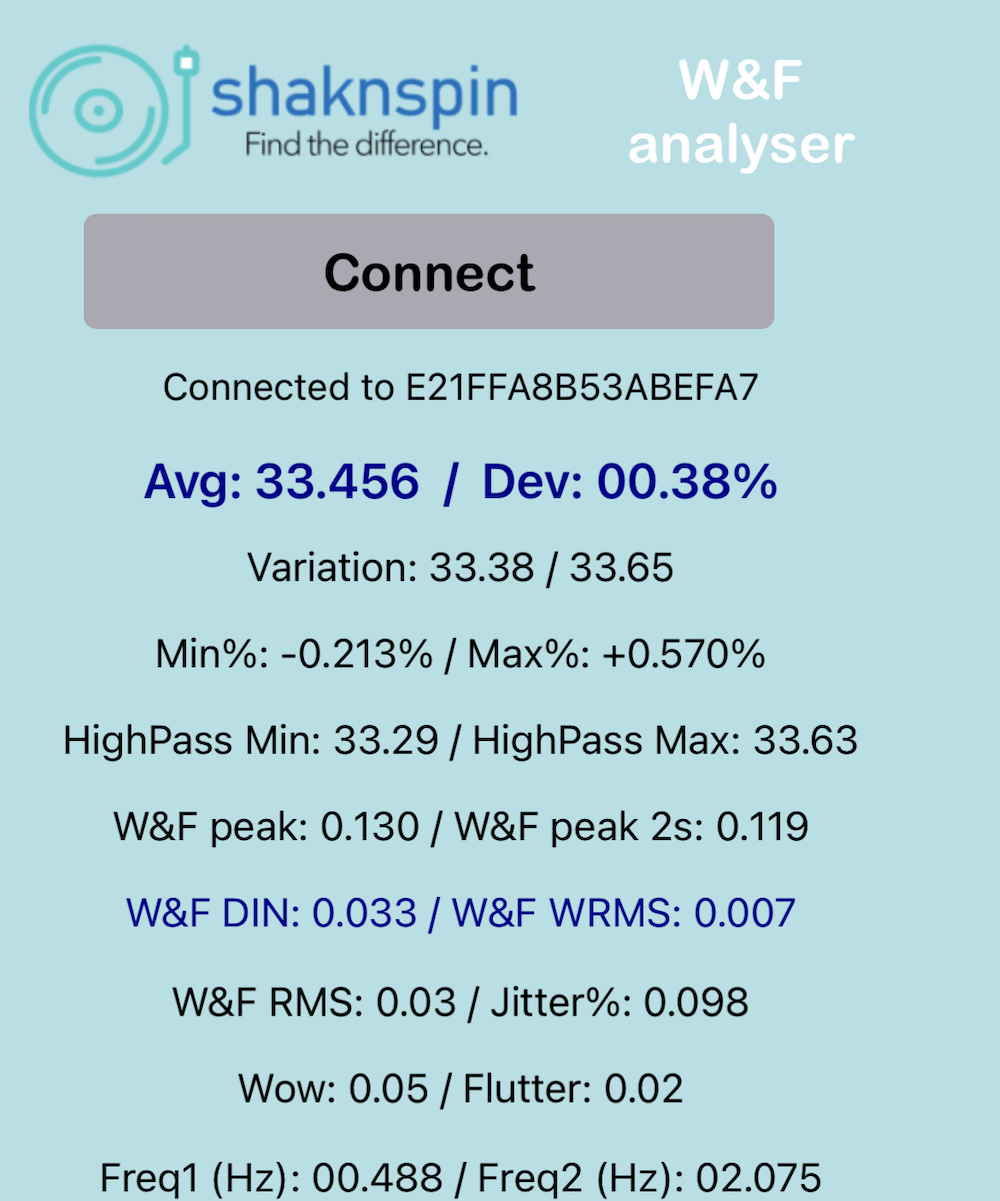 The MT2 did very well in my usual impulse "tap tests". The arm is very well damped. Tapping on it did not transmit any energy to the speakers. Tapping on the platform upon which the MT2 was sitting (an HRS Isolation base) transmitted very little energy to the stylus in the groove of a record on a non-spinning platter. Tapping on the turntable top plate also indicated a high degree of isolation from the platter and arm.
How did the MT2 sound? Being well familiar with the Moonstone's well-balanced, agreeable but slightly warm sonic signature made clear that the MTR has been effectively tuned to deliver what the cartridge is trying to say rather than imparting its own sonic signature upon the sound.
I like to start off turntable reviews with the Analogue Productions double 45rpm reissue of Soular Energy (APP 268-45) by The Ray Brown Trio featuring Gene Harris cut by Kevin Gray back in 2013. The original appeared on Carl E. Jefferson's Concord Records label. This record has great dynamics and prodigious bass energy that can trip up "lively" plinths and over-damped ones as well. The lively ones produce excess bass energy resulting in soft attack, time-smear and bloat. Overdamped ones produce lackluster bass, with weak sustain and little drive.
The MT2's performance on this record made me think this was a carefully tuned product, one that people at McIntosh involved themselves in and not simply one they slapped their name upon. The bottom end produced by the MT2 well-reflects the Moonstone's pleasing, somewhat warm, but very well controlled and extended bottom end. There's a new 3 LP set also from Analogue Productions called The Wonderful Sounds of Quality Record Pressing (APP 147) that I wrote liner notes for. The record was originally commissioned by Thorens in 2008 to celebrate its 125th anniversary. It was a limited edition that quickly sold out. Used copies on Discogs fetch hundreds of dollars. This is a re-purposed edition of that set pressed from the same metal parts.
One side contains classical selections from the Reference Recordings catalogue. There's tremendous bass extension and energy on some of these tracks and again the MT2 effectively handled the prodigious bass in the grooves of these tracks. The MT2 is also a very quiet turntable, so even on the quietest passages, music emerged out of black backgrounds and the well-damped turntable did a good job of suppressing instead of emphasizing minor pops and clicks on records that had some, (which didn't include the 3 LP set).
I played A Festival of Trumpet (Nonesuch H 71301) a Marc Aubort engineered and Bob Ludwig mastered LP you can probably pick up on Discogs for around $10 (which is what I did). It's an amazing 1974 recording featuring the New York Trumpet ensemble directed by Gerard Schwarz who is still working). The presentation has everything: wide dynamic swings, intense three-dimensional imaging, timbral beauty and exceptional playing.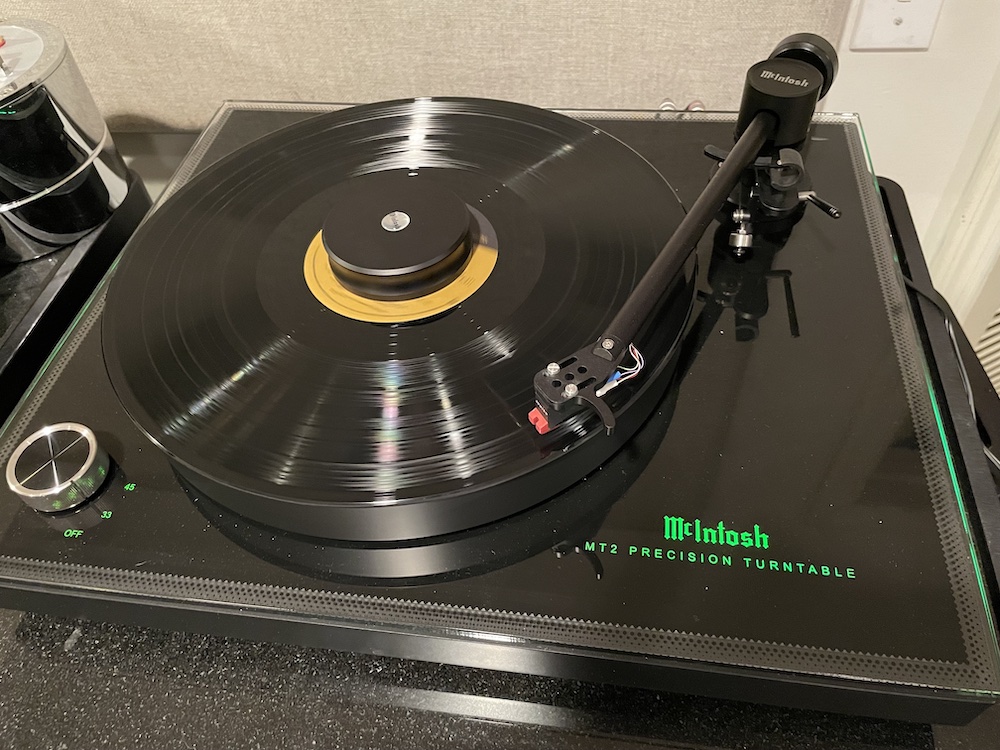 I can only imagine a McIntosh "digital customer" who listens to a great deal of classical music taking a chance on a turntable and choosing this one. Hearing this recording, despite an occasional pop or click would no doubt blow that person's mind (these Nonesuches were budget records and while the mastering was always exceptional and more often than not by Bob Ludwig, sometimes the vinyl has issues similar to sitting at a live concert filled with old people)—and not just because of the recording's three-dimensionality or the sweet string tone. The microdynamic shifts produced by the baroque trumpet blasts are eye and ear openers as are the drum smacks on the right channel. They sound "real" in ways digital has trouble creating. The MT2's presentation of this record communicates everything that's great about vinyl playback of classical music and considering that other than the most costly collectibles the market is wide open and inexpensive I'd imagine said McIntosh "digital customer" would soon be combing the used classical sections of record stores, Ebay, Discogs and if he was smart, Goodwill stores and Barnes & Noble.
Conclusion
As delivered with the relatively low priced Sumiko Moonstone, the McIntosh MT2 sounded both sweet and enticing and capable of producing, when called for, grit and decent "slam". Certainly the trumpets on that Nonesuch had plenty of high frequency energy and "brass" to satisfy. No doubt a cartridge upgrade would produce major sonic benefits and with this arm, there's no limitation. One could stay in the Sumiko family for the Amethyst MM or up to the Celebration 40 low output moving coil and the sonic upgrade would be obvious.
There are many good turntable choices at the $4000 price point. The McIntosh MT2 turntable is highly competitive in a highly competitive market segment. For a McIntosh aficionado with a complete McIntosh system looking for a turntable in the $4000 price range, an added bit of green glow comes without sonic sacrifice.
Specifications
Price: $4000 with Sumiko Moonstone MM cartridge

Serial #: AFS 1367

TONEARM SPECIFICATIONS

Bearing Sapphire and Ceramic

Arm Tube Dural-Aluminum

Counterweight Eccentric

Adjustments Vertical Tracking Angle, Antiskate, Azimuth (specs say azimuth can be adjusted, but how was not in the instruction manual)

TURNTABLE SPECIFICATIONS

Playback Speeds 33-1/3 and 45 rpm

Motor Type DC Motor with Stainless Steel Brushes

Speed Control Servo System

Platter Dynamically balanced polyoxymethylene (POM)

Platter Bearing Polished and tempered steel shaft in sintered bronze bushings

Signal To Noise Ratio 35dB - 40dB

Wow & Flutter 0.15% - 0.25%

CONNECTIVITY

Stereo Outputs Unbalanced

CONTROL

Power Control Input0

Power Control Output0

Platter LightN/A

Speed Control Fine Adjustment Yes

GENERAL SPECIFICATIONS

WEIGHTS & DIMENSIONS 

Unit Dimensions (W x H x D)17-13/16" (45.2cm) x 5" (12.7cm) (6" (15.2cm) with dust cover) x 17" (43.2cm)

Note: Tone Arm Height will vary depending on the type of Cartridge installed.

Unit Weight 29 lbs (13.2 kg)

Shipping Weight 39 lbs (17.6 kg)
Cartridge Type: Moving Magnet

Stylus: 0.3µM x 0.7µM Elliptical
Cantilever Material: 0.5mm aluminum
Wire Material: pure copper
Internal Impedance: 1,130Ω
Load Impedance: 47kΩ
Frequency Response: 12Hz - 33kHz
Output Voltage: 3.0mV
Channel Separation: 30dB @ 1kHz
Channel Balance: 0.5dB @ 1kHz
Compliance: 12x10-6 cm/dyn @ 100Hz
Recommended Load Capacitance: 100pF - 200pF
Vertical Tracking Angle: 20°
Tracking Force: 1.8g - 2.2g
Recommended Force: 2.0g
Cartridge Weight: 6.5g
Replacement Stylus Unit: 
   RS Rainier
   RS Olympia
   RS Moonstone
Manufacturer Information