Pro-Ject's Evolution X8 Turntable Throws A Monkeywrench Into the Marketplace
So much turntable for such an agreeable price (video review on TA YouTube channel)
A rough definition of "economies of scale" is the cost advantages produced by increased production. The more you produce, the lower the cost per unit, measured by the amount of output per unit of time. Usually this results in either the same product costing less, or a better product for the same cost as a not as good previous one.
It's not clear how long it takes to assemble, box and package Pro-Ject's new X8 Evolution turntable, or how economies of scale work at the company's two Livotel, Czech Republic factories (the newer, second one is a large, multi-CNC machine shop) but the new turntable makes obvious that the company can now offer a lot more turntable for considerably less money. For more about Pro-Ject, go here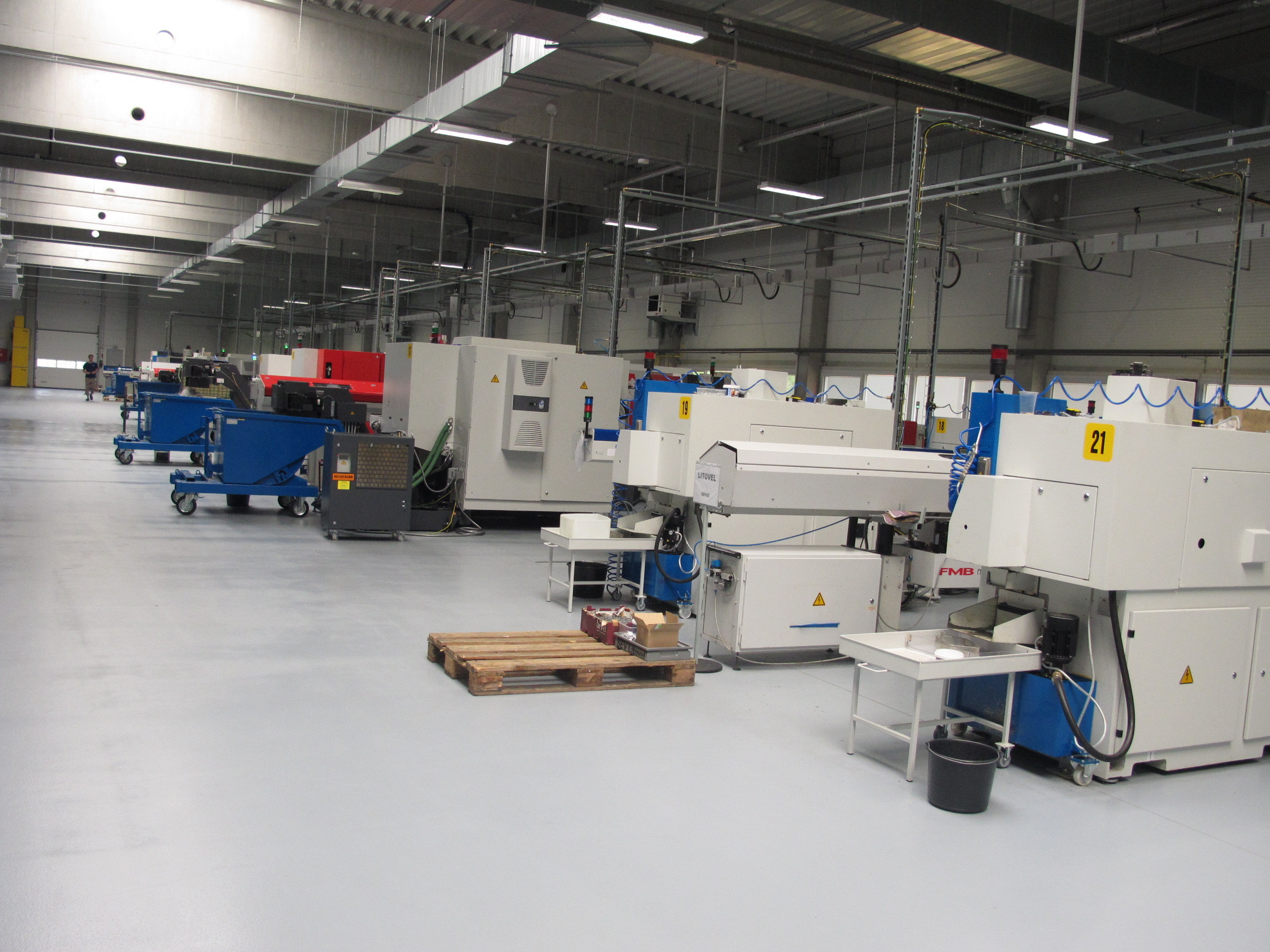 Project's state of the art CNC machine shop (photo: Michael Fremer)
The recently introduced X8 Evolution is a "mass loaded" belt drive design. That is, it relies upon mass and materials to damp resonant behavior. Priced between the X2 ($1699) and Xtension 9 Evolution ($3699) the $2499 X8 (including cartridge) has more in common with the more expensive Xtension 9 than it does with its less costly, but equally well-manufactured relative.
In place of the X2's acrylic platter, the X8 includes a precision machined and balanced TPE-damped 11.25 pound aluminum alloy platter (TPE is an acronym for "thermoplastic elastomer"). Minus the Xtension 9's permanently affixed recycled vinyl mat, it appears to be identical. Instead, Pro-Ject supplies the familiar felt mat that you can use or replace with whatever is your favorite platter/record interface.
The X2's acrylic platter rides on a polymer subplatter/stainless steel bearing/bronze bushing/Teflon thrust pad assembly. The X8 features affixed to the plinth an inverted ceramic ball-topped stainless steel bearing spindle. The shorter bearing spindle produces less bearing "wobble" while its inverted design puts the platter's center of gravity well below the point of rotation for far greater stability than a standard bearing design.
A neodymium magnet system reduces the load on the ceramic ball, producing smoother platter rotation on the Teflon thrust pad located within the platter. The magnetic load reduction system produces less rumble and noise producing "rubbing", which also lowers bearing/thrust pad mechanical noise—a critical issue in a design that puts the noise producing interface so close to the platter surface. This is the same bearing assembly used on the Xtension 9 (and 10).
Drive is via a synchronous motor fed pure A.C. generated by a high-precision, microprocessor-controlled quartz-referenced electronic speed regulation system completely isolated from the mains. Switching between 33 1/3 and 45 is at the push of a plinth mounted button.
The X8 Evolution makes use of both the Xtension 9's ultra-dense, metal-alloy granulate-filled MDF chassis and the top-of-the line Pro-Ject 9cc EVO one-piece carbon fiber tonearm fitted with ABEC 7 quality bearings located within a high mass "C" shaped housing. The tonearm's electrical interface, a DIN jack located on the arm's bottom, requires a straight DIN plug cable, which Pro-ject supplies, terminated in RCA plugs. An optional DIN to XLR cable allows for fully balanced operation, though of course cartridges not referenced to ground are inherently "balanced".
Using height adjustable machined aluminum feet fitted with TPE to decouple the X8 from the surface upon which it's placed, instead of the more costly magnetically decoupling feet found on the Xtension 9 saved some money as did omitting a record weight. 
The $2499 price tag includes a pre-mounted $299 Sumiko Moonstone moving magnet cartridge that outputs 3mV fitted with a removable elliptical stylus/aluminum cantilever assembly and Pro-Ject Connect it E 5P DIN to stereo RCA phono cables along with the other usual accessories. 
Furnished in black lacquer (also available in white lacquer and "real wood"), the fit'n'finish of this turntable is flawless. The thick acrylic dustcover adds to the sensation of getting a turntable that costs far more than the asking price. It's a turntable you want to look at, touch and place where it can be seen and enjoyed.
Easy Basic Set Up
Go to the Tracking Angle video tab at the top of the page, scroll down and you can watch the "unboxing" video shot some weeks ago. I'll not go through the basic set up, other than to say Pro-Ject includes a very useful step-by-step pictorial set-up that should have even a novice quickly up and running using the pre-installed cartridge, which in America is the Sumiko Moonstone (overseas Pro-Ject supplies an Ortofon Quintet Blue).
Listening Using the Supplied Sumiko Moonstone
The company now named Fine Sounds Americas, formerly Sumiko Audio, domestically distributes Pro-Ject, hence the supplied Sumiko Moonstone cartridge. Fine Sounds America also supplied a $799 Pro-Ject Phono Box DS3 B that features balanced XLR, balanced mini-XLR plug and single-ended RCA inputs and balanced XLR and single-ended RCA outputs using a fully balanced, dual-differential discrete circuit housed in a steel and aluminum chassis. That's another value proposition for $799. Economies of scale at work? A Phono Box DS3 B full review will soon be published here.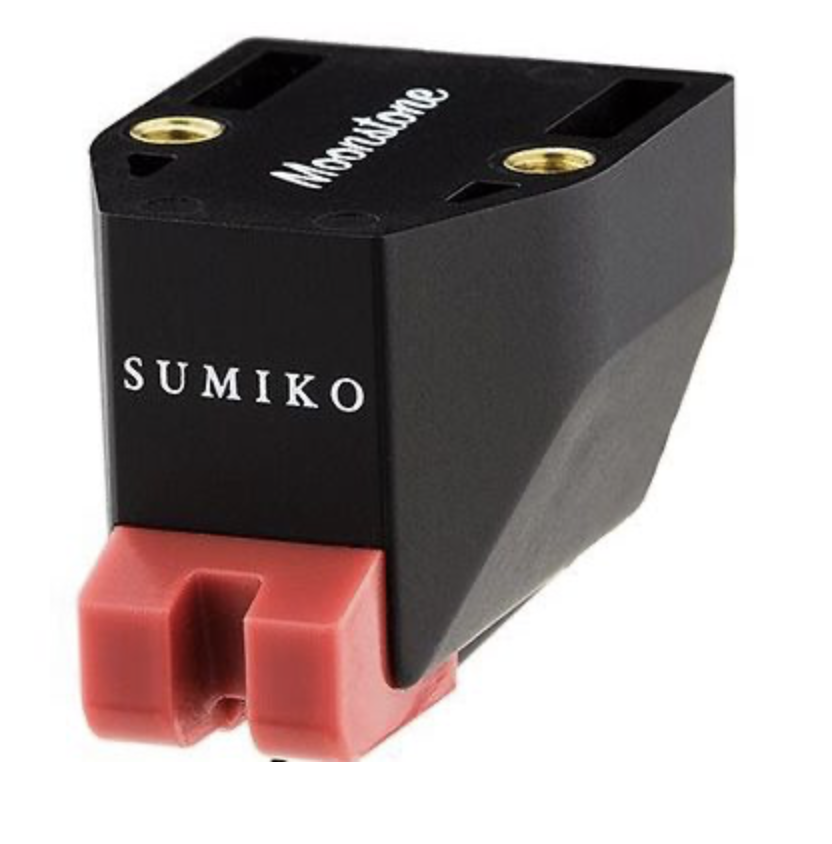 Sumiko Moonstone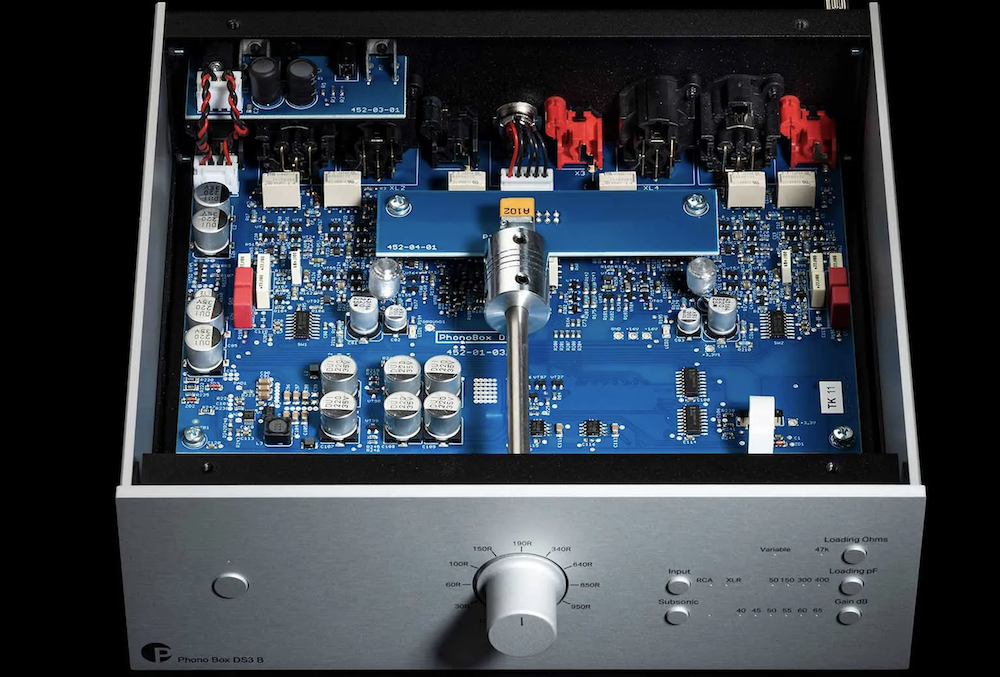 Inside the Phono Box DS3 B
So, to begin with, listening was through Moonstone plugged into Phono Box DS3 B MM input, with records placed onto supplied felt mat. Don't ask me why because I couldn't tell you, but the first record auditioned was The Best of The James Gang (Geffen/Analogue Productions APP 120) culled from three well recorded quintessential early 70s' rock records most if not all of which was engineered by Bill Szymczyk, who engineered more than a few Eagles albums including Hotel California.
The Moonstone's sweet, smooth and very listenable sonic signature didn't exactly "rock out", nor did I expect it to, having covered the more costly Wellfleet in my "previous endeavor" and still having it here to compare to the Moonstone. The difference between the Moonstone with its red stylus assembly and the Wellfleet with its blue one is the same as another moving magnet brand's red and blue: red for non-nude elliptical and blue for nude elliptical. The mass difference produces a notable sonic difference with the lower mass at the stylus tip producing a "faster", more detailed presentation.
With either stylus profile the presentation remained smooth and  pleasing with transient performance on the slightly soft side of accurate, but sufficiently well-resolved to not sound soft and overly "romantic". The picture was spatially stable with black backgrounds and a low coloration, reasonable neutral timbral balance, veering towards the "warmth" that is the usual descriptor of vinyl playback, though in my opinion that's not really accurate. The most serious omission was deep, rockin' bass definitely in the grooves of the familiar James Gang record—and we need more cowbell!
Moving to more delicate fare like Getz/Gilberto or Jim Hall's not to be missed Concierto (CTI 6060 S1 [op] or either ORG Music or Pure Pleasure reissues) enhanced the observation that the X8 Evolution, at least with the supplied cartridge and moderately priced phono preamp, produces quiet backgrounds, stable imaging and an overall pleasing and sophisticated presentation, but one where the lowest bass was somewhat lacking in foundational authority—probably something that would be noticed only those with full range speakers capable of truly deep bass. The expressive presentation of strings, plucked acoustic guitars and vocals would likely more than satisfy any X8 Evolution buyer—as it did this grizzled reviewer who's pretty much heard it all.
After a short bearing run-in I checked for speed accuracy and using the Shaknspin device found the 'table spun at 33.34, which is as good as it gets, with minimum deviations from that over time. The wow and flutter measurements were as in the spec sheet at the bottom, which by any measure are exceptionally good—and it sounded that way too.
Taps to the stand upon which the turntable was placed and taps on the plinth itself while records played revealed that Pro-Ject had produced an extremely well-isolated system; the taps produced weak and quickly dissipated "mini-pops", none of which resonated over time or produced any feedback whatsoever. How much this kind of impulse testing really reveals is yet another subject of analog debate but in my experience it matters, dealing with both floor and airborne vibrational energy.
Let's cut to the inevitable chase: the supplied Moonstone is a very nicely made and sounding moderately-priced MM cartridge and with it mounted on the X8 the sound produced by that combo into the Phono Box DS3 B would please any buyer, despite the less than robust bottom end (playing it through speakers capable of 20Hz) because the bass that it did deliver was free from overhang or exaggeration and so remained nimble and tied to the music.
As they are so fond of saying in certain circles, the X8 "carries the tune". Mid-bass excess was not an issue, nor were there any obvious timbral colorations or overly sharp transients. Thus, rhythm'n'pacing (as they like to say in other circles) was "snappy" and precisely handled.
The bottom line here was that the combination of Phono Box DS3 B and X8 with supplied Moonstone cartridge get you well into the vinyl playback game for $3200. Yes, it's a serious investment for many people but as delivered it will surely satisfy both "vinyl newbies" and those wanting to move up from "lively sounding" budget turntables made of pressboard and using lightweight platters. Those buyers will clearly hear the upward step in background quiet, relative timbral neutrality, speed stability, textural and transient sophistication and especially micro and macro dynamics. And if they do play records with robust bass, like The Ray Brown Trio's Soular Energy (Concord/Analogue Productions APP 268-45) they won't suffer from excess, waterlogged midbass.
But to find out what the X8 was fully capable of delivering (or not), it was important to move to a far more costly cartridge and a more costly and familiar phono preamp. Doing that would help determine the X8's upgrade suitability for those wanting to buy not just a nice sounding, well-performing turntable for now, but one that could be upgraded over time to become a truly high-performance rig.
Add To The Mix the $2695 Luxman LMC-5 MC Cartridge
Is it fair to run a $2695 cartridge on a $2200 turntable (minus the MM cartridge)? It was worth finding out. I'd previously used the Luxman cartridge on the SAT CF1-09 tonearm mounted on the J. Sikora Reference turntable. That combo costs close to 100K. That worked out well for the Luxman cartridge—it got the ride of its life— but the review was never finished because I was changing jobs and it got caught in the changeover. The full review will soon appear here on Tracking Angle.
So, I mounted the LMC-5 on the 9CC Evo arm and then adjusted SRA and azimuth, on this arm both easily accomplished though it's not designed for "on the fly" adjustability, which is not a problem. Then I switched out the supplied DIN to RCA cable for the optional Connect it 5P CC XLR Neutrik 1.23 meter DIN to XLR cable (a very reasonable $219) and got busy listening at first through the $799 Phono Box.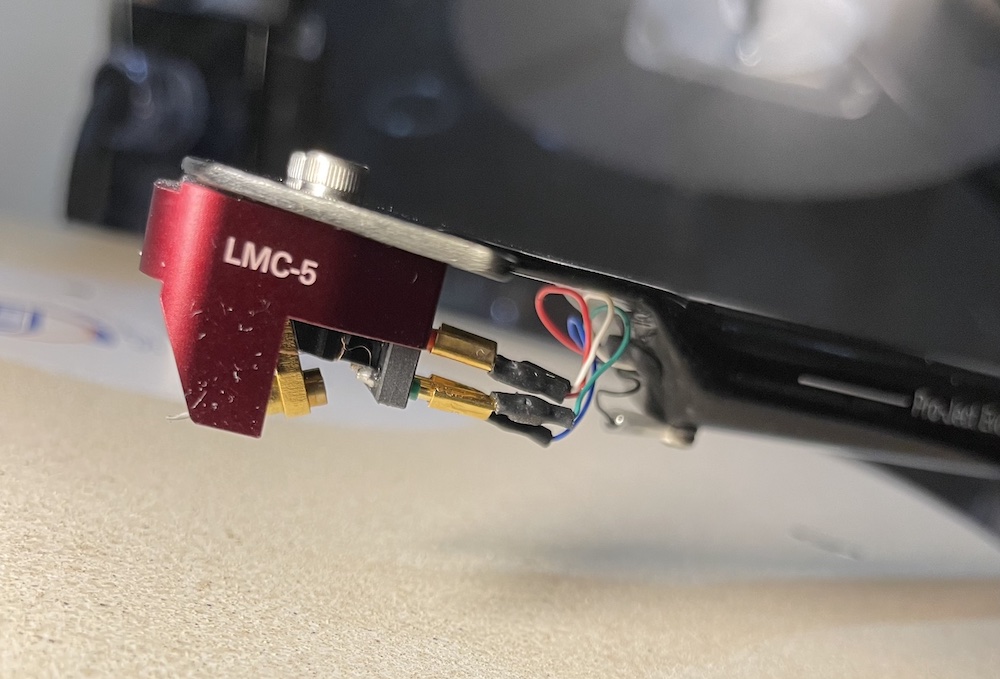 Luxman LMC-5 MC Phono Cartridge
A nice piece and certainly a great value for the money especially considering the true balanced dual-differential circuitry, the inherent quiet, hum free backgrounds and its continuously variable front panel mounted loading feature, but not the ideal match for the Luxman cartridge, nor, I doubt, would Pro-Ject consider the Phono Box DS3 B the ideal match for a $2695 cartridge.
A transimpedance phono preamp, one that works with a low internal impedance cartridge's low voltage, but relatively high current output is an ideal choice for a low internal impedance cartridge like the 4 ohm Luxman. I have one here—the Vera 10— from the now defunct MR Labs (the owner/designer Maximillian Rottmann sadly passed away a few years ago, a young man bought the company but couldn't make a "go" of it, which is real shame). With high performance power supply and made in America it sold for $2480 and it performs way beyond its price point. 
That combination‑Luxman cartridge and MR Labs Vera 10— took the X8 to new heights of sonic excellence and proved to my sonic satisfaction that you can buy the basic X8, enjoy it for as long as you wish and then go on as crazy an upgrade path as you wish. 
I went further than just the cartridge and phono preamp upgrade because I still felt there was more and better bottom end to be had. First I replaced the dust-attracting felt mat with the  Sublima Chakra turntable mat from Italy.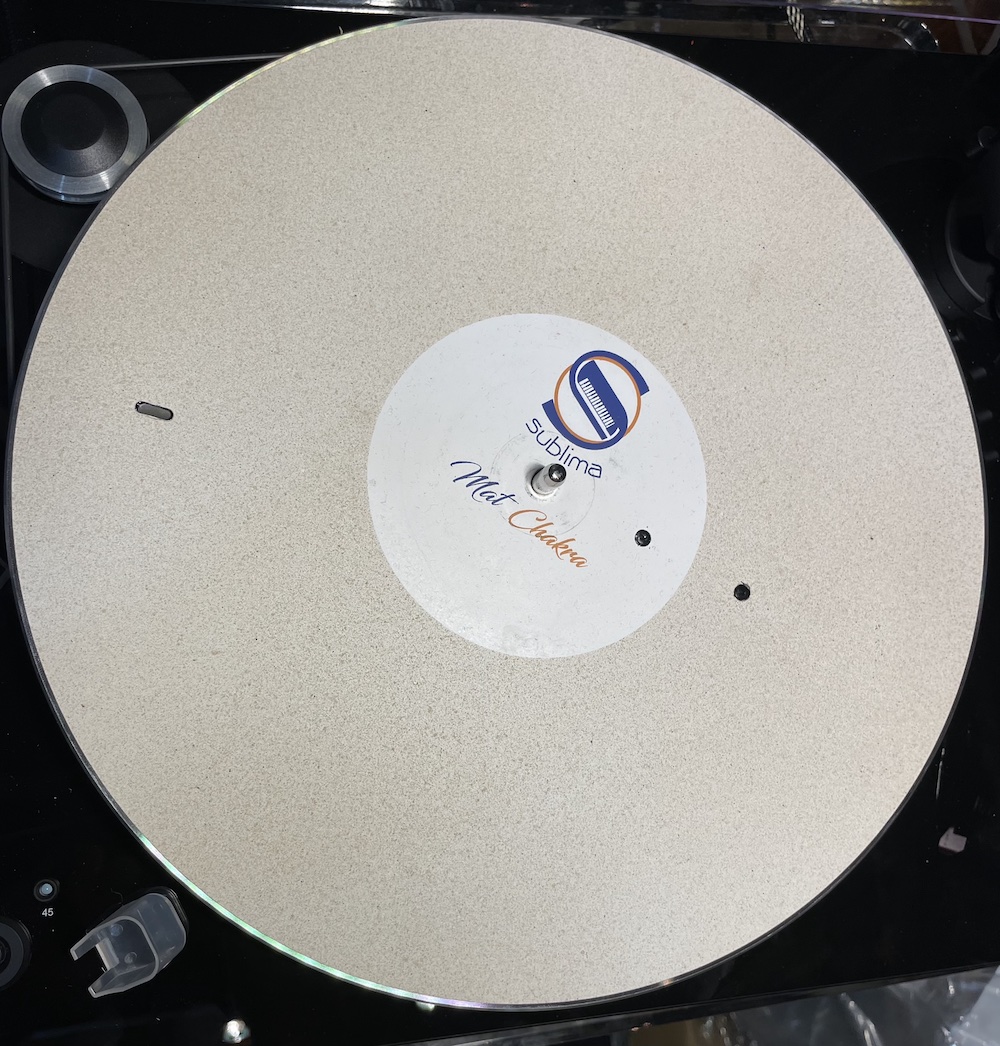 Mat Chakra
It costs around $350 but wow! The bottom end improvement in extension, transient speed and articulation was bigger than I'd expected having already experienced what it could do on a far costlier turntable. I reviewed it 'elsewhere' and readers who bought all came back to me saying it was everything I claimed for it because it is. Another good choice would be the Funk Firm Achromat—about $100—that too made a big improvement in every parameter, but not as grand as the mysterious Chakra, which looks like a piece of circular sand paper (but isn't). 
A good record weight is also critical to getting the most from this or most turntables—one appropriately weighted for the bearing and platter mass I used the Massif Audio Design Prime Reference weight ($895)—a low to medium mass wood beauty.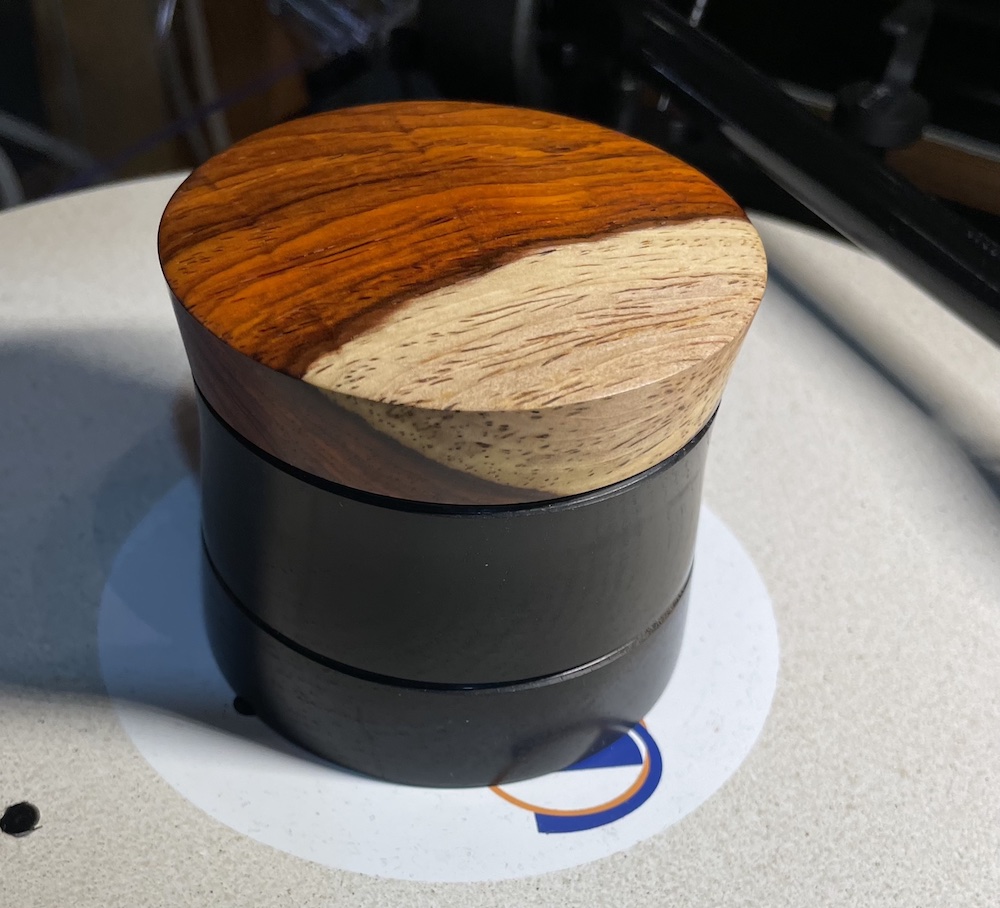 Massif Audio Design Prime Reference
But, to make it a family affair I also tried the high mass (810 gram) E.A.T. Massive Record Weight ($199), fabricated from a dense self-damping alloy and. Both made improvements in overall image focus, transient clarity and low frequency articulation. More grip from the metal one, more delicacy and harmonic development from the one of wood.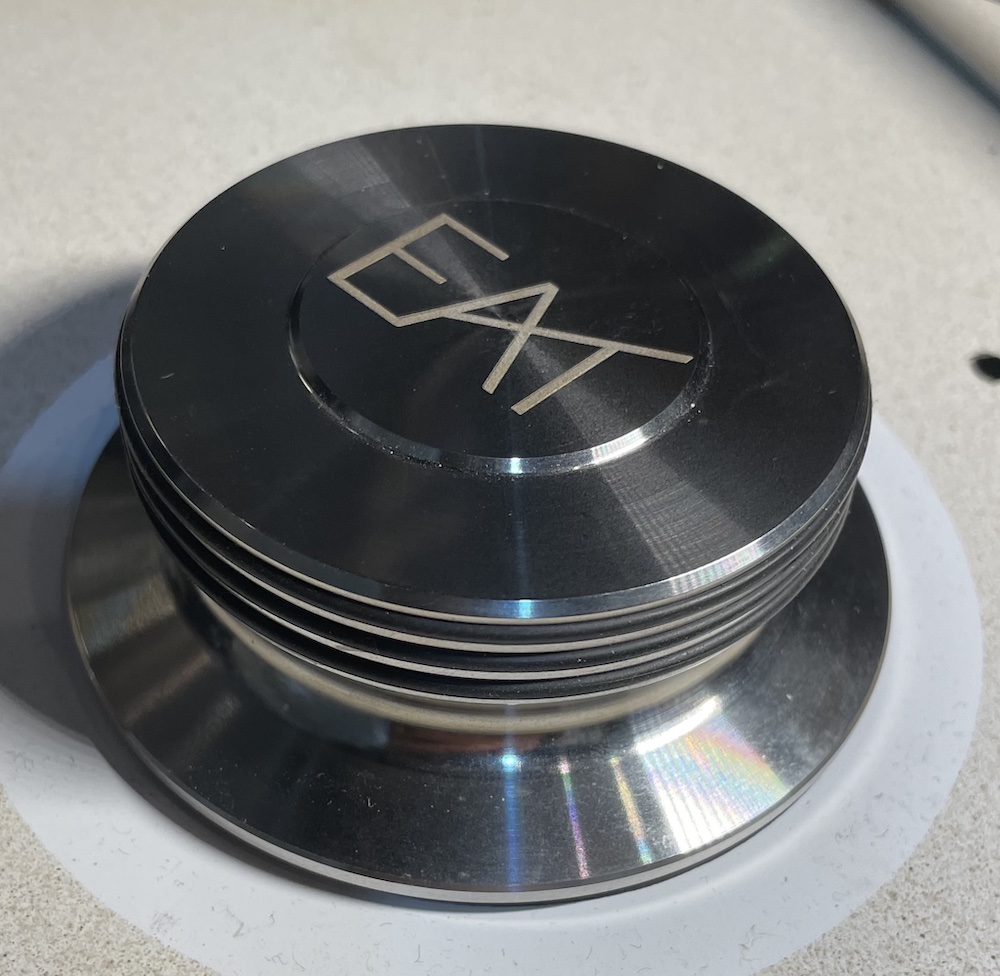 E.A.T. Weight
The Circa $8000 System
"Teach Me Tonight" from Soular Energy  tells the story. Ray Brown's bass lines—a massive attack since he's the star—were delivered with the precision, grip, extension and transient articulation more commonly produced by topmost tier, far more costly 'tables. Surprising microdynamic contrasts surfaced as the group made minor shifts in emphasis. Gene Harris's piano had all the wood, sounding board and felt hitting the strings and resonant clarity you could wish for. And behind it all was as black a background as you'd hope for from any turntable. 
The next track, a slow meditative take on "Take The 'A' Train" was a model of timbral, dynamic and spatial organization. Harris hits some upper register keyboard notes that rang so true and Brown plucks a few explosive surprises that I knew were coming and I awaited for the sonic train wreck that never came. High or low SPLs, this combination produced late night sonic excitement through a system costing, well I'm not going there, but it held its own through many late night listening sessions with two far, far more costly rigs sitting close by. I can say with total confidence that hearing this rig blind, the most snobby of analog snobs would never guess the entire thing costs less than his or her cartridge. Which is not to say his or her rig doesn't deliver more, but at what price?
 X8 Evolution Conclusion 
"Evolution" is an appropriate word for this aggressively priced turntable. By "aggressive" I mean that the company founder Heinz Lichtenegger has found a way to give legitimate out-of-the-box high performance sound to vinyl fans on a moderate budget. The $1500 market is crowded with decent turntables. For not that much more you can get into an arguably much better one that features a mass loaded MDF plinth strategically filled with resonance-reducing metal alloy particles, an inverted ceramic ball stainless steel bearing on which rides a magnetically supported high mass, damped aluminum alloy platter, quartz referenced electronic motor drive and a carbon fiber tonearm fully capable of high performance with as sophisticated a phono cartridge as you can afford. 
It's not just the features that make this turntable stand out. It's the overall quality of the machining and fit'n'finish of every detail. As someone who's been observing this company literally from its inception, the X8 makes clear that not only is Pro-Ject capable of designing and building high performance turntables (long known fact), it's able to do so at price points that let it successfully compete with everything out there.
In other words, you can buy an affordable X8 and over time accessorize your ride to produce a turntable/cartridge/phono preamp combo that's uncomfortably far up the performance chain. What this does to the company's approximately $1000 more costly Xtension 9 business remains to be seen. I don't think Lichtenegger is thinking about the internal competition as much as he's enjoying the monkey wrench the made-in-Europe X8 throws into what has been a relatively stable and orderly turntable marketplace. "Economies of scale" rule!
Specifications
Technical Specifications
| | |
| --- | --- |
| Speed: | 33, 45 (electronic speed change) |
| Drive principle: | belt drive |
| Included phono cable: | Connect it E 5P -> RCA, 1.23m |
| Aluminium feet: | Height adjustable & TPE damped |
| Platter: | massive 5,1 kg lathed aluminium & TPE damped |
| Platter bearing: | inverted with ceramic ball tips and magnetic support |
| Wow & flutter: | 33: ±0,11%; 45: ± 0,10% |
| Speed drift: | 33: ±0,11%; 45: ± 0,09% |
| Signal to noise: | 73dB |
| Tonearm: | 9" one-piece carbon-fibre tonearm |
| Effective arm length / mass: | 9" (230 mm) / 8,5 g |
| Overhang: | 18mm |
| Included accessories: | 15V DC / 0,8A power supply, dust cover, 7" single adapter, felt mat, phono cable |
| Power consumption: | 5W / 0,3 W standby mode |
| Dimensions lid closed: | 465 x 150 x 350 mm (W x H x D) |
| Dimensions lid opened:  | 465 x 415 x 420 mm (W x H x D) |
| Weight: | 15kg |
Manufacturer Information