PS Audio Sprout 100 Does Everything But Take Up Space
updated from original Sprout, the 100 is likely getting another upgrade next year
This review is late, a victim of job change-related delays (among other things) but better late than never, even if PS Audio's updating history indicates a newer edition might be on the way—the Sprout100 replaced the original Sprout, which began life as a Kickstarter funded project back in 2014. The Sprout100 came about five years later so the "next gen" Sprout if there is to be one, might come next year.
For now though, there's the Sprout100, which offers 50 wpc into 8 ohms and 100 wpc into 4, or double the power of the original. Nothing unusual there unless you consider that the Sprout100 is approximately 8" x 6"x 2" and weighs 3 pounds—thanks to ICEpower Class D operation. The attractive aluminum case features a genuine walnut wood grained top plate—a nice touch.
Sprout100 features four inputs including MM phono optimized for a 5mV output cartridge. Load is 47kOhms resistive and 100pF capacitive. Three other inputs are "digital", "analog", and (aptX) Bluetooth. The ESS Sabre 9016 DAC chip decodes PCM 96/24, 384/24 and DSD64 (DoP), and DSD 128 (DoP). If'n you're unfamiliar with "DoP", it's not a drug, it's not a description of genuine San Marzano Italian tomatoes and it doesn't mean the DSD stream has been sonically compromised or degraded and that's all I'm going to say about it!
One of the two front panel machined aluminum buttons select among the four inputs. The other adjusts level, bass boost (long pressing the knob) and quickly pushing it turns the unit on and off. There's also a front panel mounted 1/4" headphone jack associated with a zero feedback low impedance amplifier.
The back panel is busy but well-organized. There are USB and optical digital inputs, the analog input and a buffered analog output (tied to the volume control so with care it can be used as a "tape out"), the phono input, plus ground lug, and a mono subwoofer "out" jack. Left and right balanced amplifier outputs are space saving banana plug jacks. A nicely machined aluminum remote turns the 100 on and off and adjusts volume as well as having a "mute" function.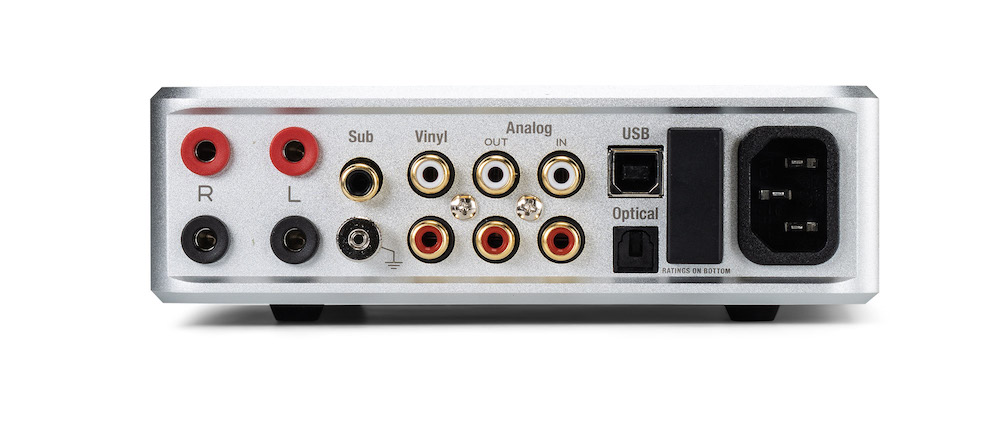 That all adds up to a lot of "stuff" for $799 and it includes three year warranty as well as a headphone adapter, four gold plated banana speaker connectors, a power cord, and even a printed manual.
Sound
Setting up the Sprout100 was too easy to require description. I began listening using a pair of "vintage" NHT Superzero Mini Monitors that I've had around for decades. They are 86dB efficient sealed boxes that require plenty of power to get going. The Sprout100 got them going pretty good in a nearfield setting used as computer monitors. I've since bequeathed the speakers to a young friend who's using them with a vintage Sansui receiver I also gave him. Next I tried powering with the Sprout100 a pair of Wilson TuneTots priced circa $10K depending upon finish. Read Andrew Quint's The Absolute Sound Review.
Yes, I drove a pair of costly, two-way speakers with an $800 integrated amplifier. I'd previously been driving the TuneTots with a very special Musical Fidelity A1 Collector's Edition integrated amp—a limited to a half dozen, special edition of a Tim DeParavicini designed Class A amplifier outputting about 25 watts per channel that has a hefty outboard power supply and a sound so sweet and beautiful you almost faint listening to it. That amp in a near field setting drove the TuneTots to lush, liquid sonic glory, though I never did crank it up sitting so close. Like the NHTs, the TuneTots are rated at 86dB efficient and unlike the big Wilsons, don't present to an amplifier a particularly punishing impedance load (nominal 8 ohm, 6.6 lower limit). Playing hi-res files through via ROON through this system required a USB to SPDIF adapter and the output run into a Musical Fidelity X-DAC's SPDIF input.
The Sprout100 made the direct USB connection much more convenient. The sound was "punchier" and somewhat brighter overall playing back hi-res files via ROON but it was also grain-free and smooth sounding. Cécile McLoran Salvant's Dreams and Daggers (Mack Avenue 96/24 Qobuz stream) —a "must have" album on whatever format you choose, sounded more than pleasing—I sat through about half of the almost two hour long musical feast. I especially love her version of "Never Will I Marry". It was more liquid sounding through the Class A amplifier but the Sprout100's rendering was obviously involving.
I'm going to skip going through a half dozen other sonic examples because the Sprout100's sound was consistent and clear: it's got a somewhat bright signature but with cleanly rendered transients, and a nice sense of rhythmic excitement and "punch". The ability to decode just about every resolution digital signal is especially attractive.
Moving Magnet Phono Input
I did not have a need for the Bluetooth function so I didn't engage it, but I was certainly interested in the moving magnet phono section so I connected up a vintage AR TA turntable fitted with a Grace F9 cartridge for which I'd gotten a Soundsmith "Ruby" stylus assembly featuring a Sapphire cantilever and and low mass fine line stylus. I've played this unidentified from another room and listeners were sure it was a fairly costly set up. Until they saw it.
Plugging it into the Sprout100 added a pleasing sweetness and warmth to the sonic presentation. I played a copy of Nick Drake's Pink Moon (the 2012 box set reissue) and as sad as the record is, all I could do is laugh at how fine it all sounded. Warm, three-dimensional, with solid and stable imaging along with quiet backgrounds. I imagined a young person being given this system (with less costly speakers of course) and thinking that kid would be "hooked" in a good way. With this set up in my office I was able to pull and play records while I worked and it was a lot of fun and musically satisfying too. The last record I played was a double LP from Third Man called Southeast of Saturn (TMR-629)—a collection of Michigan Shoegaze/Dream Pop/Space Rock—a genre that's lately gotten my late night attention.
I dozed off while trying to write but that was okay!
Conclusion
I'm not sure what else that's new out there for $799 offers the Sprout100's performance and feature set in both the analog and digital worlds. It's got sufficient power to drive most loudspeakers it's likely to be paired with, can decode high resolution audio and includes a quiet MM phono preamp. Plus it's attractive looking and easy to use. Maybe it's for you. Maybe not. But it's definitely for your kid's room, if you have any (kids, not rooms. I'm sure you have rooms).
PS Audio packages the Sprout100 with a pair of ELAC B6.2 bookshelf speakers and Emotiva cables for $1099. Done deal!

Specifications
Manufacturer Information