Pure Audio Project Trio 15 Coax10 Modular Open Baffle Loudspeaker
hands-on-fun
Speaker manufacturer PureAudioProject occupies a unique marketplace position. Instead of shipping fully assembled loudspeakers, it mostly sends its worldwide customers modular components for home assembly.  
The individual components are shipped directly to the customer from company warehouses in the US and Germany or directly from the manufacturers of individual parts. This business model offers the customer excellent value and the ability to customize the sound.
While it may sound intimidating to some, you can handle this job if you can assemble a basic Ikea bookcase or any "flat-pack" furniture. Well documented online assembly instructions are easy to follow, along with lots of YouTube info.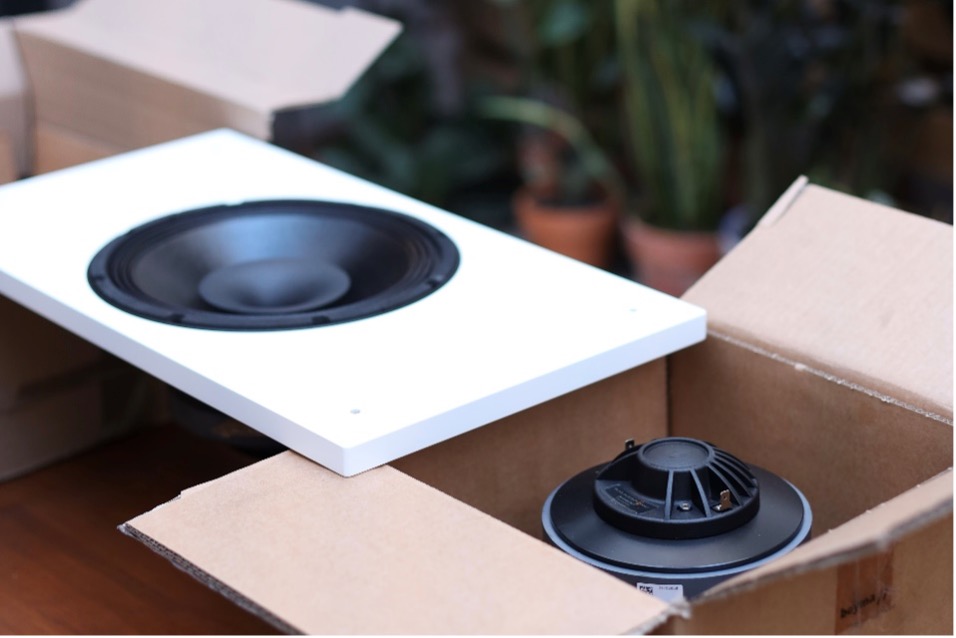 Self-assembly is not for everyone, but for those with the time and inclination to pursue it the rewards include excellent product value and experience, enhanced pride of ownership and a sense of accomplishment that comes only from building something with your hands.
I asked four local audio enthusiasts to stop by to see if they were interested in a speaker that involved assembly and offered an excellent price/performance ratio. Two were ready to break out the Allen wrench, and two wanted nothing to do with it. Based on its popularity, it is evident that PureAudioProject occupies a unique speaker market niche.
Self-assembly also brings to the party owner customization. The combination of the open baffle design and the modular nature of this speaker allows the owner to experiment with how different components affect the sound. Easy access to parts like speaker wiring or crossover components will appeal to the advanced audio hobbyist.
Ever wonder what impact a bypass capacitor in the tweeter circuit can have? No problem. You can try that out in fewer than thirty minutes. PureAudioProject offers numerous upgrades on its website.
 The Trio15 Series
All the Trio 15 series speakers use an open baffle D'Appolito WTW (woofer-mid tweeter-woofer) design employing two 15" drivers with five center driver options. The subject of this review, the Trio15 Coax 10, uses their new proprietary 10" Coax center driver, and comes in at $7590.00 / pair.
This is not my first rodeo with a PureAudioProject Trio15 series speaker. Two years ago, I did an extensive two-part review of the Trio15 Classic, (part two) which uses the German Voxativ AC-PiFe wood-coned center driver and is one of the few speakers in the line shipped fully assembled. Reading that review will provide a bit more context relative to this review.
Other center driver options are a proprietary wide-range wooden horn and three different German Voxativ full-range drivers, including one that's field coil-based. Each driver creates a different musical presentation. Why would a speaker manufacturer offer buyers main driver choices?
Ze'ev Schlik, founder and designer at PureAudioProject, describes the company's reasoning:
"Our offering of center drivers covers three major genres of audio drivers technologies. Full-range drivers, horns, and mid/tweeter drivers. Though the overall music experience with all our center drivers is quite similar, every driver highlights specific sonic features reflected by its build and technology. Customers can choose the one that works best for their sonic taste and music DNA, and experiment with the others as well."
Full-range drivers are known for their rich, organic, and musically engaging presentation and we carefully selected three drivers made by Voxativ in Germany that excel to perform in our speakers. Featuring a single magnet and membrane, there is no shift in phase nor in sonic signature all the way from the low mids to the very highs. This results in sonic signature stability along a wide frequency range, and a life-like, totally no-fatigue music experience.
The Horn1 was designed specifically for our speakers. With a compression driver that features a soft polymer dome, a large throat, a strong Neodymium motor, and a wide wood waveguide, Horn1 presents a warm and smooth sound, with all the dynamics, fast-response, clarity, and resolution great horns are known for, but without any typical 'horn-harshness' whatsoever!
Our Coax10 center driver was designed to push the sonic envelope to the edge, but without losing the organic and emotionally moving presentation, warmth, and musicality. These design goals led us to a coaxial design with a 10" light paper cone and a horn tweeter with the same dome used for our Horn1."
How do you know which one to choose? The company website contains in-depth information to inform your decision, including customer feedback, in-depth reviews, customer stories, and professional reviews. They also manage an open "PureAudioProject Customers and Fans Family Group" on Facebook where you can communicate with customers. Need more info or help? You can contact PureAudioProject by email, WhatsApp, or phone and consult with Ze'ev about your listening preferences and equipment. He will steer you to the best center driver solution for you.
Ze'ev told me, "Every driver genre has its characters, just like customers do, each one with their own personal taste and sonic preferences. This is many times the borderline from which we can recommend the right center driver for the best match to the audio gear, and even to room acoustics, as per customer's preference…"
It is not often you can consult directly with the designer of a product and have him or her offer guidance on your purchase. Like I said... A unique company.
Open Baffle Design
By having no box enclosure and mounting the drivers directly to the baffle board, this design simultaneously radiates sound front and rear. Open baffle dipole design possesses several advantages when interfacing the speaker with a real-world room environment. Its polar response, shaped like the figure 8, has null points on the sides of the speakers and minimizes side wall and floor-ceiling interaction. The in-room response is usually smoother due to the reduction of bass peaks and dips and has the potential to allow a more natural-sounding midrange and a fast, articulate bass. Like any design, it is not without its potential pitfalls that can include less than laser sharp imaging and frequency "comb filtering" caused by the rear wave combining with the front wave.
 Ze'ev conveyed his thoughts on open baffle design and why his company pursues it in their speakers :
 ZS:" Our speakers are Open Baffle and dipole, and their radiation pattern is not dominated by a box. Boxes recreate the feel of scale while small components are playing into a box. Open baffle speakers with large woofers simply move enough air without any need for additional energy transformation to make the music feel live! …Open Baffle Speakers, therefore, become part of the room and integrate with its acoustics rather than trying to impose their sonic signature on it. This is one of the reasons they sound so 'natural', have no fatigue, and need no specific room treatment! Our ears are accustomed to our room's ambiance and our speakers simply become a naturally integrated part of it…"
In my experience, open baffle designs "free up" the music to engage the room rather than fight it. The absence of cabinet colorations will catch you off guard the first time you hear it. That, along with its ease of placement in the room, makes it a design whose popularity is on the rise and has a very dedicated following.
Trio 15 Coax10 Design Goals
I asked Ze'ev why he felt the need to offer this Coax10 version of the speaker.
 "It targets those who have reservations using full-range drivers. Tweeters allow pushing the audio envelope but we were looking to do this while staying on the borderline with both (organic and highly audiophile performances).
 This is the reason we 1) went for a horn tweeter with a polymer dome that sounds very natural and smooth while all clarity and resolution are there, and 2) we went for a Coaxial driver, and this allowed us to keep the D'Appolito (WTW) structure that, with the two woofers in parallel, creates the feel of a point source with the whole speaker. Sonic' center of mass' is right in the center of the speaker and this makes all sound more organic and eliminates fatigue in long listening sessions.
Most important for us is that one gets maximum pleasure from music as a whole rather than impressing one with single sonic elements. With Trio15 Coax10 we did push the sonic envelope, but hopefully without losing the organic and no fatigue music experience…"  Let's briefly examine the components that make up this speaker.
The Woofer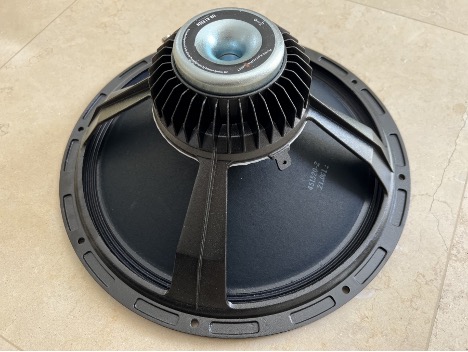 Designed explicitly for PureAudioProject in cooperation with Eminence Speakers, the OB-A15NEO  15" wooferuses a cast basket, high-quality Neodymium magnet system, 2.5″ voice coil, and a Faraday sleeve (shorting ring). It delivers full bodied midrange and integrates smoothly with the Trio 15 models'  fast and refined center driver options.
The 10" Coaxial Mid/Tweeter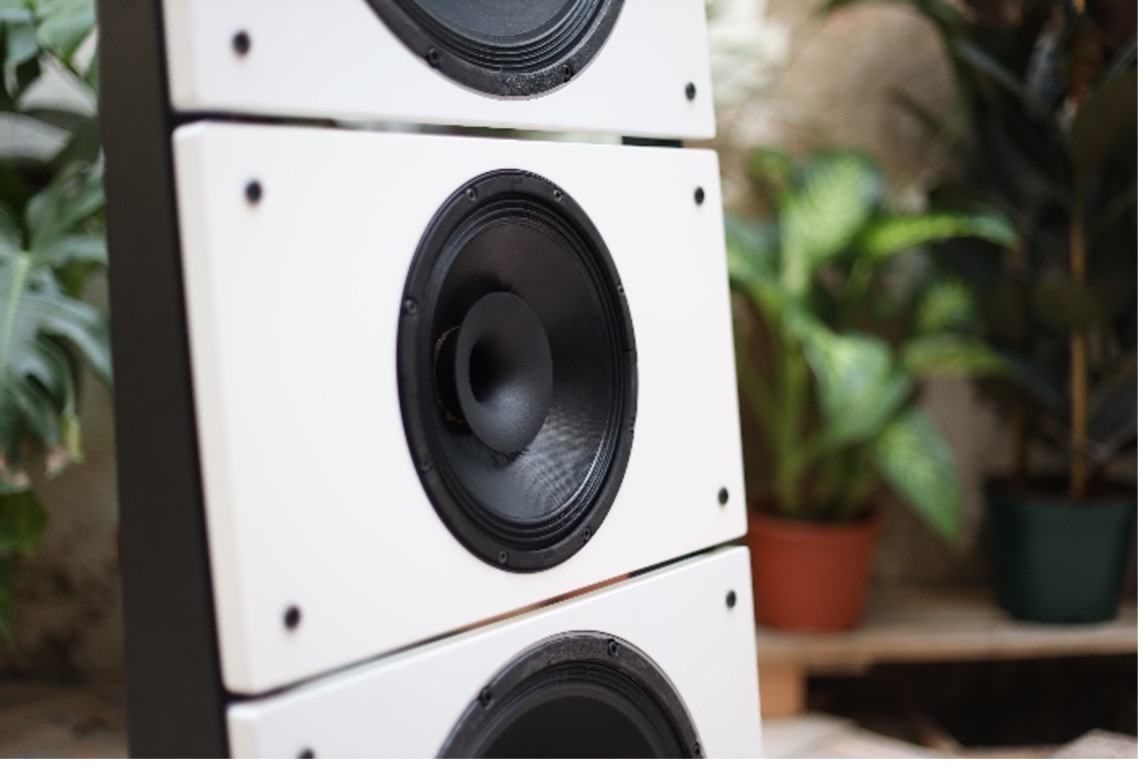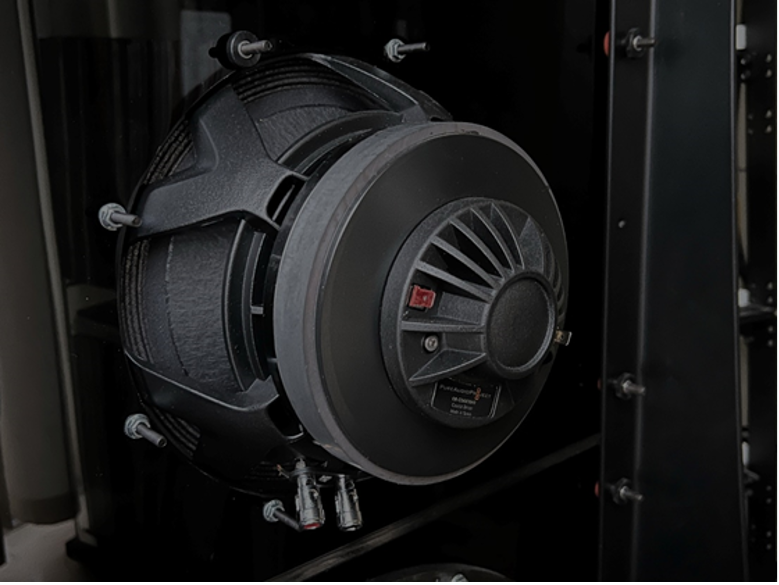 PureAudioProject uses their OB-COAX10-H1 driver, a custom-made coaxial driver with a lightweight, treated paper cone 10" woofer and a soft polymer diaphragm horn tweeter both of which are mounted on the same axis.
 Beyma manufactures this driver to PureAudioProject's specifications, which include specific modifications such as a heavier cast basket and a treated cone. Much of the work done was to ensure that the sonic signature of the driver's 10″ mid-woofer section and the 15″ Neo woofers  are as similar as possible.
                            The Crossover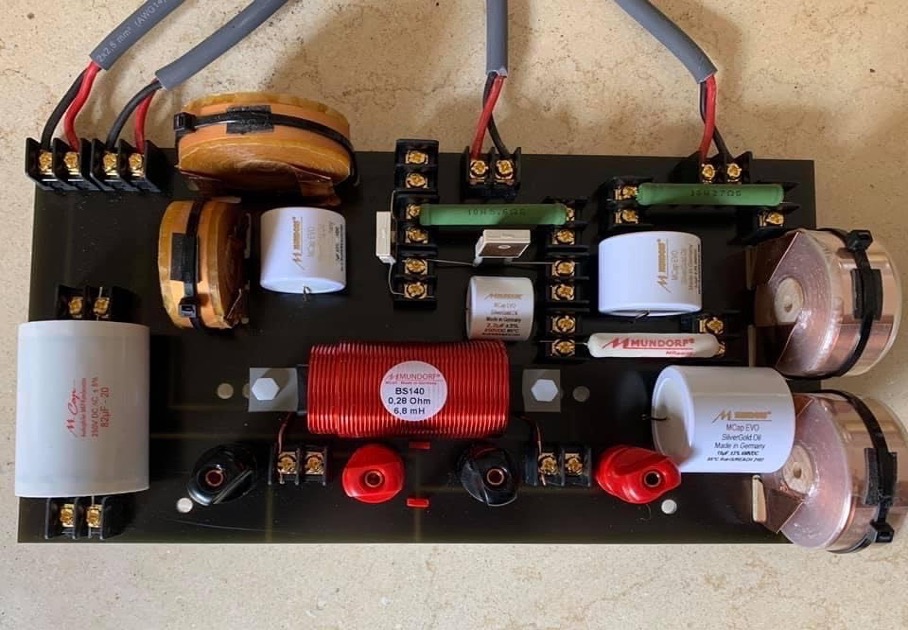 This fully assembled PureAudioProject designed and voiced crossover ships directly from Mundorf in Germany. It uses high-quality parts like the new MResist Ultra Hi Rez foil resistors, MCAP Evo Silver/Gold Oil capacitors (MESGO), and VLSU Copper coils with Foil Paper.
The crossover components attach via screw terminals, and owners can easily swap and experiment with various brands and types. Cool!
In my decades of selling and servicing speakers, I have rarely seen this quality level of crossover components used in a speaker at this price point.
 PureAudioProject shared the following details about its three-way design:
"Our 15" woofers are connected in parallel and are cut with a second order Low  Pass Filter that seamlessly blends into the midrange, whereas the 10" mid driver is crossed with the tweeter by a fourth-order crossover at around 2khz."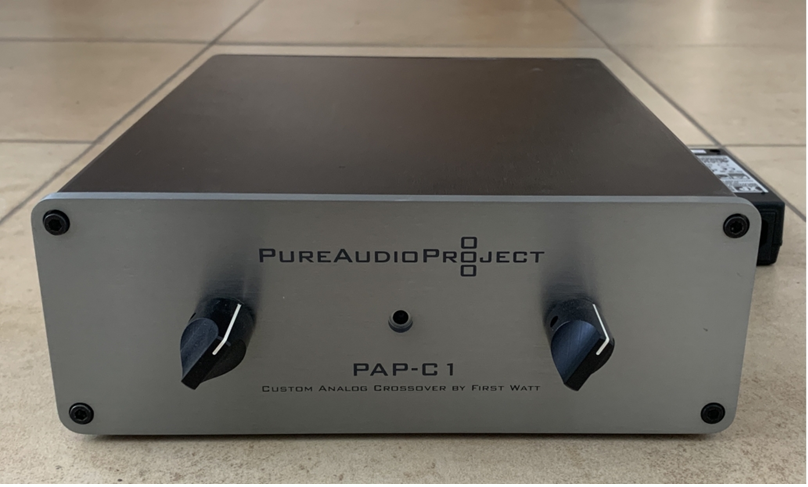 Removing a couple of jumpers can quickly reconfigure the crossover for  bi-wire or passive bi-amp fans. PureAudioProject offers a Nelson Pass designed active analog crossover for listeners who want to go down the electronic bi-amp path. Very nice.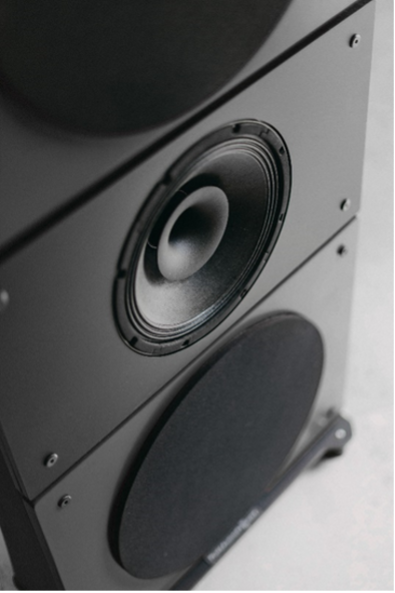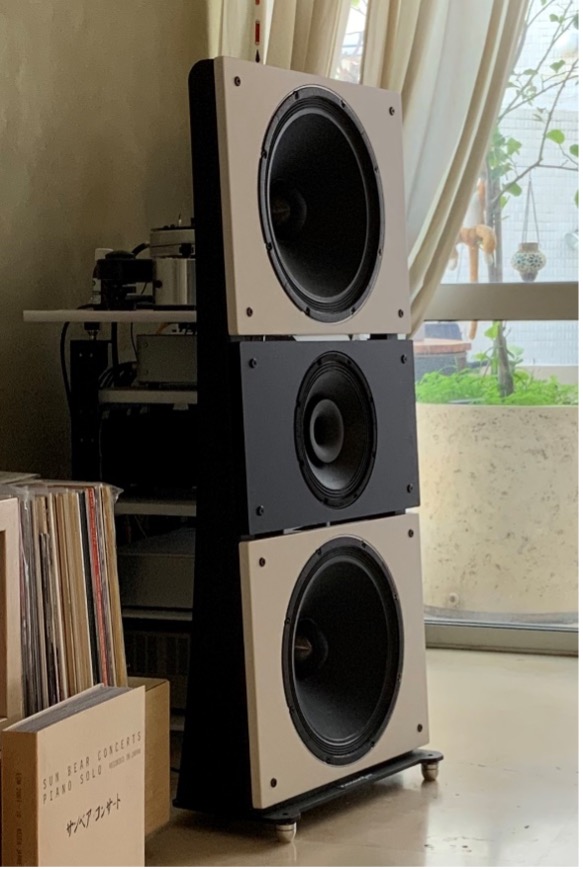 There are several baffle board color options and dozens of real-world photos on the website displaying different configurations from customers and what the company has previously shown at audio shows. Optional individual round grills for each driver are available that may relieve your significant other's acceptance factor stress.
 I will offer one assembly tip. There are lots of bolts and other potential sources of rattles, so once you have the speakers assembled and wired, you first want to run a medium volume 40- 50hz tone through them and check for anything you may not have fully tightened.
The Setup
The sensitivity on the Trio15 Coax is  > 96db, and the impedance is a nominal 8 ohms. In my 20x24 room, they ended up about 40" from the front wall and 7.5 feet apart. Like most dipoles, they appreciate breathing room and typically like to be 2-4 feet from the front wall. Frequency response is rated 29-32hz to 20Khz, and I found it solid down to 29hz.
I determined the optimum toe-in position to be with each speaker pointed between the shoulder and ear. Paying extra attention to the rake angle of the speaker will also yield benefits. I ended up with some 1" blocks under the front feet to get the rake angle I thought sounded best. While all that information may get you feeling the speaker is very "directional" or one of those "head in the vise" type of speakers …it is not. The sound remained admirably consistent— particularly in the bass region—as I walked the room.
The front end used for this evaluation was my AMG Viella V12JT Turbo turntable with a Micro Benz LP-S cartridge feeding a Tom Evans Groove+ SRX Mk 2.5 phono stage. I alternated between a Benchmark LA4 line stage and my tube-based Exemplar Exception SE Line preamps. My SMc Audio GT23 Signature amplifier, Quicksilver MS-190, and Benchmark AHB-2 monoblocks were the amplifiers used. Audience Front Row, Belden Iconoclast Wires, and Triode Wire Labs dominated cabling. Most of my listening was done with the Benchmark LA4 / SMc GT23 combo, which gave me an excellent combination of speed, transparency, spatial and tonal characteristics, and vise-like speaker control.
Let's Listen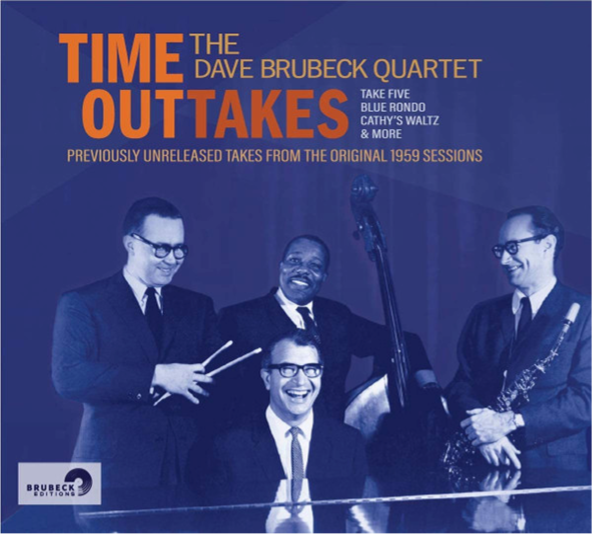 You can tell a lot about a speaker by listening to Joe Morello's extended drum solo on this outtake version of "Take Five". Cymbals can sound thin on many speakers, and you do not hear them flexing. Played through the Trio 15 Coax, the opening cymbal work had a very nice balance between clarity and the feeling of the correct gauge and weight. The ambiance on the drum solo was well rendered, as was the individual tonality of each drum. The initial attack on each drum strike was a bit less focused than the best I have heard, but at its price point the Trio15 Coax10  had nothing to apologize for.
During a drum solo, I listen closely to the snare drum, and these speakers do a great job of rendering the correct feeling of the snare wires against the drum skin. As Morello's hand speed picks up, the focus of the individual strikes on the drum remains well resolved and does not start to blur.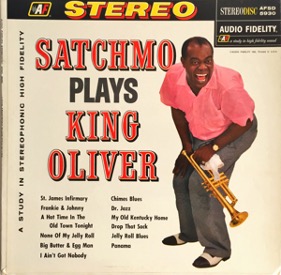 You don't have to be from New Orleans to love the "St. James Infirmary" cut. When listening to Trummy Young's opening trombone segment, with its exceptional timing and subtle dynamic expression, you should feel like his instrument is crying with waves of emotion. The speakers translate this feeling very nicely. Peanuts Hucko's clarinet has a deep and rich harmonic quality about it. Each instrument is palpable when later in the song the band comes together.
While not as nuanced as my ribbon tweeter-based Acoustic Zen Crescendo II speakers, the Trio15 Coax better recreates the sound field. The Coax10 driver did an excellent job reproducing the Satchmo's dense, lower midrange.
Having countless times sat on the benches and floor of Preservation Hall, I was quite taken by how the presentation of this music, through these speakers, brought me back to those nights. You get a big, room-filling sound, on a more life-like scale, compared to the smaller-scale "diorama"-like presentations you get with many speakers in this price range.
Here is a link to a fun performance that captures the essence of many Preservation Hall nights I experienced.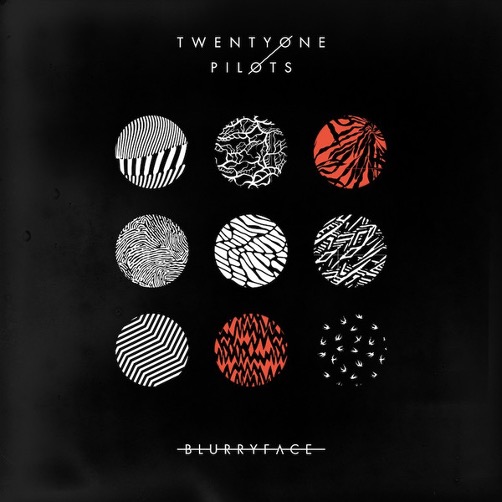 Good Lord Ken…. From Satchmo to Twenty One Pilots!? What in the world are you smokin'!?
I often try the "Stressed Out" cut on speakers I audition and find that the bass line can trip up many of them (ported designs in particular) by quickly "loading up" a room and making it feel like that car has pulled up next to you at the stop light.
With its four 15" drivers, one would have good reason to be fearful that the Trio15 Coax10 has the potential to generate bass like that car. Not in this case. The bass was neither boomy nor overbearing. On the contrary, it was smooth, deep, powerful, and open sounding and did not "load" the room, helping to make the song fun to listen to. It was one of the few times I listened to the whole side of this album.
BTW...I am not sure how "fun to listen to" took on a negative connotation in our industry. It may not be as descriptive as many other sound quality descriptors terms, however, to many listeners it is nonetheless an essential trait. To grow this industry, we must realize that it's important to loosen up our Audiophile underwear now and then, both musically and editorially. Ok, I am climbing down off my high horse now (hopefully with underwear loosened_ed.).
I often use this Liquid Spirit album for component reviews. The PureAudioProject Coax 10s knock it out of the park. The hand clapping, tambourine strikes, trumpet bantering, and a powerful, fast, and linear bass line all stood out. Everything felt cut from the same cloth, and I found my toe-tapping in high gear. But the recreation of Gregory's soulful raspy voice froze me. This speaker's lower midrange reproduction repeatedly stood out as its hallmark. On familiar music the completeness and density of the midrange consistently got my attention.
 After several months of listening, I conclude that this speaker is PureAudioProjects' most complete effort. Careful readers will notice I used the word complete rather than best. That is because, with the PureAudioProject business model, you can decide which version is best for you based on your listening preferences. Suppose you prefer tube amps over solid-state amps. In that case, the organic quality of the Voxativ center drivers may touch you more profoundly than does the excellent dynamic expression of this Coax10 center driver.    
Conclusion
The PureAudioProject Trio15 Coax generates an engaging, compelling and fun listening experience. Instruments have a realistic density as the speaker builds the music to the extremes from its excellent upper bass/ midrange. It throws a vast room-filling sound field, is dynamically expressive, and demands that you pay attention to the music. It "plays the room" and offers up a "you are there" perspective versus one that's "they are here."
 In my earlier review of the PureAudioProject Trio 15 Classic, I concluded:
 "This is not one of those speakers that is an Audio microscope and deconstructs the music. This speaker puts you squarely in Row 10. Close enough to enjoy musical details but far enough back to understand how it all works together." If you are looking for a speaker that will provide you with years of listening pleasure, one that has a better chance than most of working well in your room, one that gives you the ability to tune and, if you want, to try different components, than look no further than the PureAudioProject Trio15 Classic."
 I would apply the same quote to the Trio15 Coax10 with one change. With the additional dynamic expression the Coax 10 driver brings to the party, you are now escorted up to Row 5 for a more visceral, engaging listening experience.
So, in the end, riddle me this: what other speaker company initially offers you multiple types of listening choices and then gives you, the owner, if you so desire, the ability to later implement changes or experiment with its sound?
 Yes….  A unique company indeed.
PureAudioProject has In-Home Audition offers on its website
Specifications
Trio15 Coax10 price starting at $7590.00 / pair delivered.
TECHNICAL DATA
True Point Source D'appolito Design
Sensitivity > 96db (in a typical room).
Nominal Impedance: 8ohm.
Frequency Range: 29-32hz to 20Khz (in a typical room).
Typical distance from rear wall: 2-4′ (60-120cm)
Distance from side walls: Any
Size: W:54cm H:116cm D:27cm | W:21.25″ H:46.67″ D:10.63″
Weight: starts at 55lb/25kg (Depending on Baffles)
Manufacturer Information