You Might Need This $30 Teac Turntable Mat
The most cost-effective upgrade ever?
Perhaps the most immediately noticeable upgrade I've ever made to my system was replacing my Rega wool slipmat with Stein Music's The Perfect Interface Carbon Signature turntable mat. Exactly why it works seems to elude everyone who's written about it, but the Stein mat produces noticeably greater soundstage depth and separation, quieter backgrounds, and improved realism. The Perfect Interface line uses Japanese paper from the "tapa cloth tree" (paper mulberry), further processed with carbon and Stein Maestro Lacquer then "optimized for perfect resonance control." For $468-650 (depending on carbon treatment), you can't overstate the top-of-the-line Stein mat's quality; it's so good you can even call it "cost-effective."
Still, it's several hundred dollars for what's essentially a round piece of paper with a hole punched in the center. No matter the audible improvement, that's a hard sell for those whose wallets have boundaries. Spending a few hundred dollars on a cartridge or phono preamp upgrade feels like a smarter and more fulfilling investment than an expensive turntable mat.
The TEAC TA-TS30UN, however, suggests that maybe you don't need to spend that much on a good turntable mat. The TEAC mat uses two layers of a similar Japanese washi paper (sourced from mulberry) held together by a stone paper core. It's heavier than the Stein, though still very thin. One side is gray with white wisps, the other is fully white. Both sides use the same "un-ryū shi" washi, yet supposedly sound different. The cost? Around $30 plus shipping at outlets like Turntable Lab, B&H, and Safe And Sound, though at the time of writing, Amazon has it for the special low price of $1,488.47. Maybe a typo on their end, but not on mine!
I was intrigued. If the TEAC was a fraction as good as the Stein Perfect Interface, it'd easily be worth it. Thankfully, the TEAC with the gray side up was way closer than I expected—about 85% as good. The Stein excelled in dynamic expression and transient delicacy, but the gray side of the TEAC had tighter bass and arguably better image stability (some might describe the TEAC as slightly more congealed). On Love's "You Set The Scene" (Forever Changes, Rhino/Elektra R1-74013 2012 US reissue), the TEAC mat produced squeakier strings and less bite on the low horn notes. The space around Arthur Lee's voice wasn't as precisely carved out and the hi-hat had less air, but I'm making the TEAC mat sound far worse than it is. These differences were extremely subtle overall, and most people probably won't hear them on modest systems.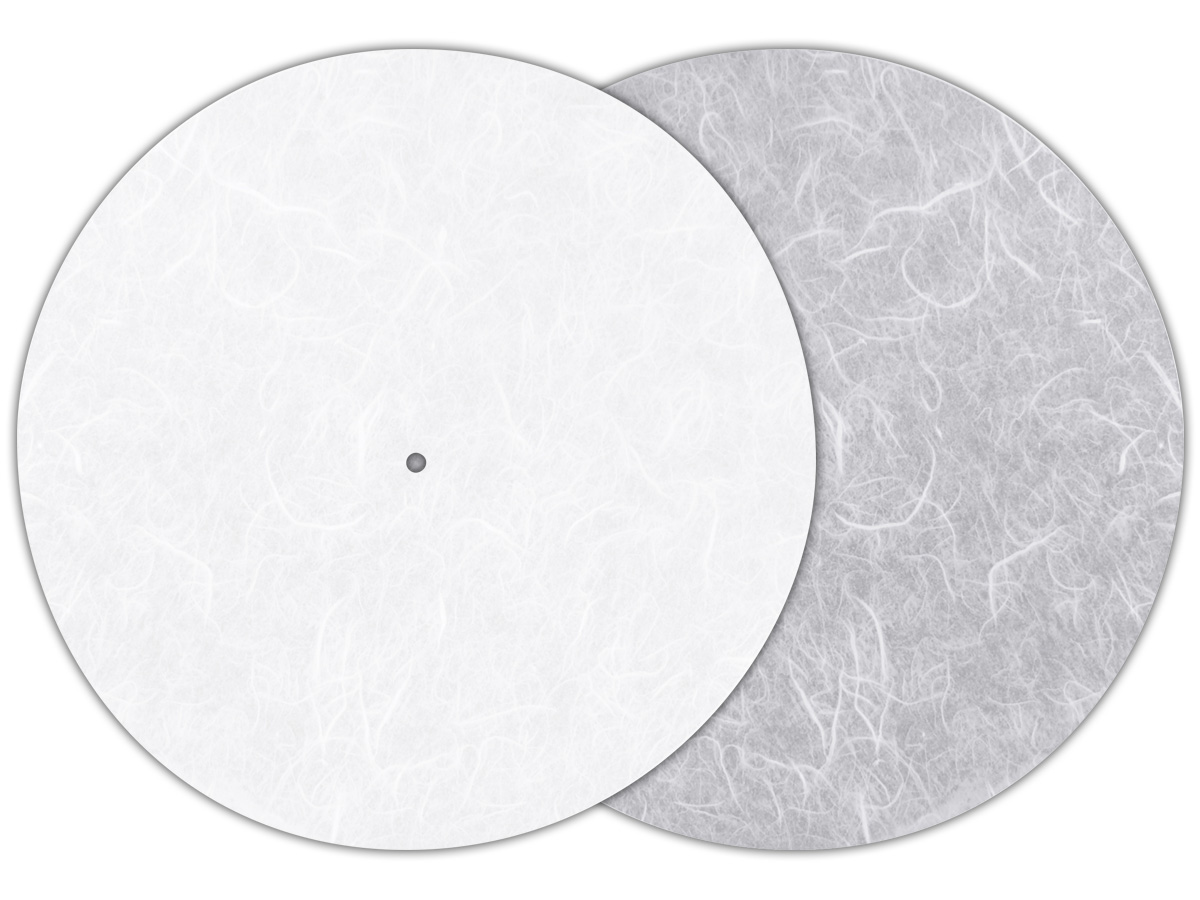 With the white side facing up, the TEAC mat indeed sounds different… and worse. The white side has a warmer midbass bump but also an annoying, plasticky edge on the high frequencies. On a Rega P6 with an Ortofon MC Cadenza Bronze cartridge (review soon!), it sounded nice for 30 seconds then became grating. However, it might pair well with other systems. (Correction: TEAC's site says the different colored sides "gives [sic] different aspects on the platter of the turntable" yet claims audio performance is equal. I assume the "different aspects" part is only about color. Whatever the case, my findings surprised me because I heard a noticeable difference.)
I also have another Stein mat lower in the Perfect Interface line. I'm not sure which one it is, and they've changed things a lot since I got (I think) the Perfect Interface Carbon Signature in 2018. This other one is a darker black and feels more durable than my reference one: less likely to wear around the center hole or shed fibers from the back. It's good, certainly better than felt or wool and probably cork and leather, but lacks the inner detail and background quiet of the higher-end one. The $30 TEAC mat (gray side) is more engaging and has sharper transients than the lesser Stein one (either $250 or $350), although it's a tad brighter. Please don't ask about VTA or SRA differences between these mats, because such differences would be negligible.
Yes, I'm aware how ridiculous it seems to scrutinize the sonic effect of different paper. It logically shouldn't make a difference, but it does. If you don't already have a paper turntable mat, I very highly recommend trying the TEAC TA-TS30UN. It's $30, so what do you have to lose? For those entering this hobby, this TEAC mat should be high on your list of inexpensive, immediate upgrades. It completely obliterates the felt mat that comes stock with turntables, and you'll hear it instantly. (Michael Fremer instructed me not to use felt mats on my carefully calibrated Rega, so I compared the TEAC to a felt mat using a Pro-Ject Debut Carbon EVO. That turntable has the Sumiko Rainier MM cartridge that it came with, and the difference between mats was huge.) The TEAC has no right to come so close to the Stein gold standard; if you forced me into a blind test, I'd guess the price differential was $200 instead of $4-600. Further, the TEAC even has an advantage in being anti-static. The price you pay with the Stein isn't just in your bank account, it's that you take the record off the platter and then have to peel the Stein mat off the record almost every time. So yes, the TEAC mat is essential for anyone who doesn't have or can't afford the super-high-end Stein mat. I was skeptical too, but this really could be the best $30 you'll ever spend on your turntable setup.
Specifications
Made in Japan
Outer material: "Un-ryū shi" washi paper
Core material: Stone paper
Manufacturer Information
TEAC CORPORATION: 1-47 Ochiai Tama, Tokyo, Tokyo, 206-8530, Japan