U-Turn's Orbit "Theory" Turntable Executes Well In Practice
A substantial upgrade for this decade old company
U-Turn's most ambitious and sophisticated turntable yet offers an impressive package of performance-enhancing features starting with a new one piece molded tapered magnesium 220 millimeter effective length, gimbal-bearing tonearm fitted with a pre-installed and aligned nude elliptical stylus Ortofon 2M Blue MM cartridge.
The Theory adds electronic speed control that at the turn of a knob lets you change from 33 1/3 to 45rpm . More important than the convenience of it, the controller features a direct current powered sine wave generator/crystal oscillator monitoring system that adjusts the speed thousands of times a second to drive the A.C. synchronous motor, which results in a claimed high degree of accuracy and speed consistency. U-Turn claims -72dBA rumble and <0.1% wow and flutter. The Shaknspin device measured excellent 0.07% wow and 0.03% flutter. U-Turn measures conservatively.
Shaknspin measurements
There's a new frosted, grooved around its periphery, acrylic platter featuring a new machined aluminum spindle. The groove keeps the round, seamless silicone belt in place and provides a visual test of the platter's machining quality. The belt didn't drift in the groove. U-Turn provides the familiar felt mat. The solid hardwood plinth, available in rift cut walnut or ebonized white oak sits on three layered with Sorbothane height-adjustable aluminum feet.
More Details
The "star of the show" is the new one-piece (headshell, armtube and bearing housing), thixoform (a die case variant) molded in Wisconsin, assembled in-house, tapered magnesium OA3 Pro tonearm. Both the shaft and housing of the upgraded gimbal bearing are machined of stainless steel and threaded, allowing for precision bearing "pre-load". Magnesium possesses high strength-to-weight ratio, has high self-damping properties and takes well to the molding process.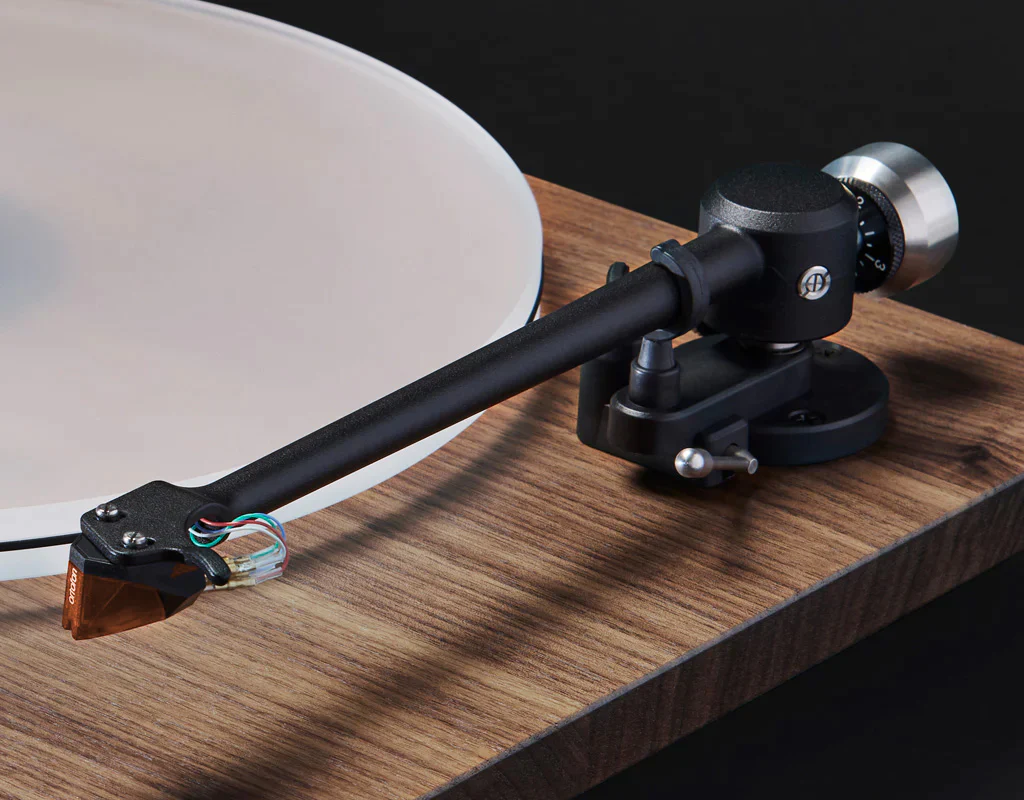 Shown here with Ortofon 2M Red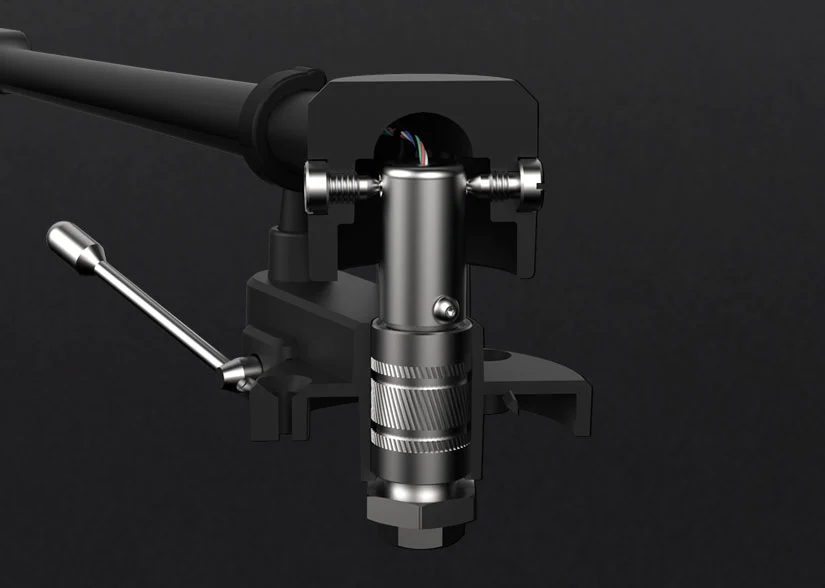 The arm features a familiar rotating dial type counterweight to set tracking force without an external gauge, a lever-type anti-skating mechanism, and a smooth-operating silicone damped cueing mechanism. To maintain rigidity and mechanical integrity the arm offers only the key basic settings: overhang, anti-skating and vertical tracking force. Azimuth and VTA/SRA can be adjusted using different thickness mats (only to reduce SRA) or headshell shims, but this turntable is more designed as a high quality "plug'n'play than one for "tweaking".
Plugging and Playing
The Theory comes nicely and efficiently packaged and with useful, easy to follow set up instructions. A supplied spirit bubble helps with leveling the plinth using the height adjustable feet, which is critical. Within a few minutes even a turntable novice can have the Theory plugged in and ready to play.
It's possible to set tracking force without an external gauge and the set-up instructions well explain how to do it. Doing it gets you close, but I'd still recommend getting a decent one if you wish to dial it in precisely (I like 1.8 grams for the Ortofon 2M Blue). U-Turn sells for $15 a very commonly available electronic one selling for far more elsewhere (cue the handclaps!). There are other equally reasonably priced accessories on the website.
Two Theory variants are available. $999 without built-in Pluto 2 MM phono stage and $1069 with, saving you $29 over the price of the stand-alone Pluto 2. If you order the Theory with, a push of a rear mounted button lets you bypass it should you wish to try another phono preamp.
U-Turn does a good job explaining in words and images both how to set tracking force and how to remove the Ortofon stylus guard, which can be a bit tricky first time out. I ran into a guy the other day who bought his first turntable in decades and couldn't get it to play a record until he realized the stylus guard was in place! No one buying this turntable will have that problem. Ten minutes after unboxing the Theory with built-in Pluto 2 I was playing records, but so will, I believe, new vinyl enthusiasts.
Theory Sound
Cartridge break-in takes some time as does phono preamp break-in so first after installing a new review piece I usually just play "whatever" to put some time on it. I started with a new, never before played record called CosmiCandy (NJR 064) by The Orion Experience on the Needlejuice label. The promised pop confection proved true, heavily indebted to, among others, Fountains of Wayne and the late Adam Schlesinger (though without his sparkling wit). If your collection is filled with 1960s and '70s rock, you'll hear quotes on CosmicCandy from your favorite records (B 52s, Love, etc.) and enjoy how the ingenious, bubbly quartet incorporates them into their original tunes.
A few tracks went viral on social media with more than 70 million streams and 8 plus million YouTube views of the track "The Cult of Dionysus" before the group chose to release an album on physical media. Not expecting much in terms of sound quality, the opening track "The Queen of White Lies", proved expectations unmet: the master prepared for vinyl by Angel Hair Audio and probably cut at GZ Media has cleanly rendered bass and kick drum accents the Theory delivered with immediate rhythmic authority that forced listens to more familiar tracks even before either the cartridge or the built in phono preamp break in.
I gave the the recent Verve/Acoustic Sounds reissue of John Coltrane and Johnny Hartman (Impulse A-40/B0033800-01) a spin and heard a stable, three-dimensional soundstage with Hartman's voice floating pleasingly center stage though a bit more sizzly than expected (after break-in that mostly went away) while Jimmy Garrison's bass lines were cleanly and decisively delivered with good extension and clean attack and generous sustain and decay. It was an impressive, very low coloration performance 100% free of boxy colorations and transient confusion. "Clean" was the word.
Moving on to an old standby, The Modern Jazz Quartet European Concert (Atlantic 2-603) confirmed that the Theory can deliver sophisticated music fully intact rhythmically, spatially, timbrally and especially in terms of transient precision, with quiet backgrounds, committing mostly minor "acts of omission" not likely to be heard on moderately priced systems (like not providing full bottom end extension, missing some midbass fullness and even after break in, showing a bit of a probably cartridge produced treble lift). John Lewis's piano and Milt Jackson's vibes are not easily reproduced cleanly. The Theory managed both well.
The first side ender, "La Ronde", highlights Percy Heath's bass. I seriously doubt even the most experienced listener would think he or she was listening to a $1069 turntable/cartridge/phono preamp combo, so clean and effortless was each bass note's attack, sustain and decay.
The last record played before writing this was Leonard Bernstein's famous 1959 recording of "Rhapsody in Blue/An American in Paris" pairing in which he conducts and plays piano with the Columbia Symphony Orchestra for "Rhapsody…" and conducts The New York Philharmonic in "An American in Paris" (Columbia MS 6091). Plenty of air around the instruments on a stable, wide and deep soundstage. The Theory ensemble delivered Bernstein's well-focused piano with incisive attack and a generous amount of "body" and timbral complexity—no "tinkly piano".
As with everything else I played over a two week plus period, the overall timbral balance on the Bernstein record was slightly bright for my system and tastes (though the record and recording lean somewhat in that direction). The Pluto's fixed capacitance is set to 100pF. The 2M Blue's recommended capacitive load is between 100pF and 300pF. After installing an outboard phono preamp with capacitive loading options I found 300pF produced for me a better balance in my system.
Nonetheless, if you are considering the Theory and don't have a phono preamp, I'd go with the built-in Pluto. It adds a small amount to the total and over time if you find the 100pF load produces too bright a sonic picture, at the push of a button you can add an outboard phono preamp with capacitive loading options. I didn't mean to end on a slightly negative note and don't think I did!
Conclusion
U-Turn's new Orbit Theory turntable is an impressive addition to the U-Turn turntable line. Unlike some other turntable companies that pick and choose among now familiar looking available parts made in an overseas manufacturing facility, has them assembled into a turntable there and then slap their brand name onto it, U-Turn designed in-house its new magnesium tonearm and has the magnesium component built for them in America, after which the arm and other 'table components are hand-assembled at its Woburn, MA facility.
More importantly, all the effort that went into the arm's design and manufacture—no doubt somewhat of a financial gamble— paid off. The Orbit Theory costs twice as much as the company's previous top of the line turntable, but when you hear it you'll know it's at least twice as good.
The one-piece magnesium arm delivers a direct shot of vinyl adrenalin that will jolt less experienced vinyl listeners. Vinyl vets will hear something more familiar, but not a sound typically heard at this price point, especially since it includes the Ortofon 2M Blue, that alone sells for $239.
Add electronic quartz synthesized speed control, and everything else mentioned in the body of the review, a high level of fit'n'finish and a 3 year warranty, plus it's made in America and you have a major turntable achievement that's more than fully competitive with turntables from some companies that have been around for many decades. Well done U-Turn!
Specifications
| | |
| --- | --- |
| Playback speeds | 33/45 RPM electronically changed |
| Dimensions | 16.75 x 12.5 x 4.25" |
| Wow & flutter | < 0.1 % |
| Nominal speed | +/- 0.5% |
| S/N Ratio | - 79 dBA |
| Rumble | < -72 dBA |
| Input voltage | 115V/60Hz |
| Output connection | RCA |
| Warranty | 3-year limited warranty |
Manufacturer Information