Would You Buy A $3899 Ethernet Switch?
would you buy any ethernet switch?
Let's start with, would you buy an ethernet switch at all? If your music is all in the analog domain, you don't need one unless it's for your home theater set-up or for your household Internet and even then, you may be 100% wireless and not need one. And let's continue with, why is any ethernet switch being reviewed on TrackingAngle.com? And let's complete the questioning with why is that analog guy doing the reviewing? All good questions.
Of course, vinyl records remain my main source of recorded musical pleasure, but in today's world of high resolution streaming I don't know many music lovers who aren't also streaming. At the very least, services like TIDAL, Qobuz, Apple Music and Spotify are like always open record stores where you can audition new music before you buy the vinyl.
I have a QNAP NAS drive with 2 pairs of mirror imaged SSDs containing around 8000 files all at least CD resolution and many at 96/24 and higher, collected over the years, to which I'm always adding material, and I stream using TIDAL, Qobuz and Spotify. So why not review a costly ethernet switch? After all, it can't possibly make any sonic difference, so let's cut off this nonsense "at the pass".
 I'm using the usual el cheapo plastic D-Link 8 port Gigabit switch (for specs, go here) that connects to my router as well as to a Mac Mini I use as a Roon Nucleus. The NAS drive also connects to it. Another ethernet run goes from the switch out to and around my listening room to an English Electric (a Chord company) 8 port switch, which you can read about on that company's website. I use that to branch off to a dCS Vivaldi One Apex, streaming DAC/SACD player and to the CH Precision P1 phono preamp, which can then be controlled using an Android app (I downloaded onto a Samsung tablet). The short runs of Ethernet cables and the long run of ethernet cable into the room are from Audiquest. The short run to the DAC from the English Electric switch is from Chord.
Before installing and listening to the Silent Angel Bonn NX switch…. I hear you: "What do you mean 'Listen to a switch'? Why, I have an E.E. degree and I know how these things work and whatever you feed into that switch will appear at its output, period."
What I was about to type before being interrupted, was that before installing and listening for whatever, if any subtle and minor changes might be produced by changing the switch, I spoke to a few digital audio experts who shall remain nameless. I asked each the same question and from each got the same answer: whatever information was fed to the switch would exit the switch in unchanged "packets". The switch would neither add nor subtract data. "And if I did hear a difference, what might account for it?", I asked, "other than my imagination?".
I got the same answers from all who I contacted: "Improved grounding might produce quieter backgrounds" and higher quality re-clocking could produce lower jitter and perhaps better sound. In other words, these guys were open to improved sound, whatever the measured performance might be, not that I was measuring anything. Had I asked engineers in the computer data world, I was told by all of them, they'd all have said that no switch can produce audible differences as long as the switch was capable of passing the signals in the first place—something the switch I'd been using previous to the D-Link was not.
Legitimate science begins with observations in need of testing—like Newton seeing the apple falling from the tree. If you see or hear something, test to find out why or if it was a mistaken perception. I write that as a lay person not as a scientist so please don't get on my case about how I've framed it.
The Silent Angel switch, which I'll shortly describe came with a PDF written by company CTO Chorus Chuang. Mr. Chuang has a Masters Degree in Electrical and Electronics Engineering from National Tsing Hua University (1999-2001) and a Bachelor's degree in same (1995-1999), so keep that in mind before you lash out after reading the actual review.
Sadly for Mr. Chuang, like most of us, he's also an audiophile and in his experience with streaming digital audio, he heard "stuff" that didn't make immediate sense, and set out to figure out why.'' He founded Silent Lab inc. in 2016 engaging in product development as well as sales and marketing. Since 2017 he's been CTO of ThunderData, Co. Ltd., which I gather is the umbrella company.
In the PDF Chuang notes sonic differences he was hearing in changes he was making that should not have resulted in sonic differences, and, as long as you are asking, he also carefully notes standard testing protocol, part of which is: "a 72-hour wide-temperature test, using network packet generators (e.g.,SmartBitsorIXIA) to inject high-bandwidth data traffic into every single port of a switch device, with no packet transmitted erroneously during the entire test period". He also admits, "I shared the belief that digital music was immune to the interference we encounter every day, and that music would be reproduced perfectly due to the lossless nature of network data transmission (lost data will be retransmitted, to be exact).
 Needless to say, he learned otherwise and set out to understand why that was so, and create a network switch that would solve the audible issues. He also relates an experience while on his first engineering job, which I think you'll find interesting: "Let me start answering this question with my first job as a network engineer. My mission then was to develop a Gigabit Ethernet switch using Intel's early stage, three chip solution. During the development work, I was advised by Intel engineers that we needed to use traditional Edison style incandescent bulbs in the lab in order to pass the IEEE compliance test. Fluorescent lights had to be avoided because they emit high frequency noise. Thought skeptical, we followed this suggestion and turned off all fluorescent lights. To our surprise, the noise level in our switch significantly dropped, and the product passed the compliance test." I'll stop now other than to say that every tech feature of the Bonn NX network switch that will now be described has a fact, and tech-based antecedent, though Mr.Chuang cautions, "There are still many unanswered questions in the quest to perfect the presentation of music in the era of digital streaming".
The Switch
This device looks and weighs more like a modestly sized power amplifier than it does a network switch and has a built in power supply rather than a "wall wart". The eight "heavily gold-plated" Gigabit Ethernet Ports have been critically spaced, with distance specifically calculated to minimize potential signal interference."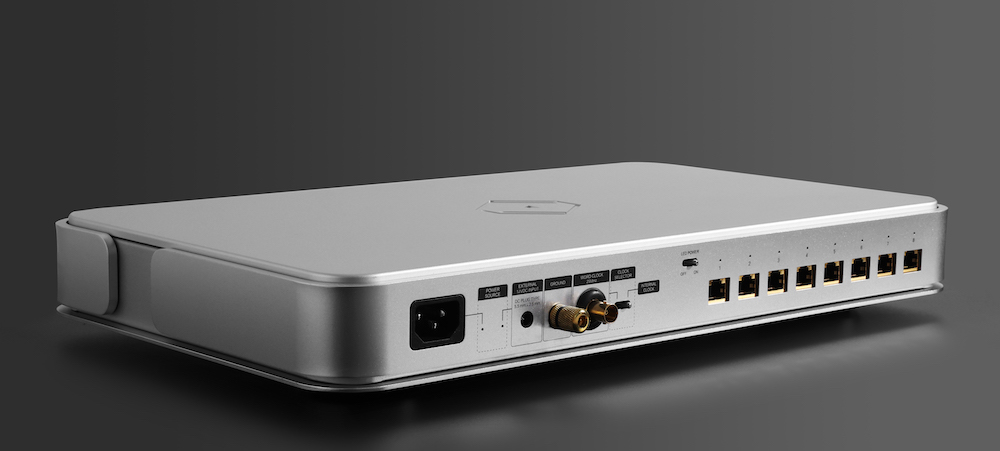 "Our objective in designing Bonn NX is to ensure the device operates at a stable system voltage, sends precisely timed data packets and reduces extraneous output noise. We have found that even the smallest enhancement can improve sound quality and the implementation of many small enhancements elevates the potential of High-Resolution Streaming Networks".
The switch includes an "exclusive" TCXO (Temperature Compensation Crystal Oscillator)  25MHz clock Module that the company claims is "more precise than the Crystal Clocks found in other network switches, lowering latency issues and jitter effects". Jitter is lowered to 369ps, compared to the usual 705ps. The clock's power source uses multi-stage power filter technology that's claimed to remove crosstalk at 10MHz, 100MHz and 1GHz and feed to the clock module "purified power".
I skip the rest of the power supply details other than to write that it's designed to prevent noise pollution from other network connected A.C. power sources. The description sounds more like what you would find on a power amplifier. The A.C. to D.C. rectification circuit is housed within the chassis in its own heat sink.
The chassis construction consists of an inner layer of galvanized steel while the outer layer is thick, high-quality aluminum alloy. The design is said to maximize shielding and control eddy currents while damping vibration and noise. The stainless steel resonance control feet also resemble what's found on power amplifiers not ethernet switches. Silent Angel claims the feet and the chassis construction reduces mechanical and electrical noise, static electricity, resulting in "improved dynamics and increased resolution of fine detail." Does that sound to you over the top? It does to me.
The Undeniable Sonic Improvements
I'm going to let a few cats out of the bag here. The timing of the delivery of this product couldn't have come at a better time. I've lately been spending a lot of my non-vinyl playing time repeatedly listening to digital files of two unreleased projects, one that will in a few weeks be released by Patrick Leonard and one that will soon be released by me and Robin Wyatt, who among other things imports Miyajima Labs cartridges and other products. Let me explain.
Patrick Leonard collaborated with Leonard Cohen as writer/producer for the albums Old Ideas and Popular Problems and co-writer, co-producer on You Want It Darker. He was a long time Madonna collaborator on many of her earlier albums. The list of people he's worked with, is mind-blowing. He was also half of the group Toy Matinee. Oh, and of course he produced with Roger Waters Amused to Death. So what am I doing here? I keep asking myself the same question!
Patrick has written, produced, and performed (along with a few other people whose names you know) a new album that Bob Ludwig is mastering. Patrick wants to put it out on vinyl and asked Bob's advice. Bob told Patrick to ask me and he did. No words so enough said.
Over the past few months, I've been listening to mix after rough mix, with instruments and enhancements added and I'll just say if you love Amused to Death you'll love this one as well. I've just heard the final Kevin Killen mix and it's deep, complex, kind of retro (most if not all of the synths are '70s era beasts) and a grand sonic treat the way "they used to make them", though of course it's fully high resolution digital. So, I'm well-familiar with this recording!
The other project is a debut album by a young pianist, Caelan Cardello. The back story here is: Robin and I decided to support our friend Jim Luce, who is a piano aficionado and concert promoter who ran a small event in NYC last winter at the Klavierhaus, a piano showroom with a performance space. We went not knowing who or what we'd see.
The first young performer was very good. I forget his name. Then, in walked veteran bassist/educator Rufus Reid with his double bass, and with this young man in tow. They sat down and for the next hour absolute magic happened between Reid and Cardello playing the Fazioli grand piano! The two had never before played together, which is part of the reason it was magic. They huddled for an hour before playing and that's all! But Reid had been following Cardello around town watching him play at various clubs.
Long story short, it was superbly recorded by our friend, recording engineer Duke Markos. Then and there, Robin and I decided to release the performance on vinyl if we could get permission. Rufus was all in, Caelan was all in, Duke was all in and so it will be released!
The best part is that when we got the files home and played them for the first time, it was as great as we thought it was listening live. That doesn't always happen. What's more, I sent a rough mix to Bob Ludwig and he's all in! Bob said he'd happily be involved because in five years everyone will have heard of Caelan Cardello.
We've been listening to mix after mix getting it all to sound as live in the space as possible. Just as it sounded to us that Saturday afternoon. I can't count the number of times I've played this nearly hour-long set. And I've enjoyed it every play.
And then this $3800 switch arrived. I installed it and with a great deal of heavily built in skepticism, before reading the PDF or knowing anything about the designer/inventor, played these very familiar 96/24 files, bypassing the English Electric 8 port switch so I could hear just the Bonn NX and later with the English Electric 8 port switch re-installed.
The Rufus/Caelan files first. The transformation was not at all subtle, though of course it was subtle. What I mean by that is that the recording is very fine to begin with. After multiple mixes (and with some placement suggestions from Joe Harley), Caelan's piano sits in a space to the right of the left speaker, with his left hand to the left, closer to the speaker and the upper keys subtly placed closer to center stage but still well left of center stage though of course the enormous piano's sounding board occupies much of the left of center stage, satisfyingly like we heard it live. Rufus's bass was placed at around the "two o'clock" position, right of center stage.
Inserting the switch did not change image placement, but it dramatically changed the piano's attack and sustain. The attack went from the more usual "digital tinkly" to more creamy analog-like, with a more natural structure and more generous midrangy sustain and graceful decay. It sounded more like a piano. The switch had the same effect on Reid's bass, giving the attack more time to develop the "rubbery" quality heard live when a string gets plucked, yet there was still plenty of fire and detail in the event. The bass had greater overall weight but especially on the deeper notes, which seemed to dig down further. Even the applause went from papery to more fleshy.
Having been acclimated to a particular recorded sound after dozens of plays, you just must believe me that the presentational differences were global and affected everything in ways that were both subtle and profound. I ended up feeling I now had a better idea how the finally mastered vinyl LP might sound.
The Patrick Leonard record, far more complex and razzle-dazzle yet nourishingly organic thanks to the early synth sound and real drums (etc.) had changed greatly over time due to both the insertion of a greater number of musical elements and more mixing subtleties. Patrick clearly knows great sound and this one will keep you on the edge of your seat kind of like "Amused to Death". The switch produced greater focus and revealed mix details that had previously been pleasingly congealed together. Now they were more pleasingly separated. The music's rhythmic thrust seemed intensified.
Conclusion
I'll stop now because there's no need to go further. The exercise was, can an ethernet switch affect digital sound? The answer for me is yes! And it wasn't subtle and of course the sound improved in every musical way. Fortunately, Silent Angel manufactures a few different switches, some of which are far less costly, as well as many other products including an outboard clock. If you have a decent digital set up, you ought to investigate replacing a network switch not designed with audio in mind. You might be very pleasantly surprised by what happens when you replace it with one designed with sound in mind. Now back to vinyl!
Specifications
Interface

Clock input switch x 1 (external/internal)
- BNC interface 25MHz external Word Clock
- Silent Angle specialized TCXO clock module

LAN port LED indicator switch x 1
- Control the on/off status of LAN port LED

Grounding Port x 1
- Connect to a ground box to make the signal quality more purer and precise without interference

LED Indicator

AC Power LED (green) x 1
DC Power LED (green) x 1
LAN Port Status LED x 8
- Light on when linked; Flash when it's active
- Green: 1000Mbps; Amber: 100Mbps

Temperature

Operating: 32 ~ 86 °F (0 ~ 30 °C)
Storage: -4 ~ 158 °F (-20 ~ 70 °C)

Humidity

Operating: 10% ~ 90% RH (non-condensing)
Storage: 5% ~ 95% RH (non-condensing)

Dimensions

17.29 (W) x 2.49 (H) x 9.95 (D) inch
439 (W) x 63 (H) x 250 (D) mm

Weight

14.34 lbs / 6.4 kg
Manufacturer Information