Acid Arab Releases Its Third Album, "Trois"
western electronic music meets the middle east
Looking to get away from the same old, same old? Yearning for a new view? Perhaps you've got a hankering for some exotic spices that you've never tasted before. Well, you could zip around the internet and book a trip to a distant and far-off locale. Or, you could simply broaden your musical horizons by buying something new for your turntable that has the ability to transport you to a place - or time - that you've never visited. After all, what starts as simply a musical trip can sometimes ignite enough curiosity to inspire the booking of a real vacation to visit the lands that you'd only heard coming from your stereo speakers. 
The always adventurous, Crammed Disc company brings us the third Acid Arab album - Trois - and it might be just the ticket necessary to reboot your internal musical compass. A hybrid of dance music and Middle Eastern and Mediterranean sounds is what you'll find on this record, but the element that really sets it apart is the inclusion of several vocalists from North Africa, Syria & Turkey. To make the experience even more multinational, the group's members are French-Algerian and the album was recorded in Paris. 

Their latest 10 track album was wisely released as a two-disc package and the sound quality appears to benefit from the additional vinyl real estate. As one might imagine, the bass is deep and wide, but does not get in the way of the other unique elements inherent in the group's productions. The discs that I received were quiet and flat and lyrics are included in the inner sleeve, however, they are printed in the respective languages of the songs in which they are performed. 

As you'll learn, while the band's electronic musical direction means that much of the album's recording is digital, the collective is deeply rooted in the analog tradition in some ways that might surprise you as you will learn in the following interview with the collective's Guido Minisky who joins me to explain how the pieces of this multifaceted project were put together and how the sounds of the East and West were fused together on Trois. 
Evan Toth: Acid Arab has been together for about a decade now. Can you share for our readers how you connected and some of the influences that inspired you to create the group?

Guido Minisky: The project started with a special DJ set we made for a festival in Djerba, Tunisia, and continued with our Acid Arab parties at Chez Moune, a small Parisian club, mixing electronic records with Arabic, Indian or Turkish records. Very quickly we went on to produce tracks at Shelter Studio with Pierre-Yves Casanova and Nicolas Borne, and to perform live with Kenzi Bourras. A few EPs and three albums later, here we are.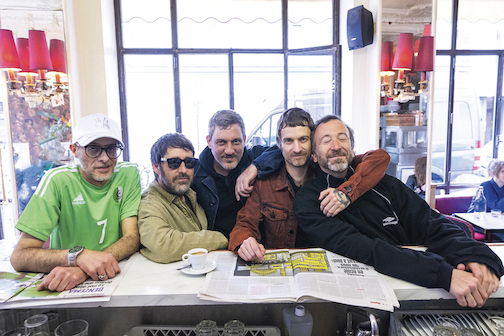 ET: At the time of this interview, Paris is embroiled in significant turbulence related to the change of retirement age. How has the group been affected by this and has this time in French history served to inform or cause you to reflect upon the music that you are creating?
GM: Yes, these are turbulent times around here… but retirement reform did not affect this record, which was recorded before that. In fact, we were much more hit by Covid. We got back to the studio after these harsh lockdowns. This record exudes our will to be back on the dancefloor, the raw energy we had to exteriorise.

ET: It's interesting to view this album from the eyes of someone who is unfamiliar with this mashup of the dance floor with music of the Middle East. How would you describe your group and this album to someone who is open to broadening their musical palette, but isn't aware of your output?
GM: Acid Arab is a mighty French-Algerian collective that emerged ten years ago from the heart of Paris. Our music reflects our deep love and respect for eastern electronic music and music from (the) Middle-East, Maghreb, Turkey and beyond. We try to merge these different cultures on the dancefloors. Someone said about our music: "it's more an infusion than a fusion." It fits us perfectly.
ET: Can you discuss how you rectify the relationship between analog and digital? So many of your musical influences are analog sounds - or at least they descend from analog. Your analog influences go digital and then - with vinyl - are committed back to the analog realm. How do you feel about the role of analog in your productions, how does it influence the music you make?

GM: We do love analog sounds. Shelter Studio, where all our music is recorded, is full of vintage keyboards and more recent ones but we're also very open to use any new digital technologies. We have no diktat or ideology, we take the good parts wherever they are.
ET: My vinyl copy sounds excellent with juicy yet defined bass which is in perfect balance with the rest of the music's elements. It's fun to turn this pressing up loud! I especially appreciate the fact that you spread the tracks over four sides. What's your relationship with vinyl? How important was it for you to get this vinyl pressing right?
GM: We're vinyl addicts, we buy a lot of them. We love the format, the sound, the sleeves, the stories behind them, etc. And we're very careful of how we sound. So yes, we're happy when our records have the right dynamics, when we can play them loud, it usually means we kind of succeeded in this process.

ET: All eight of the vocalists on the recording are guests. In fact, it's the unique alliance of voices that really gives this project its identity. Otherwise, you could have simply stuck to instrumental based electronic music. Describe the interplay that you have with the many guest vocalists you work with.  

GM: We've known some of them for a long time, Sofiane Saidi, Cem Yildiz or Wael Alkak; they're friends of ours so it was obvious to have them on board. Some others were brought in by Kenzi (Cheb Halim, Ghizlane Melih, Fella Soltana) who always had a lot of connections with singers from North Africa.
ET: I understand that this album features the voice of the Algerian singer, Rachid Taha who recorded the vocal on a telephone one night in Paris before he passed away in 2018. Can you tell us that story?

GM: Seven years ago, (very) late at night, we ended up at (a friend's) house. For a while, we've had the idea of asking him to sing and to sound like a house music crooner, in a Moodymann way. That evening, after eating, drinking, etc, we ended up recording his voice with a simple smartphone. It was such a magic moment! We preciously kept this recording not being sure of what to do with it until we started working on our third album. We are very grateful to his son for having allowed us to pay tribute to his father, and now we're happy to share it with the world. RIP Rachid!
ET: Obviously, none of the vocals on the album are in English, but I can feel some weight behind the lyrics. What are non-Arabic language speakers missing here? How do you approach composing the lyrics for these songs?
GM: We did not compose these lyrics, the singers did. Some songs are about freedom, others about love, some about life. Hopefully, for the ones who don't understand the lyrics, music is a universal language.

ET: You've done a great job building tension and storytelling into these tracks. I love music with a strong rhythm, but find that there's often a divide: it all starts out great, but not all of it goes anywhere. I feel like your tracks have an opportunity to develop and you exploit those opportunities at each turn; describe the process of composing and arranging these tracks. What leads you in the composing and production process? The Eastern instrumentation, or the rhythm? What sparks your inspiration and guides you?
GM: There isn't a single recipe that we use constantly. Every collaboration has its own story. Sometimes the track was ready for a singer. Some of the songs were built from a basic demo and developed with the voices already recorded. The main ingredient is not the electronics or the Eastern instrumentation but the very moment they match and merge, when 2 become 1. Then we can start exploring and exploiting every different aspect of the tune.
ET: This is your third album as noted by the Arabic symbol for three (trois in Française). How do you feel this album is different from your first two releases? 
GM: The process is still the same, but as we said before, the Covid lockdowns had an influence on this album. We wanted it to be energetic, dancefloor-orientated, but also pop, as a collection of songs can be.
ET: "Halim Guelil" has a particularly notable wind instrument in it, as do many of the tracks. Is that a duduk? When a listener hears these instruments are they hearing samples? Keyboards? Or, is it the real organic analog instrument? Or, a mixture of all three?
GM: We do not use samples, all instruments are real ones. The instrument you talk about is a gasba, a reed flute, and on the track we used one from one of our synths.
ET: I've spoken to Gary Numan about his incorporation of Eastern sounds on his last album - Intruder - and he shared a great story about the Turkish Yaybahar player and inventor, Gorkem Sen. Gary explained that the performer was ambivalent about incorporating this sound on a pop record fearing that his instrument's identity might lose its uniqueness. Have you experienced a situation like this when constructing your albums and incorporating musical elements of the East?
GM: No, we have only met artists that were interested in the concept of bringing cultures together.
ET: What's your primary motivation? Getting people on the dance floor or exploring a greater artistic dialogue between musicians of all cultural backgrounds?
GM: None is primary here. Being able to do both (and more) is the goal.
ET: "Sayarat 303 part ii" is an intriguing song with an almost Moroderesque bassline. I think it's my favorite track on the album - it's also the only instrumental. Can you tell our readers about that song?

GM: On this track, the gasba flute is a real one, recorded at the Numera Studio in Constantine (big up to them!) and the idea was to pay tribute to '90s trance bands like Underworld, FSOL, Eden Transmission, etc. as the 6/8 signature works perfectly with this vibe.
ET: When you present these tracks to an audience, I imagine you change and adapt them the way that DJs will do in a live setting. What would a club-goer expect to experience differently in a live setting than they might listening to your records?
GM: The pleasure of experiencing it with other people! Also our live performances sound extra powerful, and the songs are different from their original form. We remixed every track for the live show, we even make use of mash-ups.
ET: Can you please share mastering and pressing plant details?
GM: We're very happy that Chab, the Parisian mastering wizard, did it again (he also worked on our previous albums).