Florida International Audio Expo 2023
the best Tampa show yet, and my pick for the top rooms.
Being inside a hotel for three days is not exactly the Sun and Fun in Winter that most make it out to be. No matter. This year I experienced an embarrassment of riches in the form of many impressive high-end systems - and managed to leave the hotel for some Tampa exploration.
I started the days with trips to local coffee shops to quell my jonesing for top-flight espresso. I had some serious lattes and a nice cafe Cubano near the hotel. Saturday morning was all about Banana's records in St. Petersburg.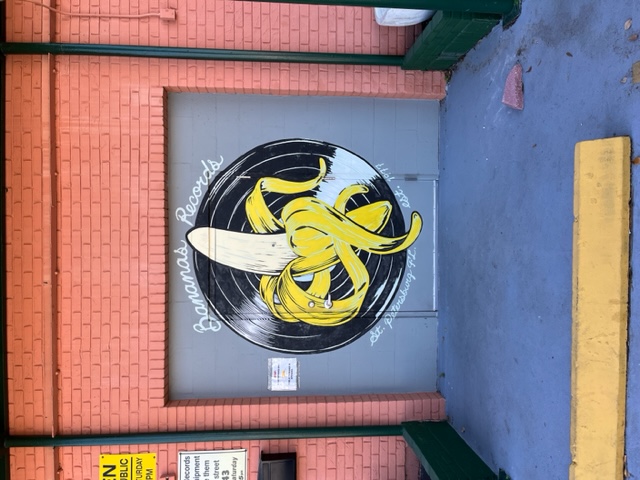 I picked up some great used vinyl, including a VG+ copy of the second album by Blood, Sweat, and Tears - on half-speed cut Super Disk no less. Saturday night, I had dinner with a crowd of my HiFi compadres at the famed Italian restaurant Donatello. One of the best Italian meals in memory!
Now on to the show

I won't get into the weeds by reporting on every room and component model number in this year's bigger and better show. Instead, I want to talk about my top three rooms, with a few honorable mentions.
The Newcomers from Switzerland - Clarisys Audio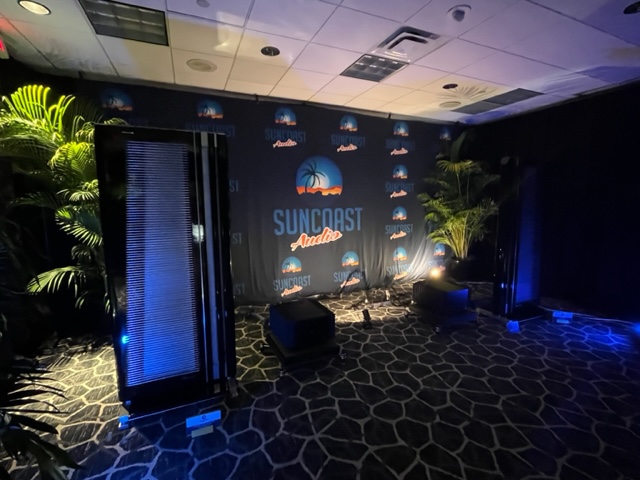 Florida dealer Suncoast Audio, helmed by owner Mike Bovaird, sponsored and helped set up the Clarisys rooms. Mike is a serious audiophile and knows the good stuff when he hears it, so it's no surprise Suncoast added Clarisys its fine hifi component offerings.
Clarisys Audio's second down-from-the-top offering, the Auditorium loudspeaker ($140,000), was located in the moderately large Florida room on the hotel's main floor. Their entry-level model, the Minuet ($33,800), was in a smaller upper hotel room. While I thought both rooms sounded excellent, I'll give the better sound nod to the Auditorium room.
When I first walked in and saw the impressively sized Auditorium, I had a flashback to my days selling Apogee ribbon speakers at Sound By Singer in NYC (the design is an homage to Apogee, Clarisys Audio's Florian Wiegand told me—ed).
The Auditorium had an easy to listen to large-scale sound. Clear and clean with speed and immediacy is the hallmark of well-done full-range ribbons - and these are well done! The speaker features three vertical panels (lows, mids, and highs) fed by an impressive-looking passive crossover box located separately behind the panels. The low end was large and controlled. Imaging was precise, if not holographic. I found a great sense of coherence in the sound.
Wiegand told me that the speaker's impedance is quite benign and does not dip into the low, near-short-circuit range that had to be reckoned with in Apogees of old. Modular ribbon panel assemblies attached to a heavy aluminum frame structure make for easy repair, should that be needed. Clarisys will fly to your listening room to ensure proper setup. I'm not sure, but I assume this is true for the Auditorium, Hall, and flagship Stadium models.
At shows, one can never be too sure about what the individual components contribute to the overall sonic picture. However, you can bet your last Benjamin, the Clarisys Auditorium was a significant part of that room's seductive sound. I also enjoyed the Minuet sound in the smaller upstairs room. For many folks, a pair of Minuets will be more than sufficient for all but the largest home listening room.
Large Auditorium room:
Block Audio SE Pre, MSB Select II DAC with MSB digital director, Aurender N20, VPI Avenger Direct and my Studer 810.  Critical Mass racks, Shunyata Omega Speaker cables and jumpers with Nordost Odin 2 interconnects, and a Nordost QNET switch.
Small Minuet room:
Hegel H30A, Hegel P30A pre, Lumin P1, Aurender N200, Rega P8 turntable and Pass Labs XP27 Phonostage.  All cabling was from Shunyata.
MBL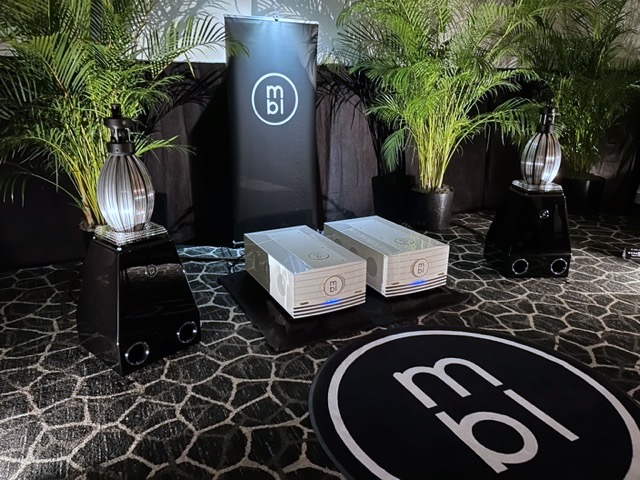 Suncoast Audio strikes again in this excellent room partnering with Germany-based loudspeaker company MBL. Along with a full slate of MBL electronics, reel-to-reel tape deck stalwarts United Home Audio provided tape titillation.
In the past, I've enjoyed hearing MBL's Radialstrahler Große Jungs. Impressive, no doubt, but not really my thang. However, the MBL 101 E Mk II featured at the show ($84,500) struck my ears differently. 
Overall, the system tonality was fantastic. Smooth and detailed. Clear and clean with lots of musicality. I especially enjoyed the low end. The unique driver design is a bit of a psychological hurdle for me, but it's undeniably great. 
Part of its appeal is the 360-degree radiation pattern, which makes for a very enveloping listening experience. I prefer more pinpoint imaging characteristics, but it is nice to sit almost anywhere in the room and hear great sound. Bonus points to the exhibitors for creating an inviting atmosphere in this room. Mood lighting, plants, attractive room treatment - the whole nine.
I didn't hear tape playback when I was in the room, but I'll assume it was solid. My only quibble with UHA tape decks is a lack of playback eq controls. Maybe this deck was different, I don't know.
A little bit about those MBL electronics; I'll bet those had a lot to do with the sumptuousness of sound I experienced in this room. 
MBL 9011 Monos ($64k each) and 6010 D Preamplifier ($32.4k) plus a DAC I didnt get the model of delivered mega hifi goodness to those 101E Mk IIs.
I highly recommend an audition if you've never experienced the MBL sound. It might be love at first listen.
Acora Acoustics and VAC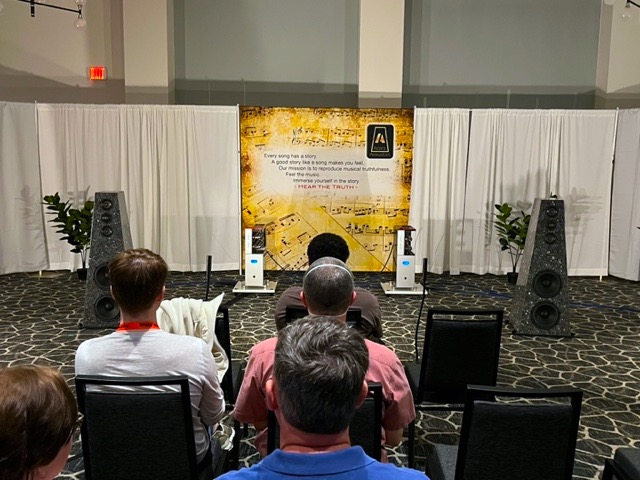 I've saved the best for last. Folks reading my reviews in other HiFi blogs should be familiar with my unabashed fan boi love for these two brands, so it is no surprise that I loved this room. But love is not strong enough to describe my feelings upon hearing Valerio Cora's new flagship VRC loudspeaker (approx. $220,000). The unannounced unveiling of Acora's multi-year development resulting in this extraordinary speaker surprised show attendees.
With a complete lineup of Kevin Hayes' VAC Statement level electronics, including Statement Line Stage ($80K), Statement Phono ($80K) and a pair of 452iQ amps ($75K each), the VRCs had top-flight juice to live their best life. And if that wasn't enough, Oracle's Jacques Riendeau brought a Delphi MK VII turntable ($13,920), with Reed 1H tonearm ($3,750) and Lyra Atlas Lambda cart ($11,995) for its world premiere. Sacre bleu!
Aurender reference level streamer, clock, and LampizatOr Horizon DAC with all Cardas Clear Beyond cabling rounded out the system.
I was fortunate to hear an almost final version of the VRC last year when Val and I snuck away to his house during the Toronto Audio Fest. That experience made me tell some of my HiFi pals and fellow reviewers about my shock over the incredible sonics. Some of those guys were at the show, and upon first listening, my pal Jamison Mourafetis turned around and said, " You did NOT overhype these."
It was an enormous room at the Tampa show, which I don't usually enjoy as much as the intimate rooms. This mattered not. Sitting in any of the middle chairs from front to back, I was treated to a private concert experience.
The tonality of the VRCs is hard to describe because of a total absence of color, distortion, or dynamic constriction - even up to insane sound pressure levels.
Imaging is the finest I've ever experienced in any loudspeaker. The VRCs here in GT Pearl Granite exhibit leading-edge transients so clear and clean you forget you're listening to a speaker. The low end is massive when required by a recording. When I say massive, I'm talking about room pressurizing of very low bass, usually experienced in top-level rock concert sound systems. But that description leaves out the VRC-1's control and classiness in this area.
I visited this room often and heard a wide range of music, including many of my masters and mixes. The sheer amount of information these speakers are capable of, coupled with a rare sense of straightforward, musical enjoyment, has to be heard to be believed. Stay tuned because I'll have much more commentary in my home listening room review later in the year. 
I give this room an unequivocal Best In Show.

Other Enjoyable Rooms

One of the cool things about going to a HiFi show is hearing products that are a little off the beaten path.
The Swiss company Tobian Sound Systems had a great sounding room. It featured their 12 Signature Edition Horn speakers ($50K) with Westminster Labs electronics and a Lampizator Horizon DAC.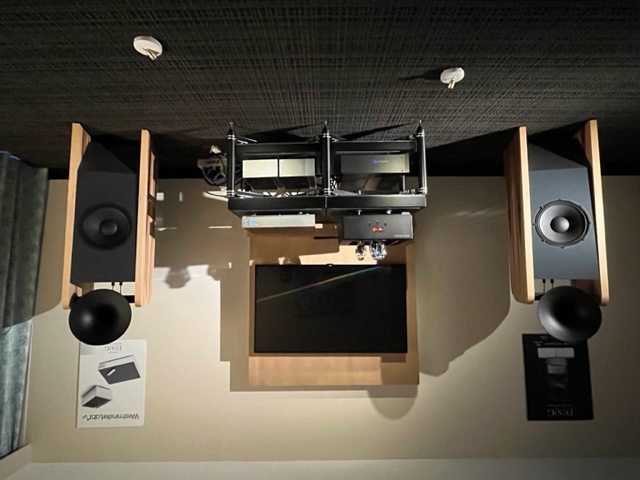 I'm not that much of a horn guy, but I enjoyed these a lot. When I was in the room, I heard some music off of Roger Waters' - Amused To Death album. Daaang, was it cool sounding. The speakers had a great tone with a very open and spacious vibe. Not my usual experience with horn systems.
The TAD room was also a treat. At past shows, I've heard some of their stand-mounted speakers. This time, I listened to a floorstander, the R1TX Reference One ($145,750) coupled with all TAD electronics.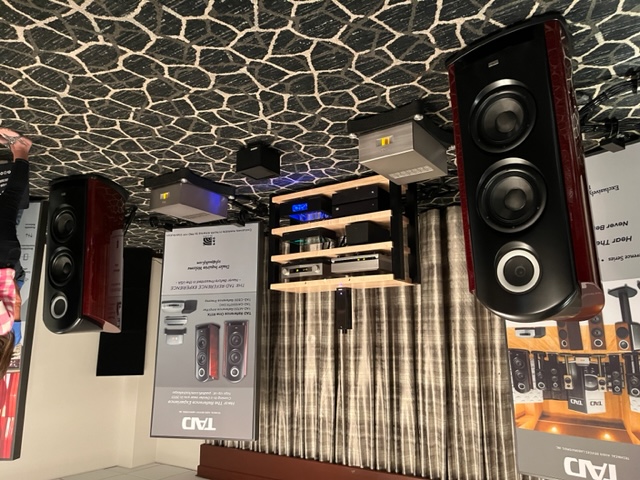 TAD has been known in the pro-audio world for a long time. For example, one of the first recording studios in which I worked had a great-sounding soffit-mounted system with two JBL 15"s and a TAD 4001 2" beryllium compression driver.
This current loudspeaker system had a slight pro-audio vibe to the sound with a solid dose of audiophile-pleasing sonics. Great bass, with ultra-smooth mids and highs, was what I heard. In addition, the R1TX had an impressively stable center image, if not audiophile-wide.
Noted audio engineer Jim Anderson was on hand to do several presentations throughout the weekend. Jim is an audiophile's recording engineer, whose work I greatly respect. I sat during one presentation of some tunes he recorded with Patricia Barber. 
The sound was sublime, even if the performance was not exactly my cup of tea. I need a little more sweat and grease to get my mojo workin'. YMMV.

It's A Long Way To The Top If You Wanna Rock And Roll

I greatly respect and admire all the manufacturers, dealers, distributors, et al. who bring their products to an audio show. It ain't cheap or easy, to show us listeners a good time, but they do it year after year. Special thanks go to show organizers Bart Andeer and Sue Toscano for running a great show.
I don't think most audiophiles know how much money it takes to make a splash in the marketplace. And it's not like anybody's gettin' rich doin' it, either. Nevertheless, passion is the order of the day, so I salute all involved.