Holiday Special: The 12 Days of Bargain Used LPs…
Music of High Artistic Quality at Non-Crazy Prices Can Be Found!
As we all know, some (by which I mean, an infinitesimally small percentage of the format's total production) used LPs (or, some claimed-to-be unopened "New Old Stock" LPs), sell for crazy money. Which, of course, incentivizes much flipping through the used-LP bargain bins.
Here's one example: What I call a "record-store LP" (meaning, not an acetate, test pressing, or promo) of Led Zeppelin II sold, not too long ago, for $4,500.00.
Of course, it was not just any old used record-store LP. It was a first pressing of the coveted Robert Ludwig original-release Led Zeppelin II "RL" mastering (which, not long after its release, was recalled and scrapped). Bob recounted that story for the Audio Engineering Society's oral-history project HERE.
Of course, that LZII sale is not a patch on the most face-palmic auction result I know of, which again was for what I call a "record-store LP." In this case, the LP was, according to US auction house Heritage Auctions, a "Bob Dylan 1963 Original Freewheelin' Album w/Four Deleted Tracks in Super-Rare Stereo." That LP was Lot 90365 in Heritage's July 10, 2022 auction, which hammered down at $150,000.00. So, Boys and Girls, if you have a "Holy Grail" LP that you want to turn into cash, reach out to Ari at Heritage Auctions: aric@HA.com.
The above is just to frame the context. That's because my personal "View from 30,000 Feet" is that the "typical good used record-store LP" has a wholesale value that is a lot closer to 35 cents than to $4,500, let alone $150,000. I think that people who are not into the vinyl-collecting hobby often look at used-LP values through the wrong end of the telescope. Meaning, their own personal histories, and not the realities of the marketplace.
 In the 1980s, lots of people owned Luciano Pavarotti's 1976 LP O Holy Night. For some people, it was their favorite record; or at least their favorite Christmas record. It might even be a treasured memory for their now-adult children. But Discogs has 776 copies of O Holy Night on offer, starting at 24 cents. Ditto for the Three Tenors; and, for the most part, the Carpenters. Fond memories of family times together do not usually translate into cold hard cash.
My point here today is that, if you are willing to do your research (with as few preconceived notions as possible), there are some pleasant surprises out there in the pricing of used LPs that are of high artistic value. (For the purpose of this article, my subjective judgments as to what constitutes "high artistic value" will be predictably idiosyncratic.)
My favorite example of such a pleasant surprise (given my long-ago friendship with MFSL's Herb Belkin) is the MFSL remastering of Al Stewart's breakthrough album Year of the Cat (MFSL 1-009). There are several nice copies on offer, at very reasonable prices. Interesting, is it not, that Year of the Cat was one of MFSL's first ten LP releases. Somebody really must have liked it!
The Discogs price spread for MFSL 1-009 is: Low: $10.75, Median: $37.50, and High: $170.05. The remastered MFSL Year of the Cat reissue sells at a substantial premium (more than 500%) over the original RCA UK LP. The Discogs price spread for the RCA UK original LP is: Low: $1.86, Median: $5.70, High: $26.59.
As a same-label, same-era, but different-artist comparison, Supertramp's Crime of the Century (MFSL 1-005) has a Discogs price spread of Low: $28.51, Median: $59.97, and High: $175.00. The top prices are in the same range. But in the lower quality tiers, the MFSL Year of the Cat is more affordable than MFSL's Supertramp "Crime," keeping in mind that shipping is always going to be a non-trivial expense.
So, here is my totally subjective list. Album titles are also links to that album's Discogs page. The cited Discogs price results are usually for the earliest LP release.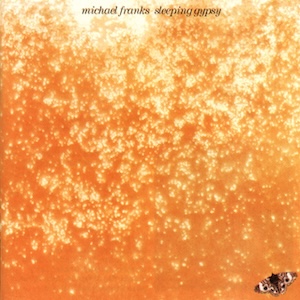 1.         Michael Franks: Sleeping Gypsy (1977)
The Discogs Price Spread: Low: $1.50, Median: $4.99, High: $29.99.
On the first day of Vinylmas, my true love gave to me Michael Franks' breakthrough album Sleeping Gypsy. (OK, that will be my last Christmas reference.)
If the soundworld of Joni Mitchell's Court and Spark (or that of Steely Dan's Aja) appeals to you, I am sure you will enjoy Michael Franks' third studio album, Sleeping Gypsy. Sleeping Gypsy has a substantial overlap in session personnel with Court and Spark, and a partial overlap with Aja. (Tommy LiPuma, producer; Al Schmitt, engineer.)
You have to love a guy who can pen the couplet:
I hear from my ex
On the back of my checks.
Even the Village Voice's perennially disgruntled Robert Christgau had to pause to acknowledge Franks's creative intelligence: "[H]e woke me up long enough to make me believe he had some smarts."
Note: As far as I can tell, Sleeping Gypsy was never remastered to LP. Furthermore, there seem to be no hi-res downloads. There are however, ritzy Japanese alternate-tech CDs, such as SHM-CDs.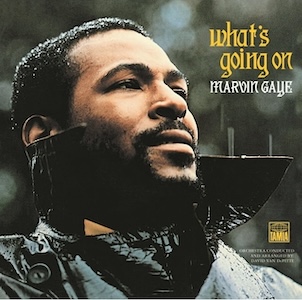 2.         Marvin Gaye: What's Going On? (1971)
The Discogs Price Spread: Low: $14.99, Median: $48.94, High: $112.77.

The Jeopardy Answer is...
"In 1985, the writers for the British music weekly NME voted it the best album of all time."
And so now, I am trying to think whether there are actually any post-1984 albums I'd nominate as the Greatest Album of All Time...
I think that the Beatles, the Stones, the Beach Boys, Dylan, the Doors, Jimi Hendrix, Van Morrison, the Band, David Bowie, Bruce Springsteen, Elvis Costello, Roxy Music, and Steely Dan... ALL had done their best work by 1984.
But what did the ink-stained wretches of New Music Express think, in 1985? The "Jeopardy Question" answer might come as a real jolt!
"What is Marvin Gaye's What's Going On?"
Hang on, it gets even better! The next Jeopardy Answer is:
"He was the first male solo artist in Billboard's history to place
three Top-Ten singles on the Hot 100 chart from one album."
And if that was the Jeopardy Answer, anyone and everyone would be forgiven for asking the Question "Who was Perry Como?"... or:
Tony Bennett; or, Bing Crosby; Engelbert Humperdinck; Dean Martin; Frank Sinatra; Andy Williams; Hank Williams...
but not Marvin Gaye. Poor guy. Shot to death by his father for daring to try to protect his mother from his father. Bonus point: Father was a Minister.
What's Going On's three Top-Ten singles were the title track, "Mercy Mercy Me," and "Inner City Blues."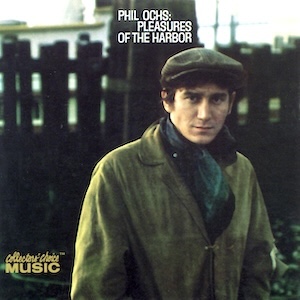 3.         Phil Ochs: Pleasures of the Harbor (1967)
The Discogs Price Spread: Low: $2.31, Median: $8.99, High: $24.00.
Phil Ochs (his family name is pronounced "Oakes") had released three albums before signing with major label A&M. His A&M début was something of a minor critical success, as well as something of a minor succèss de scandale because of a marijuana reference in one song. But it is the grandiose title track that justifies picking up a copy (or at least giving the title song a listen via streaming).
The song "Pleasures of the Harbor" certainly qualifies as Baroque Pop (or perhaps more accurately, as "Erich Korngold Pop"), but it did not get major airplay. Hardly any at all. Nothing like the airplay success other Baroque-Pop pioneers "Walk Away Renée" and "Long, Long Time" had had or would have.
That's because "Pleasures of the Harbor" is a rather wistful, poetic account of an encounter between a lonely sailor on shore leave… and a sex worker. AM radio was not interested. By the way, the session musicians included Lincoln Mayorga, and reportedly, the young Warren Zevon, playing guitar on the title track.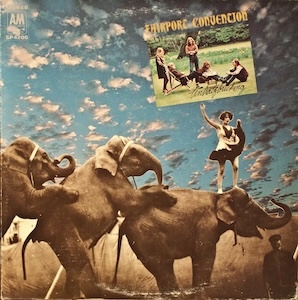 4.         Fairport Convention: Unhalfbricking (1969)
The Discogs Price Spread: Low: $18.29, Median: $101.33, High: $243.90.
OK, I won't play Jeopardy with you any more. But here's a Just Plain Question.
What is the 1969 album, by others than Bob Dylan, that includes three previously-unreleased Dylan songs? The answer is above!
Fairport Convention was, in its day, a semi-successful, critics'-darling, folk-rock band. The fact that Led Zeppelin invited Fairport Convention vocalist Sandy Denny to sing a track on Led Zeppelin IV indicates the respect that their musical peers held the members of Fairport Convention in. Oh, also, it's doubtless relevant that Fairport's guitarist was Richard Thompson.
As the used-LP prices reflect, Fairport Convention's fame did not evaporate. In 2007, Sandy Denny's self-penned song "Who Knows Where the Time Goes" (later covered by Judy Collins) was voted by BBC Radio 2 listeners as their favorite folk-rock track of all time.
I find it intriguing that The Used-LP Market seems to think that a high-end copy of Unhalfbricking is worth ten times as much as a high-end copy of Pleasures of the Harbor. Worth a listen, I'd say.
(The link and album-cover art are to and from the A&M Records US release; the UK original release had a very different cover design, with little in common with the US cover.)
(Here's the UK cover. Old people! A&M figured mounting elephants would appeal more to the "youngsters"_ed.)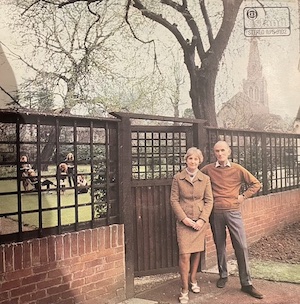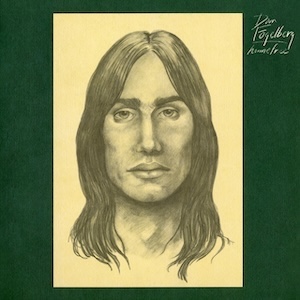 5.         Dan Fogelberg: Home Free (1972)
The Discogs Price Spread: Low: $0.49, Median: $2.00, High: $10.00.
Wow! Quel Ouchsies on that pricing! For the love of God, Montresor, just buy yourself a NM copy! Right now!
The singer-songwriter phenomenon reached a high-water mark in the "Sensitive Male" Sub-Category with Dan Fogelberg's début album Home Free. Fogelberg combines intelligent lyrics with rewardingly-acoustical production values (it was recorded in Nashville), delicately tinkly piano, and a nearly weightless falsetto voice… (There is one overlap in session players between Home Free and Bob Dylan's Blonde on Blonde, drummer Kenny Buttrey.) Home Free will either work for you, or it won't. Before you give up on Home Free, please listen to "The River." There's a lot of Neil Young in that song. After all, it was the early 1970s.
My own favorite songs are the deliciously passive-aggressive "Be On Your Way," wherein our swain entreats his soon-to-be-former sweetie not to let the screen door whack her in the kiester as she departs; and "Wisteria," wherein the love interest is one very thirsty Vampire chick.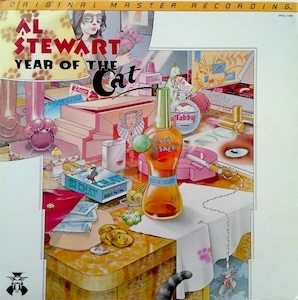 6.         Al Stewart: Year of the Cat (1976) MFSL Remaster/Reissue w/"Second Cover"
 The Discogs Price Spread: Low: $10.64, Median: $35.00, High: $170.05.
Al Stewart's seventh studio album doubtless sold in one year more records than the total lifetime sales of all his previous albums. It only took one year for Year of the Cat to be certified as Platinum; its title track also having reached No. 5 on the Billboard singles chart. Indeed, Year of the Cat stayed on Billboard's Hot 100 singles chart all the way through 1977, cumulatively ending 1977 in position #92.
I think Year of the Cat's success was due to a combination of excellent musical and technical production values (Alan Parsons produced, at Abbey Road Studios), songs that grabbed peoples' attention, and kitsch-y but catchy, very memorable LP-cover art. I must confess that I have, over the years, played the final track—the title track—insanely loud, as a "Pressure Test" for loudspeakers.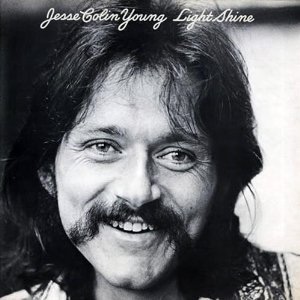 7.         Jesse Colin Young: Light Shine (1974)
The Discogs Price Spread: Low: $0.60, Median: $2.60, High: $19.99.
Here's another treasurable "sleeper" bargain. Discogs has an NM/NM copy on offer for a total of $11 including shipping!
Jesse Colin Young was the stage name of Perry Miller. He chose that stage name because to him it seemed to go better with the kind of music he wanted to make. He was a solo performer, then in a duo, then in the group The Youngbloods, and then he was a solo artist again. The Youngbloods' first album (1967) included the single "Get Together," which later (1969) was used in a television public-service commercial for the National Council of Christians and Jews, propelling the reissued single to become an international hit.
Young's fifth post-Youngbloods solo album Light Shine (1974) was something of a departure (or at least a development), in that it incorporated jazz instrumentation and jazz style to an even greater extent than Young's previous solo album Song for Juli. (Song for Juli's session personnel had included three of Van Morrison's then musical associates.)
Light Shine's Side "A" is taken up by a three-song "California Suite." I find it perfectly delightful, as did the critic for Allmusic.com. Light Shine became Young's best-selling album to that time.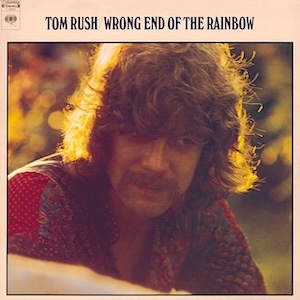 8.         Tom Rush: Wrong End of the Rainbow (1970)
The Discogs Price Spread: Low: $1.00, Median: $2.00 High: $15.25.
Here's another unheralded bargain. Tom Rush began performing in 1961, when he was studying English Literature at Harvard University. He released his first LP in 1962, which, by 1966, had been followed by four others. In addition to traditional folk music, Rush recorded songs by Joni Mitchell, James Taylor, Jackson Browne, and William Hawkins, giving them important exposure. Rolling Stone magazine retrospectively credited Rush with ushering in the "Singer-Songwriter" era. Really. (FWIW & YMMV.)
Rush's second LP release from 1970, Wrong End of the Rainbow, displayed production values and, for lack of a better word, a vibe that moved Rush more in the direction of "Country Rock." In addition to Rush's own title track, this album features two James Taylor songs, "Riding on a Railroad" and the ubiquitous "Sweet Baby James." That said, I think that the strongest songs are Rush's covers of Jesse Winchester's "Biloxi" and of William Hawkins's "Gnostic Serenade."
By the way, on the subject of James Taylor, whose burgeoning career put Tom Rush in the shade: The Village Voice's perennially exasperated music critic Robert Christgau wrote, of Taylor's album Sweet Baby James:
Taylor's vehement following bewilders me; as near as I
can discern, he is just another poetizing simp. Even the
production is conventional. For true believers only.
"Poetizing simp." Gotta luvvit.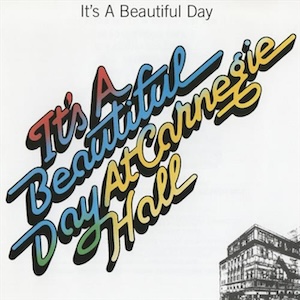 9.         It's a Beautiful Day: It's a Beautiful Day at Carnegie Hall (1972)
The Discogs Price Spread: Low: $0.25, Median: $3.00, High: $20.00.
It's a Beautiful Day was one of the pioneers of the emerging San Francisco "Summer of Love" musical style (other such bands included the Grateful Dead, Jefferson Airplane, and Santana, all of which had links to It's a Beautiful Day). But bad career luck (in the form of a truly evil manager) culminated in their recordings' being out of print and entangled in litigation for decades. Today, It's a Beautiful Day receives little more than an asterisk in the music encyclopedias. (I exaggerate a bit.)
By the way, I think that, as is the case with It's a Beautiful Day, the 1960s San Francisco band Quicksilver Messenger Service today gets either an asterisk, or is noted as a Just Barely One-Hit Wonder, for their single "Fresh Air." Which is the most reverb-drenched pop track I have ever heard.
It's a Beautiful Day's  present obscurity is a shame. Fronted by former classical violinist David LaFlamme, It's a Beautiful Day's music blended rock, folk, jazz, classical, and World music. Rather intelligent lyrics, and good singing too. Obviously, this is a live concert, and it really did take place in Carnegie Hall.
That said, the sound quality is an adequate "location remote" early-1970s job, but nothing stellar. Also, because of the protracted litigation, I suspect that a lot of the physical-media copies out there were unauthorized (pirated; but perhaps in cahoots with the right people), and therefore are from sources that were secondary at best. Hence the several negative reviews you will find on Discogs.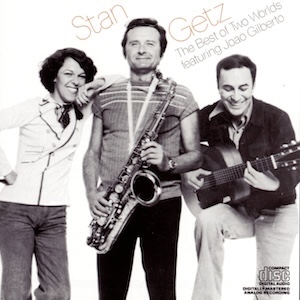 10.       Stan Getz/João Gilberto: The Best of Two Worlds (1976)
The Discogs Price Spread: Low: $5.61, Median: $11.48, High: $49.99.
Perhaps this album was just a bridge too far. Stan Getz's breakthrough bossa-nova album Jazz Samba had streeted in 1962. And let us not forget that the follow-up Getz/Gilberto won the Album of the Year Grammy in 1965 (in addition to the Best Jazz Instrumental Grammy).
Quick! Name another jazz record that won the all-over Album of the Year Grammy.
Well, interestingly enough, the first-ever Album of the Year, in 1959, was The Music from Peter Gunn. Peter Gunn being the television series about a jazz-loving private eye whose girlfriend was a jazz singer.
That Grammy factoid is a nifty little touchstone about the place that jazz occupied in American popular culture in the 1950s. Indeed, of the five Finalists for Album of the Year in 1959, there were four jazz albums, and Van Cliburn's Tchaikovsky Piano Concerto. How do you like them apples?
Perhaps, by 1976, another heaping helping of charming bossa-nova tunes, with yet another sultry female vocalist (Heloísa Buarque de Hollanda, who was at the time married to Gilberto), was not the new thing that "the people" had been waiting for. Regardless whether they realized it, it seems to me that "the people" were waiting for the Phil Collins incarnation of Genesis, and/or Depeche Mode.
So what we have here is a bit of a Time Capsule… The Best of Two Worlds could have been recorded in the early 1960s. More importantly, it doesn't make any effort at all to meet the pop-music trends and fads of 1976 halfway. The only things that are different from Getz and Gilberto's previous collaborations is that songwriter Antonio Carlos Jobim wrote some lyrics in English (rather than in Portuguese), specifically for this project, and that Getz overdubbed a duet with himself in the song "Ligia.". Therefore, if you liked the earlier Getz/Gilberto collaborations, you will like this.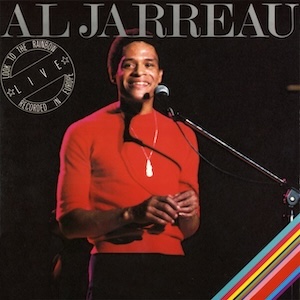 11.       Al Jarreau: Look to the Rainbow—Live in Europe (1977) (2 LPs)
The Discogs Price Spread: Low: $1.09, Median: $4.62, High: $22.47.
Over the course of his long career, Al Jarreau won seven Grammy awards. He also sang the theme song of a hit television series. Jarreau's longtime mainstream success as a crossover Pop /Rhythm & Blues artist tended to obscure his roots as a jazz-vocal improviser.
Look to the Rainbow is a live album, and it also is that rarity, a true jazz-vocal album. It was recorded in Europe in January and February of 1977. It won for Jarreau the Grammy for "Best Jazz Vocal Performance." A neglected masterpiece. Don't miss this fabulous music and singing! And, at attractive prices for a 2-LP set.
Jarreau's tight little road band included Abraham Laboriel (he also worked with Ray Charles, Michael Jackson, Quincy Jones, Madonna, and Stevie Wonder) on Autoharp. Well, actually; Laboriel played electric bass. But you already knew that.
I have long suspected that the English-language Emcee's announcement that opens the first LP, "Good Evening, Ladies and Gentlemen; will you join with us in welcoming (please) Warner Brothers recording artist Al Jarreau" was later faked and dubbed in, for the US LP release. That's because Jarreau's scat introduction to the first song, "Letter Perfect," seems to be riffing on the word "Berlin." Which suggests to me that Jarreau was singing in Berlin, and he was reaching out to his audience. Perhaps some record-business insider wants to clear his conscience, at this late date.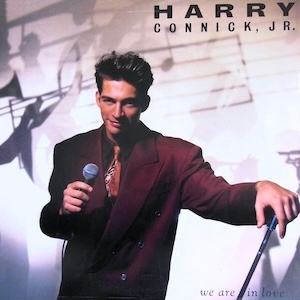 12.       Harry Connick Jr.: We Are In Love (1990)
The Discogs Price Spread: Low: $12.00, Median: $24.99, High: $39.99.
Music-trivia obsessives will be glad to learn that while Al Jarreau's Look to the Rainbow won the 1978 Grammy for "Best Jazz Vocal Performance," in 1991 Harry Connick Jr.'s We Are In Love won the Grammy for "Best Jazz Vocal Performance, Male." From 1958 to 1980, the category was gender-neutral, hence Jarreau's award.
From 1981 through 1984, the jazz-vocal awards were gendered; in 1985 they were neutral; and from 1986 through 1991, the awards were gendered again. In 1992, the categories were combined again, and in 2001, the award was renamed "Best Jazz Vocal Album."
So, young Harry Connick Jr. won the last-ever (so far) separate "Best Jazz Vocal Performance, Male" award. Quite an achievement for a guy who was 23 years old when he recorded an album that included a few Songbook classics such as "A Nightingale Sang in Berkeley Square" and Cole Porter's Broadway number "It's All Right with Me."
The track "A Nightingale Sang in Berkeley Square" features great saxophone playing by Branford Marsalis and great bass work by Benjamin Jonah Wolfe. I was intrigued to see Bobby Colomby, formerly of Blood, Sweat and Tears, as a co-executive producer, but the results are right up to that level of quality. Connick's "A Nightingale Sang…" has been used every now and then as audio-show demo material, and it is a very impressive track. Both LP and CD credit Bernie Grundman as Mastering Engineer.
It's a matter of personal taste, but when I hear Connick's "A Nightingale Sang…", I do hear a lot of influences upon it. Everyone from Frank Sinatra to Dick Haymes to (even) Bobby Darin. Therefore, my favorite track on this album is the poignant song "Drifting" (it's a real "weepie"), which was written by co-producer Marc Shaiman. Because in "Drifting," Connick sounds like nobody else. A great job of singing, that track is.
You now have 12 intriguing potential LP purchases to ponder.
Therefore, to paraphrase my mentor Boris Goldovsky (of the Metropolitan Opera): "That's it, Kiddos!"
The List, Ranked by the Affordability of their Discogs "High" Prices
1.            Dan Fogelberg: Home Free                                                  $10.00
2.            Tom Rush: Wrong End of the Rainbow                                $15.25
3.            Jesse Colin Young: Light Shine                                           $19.99
4.            It's a Beautiful Day: It's a Beautiful Day at Carnegie Hall    $20.00
5.            Al Jarreau: Look to the Rainbow—Live in Europe                $22.47
6.            Phil Ochs: Pleasures of the Harbor                                       $24.00
7.            Michael Franks: Sleeping Gypsy                                        $29.99
8.            Harry Connick Jr.: We Are In Love                                     $39.99
9.            Stan Getz/João Gilberto: The Best of Two Worlds              $49.99
10.          Marvin Gaye: What's Going On?                                         $112.77
11.          Al Stewart: Year of the Cat                                                  $170.05
12.          Fairport Convention: Unhalfbricking                                  $243.90
# # #