Julian Shah-Tayler's "Forget That I'm 50" Re-imagines "Aladdin Sane" and it Works!
multiple artists tackle the Bowie classic
Julian Shah-Tayler is a New-Wave/electro-rock artist originally hailing from Leeds, UK and is now based in Los Angeles.
A prolific and diverse talent, Shah-Tayler (who also records and works under the moniker The Singularity) draws his inspiration from '80s and '90s New Wave, Britpop, and electronic rock with his lyrics influenced by literature and a lifetime of professional touring. Fans have described his complex synth-driven sound as if "David Bowie and Depeche Mode had a baby."
The busy lad has also produced the first side of David J's (Bauhaus/Love N Rockets) upcoming album. He's currently in the  studio working on tracks co-produced with Robert Margouleff (DEVO, Stevie Wonder) and collaborating with mixdown producer David Chatfield who helms Harmony Records. 
 Julian is also deep into production of his new podcast: #bowiephiles, featuring interviews with Mike Score (Flock Of Seagulls), NIck Launay (Nick Cave/Arcade Fire/Kate Bush), Carmine Rojas (Bowie/Rod Stewart) and Michael Aston (Gene Loves Jezebel).
In April he released a Bowie-themed project Forget That I'm 50 now out via Harmony Records. He is the Executive Peroducer of a song by song cover album of Aladdin Sane that alongside a plethora of his musician friends pays tribute to David Bowie. 
"I was delighted to debut selections from Julian's tribute to David Bowie's Aladdin Sane album," emphasized SiriusXM deejay Rodney Bingenheimer. "The two tracks I programmed ("Jean Genie" and "Cracked Actor") were amazing!"
 During May and June of 2023, HBO-TV is screening director/producer Brett Morgen's documentary on Bowie, Moonage Day Dream.
 On July 3rd, the 50th anniversary of will be celebrated fifty years to the day when the movie retiurns to the Apollo Hammersmith (formerly the Odeon) on July 3rd for one night only.    
Cinema tickets for the 50th anniversary Ziggy Stardust and the Spiders from Mars: The Motion Picture are now available for the UK and Ireland.
The 50th anniversary event will include live conversation with Bowie associates and fans, streamed from the Apollo. 
There will also be further screenings available soon across Europe, North America, Australia, Asia and Latin America.   
  All tickets available at davidbowie.com.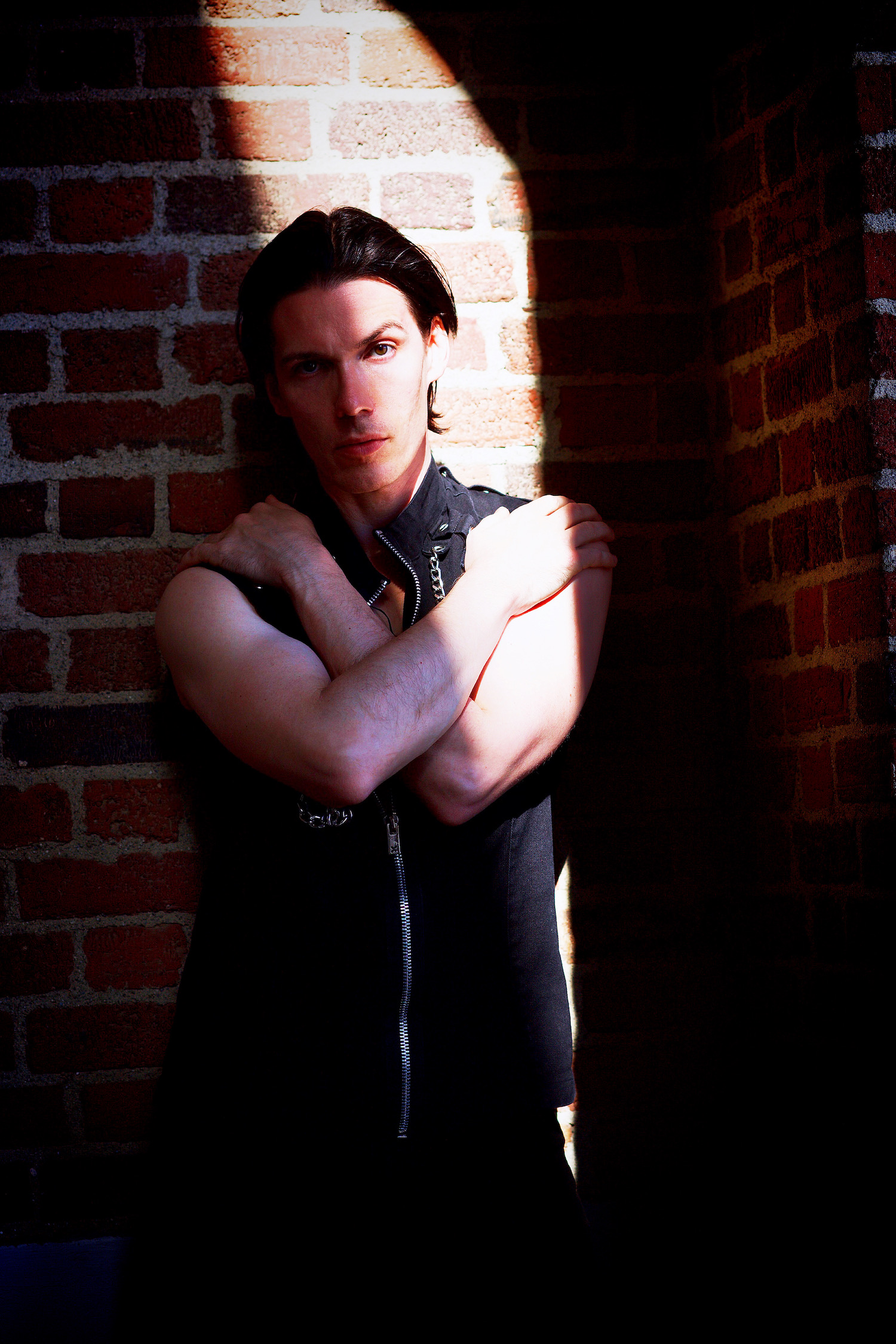 Julian Shah-Tayler photo by Alex Tovar
 Julian was born in Leeds, England and educated at Hogwarts (truly!) all the way to a philosophy degree at York University. He  moved to London as a singer songwriter with classical training on piano and self taught on guitar. 
He won a "Golden Trailer" award for his work with Lana Del Ray on Disney's "Maleficent" trailer.  Three songs by Julian were in the music movie Plush directed by Catherine Hardwicke of Twilight fame.  
Four of his songs cowritten with Siobhan Fahey (Bananarama/Shakespear's Sister) were the main  songs for the Astrid Angel band in the movie Riot On Redchurch St directed by Trip City and  Martin Amis' Money author/director Trevor Miller.  
His Song "Talking In Your Sleep"  won the ASCAP/Homegrown Hits best song of 2013 earning  sponsorship from Protools and ESP guitars.
In May of 2023 I conducted an interview with Julian Shah-Tayler about his Bowie-centric ventures and his just issued Forget That I'm 50, on Harmony Records.
 Q: Besides your remodeled Bowie's Aladdin Sane endeavor, you've been hosting a Bowie-themed podcast now in production.
 You've done guest interviews with Mike Score (Flock Of Seagulls), Nick Launay (Nick Cave/Arcade Fire/Kate Bush), Carmine Rojas (Bowie/Rod Stewart) and Michael Aston (Gene Loves Jezebel).
A: I'm still working on the formatting on the interviews I've already done. Nothing is out yet. 
 Q: Tell me about the genesis of the podcast. And how do you enjoy probing others about Bowie? You've gotten some terrific insights from guests.
A: I've had the great honour over the recent years of performing and working with Bowie's band members and notable associates often, and it became clear that each of them in their anecdotes had more of an insight into the "private Bowie" than we'll ever get from "documentary films" or interviews, as he was keenly adept at curating his public image to fit his very singular narrative in each phase of his artistic development.
As a mega fan and a musician myself, this seems a privilege I should share with other fans. I've always been a collector of esoteric thought, with a heavy emphasis on philosophy and its manifest behaviour. Bowie's imprint on the world and artistry beyond his own (musical) sphere seems so far to have been an immeasurably positive one. 
 Q: Obviously, you are a fan of David Bowie. How were you introduced to his music/recordings?
 A: I first heard "Let's Dance" and was nonplussed. It felt unsophisticated and bluesy, which has never been my favourite context (I'm classically trained) but subsequently a strange friend of mine "Justin" with a seemingly very ambiguous sexuality/gender identification introduced me to Lodger and the song "Yassassin" intrigued me very deeply through its middle eastern feel and strange structure/rhythms. Next it was "Look Back in Anger" and "DJ" and I was sold on his artistry, choosing to explore further into Low, Diamond Dogs and Scary Monsters from whence I was hooked. 
Q: Were you initially struck by the image? The voice? The words? The production?  
A: I didn't really know what he looked like. The video to "Let's Dance" made me think of him as a very traditional 80s rockstar with the tan and blonde hair. Both of which were initially a turn off. His voice took me a while to appreciate and the lyrics never really resonated viscerally. I have recently begun to appreciate his vast and brilliant lyricism and verbal artistry, but it wasn't an initial draw. 
I think the experimentation with form and sounds overall was the draw. Robert Fripp's guitar, Mike Garson's piano, Brian Eno's rhythm beds. 
Once that had set the scene for me, I most certainly jumped into the whole Bowie experience wholeheartedly. He had a genius for finding the exact perfect collaborators to drape his musical inventions around and inside. 
Q: Did you see him in concert or ever have some encounters/interactions with him? 
A: I met him at Virgin Records on Oxford street for the signing of the Hours record. I had been tasked with being his liaison/security at another store (Piccadilly) until they realized his presence pulled thousands, and they removed him from my clutches. He had the great grace to have a few words with me as I was obviously horrendously disappointed and he signed a couple of CDs. 
   I only saw him perform live once at the Phoenix Festival in the UK on the earthling tour. It was transcendent.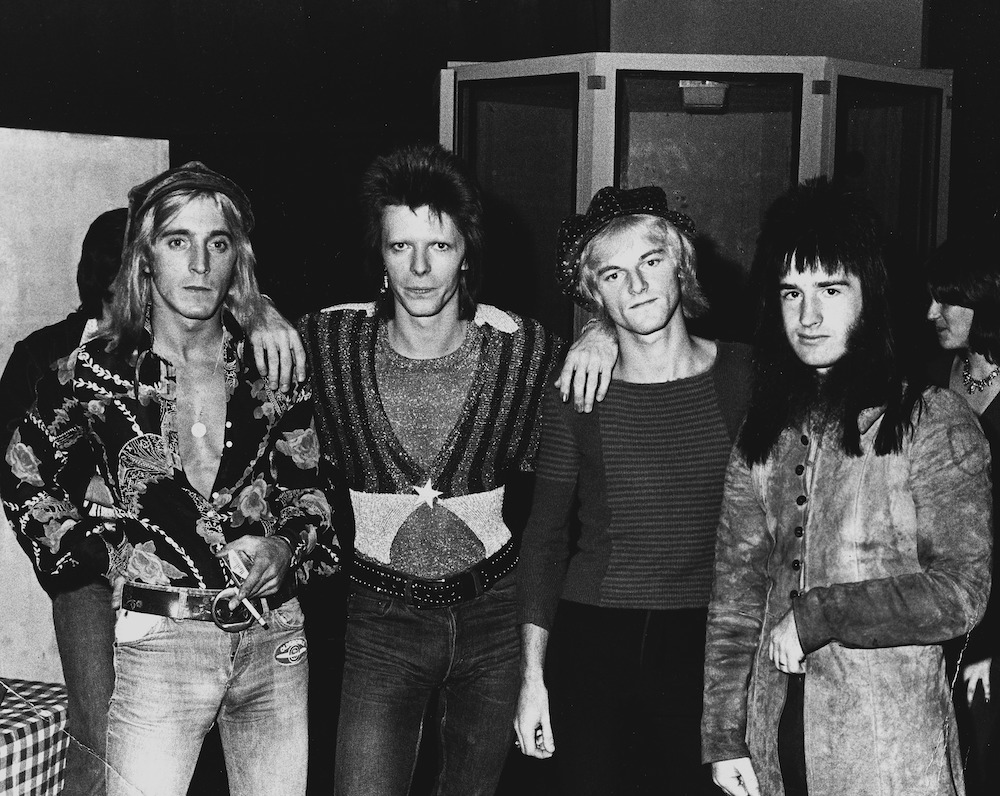 L-R: Mick Ronson, Bowie, Mick "Woody" Woodmansey and Trevor Bolder (Woodmansey is the only surviving band member)
Q: Which brings us to Forget That I'm 50. You are the executive producer of this wonderful collection. The epicenter is your Bird of Paradigm studio in South Pasadena.  Where did this idea come from?
A: I've always loved the album Aladdin Sane mostly for its strange arrangements personified by Mike Garson's contributions, and have often approximated his piano parts most imperfectly in live shows, so I decided to strip back the album to its constituent song parts and abandon piano entirely on my versions.
I produced and/or contributed to the majority of the versions on the album to maintain a structural integrity with the project as a whole. I trusted my excellent friends to perform a stellar job overall on the album 
Q: What is the genesis of this compilation? It's not the usual tribute album. It's a whole different bag. You spent a lot of time selecting the specific recording artists.
A: I wanted to give a platform for my wonderful friends and associates to shine on this project. Like the podcast, it's a branch to reach out to the brilliant ones  and share their skills and talents with as wide an  audience as we can reach. 
 Q: Can you offer some back story and insights about your relationships and requests of participation? Did you offer a track to someone or were there some anecdotes and dialogue that resulted in them coming aboard? 
A: I mostly had to feed them to people who volunteered their services for specific songs until they were taken….  I knew everyone involved except Human Drama, who were introduced to me for the project. I simply wanted the best version by the best person, and I believe I got it! 
I met Michael Aston (Gene Loves Jezebel) on the 80s Cruise when we were playing together so he felt like a good first step to ask. His "backing band" of guitars/bass just so happened to be "beauty in chaos" with whom I've done a great deal of work.
David Chatfield claimed "Cracked Actor" for his protege band Sumthing Strange and produced a fabulous version with a lot more heft and dancability than the album recorded version. I very much enjoyed contributing predominantly solo guitar to this one 
Darwin is a great friend and member of the indie supergroup "night crickets" for who I produced an album and a few singles/EPs so I really wanted him on it. 
Former Teen is one of my longest standing friends. He's a brilliant musician hiding his light in plain sight on this version. 
Beck Black is a great friend who credits me with starting her off in music. She is good friends with Rodney Bingenheimer and even has an original song with Ringo on drums. 
Natalie Wilde is a brilliant singer who works with Nick Cave, and I've performed and recorded with her very often. 
Human Drama are stalwarts of the goth scene in LA whose Lagan lilting lullabies always charmed me. Michael (beauty in chaos) introduced me. 
Gene Micofsky is a consummate brilliant musician that I have the honour to call my friend and collaborator in some bowie tribute shows that I've done. 
Jawnee Danger is a long-standing friend: a force of nature who consistently brings excellence to every musical context he touches
Fernando Perdomo is truly a brilliant musician in every sense. This is the first time I've had the honour of working with him on a project. We'll do more! 
Mark Damian is drum genius #1 who has cropped up on my recordings and shows so often I can barely quantify. 
Christina Larocca, - I know Christina for a long time. Lovely artist in her own right. 
Michael and Tish Ciravolo, - "beauty in chaos" for whom I've done 6 remixes and one original vocal song. And Sumthing Strange and David Chatfield. 
 Q: David Chatfield was involved in producing your own contribution, "Cracked Actor." Why did that song/initial Bowie rendition have such an impact on you? Can you address the collaboration aspect of working with David Chatfield?     
A: That one was produced by David featuring Sumthing Strange on vocals and instruments. I contributed Acoustic guitar, bvs and guitar solo only. My principal contribution was "Lady Grinning Soul." 
I love working with David. He has a laser focus on "the hook" wherein he leaves the majority of the song intact, but restructures to put the emphasis on the catchiest elements. It's like digging for gold and finding the diamonds…. 
 Q: As the project was coming to fruition, what were some of the initial revelations of what was being brewed?   
A: I distinctly remember a Face Time I had on tour on the east coast where I had to step out of a restaurant in a mall to listen to Johnny percolating his version live on acoustic. It was quite an  honour and very moving! 
 Q: You've done some other Bowie-related ventures. Including performing "Star" with the full Bowie backing band including Mike Garson, Gerry Leonard, Carmine Rojas, Kevin Armstrong, Allan Childs at the Rose in Pasadena, California  in 2020. How was that gig? 
A: I couldn't stay for the gig. I was performing elsewhere on a full show. The one song I did get the chance to play with them backing me was a great thrill which I'll never forget 
 Q: You cut "Lady Grinning Soul" and other Bowie tunes on an Aladdin Sane cover album.   And  Loving the Alien (from the Torment Suite EP). What is the back story on these and any anecdotes on the sessions?  
A: I fully produced "Aladdin Sane," "Panic in Detroit," "Jean Genie," "Lady Grinning Soul"  as well as recording on and/or mixing "Drive in Saturday," "Cracked Actor," "Time," and "The Prettiest Star."
Most of these recordings were done by sending each other parts from our home studios and compiled in my/their studios. 
"Loving the Alien" I released in 2020 and both Alain Whyte and Carmine (who played bass on the original Bowie version) both expressed their heartfelt compliments on my version. 
Q: Carmine Rojas (Bowie) and Mike Garson (Bowie) are playing on your next album of new originals album alongside David J (Bauhaus/Love and Rockets) and Alain Whyte (Morrissey). Tell me about this new endeavor and the types of tunes you are now crafting and recording.  
 A: It's an album called Honne/Tatame which is a Japanese term for the two sides of the human presentation: one is the face we show the world, the other is the reality. 
  I'm using the concept as a dichotomy to explore the light and dark sides of my writing and thought. The "Alpha Side" will be mostly optimistic and upbeat, with love songs and traditional arrangements. The "omega Side" is mostly downbeat and pessimistic displaying my "goth" leanings. It's predominantly electronic.
In 1973, the Oscar-winning filmmaker D.A. Pennebaker directed the final Bowie Ziggy Stardust and The Spiders from Mars concert in the UK. It was initially commissioned for ABC-TV and now sold as a DVD "Ziggy Stardust and the Spiders From Mars-The Motion Picture". On July 3rd it will be feted with a 50th anniversary global screening.
Over the last quarter of a century I've interviewed Oscar-winning documentary filmaker D.A. Pennebaker who directed the 1973 shoot that is now booked as "Ziggy Stardust and the Spiders From Mars-The Motion Picture". We discussed the original Bowie concert he lensed.
"I was just amazed at how anybody could produce that kind of electricity. We saw one concert that night. I saw him once and I shot some stuff 'cause I wanted to see if we needed to lift the lighting or anything. And the lighting I could see was really crucial to this. We couldn't fake it. I shot some stuff and we took it down that night to a lab and they processed it and we looked at it and I made a couple of changes, like the blues were too strong and I went over it with the lighting person. And the next night we did the whole concert and there were only three of us. We had a skeletal crew and a Brit we hired with a camera way back in the rafters to get a broad shot in case we ever needed it, but we never actually used it.
RCA had supplied a real good 24-track machine so we had good sound. It was just a question of getting in there. We have very few shots of anyone else in the band, other than his pal, Mick Ronson. David Bowie surprised us at every turn. And, boy, that was exciting to film. Because you had no idea what was coming next. I had put signs around the lobby, "Bring your camera with light bulbs and shoot all the film that you want."
What he had was the whole theater was a backup for him. They all sang backup for him. That was amazing. I had never heard that before so I wanted that place to just be alive. You know, the girls singing along on "Moonage Day Dream."
But the dressing room was where you see him just sitting there, so that in the beginning you use a long lens, that's why I use a zoom, and you can stand far away and the sound person can be close and you can really get on stage physically. So people know that he looks different from somebody else. There was a lot of kinetic energy around Bowie. He was like an orchestra leader.
Bowie and Dylan have a lot of characteristics in common. But for both David and Bob they both went into their heads from time to time and disappeared and I always assumed it was some sort of music room. I was a fan of the Ziggy album and we used to play it all the time when I was mixing that film. I had it set up as a real Dolby and we showed it in this little room where the sound was fantastic and that was the sexiest film you ever saw in your life."
In 2012 I interviewed Ken Scott, the engineer and co-producer on David Bowie's Aladdin Sane.
'"Jean Genie' had been recorded in New York," recalled Scott.
"RCA needed a single, and I had nothing whatsoever to do with the recording and the initial mixing. It was put out as a single and then I re-mixed it for the album later. David enjoyed recording in the States and I got the phone call and he wanted to start the new album in New York. So, I flew over and worked on it. We cut a few tracks and I think only two of them ended up on the album.
"David had become more of this Ziggy character as we'd come to recognize what Ziggy was kind of thing. But still, sweetheart of a guy, ultimate professional in the studio. He was much more confident. He could plan things out but also do impulsive things," Ken reinforced.
"One of the things in looking back on this period that has fascinated me was that I didn't realize it until recently, was the way piano changed David's music.
"It occurred to me how a certain amount of David's transformation, you take Hunky Dory which had Rick Wakeman on it, who is a fantastic, a bit more classically-oriented pianist, 'Life on Mars,' very good at rock 'n' roll but his training was more classical.
His piano on 'Life on Mars' is unbelievable," underscored Scott. "Then you go into Ziggy Stardust, with Bowie and Ronno playing on Ziggy, and it's really simplistic because they weren't pianists. Neither of them particularly awe-inspiring. So, the piano is very simple on Ziggy.
"But then you to Aladdin Sane and Mike Garson is on board and it completely changes the whole feel of it. Now how much of that is pre-planned by David to move it into a different direction and how much is their effect on the way that we recorded I don't know. Mike was at the Santa Monica Civic Auditorium '72 concert but pushed in the background. If you watch the '73 Hammersmith Odeon Ziggy movie he's not really shown.
"The Beatles kind of grew by using different instruments. Bowie changed and grew by using different people playing. It's bizarre. His use of keyboards really does sort of covers his growth. And how he changed.
"I regret very little of what I did during my entire career, but the mix on David's 'Watch That Man' is one of the things I do regret. Today I would have had the vocal up more. Back then, after doing different mixes with the vocal up more for both management and record company. It was back in the day, a straight stereo mix, I did it the way I felt it should be.
"Then I had complaints from the management so I went in and did another mix with the vocal up and they came back and agreed with me it was more powerful with the vocal down. Then the record company did the same thing. I went in and yet did another mix with the vocal up and they agreed with me. For whatever reason today, I don't like it with the vocal down. But there must have been good reason, because myself, management and record company agreed.
"I look at the harmonica on 'Cracked Actor.' Like most things, we tried 'Cracked Actor' with a straight harmonica, it sounded so weak, along with bass, drums and guitar. Then I remember we recorded a little more guitar on top. Then David wanted to put the harmonica on it. And he went down and started to play but it sounded so weak compared to the track. So, I said, 'Let's try putting it through Ronno's 100 watt Marshall amp' and just cranked it. And it's just so nasty. That's when everything started to really come to life. It all worked.
"David allowed me complete freedom. He never once said, 'I'd like it a bit more like this…' The only comment ever was going from Hunky Dory to Ziggy..., that's he'd like it 'a bit more rock 'n' roll.' David understood collaboration.
"Look, the team of us, David, Ronno, Woody and Trevor were an incredible period. It really worked well.
"And with 'Panic in Detroit.' The background singers. David had and hopefully still has, this knack with coming up with different background parts than most people would.
"He was successful by then. He felt he could push the envelope a bit more. I think his influences were coming a little more from the modern situation. I think he was influenced by Bryan Ferry. Which became very apparent on Pin Ups. But he's moving more in that direction as music has changed around him, he's keeping ahead of it slightly."
Harvey Kubernik is the author of 20 books, including 2009's Canyon Of Dreams: The Magic And The Music Of Laurel Canyon and 2014's Turn Up The Radio! Rock, Pop and Roll In Los Angeles 1956-1972. Sterling/Barnes and Noble in 2018 published Harvey and Kenneth Kubernik's The Story Of The Band: From Big Pink To The Last Waltz. In 2021 they wrote Jimi Hendrix: Voodoo Child for Sterling/Barnes and Noble. Otherworld Cottage Industries in 2020 published Harvey's Docs That Rock, Music That Matters.
Kubernik's writings are in several book anthologies. Most notably, The Rolling Stone Book Of The Beats and Drinking With Bukowski. Harvey wrote the liner notes to the CD re-releases of Carole King's Tapestry, The Essential Carole King, Allen Ginsberg's Kaddish, Elvis Presley The '68 Comeback Special, The Ramones' End of the Century and Big Brother & the Holding Company Captured Live at The Monterey International Pop Festival.
During 2006 Harvey spoke at the special hearings initiated by The Library of Congress held in Hollywood, California, discussing archiving practices and audiotape preservation.
In 2017 Harvey Kubernik appeared at the Rock and Roll Hall of Fame in Cleveland, Ohio, as part of their Distinguished Speakers Series.