Ken Redmond's Florida Audio Expo 2023 Highlights
some notable rooms
Falcon Acoustics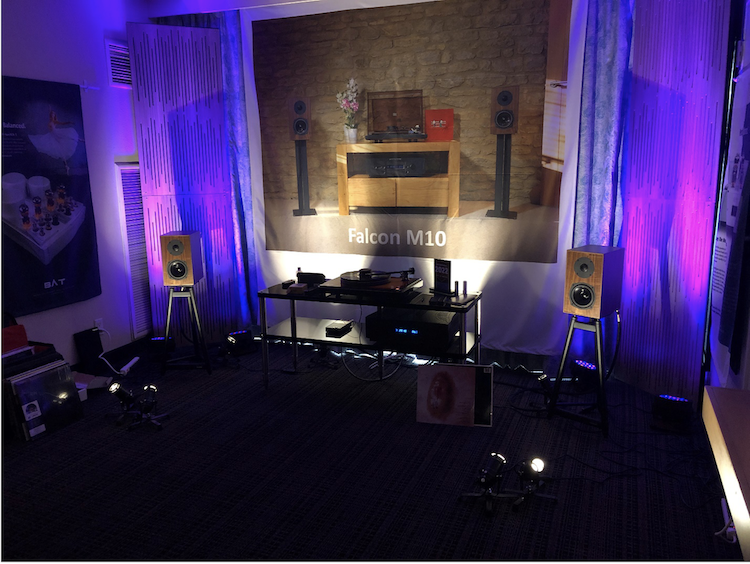 Falcon Acoustics showed its new M10 loudspeakers($2295) powered by a BAT VK3500 integrated amp(12k) sourced using the MoFi PrecisionDeck Turntable ($3500) and MoFi's StudioPhono Phono preamplifier ($349).
Similar in height and width to the Falcon Silver Badge LS3/5a($2195), the M10 is almost 4 inches deeper using a ported cabinet crafted in the same Italian factory as the sealed LS3/5a cabinet. It is assembled in Europe and uses a custom 25mm (1") soft dome tweeter and the legendary B110 woofer. Specifications show a frequency response of  40—30kHz +/-3db with a sensitivity of 86dB.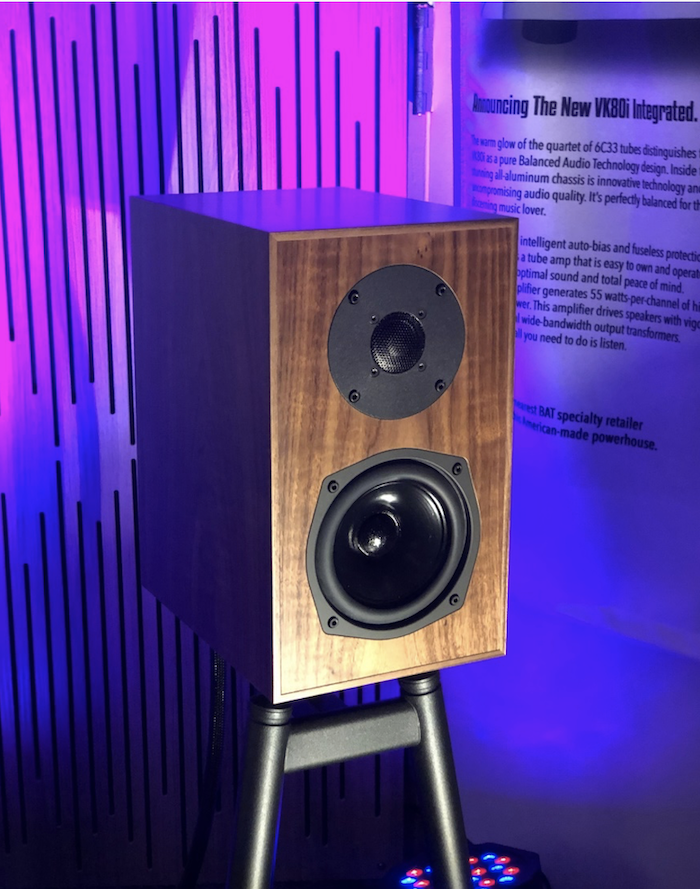 I owned a "Bud" Fried Model H kit and had LS3/5a speakers in college. There is something so likable about the B110 midrange, particularly vocals, and that likability was evident in the M10. Much like a heavily peated single malt Scotch, it makes you warm and relaxes you. The M10 imaged well and had a sweet-sounding top end. I enjoyed my time in this room. If you like the LS3/5a, but the price of admission is too high, the M10's sound and $900.00 lower price point might get it done for you.
Mobile Fidelity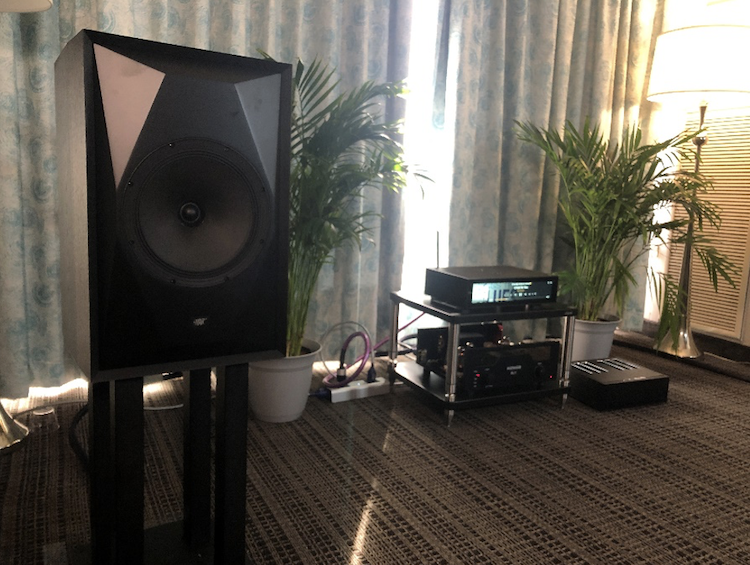 Mobile Fidelity played its new SourcePoint10 loudspeakers ($3695.00 or $4000.00 w/stands) designed by Andrew Jones. This room remained packed the entire show for a good reason. Song after song had a large, deep, well-focused soundstage and a tonal balance just to the warm side of neutral, but all "cut from the same cloth."
Measuring 14.5 x 22.5 x 16.6-inch (HWD) and weighing just under 50 lbs, it is a substantial speaker and was larger in real life than I had garnered from pictures I have seen. The SourcePoint10 uses a custom-tooled 10-inch concentric driver and a 1.25-inch soft-dome tweeter centered within the woofer cone. The source and power for the demo was the Hi-Fi Rose RS 520 streamer/amp, which is also $3695.00.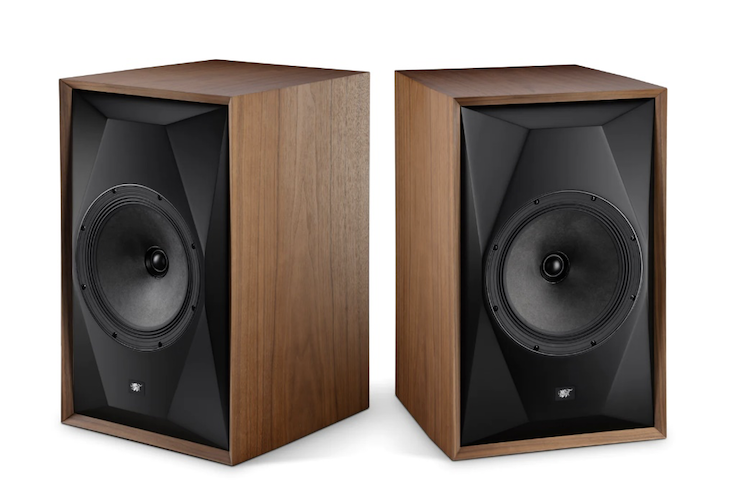 You can have an excellent sounding system comprising of only two products totaling under eight thousand dollars. I think exhibiting the speakers this way was an intelligent decision by Mobile Fidelity. There is no question in my mind that in the under 4k price range Andrew Jones has reset the bar for musical involvement.
Volti Audio/Border Patrol Audio/Triode Wire Labs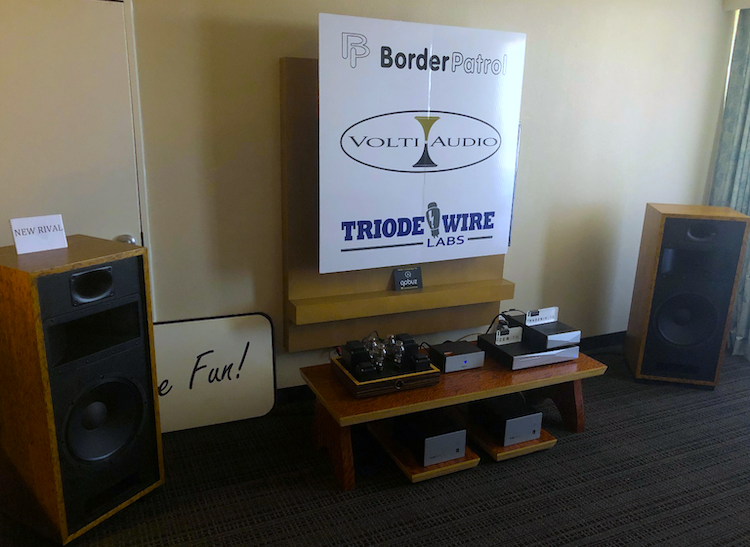 A perennial show favorite room, Greg Roberts (Volti Audio), Gary Dews (BorderPatrol), and Pete Grzybowski (Triode Wire Labs) have teamed up for years at audio shows and know how to make a hotel space sing. I walked in on a rocking demo of Tower of Power's "Diggin' on James Brown", and everyone in the room was tapping their toes or shaking their head. No stoic listeners in this room, simply people enjoying the music. I love seeing that!
A BorderPatrol S20EXD 16w parallel 300B single-ended triode amp ($20k) powered the horn-based Volti Audio Rival speakers ( $15k) using an Innuos server with a BorderPatrol DAC SE-I ($1525.00) and Triode Labs wiring. This system had a broad dynamic expression that when I listened to a song took me "there". Don't miss this room if you make it to an audio show where they are exhibiting.
Tobian Sound Systems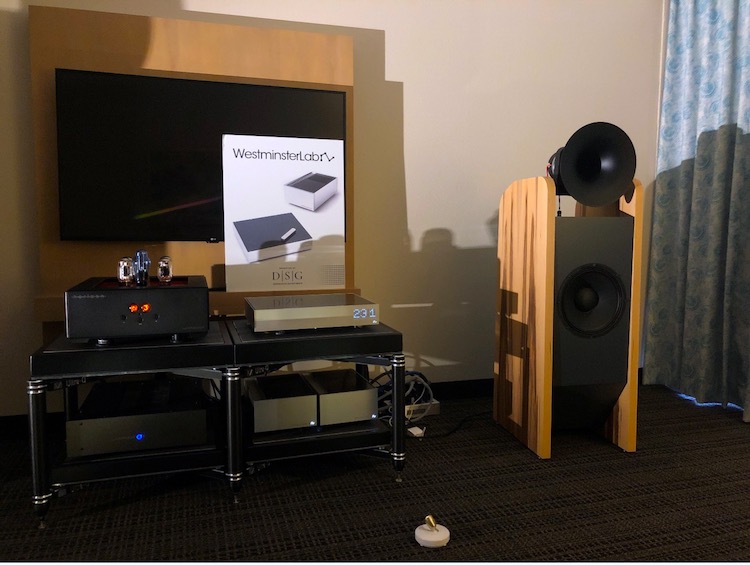 Another head turner was the Tobian Sound Systems speaker from Switzerland, distributed by Destination Sound Group, which also distributes Lampizator and Westminster Labs electronics among other brands.
The Tobian 12 Signature Edition Horn speakers ($50k/pr ) caught my attention at first listen and improved as the show continued, culminating Sunday morning with excellent sound. This two-way design uses a 12" woofer and 4" mid/high compression horn driver to produce a transparent, coherent sound with a very neutral tonal balance.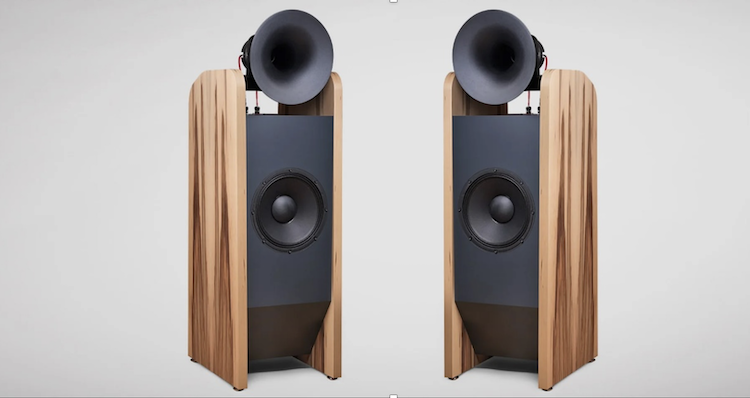 The front end was a Lampizator Horizon DAC (50k) and Gulfstream Music Server feeding the Westminster Labs' Quest preamp ($24k) and their REI 100wpc Class A monoblock amplifiers ($34k), all sitting on a Critical Mass Ultra Q rack ($23k). The sound was effortless and did not have a typical horn signature. It was very open sounding, with excellent timbre and dimensionality. I fully expect this to be a company we hear more about in the future.
Acora Acoustics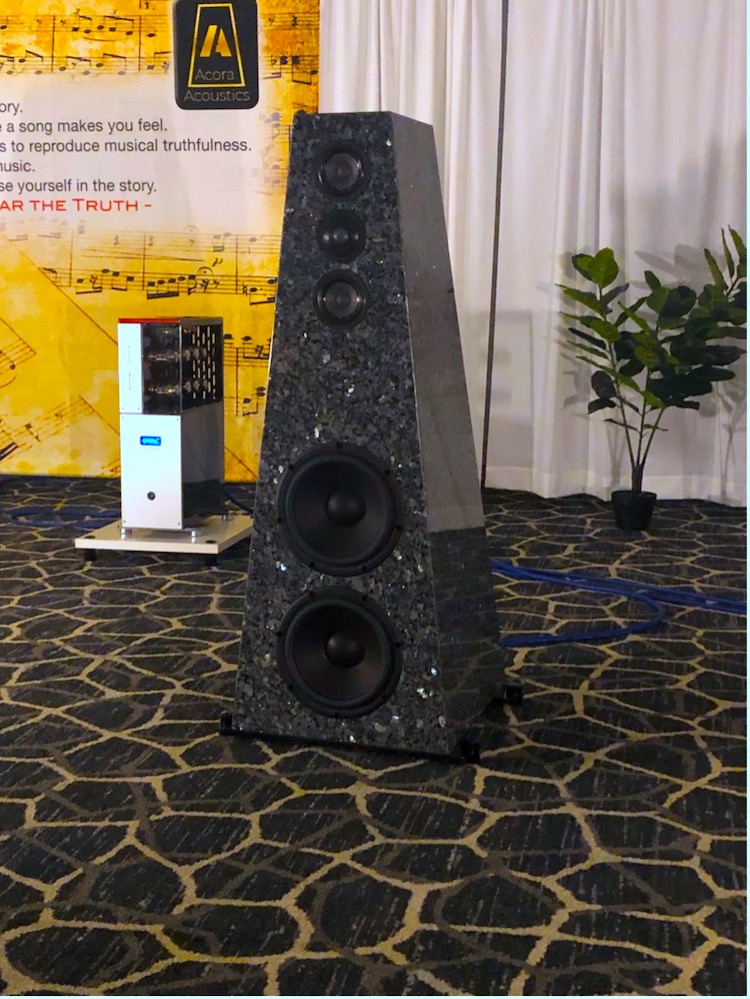 Acora Acoustics is on a roll. Having garnered several excellent reviews for its granite-enclosed loudspeaker line, owner Valerio Cora decided it was time to make a full-court press on the "Big Boys" in the High-End Speaker category. The result is the visually and aurally stunning Acora VRC loudspeaker coming in at $220,000 /pair and over 400 lbs each!
The front end was the VAC Statement Line Stage ($80k) and a pair of mono-configured VAC 452 amplifiers ( $75K each) An Aurender N30SA streamer ($25k) along with the new Aurender MC20 rubidium master clock ($30k) feeding a Lampizator Horizon DAC.($50k) were the source components.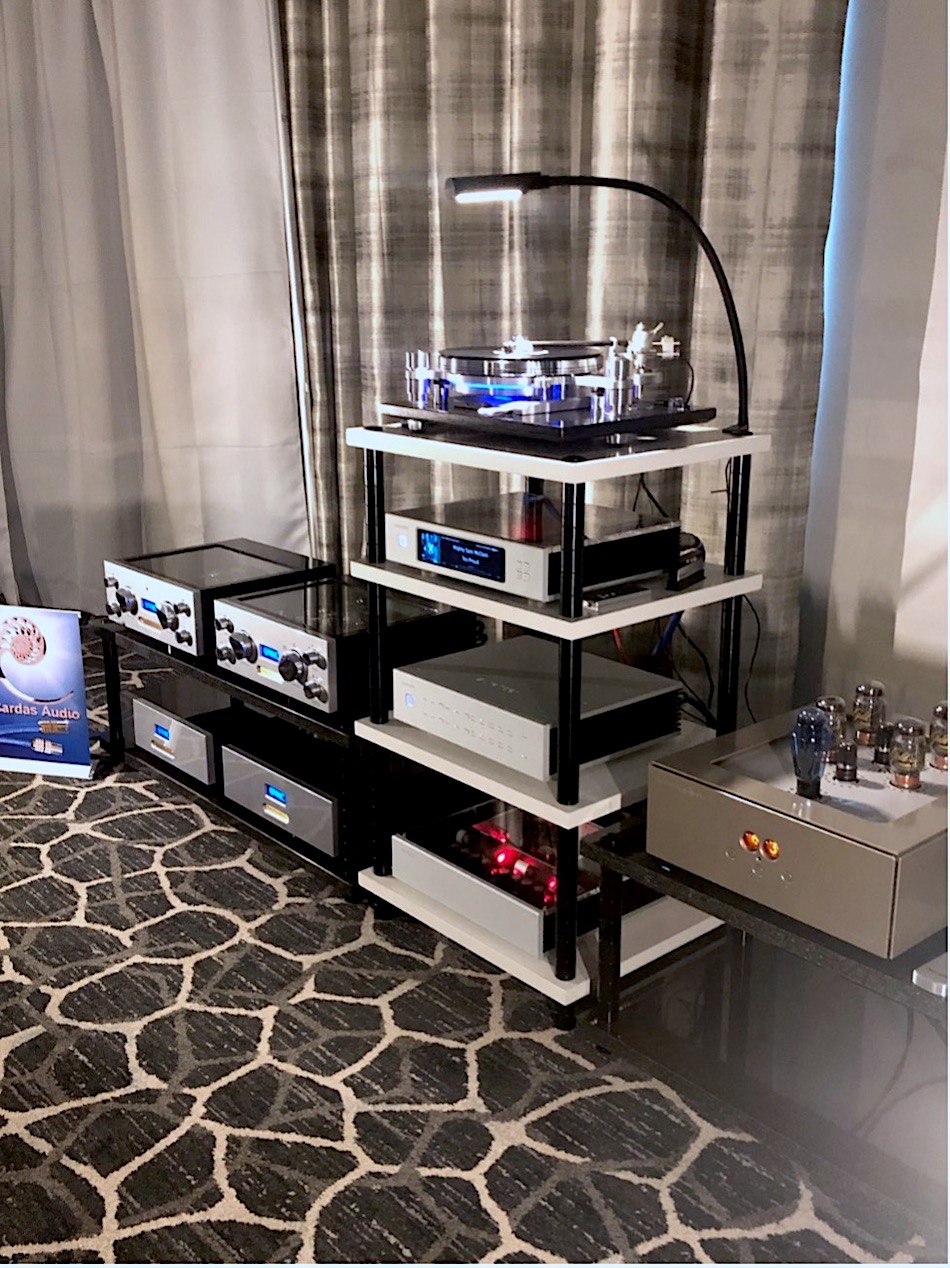 The range of music that this speaker can effectively cover was astounding. As I sat in the catbird seat Director of Sales and Marketing Isaac Markowitz played "Ratchets" by Hedegaard at over 110 dB levels. It shook the ballroom, yet somehow remained very listenable. Absent was the usual discomfort I expect to experience at that volume level. The sound was insanely tight, fast, focused, and had exceptionally low distortion. Next Isaac chose Patricia Barber's delicate "If I were Blue". Her emotional vocal inflections captivated; the supportive guitar accompaniment further amplifying the song's feelings. It was one of those seminal experiences where at song's end I just had to sit still for a moment and gather myself. Then I took a deep breath, exhaled, shook my head, and thought, "this is why I got into this hobby!"
 Make no mistake about it, with the introduction of its new VRC speaker Acora Audio drives a new stake into the High-End speaker landscape and boldly declares itself a serious new player at the top end of the loudspeaker market. I would have to agree. This was, without question, the highlight of my show experiences.
Other Notable Presentations
Joseph Audio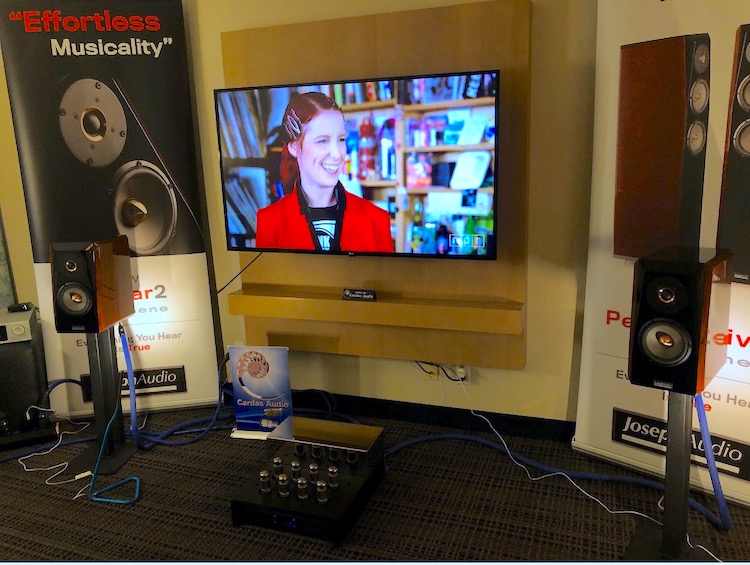 Jeff Joseph and Nick Doshi have teamed up for the past few years and each time produced top sound. It was the same this year. Jeff showed his excellent Pulsar 2 Graphene speakers ( 9,999/pr) powered by the Doshi Evolution Series line preamp and amp ( $19,999 and $21,995, respectively), wired with Cardas Clear Beyond cabling. The imaging was spot on, and the sound detailed and inviting.
A special shout-out to Jeff for playing YouTube concerts through his system. I entered the room in the middle of a Tiny Desk concert by Moonchild. The experience captivated everyone in the room—especially the wives/girlfriends of the guys there. If the industry wishes to further grow it must recognize the need to expose more people to experiences like the one Jeff boldly provided at this show. Well done, Jeff!
Lansche Audio Ion Plasma Tweeter Loudspeaker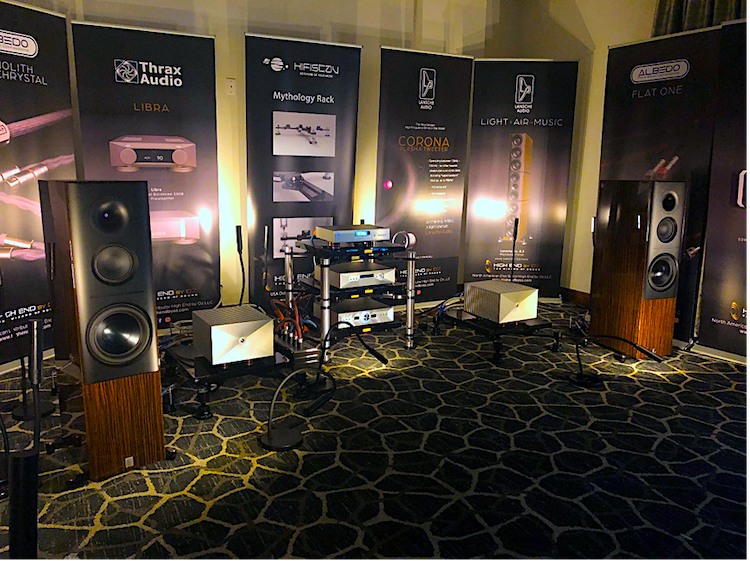 Though this room featured multiple High End By Oz distributed products, what most caught my attention was the sound of the Lansche No 5.2 loudspeakers ($49,500), which employ a Plasma tweeter. This speaker's top-end performance was as grain-free as I've heard and completely lacking in harshness or aggressiveness. The direct excitation of air molecules in the small, ionized air space generates the plasma tweeter's sound. You can read details about this tweeter on the Lansche site. The overall sound was effortless, with very coherent integration of the Plasma tweeter with the other drivers. This speaker is another "must-hear" worth seeking out.
The front end was the Thrax Audio Dionysos Tube preamp ($27k), Thrax Teres MKII monoblock amps ($37.500 each), and a Thrax Maximinus MKII DAC ($38,500). Cabling was Albedo pure silver mono crystal, and the S.I.N. Audio PSD-10 ($20K) handled power conditioning/distribution.
MC AudioTech/ModWright Instruments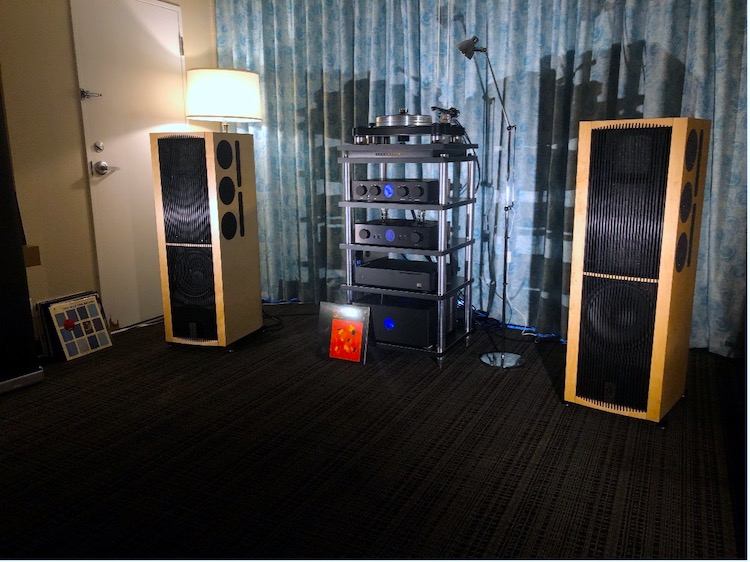 Shortly after I entered this room, MC Audiotech's Mark Conti played a piano selection. The music coming from the new TL-12 loudspeaker ($25K/pr) immediately grabbed my attention. The sound had extraordinary transparency and captured the overtones produced by the body of the piano exceptionally well.
The company describes the patented mid/tweeter design as a "Wide Band Line Source transducer"(WBLS). MC Audiotech pairs its WBLS drivers with a transmission line woofer, yielding exceptional tonal balance and timbre.
ModWright Instruments LS 300 preamp ($11k), a 150 Signature Edition Amplifier ($11k), a Wolf Audio Systems Alpha 3 Music Server, and Weiss DAC501 made up the system's front end and power. I ran out of time for extended listening, but at AXPONA I plan to further check them out.
MBL Audio and United Home Audio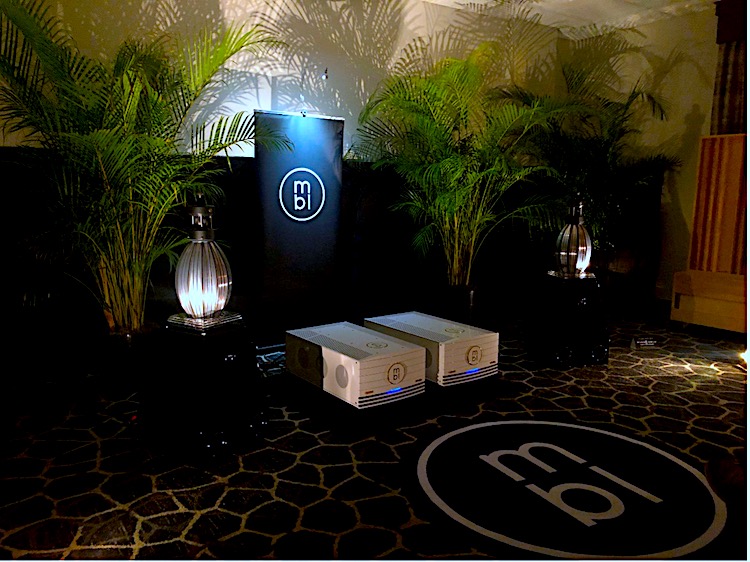 Finally, I want to give a big shout-out to Greg Baron of United Home Audio and MBL Audio's Jeremy Bryan for once again hosting one of its legendary after-hours listening sessions, wherein Greg plays reel after reel of his curated tapes in the excellent-sounding MBL room. Emotional and liquid spirits flowed, and resounding applause broke out multiple times. It was great to see everyone having fun and enjoying music. It is always a show highlight for me. Don't miss this experience, as it is worth the price of admission to the show.
Well, another audio show is in the books. This year's show was very upbeat, well-attended, and ran smoothly. A tremendous amount of behind-the-scenes work goes into putting on an audio show, and kudos to show organizer Bart Andeer and his colleagues, who did an excellent job. 
Final Thought
Note that so many varied designs grabbed my attention. Speakers using horns, conventional dynamic drivers, omnidirectional speakers, coax drivers, and even a "Wide Band Line Source" all made me sit down and listen to the music. No one technology/design is correct for everyone, so keep listening and find the one that is right for you.