Motown/UMe Celebrated the 50th Anniversary of Marvin Gaye's "Let's Get It On" With An Expanded Edition
Harvey Kubernik expands on the expansion with his usual treasure trove of inside info
Marvin Gaye Photo by Henry Diltz, Courtesy of Gary Strobl at the Diltz Archives 
Story: Harvey Kubernik Copyright 2023
(Story "gifted" to Tracking Angle in celebration of our 1st anniversary today—more about that coming up shortly!)
In celebration of the Golden Anniversary of the iconic Marvin Gaye album Let's Get It On, Motown/UMe released a digitally a revised and expanded Let's Get It On: Deluxe Edition on August 25, 2023, three days before the album's original release date in 1973 fifty years prior.
Featuring a trove of 33 bonus tracks, 18 of them previously unreleased, the Prince of Soul's creative explorations continued to unfold with the production of this pivotal release. Collectively, the bonus material leans into the story of Gaye's multi-layered personal struggles during the album's creation.
  An announcement from Motown/UMe describes the album.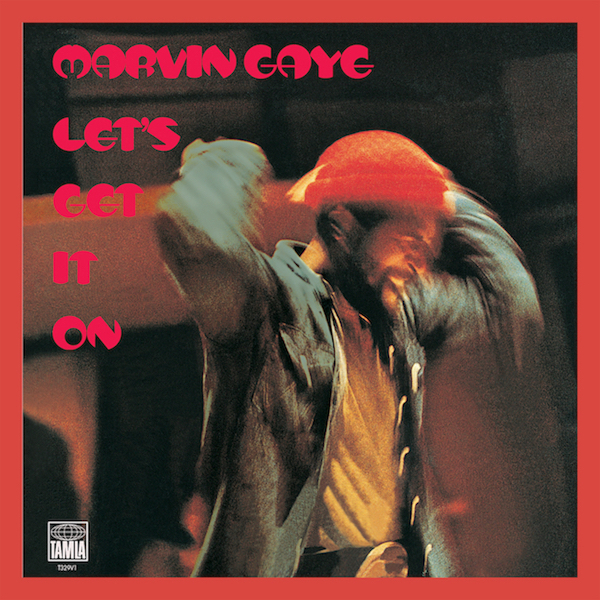 "Comprised of tracks recorded during an intense six months of sessions in Los Angeles in '73, this newly the album's original eight songs alongside unheard mixes and material from all the sessions along the way, in addition to a trove of funky and fascinating instrumental tracks - and unreleased versions of the ballad recordings Marvin returned to time and again.
  "To further commemorate the record's golden anniversary, the original album will be available in Dolby ATMOS. 
"After the success of What's Going On and the following album, the proto-acid-jazz soundtrack to Trouble Man, Gaye had won Motown's trust. The freedom was liberating but also fueled a heightened uncertainty about where to take his career. At a personal crossroads involving relocation to Los Angeles, a fraying marriage, a budding romance with Janis Hunter, who attended the initial sessions, and a driving need to experiment, Gaye found a steam valve in creating a suite of erotically charged yet emotionally vulnerable songs. But the final album lineup was drawn from a series of different sessions, resulting in a wealth of vaulted material.
"Marvin's first step in early '73 was to seek out Ed Townsend, the artist, songwriter and producer best known for his 1950s ballad hit, "For Your Love." He initially had Townsend guide him through ballad arrangements created especially for Marvin by arranger/pianist Bobby Scott in 1966, tracks he obsessed over for years. But these versions of the ballads, like ones Marvin recorded earlier, were left behind; the revealing, previously unreleased '73 versions are included on the new Let's Get It On: Deluxe Edition. (Later vocals were included on the posthumous release, Vulnerable.)
"Simultaneously, sharing their mutual vulnerability, Marvin and Ed wrote new material that eventually became Side 1 of the Let's Get It On album. 
"'I'd just come out of rehab, where I'd beaten a monstrous addiction to alcohol," the late Townsend said. 'I was looking to move ahead with my life - to 'get it on.' Marvin grasped this completely. But he didn't stop learning the lyrics. He bypassed superficiality, questioning where you were coming from when you composed the song. He couldn't just sing it; he had to connect with it as deeply as he'd written it himself. 
"I witnessed the pain he was going through in his life; I was also blessed to witness the joy of an artist fully engaging with his work.'
"With Townsend and veteran arranger Rene Hall, and a slew of stellar session musicians, including veteran saxophonist Plas Johnson, guitarists Don Peake, Arthur Wright and Melvin "Wah Wah" Ragin, drummer Paul Humphrey and the Crusaders' Wilton Felder on bass, Gaye recorded six songs, completing three, transforming the hopeful theme of what became the album's title song into a call for spiritual sex.
 "Marvin reunited with David Van DePitte - the Detroit arranger who unified What's Going On into a cohesive suite - and they delivered blazing cuts with a few of the same musicians, plus Herbie Hancock on piano, who met "Wah Wah" for the first time during these sessions and would go on to collaborate with him on several albums; guitarists John Morell, then with Shelly Manne's band and soon a veteran of countless hits, and Richard Bennett, who became a key member of Neil Diamond's band for nearly two decades and later produced Emmylou Harris. James Jamerson, the original Motown Funk Brother who was also new to LA, switched off on bass with Felder. Yet Marvin left those tracks behind, too. 
"Nothing hung together until Motown, watching months fly by without a new Marvin Gaye record, pulled "Let's Get It On" from the tapes and rush-released it as a single before an album was finished. Alongside new hits from Motown's own Stevie Wonder, Smokey Robinson (in his solo debut), Eddie Kendricks, and Diana Ross, "Let's Get It On" shot to No. 1 Pop (2 weeks) and R&B (6 weeks). The company's first full year on the West Coast was proving a resounding success.
 "During the song's climb to the top, Let's Get It On the album began taking shape. Gaye built upon tracks that originated in Detroit in the fall of 1970 - the Side 2 gems "Come Get To This," "Distant Lover" (the album's second single) and "Just To Keep You Satisfied" - while also finalizing additional selections from the Townsend sessions and his own, provocative "You Sure Love To Ball," which was eventually the third single from the album. Let's Get It On stayed No. 1 on the Soul Albums chart for 11 weeks in the fall of 1973 while peaking at No. 2 Pop."
"Let's Get It On" was inducted into the GRAMMY Hall of Fame in 2004, and represents a pivotal moment not only in the career of Marvin Gaye but in the evolution of soul music. Gaye gave voice to intimate desire in a way that was lightning charged. At the time, he claimed it was spiritually guided. Half a century later, it's never been more apparent that he was telling the truth.  
In the acclaimed biography, Divided Soul: The Life of Marvin Gaye, author David Ritz put the project into perspective with the following summation: "The paradox is this: The sexiest of Marvin Gaye's work is also his most spiritual. That's the paradox of Marvin himself. In his struggle to wed body and soul, in his exploration of sexual passion, he expresses the most human of hunger-the hunger for God. In those songs of loss and lament-the sense of separation is heartbreaking. On one level, the separation is between man and woman. On a deeper level, the separation is between man and God."
"The title of David Ritz's Marvin Gaye biography, Divided Soul, is highly and sadly accurate," theorizes poet and deejay Dr. James Cushing. "From What's Going On (1971) through Here, My Dear (1978), that divided soul was fully displayed on record. Gaye showed great courage in 1971 by insisting that his political opus be released intact, but then followed that up with one unsuccessful "message" single and an album's worth of tuneless cuts that went unreleased until decades later (You're The Man, 2019). He retreated from politics with his next three albums, Trouble Man (1972), Let's Get It On (1973), and I Want You (1976), which constitute an irresistibly atmospheric bedroom trilogy — and of these three, I pick the Trouble Man soundtrack as Gaye's most overlooked, underrated (and sexy!) album. Its lack of recognition must be tied to the nonstarter that was Ivan Dixon's violent blaxploitation film. 
"My favorite element of Let's Get It On is also relevant to the 'division' theme: the album, which celebrates the lascivious joys of sexual congress, ends with one of the saddest, most mournful break-up songs of the 20th century, 'Just to Keep You Satisfied.' This adagio to a lost love would not be out of place on Sinatra Sings for Only the Lonely, and has, for me, the effect of emotionally dissolving the title cut's enthusiasm in the acid of its consequences."
The newly revised Deluxe Edition replaces a deluxe edition first released in 2001, as most of its bonus tracks are now available in the previously vaulted album of 1972 recordings, You're the Man, issued by Motown/UMe in 2019. 
I witnessed a handful of mid-1960s Motown Revue live road shows in Los Angeles and Hollywood and danced on a couple of music TV shows when Motown acts would be booked on the Sam Riddle-hosted 9th Street Weston Melrose Avenue and Dick Clark's American Bandstand Vine Street location.
My brother Kenny and I went to the KHJ Second Annual Appreciation Concert at the Hollywood Bowl on April 29, 1967, for the United Negro College Fund and the UCLA School of Music, headlined by the Supremes with Buffalo Springfield, the Seeds, Brenda Holloway, Johnny Rivers and the Fifth Dimension.
In 1966, I saw the Temptations tape an episode of Shindig! at the ABC-TV studios on Prospect Avenue. They sang a live vocal on "My Girl," which years later I found out was a pre-recorded music track.  They were wearing matching powder blue outfits in front of me. That was living color even though the series was broadcast in black and white.
I once saw Marvin Gaye in the very early seventies standing on the corner of 3rd Street and La Cienega in Los Angeles. He was leaving the Record Plant recording studio.
We were both on our way to a Motown Records event across the intersection at The Climax Club. He was clad in iridescent green slacks and a dark turtle neck sweater. His hair was perfect.
Marvin and I briefly talked about a Muhammad Ali boxing match he was going to see the following night at The Wiltern Theater on Wilshire Boulevard and Western Avenue. Jack Nitzsche years later told me he bumped into Marvin that evening in the Wiltern lobby after the fight. Gaye complimented him on the music charts Jack arranged for him when Marvin appeared at The T.A.M.I. Show 1964 filming in Santa Monica where Jack was the Musical Director.     
 On Wednesday, August 23, 2023 the Grammy Museum in Los Angeles hosted LET'S GET IT ON: Celebrating Motown &1973

Smokey Robinson, Jimmy Jam, and Marvin Gaye biographer David Ritz discussed Motown Records' first full year in LA, including the 50th anniversary of Let's Get It On, moderated by UMe's Harry Weinger.
At the event, I asked Smokey Robinson about one of my favorite recordings he cut with the Miracles, "The Tears of a Clown?"
"Harvey, it's our biggest selling record. I heard a circus noise in my head when the tune came to me. You know, Barnum and Bailey. Joyous. But I wanted to make sure beneath all the happiness I had a clown who was sad, and knew Pagliacci had tears he hid when he went to the dressing room alone..."
 Robinson and I are both born in February. We were recently lensed for a music documentary.
I reminded Smokey that in 2012 I attended the premiere of his spoken piece Words at the El Portal Theatre in North Hollywood. I even bought a poster and he signed it.  
  You have no idea, unless you were in that Lankershim Boulevard room that memorable night, what it was like to hear Robinson telling stories and anecdotes about his life.
  He wasn't reciting song lyrics, but prepared a program culled from diary entries and observations read from a notebook.  
This wasn't Smokey booked at an awards show, a ceremonial bash, artist tribute intro spot or a eulogy. He was standing alone at a microphone, just talking to an adoring throng. It was like hearing his isolated narrative passage on "Baby, Baby, Don't Cry," a hit single for the Miracles in January 1969.
For Melody Maker in November of 1974, I interviewed Bobby Rogers, a member of the Miracles, since their inception in 1958, when he joined up with his sister Claudette, Ronnie White, Pete Moore, and William "Smokey" Robinson.
 Rogers shares the February 19, 1940 date of birth as Smokey Robinson in the same Detroit hospital and co-wrote a number of compositions with Robinson: "The Way You Do the Things You Do" for the Temptations, "First I Look at the Purse" cut by the Contours and the Miracles' "Going to a Go-Go."
"The Miracles have always to this point been a singles-orientated group. Smokey was writing for the group and everybody else. Smokey never really had the opportunity to do a concept thing.
"The best thing that ever happened to music has got to be the What's Going On album by Marvin Gaye. Marvin was listening to everything that was around. Beatles, Stones, pop, and jazz.
 "You know that Sgt. Pepper LP? It was always on Marvin's turntable. Marvin took some time off and really looked at what was happening. Society has changed. A long time ago black people were smoking dope and if they got caught, they would go to jail. Now, white people are doing it and they bring the penalty down. Also, we had some racial hassles years ago in the South, and it's getting better now," suggested Bobby.
"I really loved touring with the English groups, back in 1963 and 1964. We used to tour with the Rolling Stones and people like Georgie Fame. During the breaks from touring, a lot of the groups would ask questions about certain songs on our albums. I remember when we filmed The TAMI Show Mick Jagger asked me about what I'd thought of the album James Brown Live at the Apollo, which was his favorite LP.
"One time he mentioned that he'd like to record a Marvin Gaye song for the next Stones album. A month later, their version of Hitch Hike was being played all over the radio in Detroit.     
"I have picked up as many hints on guitar playing as I can from Don Peake, who is the Everly Brothers guitarist," Keith Richard(s) proudly confessed in a 1963 issue of New Musical Express. 
"He really is a fantastic guitarist, and the great thing about him is that he is always ready to show me a few tricks."
Author/deejay Andrew Loog Oldham managed and produced the Rolling Stones from 1963 to 1967.
ALO worked as a producer for Motown's Rare Earth label during the very early 1970s, producing the Connecticut group Repairs and Detroit band the Sunday Funnies.
"Barney Ales [Berry Gordy's right-hand man, national sales and promotion manager/executive] - the jewel in the crown," touted Andrew in a 2016 interview. 
"His efforts on behalf of Mr. Gordy and the artists were the primary reason the sound of young America graduated all over the world."
 Andrew produced the Stones covering Motown/Jobete Music assets "Money (That's What I Want)," "Can I Get a Witness," "Hitch Hike" and "My Girl."
 "'Can I Get a Witness' is a great young version by the Stones.
"Mick was out of breath on this one as he'd run across Soho to UK's Motown publisher's Freddy Bienstock to get the lyrics. 'Hitch Hike' is a bit mindless and even though the track of 'My Girl' is a bit naff Mick nailed the vocal.
"But it's the spirit that counts and Motown made you feel everything was possible. Its rhythms were often unusual for Top 20 fare and the lyrics and delivery spoke to young moments," encapsulated Andrew.
I've always known that the music of Motown Records resides deep in Marianne Faithfull's soul.
 Earlier this century I interviewed her in Hollywood.
"I can tell you that while Andrew Loog Oldham turned me on to Phil Spector and Jack Nitzsche, Bob Crewe and the Four Seasons, the Mamas and the Papas, and a lot of things," disclosed Marianne, "the person who really educated me on the Motown level was Mick. I would have never gone that deeply into Motown without Mick. We just played the songs at home constantly. It must have been great fun for him...
"There I am at age nineteen and I've never listened to the Miracles before. 'The Tracks of My Tears...' Mick would run down the bass lines, song constructions on the label, and actually act out the songs in front of me! [Chuckles].
"It was really an amazing education. And, of course, when I wanted another type of thing, I'd go and see Keith and then it was all blues. It all kind of fitted in somehow," she marveled.
 "Mick and I wore out the grooves on the records so much we'd have to buy them again. For a long time, it was Vivaldi and Marvin Gaye in the morning. That's how we lived. Which is so wonderful. And I had Mick telling me everything. He knew everything. He knew the names of the session musicians at a snap. So did Jack Nitzsche. Brilliant man. We never could quite get it together to do an album, but at least we have 'Sister Morphine.'"   
The Motown segment of our afternoon delight conversation became a yenta-fueled exchange when I told her I recently did a series of interviews with the Funk Brothers, the surviving Motown session men who are spotlighted in the documentary film, Standing in the Shadows of Motown.  
"Harvey…Oh God...I'm dying to see that movie. Oh man...Oh man...Nice to see the players get some attention. I like the idea that Berry Gordy still cares that much. He cares about the Motown legacy and we're not just talking about money. There's something he did there that he cares very much about. It's incredible. Obviously, he knows what he did, but for me, it changed my life," she happily confessed. 
  "I found the Stax records myself. I was lucky.
"Mick knew the Motown records already, but they knocked me for a six. That's why I know about the Four Tops doing 'Walk Away Renee.' I spent years listening to Motown. Smokey Robinson...His voice...The Love I Saw In You Was Just a Mirage.' [Sings the first two lines]. The most beautiful stuff I've ever heard...And to this day I'm sure some Motown songs are in the Stones' live repertoire." 
The last time Bob Dylan had a gig at The Pantages Theater in Hollywood, Marianne spotted me in the lobby after buying Dylan merchandise from a vendor. The lights went up before I could tell her I could hear the sonic impact of the Smokey Robinson-penned "My Girl," a number one hit by the Temptations from early 1965 that informs Dylan's "Queen Jane Approximately."
I subsequently brought this up to songwriter, multi-instrumentalist mensch Al Kooper, who has waxed three Robinson tunes.
"One of my favorite things is when I called Dylan one day and said, 'Hey…What are you doing?' 'Eating a piece of toast and listening to Smokey Robinson...' So, that makes a lot of sense."
 Guitarist Don Peake met Smokey Robinson during December 1964 when he was in the stage band Jack Nitzsche assembled for The T.A.M. I. Show. In addition, Don re-connected with Keith Richards at the landmark taping. At the time, Peake was in Ray Charles' band, and a member of the American Federation of Musicians Local 47, later to be known as the Wrecking Crew. He's heard on "You've Lost That Loving Feelin'" and "River Deep, Mountain High." Peake was in the Ray Charles band during 1964-1974, and later on dates with Ray in the nineties.
Don is on the Temptations In a Mellow Mood 1967 LP. The music tracks were done during 1966 in Los Angeles and Hollywood. The original vocal lineup of the Temptations then overdubbed their vocals at Hitsville in Detroit. Rene Hall, HB Barnum  and Don Costa arranged and produced the West Coast instrumental sessions.           
  "I was in a core session group that, in a sense, replaced the Funk Brothers, who did the Motown sessions in Detroit," stressed Peake in a 2023 interview with me. "We didn't want to replace them, but Berry Gordy moved out here.
"Benjamin Barrett was a very powerful contractor. He worked with Gene Page a lot, and that's how he knew me, 'cause Gene always used me on Phil Spector dates. Benjamin called me on the telephone. 'Hey Don, Motown is moving to Los Angeles. I'm forming a staff band and want you to be one of the guitarists in the orchestra.'
 "I went into the room, and there was David T. Walker playing guitar, Louie Shelton on guitar, and drummer Gene Pellow. Some of the records have Paul Humphrey. He wasn't like Hal Blaine or Earl Palmer. Paul was very understated. He was chill. The pianist was Joe Sample, and the bass player was Wilton Felder, sax player for the Crusaders, but he played the bass for Motown. Ben Barrett told me to go over to the mom-and-pop studio on Ventura and Colfax—Freddie Perren's studio.
"These were different sessions than with Spector and Brian Wilson. Freddie had us in a compact core group. It wasn't the five guitars, two pianos, two drummers, two bassists. This was more like Detroit combos, where the bass was featured. It was a whole different kind of music.
 "Playing with the Jackson 5 was just exciting. I had played with the Everly Brothers from 1961 to 1964, so I was into the harmony thing. I'm on a lot of the Jackson 5 records cut in Hollywood: 'I Want You Back,' 'ABC,' 'The Love You Save.'
"I made all those Monkees records, like Mary, Mary. I did the chart. I played on some, and arranged some. So, I was on Monkees, Jackson 5, and then the Partridge Family," confirmed Peake.
"In 1969, Diana Ross came into Freddie Perrin's studio on Ventura and Colfax and said 'I'd like you to meet Michael Jackson.' The Jackson 5's debut LP was Diana Ross Presents The Jackson 5.  
"The kids were all there. I watched them do their vocals. Michael was magic. All of us looked at Michael and said, 'Oh my God. This guy is amazing.' We knew, like with 'ABC,' we were making a great record. Sometimes you can just tell.
When I played on the Righteous Brothers' 'You've Lost That Lovin' Feelin,' everybody in the room knew it was going to be monster. I played on so many songs by the Jackson 5, including a wonderful record, 'Maybe Tomorrow,' which has an electric sitar. That's me on the Danelectro.
"We started recording down on Romaine Street, just south of Santa Monica Boulevard, near La Brea Avenue, the Motown studio, the Sunset Room. We also worked at the Crystal studio. It was a big room. The Motown studio was a little smaller. We did some Supremes records there with producer Frank Wilson.
 "Then Marvin Gaye walked in.  On his session for 'Let's Get It On,' it was me and Arthur Wright on guitars. I do the lead intro lick. I hit an open G string and I made a mistake and you can hear it on the record."  
The 1972 Crown Barney Kessel model guitar used by Peake, who created and played the opening wah-wah introduction on the "Let's Get It On" session is on display at The Rock and Roll Hall of Fame in Cleveland, Ohio.    
In 1994, Warner Books published Berry Gordy's autobiography To Be Loved: The Music, The Magic, The Memories of Motown. The title is taken from a song Gordy penned for "Mr. Excitement," Jackie Wilson.       
After talking to Gordy's book publicist about an interview and having conversations with Ewart Abner of Vee-Jay Records fame, a former President of Motown Records himself, now running The Gordy Company, arrangements were made for the meeting. I was on Q. and A. assignment for the weekly US trade magazine HITS, and preparing a profile of Gordy for Goldmine magazine, a collector's periodical.
I drove to Gordy's Bel-Air mansion. Radio station KRTH-FM was having a Motown Monday.   
 Cruising through the gate to his hill side home, past the tennis court, I dropped my car off to valet parking and ushered into a waiting room den area, filled with photos and memorabilia of Gordy's remarkable life. 
I glance at a note from President Clinton, I fondle Gordy's statue from The Rock and Roll Hall of Fame. Berry is also the recipient of the Songwriter's Hall of Fame Abe Olman Publisher Award. There are pictures of Gordy with Muhammad Ali and black and white framed shots of Gordy's children with the Beatles from a 1964 US tour.     
  I wasn't in his residence today to discuss the passing of Marvin Gaye, record industry rumors about the label or to probe deeper into the chaos and pain of Tammi Terrell's tragic life.
Berry had an autobiography to promote. I offered outlets for To Be Loved, and garner some insights on his life before and after his Motown crusade.
Gordy and his Motown team over decades read many of my Melody Maker articles and columns devoted to Motown acts the Miracles, David Ruffin, and the Commodores. 
 I conducted in all probability, the first US interview in 1976 with the Commodores' Lionel Richie. I went to their "Brick House" recording and mixing session in Hollywood. Every ten years when I encounter Lionel Richie at a store or music business function, he always gleefully reminds me of our game-changing bond first meeting. A mutual friend is still his vocal coach.    
Ewart Abner, Gordy's right-hand man, and mentor, and previously a noted music executive at Vee-Jay Records, where he worked with the Diablos and Nolan Strong, Dee Clark, the Impressions, Jerry Butler and Gene Chandler, greeted me. I set up my tape recorder.  We were going to be videotaped as well for The Motown Museum in Detroit and Gordy's own archives.   
   I asked BG about Marvin Gaye.  
 "The truest artist I've ever known. Whatever he was going through in his life he put on records. I mean I'll hear Marvin Gaye's What's Going On album. He had three voices: Marvin on top of Marvin on top of Marvin. Just incredible. So, if you want to know Marvin just listen to one of his records. Each one of us is different though, and I tell artists to bring out their own uniqueness. That's why you'll get a Stevie Wonder, a Marvin Gaye, a Smokey Robinson. You've got to nurture that. That's what we try to do. Nurture their difference.
 "And so, it wasn't me that was the genius. If I was a genius of anything, it was bringing out the genius of others, because if they reach their potential then I had felt that maybe I could reach mine. So, in bringing out the genius in others and finding it, sure, it was hard and tough, but your clues will tell you. And then, stopping them from focusing on other things other than what they're doing."  
 We chatted about Smokey Robinson.
"Well, Smokey Robinson, my first impression was he was great, a great poet, but he didn't know how to really write songs, or put songs together. When he learned how to put stuff together and he really understood, Smokey was incredible. 'This guy has to be either crazy or one of the most special people I'll ever meet.' He was incredible. He turned out to be one of the most special people I ever met."
I also had the opportunity to discuss Stevie Wonder and Michael Jackson with Gordy.
"Stevie Wonder. Innovative. The most innovative person that I've ever known. But also unique with his tones and his voice quality and all that. He was as close to genius, and I don't like to use the word genius, you know. Marvin could have been a genius. I don't like to throw it around, but Stevie is one of those kind of special, special, special people that had a sound, and he's quick. He's creative and he can make up something very quick.  He was the first in technology. He's an innovator.    
"Michael Jackson. Greatest entertainer in the world and one of the smartest people and businessmen in the world. He conducted his own career, basically. He knew what he wanted. And from nine years old he was a thinker. And I called him 'Little Spongy,' because he was like a sponge and he learned from everybody.
"He not only studied me, but he studied James Brown, Jackie Wilson, Marcel Marceau, Fred Astaire…Walt Disney. And he bought the Beatles' catalog. Michael is nobody's fool. Very bright. Very smart." 
I mentioned to Berry that I knew England and Europe had always been behind the Motown Sound. They have the Tamla-Motown Appreciation Society over there before his first major EMI distribution deal for the product line. In To Be Loved he acknowledged that fans in the UK hailed the groups, the writers and the producers.
 "As far as the UK is concerned, it is very, very special to me. Because, actually, we were, I think, more popular there than we were in our own country, you know, for a long time, it seemed. I think the appreciation was different. They were not blasé about our music early on. Way back, the pirate ships and all that stuff, they discovered the sound and they were always very important to me when I'd go over there.
"They were just together. I loved their creativity with what they did with our album covers and how they just did it. And when we first went over there with the fan clubs, and the signs and stuff that they had for us. So, the UK has always been special for Tamla-Motown."  
Yes, we talked about the Beatles.
"When The Beatles Second Album had three of our songs "Money(That's What I Want)," "You've Really Got A Hold On Me," and "Please Mr. Postman", it just indicated to us that they obviously had been listening to our music and they were aware of it, enjoying it and loving it. It's always been very important to me."     
I told Gordy I really enjoyed the story in his book about the negotiation with someone representing the Beatles and the three Jobete publishing copyrights that were to be included on that Beatles album. He had met Brian Epstein before that when he visited Hitsville in Detroit. The Beatles' representative was seeking a reduced rate for the three tunes on the Beatles' album.
"I think there was some guy there doing his job, trying to get rates on whatever they were doing. They were doing more than one song. If it had been one song, I could say to them, 'You're doing one song.' But, 'You're doing three songs,' on The Beatles Second Album, and it's negotiating, like when you go to the supermarket and you buy more than one thing, you get a deal. So, I thought it was business and I say it in the book. Somebody was doing their job on behalf of the Beatles." 
I wanted to know if Berry then or now still chuckles when those songs shipped millions of units and became part of the Beatles' live show.
"Sure, I chuckle, even today. I say it in there (the book). It's funny and if I had to do it all over again (accept a discount rate for three Jobete copyrights) I would make the same decision. It's better to have a part of something than all of nothing. 
"England, the Continent, Europe. A very loyal audience but a very deep-feeling people. They certainly are not fickle in their musical tastes. Fans are fans and they are great. I wanted them." 
 I interviewed Mary Wilson of the Supremes during 2002 and 2016. She reflected on Gordy's vision of Motown.  
"Berry Gordy, Jr. and the A&R department knew what was happening," reinforced Mary.  
"But I think all of the things we are recognizing now, the Motown label, the Funk Brothers, musicians, Berry Gordy, here we are decades later and people are still re-recording those songs. Berry Gordy was an innovator, and he knew talent when he saw it. He only accepted the best. He allowed people to create on their own. He allowed the producers to really inspire each other. I know when I was recording those songs, it was the people, and it was the music.
"Now, everyone is asking me about the musicians. From my perspective we always knew and felt that. The public now can appreciate them as individuals. We always appreciated them that way.
"Any bass player out there listened to Motown records to learn how James Jamerson played. Any new female group coming up will definitely try and take something from the Supremes. The Motown sound was the model. And the music is universal," summarized Wilson.
 In 2002 I met guitarist Joe Messina of the Funk Brothers. He reminisced about arranger Paul Riser, whose credits include Gaye's "I Heard it Through the Grapevine," "Ain't No Mountain High Enough" by Diana Ross, and Smokey Robinson & the Miracles' "The Tears of a Clown."
"Paul Riser was my favorite arranger at the label. His arrangements were very interesting, and at the end, our charts were like little scores. He was very detail-oriented. He could write whatever he said, whereas in the earlier days they would hum the stuff to you and you would have to remember what was hummed to you.
 "My favorite vocalist was Marvin Gaye. We never associated. We did our tracks and then he'd overdub. Marvin was a drummer and it made it a little bit different."  
Perhaps one of the overlooked ingredients in the Motown musical brew was that keyboardist Johnny Griffith was one of the few classically trained musicians to walk through the doors of Motown.
The other Detroit-born Funk Brother, Griffith, toured as an accompanist with Sarah Vaughn, Dinah Washington, Aretha Franklin and Lou Rawls. His credits include "Stop In The Name Of Love," Marvin Gaye's "Wonderful One" as well as Marvin's version of "I Heard It Through The Grapevine." 
 "I had done a version of 'Grapevine' with Gladys Knight first," Johnny remarked in 2002. "And that one was good. But when I did it with Marvin, it was better. It seemed to flow easier rhythmically. It was quite interesting. Gladys was great also and I can't take anything away from her. But with Marvin it was a totally different approach on the same song."
In 2002 at the Knitting Factory on Hollywood Boulevard, I spoke with several Funk Brothers around the premier of the movie Standing in the Shadows of Motown. Drummer Uriel Jones worked with Sarah Vaughan, Billy Eckstine, Mahalia Jackson, and Dakota Staton, and joined the Motown session band in 1964 after touring with Marvin Gaye.
 "On [Marvin Gaye and Tammi Terrell's] 'Ain't No Mountain High Enough,' Marvin liked to use two drummers," underlined Jones.
"He didn't like one drummer bashing. He'd rather have two drummers giving the power and still laying back. Get that smoothness. Marvin used to love singing ballads. Lovely voice."
In my 2002 joint interviews with the Funk Brothers, I spoke with Jack Ashford. The percussionist and vibraphonist came to Motown at the request of Marvin Gaye in 1963. His tambourine was frequently heard much higher than was the norm in the recording mixes of the day. Jack was in the Hitsville studio on Motown classics as "War," "Ooh Baby Baby," "Where Did Our Love Go," and "What's Going On."  
Marvin Gaye recorded the song, "What's Going On," inspired by an idea from Renaldo "Obie" Benson of the Four Tops after Benson witnessed an act of police brutality at an anti-war rally in Berkeley. The tune was composed by Benson with Gaye and Al Cleveland, the single reached #1 on the R&B charts, and the album, which was Gaye's first-ever million-seller, launched two more Top 10 singles in "Mercy Mercy Me (The Ecology)" and "Inner City Blues."
"We knew it was Marvin's first time being a producer with What's Going On," emphasized Ashford.
"So that was nice. We knew he was talented, and I didn't know it extended to the area of writing, producing and playing. 'Cause he played on the date. It was a different kind of session because he approached it different. He didn't approach it as a producer. He approached it from a rehearsal and 'Let's try this and see if it works.' That type of a thing, but with a concept in mind. It was new to him too. Something was different about it, and I knew the very night we laid the tracks that something very unusual was in that session. Everybody in the session felt it."  
 Russ Regan was a former President of UNI/MCA Records during 1968-1972 where he signed Hugh Masekela, Neil Diamond and Elton John to the label. He became President of 20th Century Records, inked Barry White to the company, then served as Vice-President of A&R at Motown. In 1987 he was the Album Supervisor of Smokey Robinson's One Heartbeat album.
 In 1961 Regan promoted Motown/Tamla singles in Southern California where he first encountered Berry Gordy, Jr. and Barney Ales.   
 "The first record I ever promoted was 'Please Mr. Postman by the Marvelettes," Regan reminded me in a 2010 conversation.
"I also worked with the Supremes, Smokey Robinson & the Miracles, and Marvin Gaye. Believe it or not, Marvin Gaye had moments of greatness on stage or he could be lousy. And I'll tell you why. He really didn't like performing. It was a job to him. It can't be a job for a performer. People don't realize this. You can't be up there thinking you are working," explained Russ.
"Berry Gordy, Jr. used to come to town. He taught me about hooks in songs. And that people buy records because they have to love them, not like them. There used to be record hops at high schools. Groups played in auditoriums. I took Marvin Gaye to Watts. He had never been out there before. One time at Jefferson High School the girls attacked him. He lost one shoe of his penny loafers.  
 "Berry Gordy offered me a job but I didn't want to move to Detroit. I'm a California guy. I was taught a lot about the record business by Berry Gordy and became a promotion man 1961-1964. I learned the value of a song and the hooks of a song. Every Motown hit has hooks in it. It starts with the opening. You can always smell the opening of a Motown record."  
 (Harvey Kubernik is the author of 20 books, including 2009's Canyon Of Dreams: The Magic And The Music Of Laurel Canyon and 2014's Turn Up The Radio! Rock, Pop and Roll In Los Angeles 1956-1972.  He has also written titles on Leonard Cohen and Neil Young.
 Sterling/Barnes and Noble in 2018 published Harvey and Kenneth Kubernik's The Story Of The Band: From Big Pink To The Last Waltz. In 2021 they wrote Jimi Hendrix: Voodoo Childfor Sterling/Barnes and Noble. Harvey and Kenneth are writing doing a book for 2024 publication by Insight Editions, Images That Rocked the World (The Music Photography of Ed Caraeff).
Otherworld Cottage Industries in 2020 published Harvey's Docs That Rock, Music That Matters.
His writings are in several book anthologies, including, The Rolling Stone Book Of The Beats and Drinking With Bukowski. Harvey wrote the liner notes to the CD re-releases of Carole King's Tapestry, The Essential Carole King, Allen Ginsberg's Kaddish, Elvis Presley The '68 Comeback Special, The Ramones' End of the Century and Big Brother & the Holding Company Captured Live at The Monterey International Pop Festival.
On October 16, 2023, ACC ART BOOKS LTD is publishing THE ROLLING STONES: ICONS. 312 pages. $75.00. Introduction is penned by Harvey Kubernik. Spanning six heady decades, and countless tours and album covers, this thrilling portfolio features imagery from some of the most eminent names in photography. Includes photographs by Terry O'Neill, Gered Mankowitz, Linda McCartney, Ed Caraeff, Ken Regan, Douglas Kirkland, Dominque Tarle and founding member, bassist and photographer, Bill Wyman.
https://www.amazon.com/Rolling-Stones-ACC-Art-Books/dp/1788842383
 During 2006 Kubernik spoke at the special hearings initiated by The Library of Congress held in Hollywood, California, discussing archiving practices and audiotape preservation.
In 2017 Harvey appeared at the Rock and Roll Hall of Fame in Cleveland, Ohio, as part of their Distinguished Speakers Series.
During 2023, Harvey Kubernik, photographer Henry Diltz and authors Eddie Fiegel, Barney Hoskyns and Chris Campion were filmed by French director France Swimberge for her Mamas & Papas documentary California Dreamin'. It was broadcast in August 2023 on the European arts television channel, Arte. Kubernik is the consultant for the film. 
Kubernik was an on-screen interview subject for director Matt O'Casey in 2019 on his BBC4-TV digital arts channel Christine McVie, Fleetwood Mac's Songbird. The cast includes Christine McVie, Stan Webb of Chicken Shack, Mick Fleetwood, Stevie Nicks, John McVie, Christine's family members, Heart's Nancy Wilson, Mike Campbell, and Neil Finn.
 Harvey was lensed for the 2013 BBC-TV documentary on Bobby Womack Across 110th Street, directed by James Meycock. Bobby Womack, Ronnie Wood from the Rolling Stones, Regina Womack, Damon Albarn of Blur/the Gorillaz, and Antonio Vargas are spotlighted.
Kubernik served as Consulting Producer on the 2010 singer-songwriter documentary, Troubadours: Carole King/James Taylor & the Rise of the Singer-Songwriter, directed by Morgan Neville