"The Greatest Recording Ever Made": The Decca/Solti "Ring" Cycle Revisited - PART 3: Listening to the Decca "Ring"
A Deep Dive into the Many Available Versions of the Decca "Ring", from Original Pressings and Audiophile Reissues to the Latest Remastering
Music lovers were a little surprised when in 2022 Decca announced it was releasing a brand new remastered edition of its classic Solti/VPO recording on CD, SACD, Blu-Ray and vinyl.  Everyone thought the master tapes had deteriorated to the point where nothing further could be done - at least that was the impression given by Decca when the last digital mastering had been released in 2012 (itself derived not from the master tapes, but from the previous remastering in 1997).  In fact the master tapes were usable, but repairs had to be made and portions had to be baked before a new digital transfer could be made at 24bit/192 kHz resolution.
Before I get into the details of the new remastering, let me first outline the cycle's previous incarnations on vinyl, CD and SACD.
The Different Editions of the Decca Ring
Each of the four operas were first issued on Decca, and early pressings exist as different variations of the Decca Wide-Band label, with and without grooves depending on the vintage of those original issues.  What this means is that all these early pressings were mastered with tube electronics in the mastering chain, and have that characteristic "bloom" that makes early Decca LPs so prized by record collectors.  All these sets sold exceptionally well, so there are plenty of copies around.  A less expensive alternative to the British Deccas are the "Made in England" London pressings, which should be identical except for different (and vastly inferior) cover art.
The original Decca box covers are examples of that rare thing in classical records: truly striking artwork.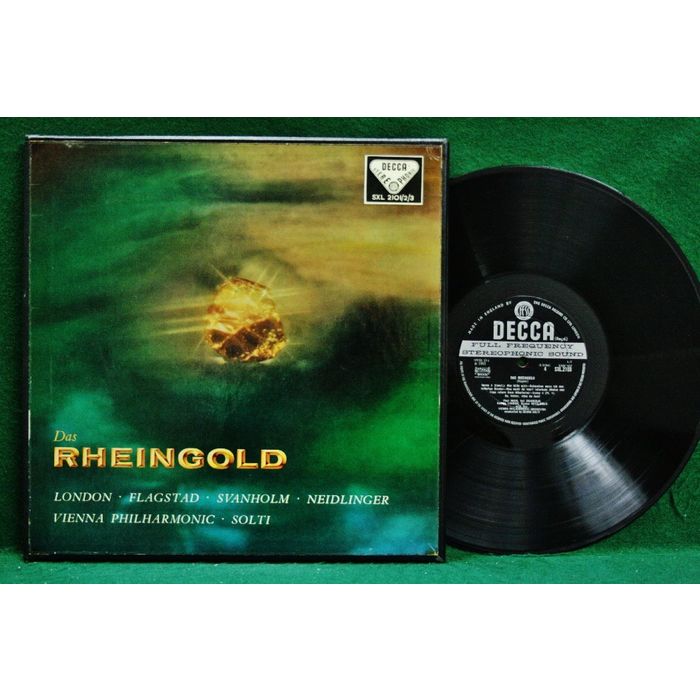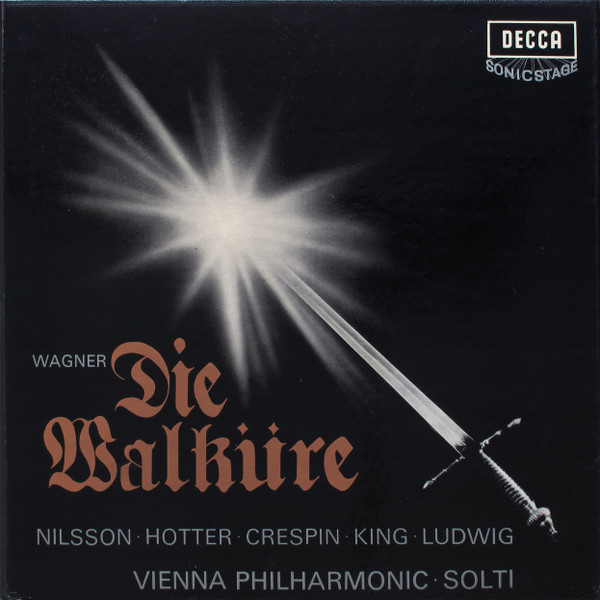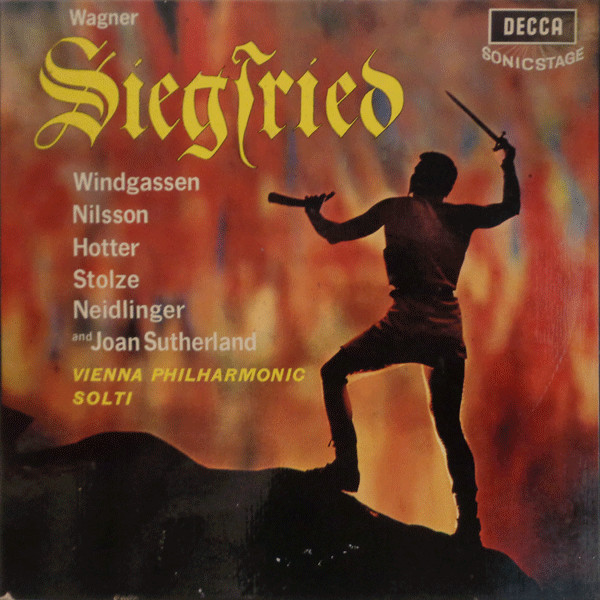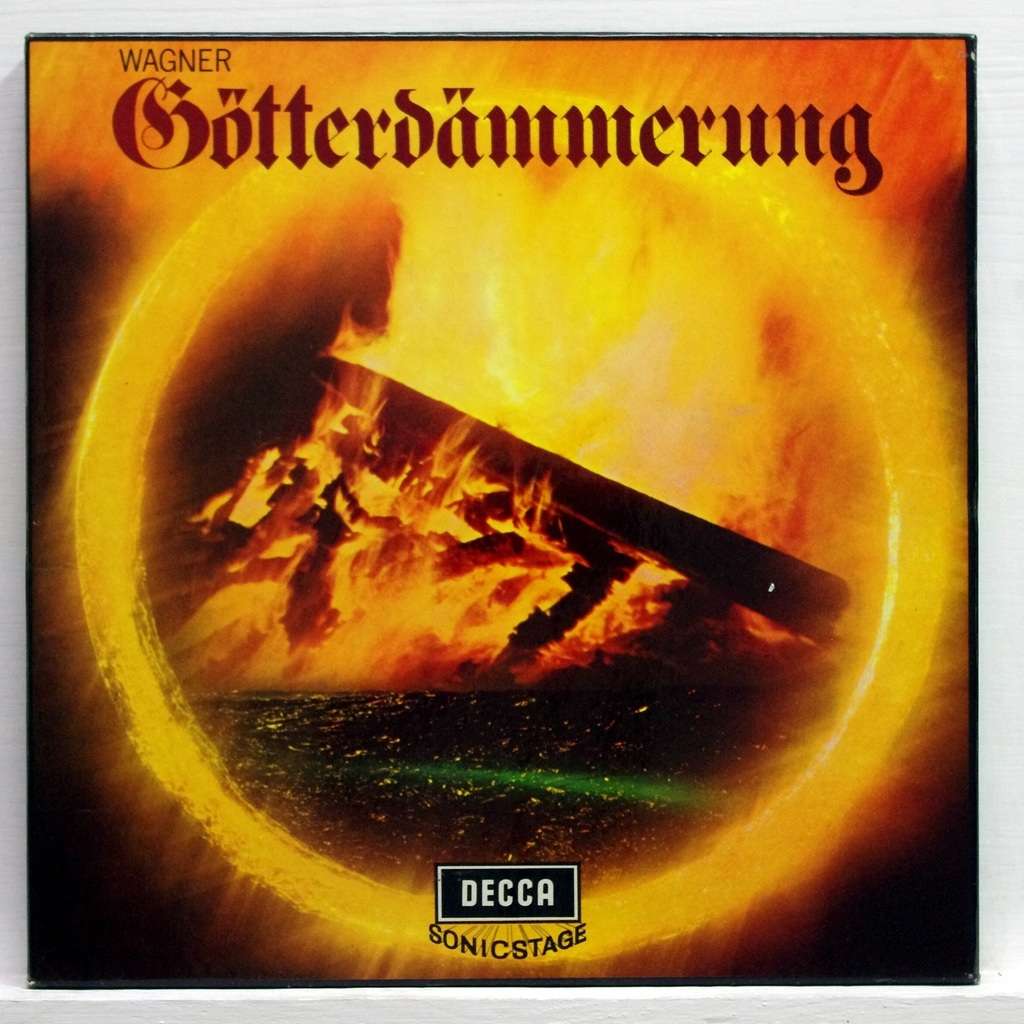 The Solti Ring has remained a fixture in the catalogue from the day it was first issued, and has never been out of print.  With later vinyl pressings, characterized by the Decca narrow-band label, transistors took the place of tubes in the mastering chain, and the results - as with all later Deccas - is a drier sound.  But these later versions still sound very fine indeed.
Eventually all four operas were grouped together into single sets, the most distinctive of which is the 1970 edition that came housed in a special, bespoke outer case with an etched and raised title front.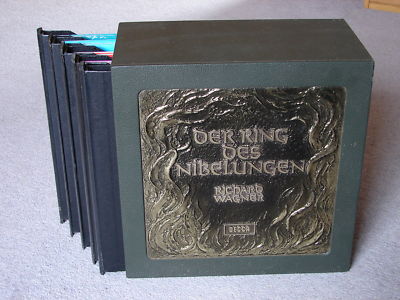 Each opera was housed in its own sliding compartment, reminiscent of the RCA Soria series of releases (and copied in the boxes for Analogue Productions' new UHQR vinyl editions).  Also included was the 3LP guide to the leitmotifs of the Ring, written and recorded by the distinguished musicologist Deryck Cooke, using extracts from the Solti recording.  This is an excellent primer for anyone discovering the Ring for the first time.  All the records feature the light blue centre label used by Decca for its "The World of…." series of budget reissues.
This was my own first set of the Decca Ring, and was the starting point for my auditions of different versions of the cycle for this article.  These records have travelled back and forth with me to boarding school, university, up to London, over the pond to Boston and finally to Los Angeles and still play beautifully after some 50-plus years.
The Decca Ring continued to be repressed through to the end of the vinyl era; later Decca pressings, as with all their records, were pressed in Holland, and I cannot speak to their quality.
On CD the Decca Ring has had several incarnations.  The first was in 1984, the next was in 1997.  Both were supervised by James Lock, a member of the original engineering team.  I owned both of these at one time or another, but rarely listened to them, preferring the LPs, and subsequently sold them.
The 1997 remastering was actually slightly more than just a remastering.  As well as applying what was then state-of-the-art CEDAR technology to de-hiss the tapes, Lock had also dipped into the original session tapes and used alternate takes to fix a few edits and moments of distortion in the approved masters.
The last remastering from 2012, issued in a deluxe set that included Cooke's analysis included in the 1970 22-LP set, was sourced from that 1997 James Lock remastering, and was supervised by Decca engineer Philip Siney, who applied further noise reduction.  This version of the Ring was well received, and as I have mentioned earlier, was generally considered to be the final iteration of the cycle on digital media.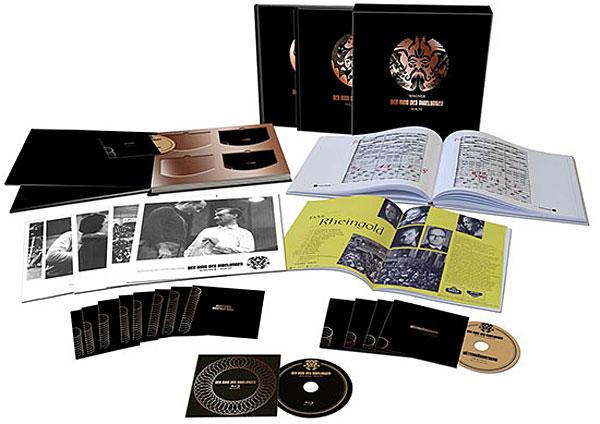 Well, it turned out not to be so. The announcement last year that a brand new digital master had been generated from the original tapes, and that this was to be the source for a new vinyl pressing, CD, SACD and even Blu-Ray version mixed in Dolby Atmos, was greeted with cautious optimism by Wagner fans.
Understandably, because as any visit to the usual forums will demonstrate, there are still heated arguments to be had over which is the best sounding iteration of the classic recording.
Now there are still a few versions of this cycle I have not mentioned.  One is the deluxe Japanese Esoteric CD/SACD version issued in a very limited edition in 2009.  If you can find a copy on the used market it will cost you thousands of dollars.  Now I am a big fan of the Esoteric releases - they really know how to get the most out of the digital format - but I am sure only the most obsessive Wagnerite audiophile would want to pony up that kind of money.  Also, to my knowledge, these are not sourced from the master tapes, but from that same 1997 transfer which, in its CD form, had its detractors. There is also an even rarer SACD version on Stereo Sound out of Japan, sourced from a Japanese Safety copy (tape) of the original Decca Master Tape. In theory, this would be closer to the original OG sound, though without the various "corrections" integrated by James Locke from the session tapes into his 1997 remaster.
The other very significant version of Solti's Ring - or at least of half of it - is the vinyl reissue of Das Rheingold and Die Walküre put out by King Super Analogue Disc and Cisco Music in the 1990s (note the different artwork from Decca for Die Walküre).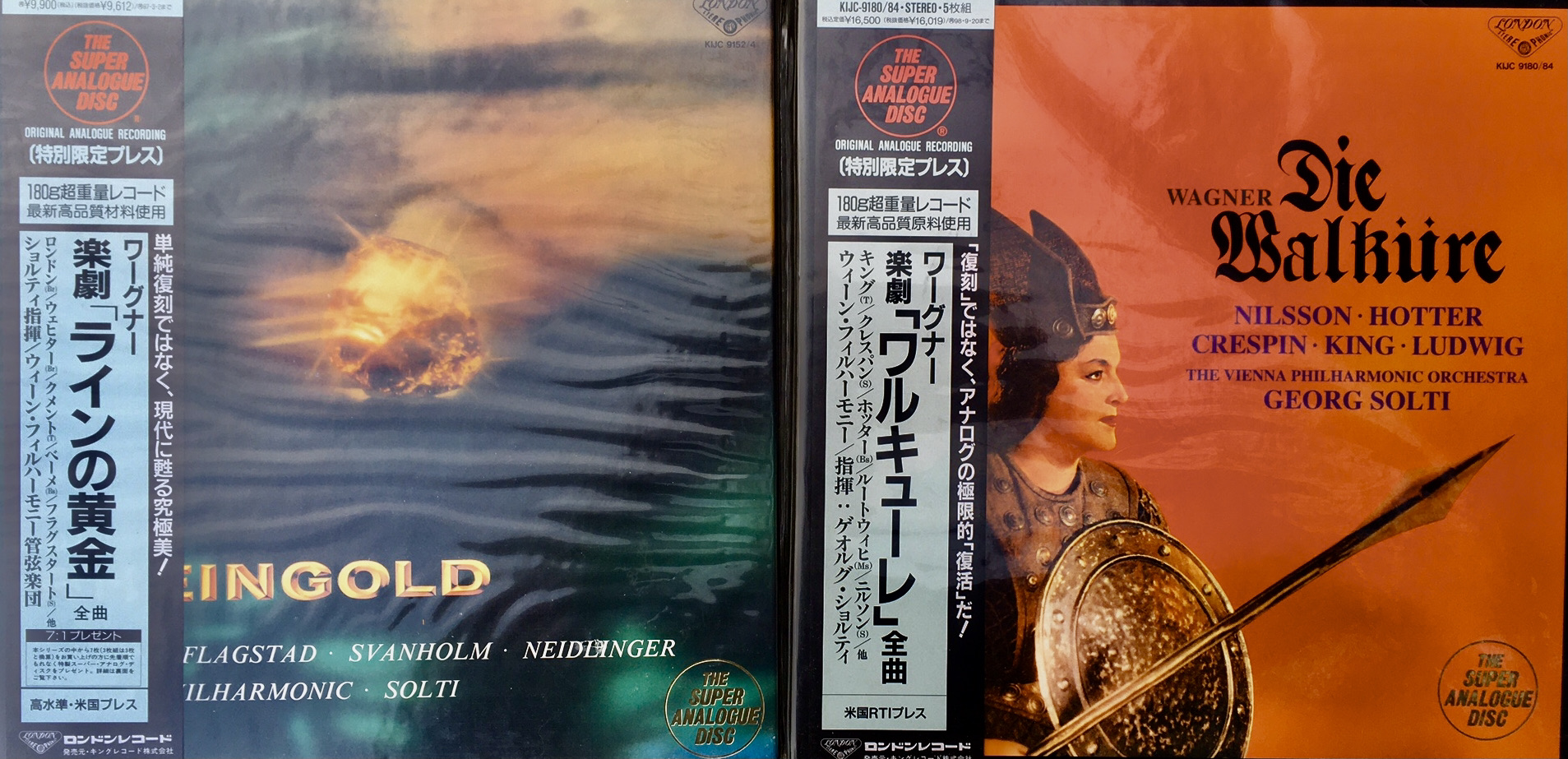 I am an inveterate fan of the King Super Analogue vinyl reissues, which focused exclusively on the Decca/London classical catalogue.  In a few cases I own both original pressings and the King versions, and invariably the King versions are fully the equal, if not superior, to the originals. Yes, they sometimes have a slightly darker tonal hue, but that has rarely been a negative in my book.  They are half-speed mastered, with a purist, all-tube mastering chain. To my knowledge they are sourced from the original master tapes.  (I have found them to be generally superior to the also excellent Speaker's Corner Decca reissues).  I picked up most of mine when they were still in print, but even on the used market they are often cheaper than the equivalent original Decca pressings, and I am always on the hunt for titles I do not own.
In the late 1990s, I popped into the Cisco offices and met their main rep, Robert Pincus, who highly recommended I open my wallet for these two Solti Ring sets.  He was not wrong.  I asked him why King never did the remaining two operas.  He said it had just been too labour intensive to do the first two operas.  It had been a while since I listened to them, so when word came about the new 2022 vinyl edition etc. I thought this was the perfect time to sample all the versions I had in my collection against the new remastering and pass on my findings to Tracking Angle readers.  It was a fascinating process.
In addition to my complete 1970 Decca narrow-band vinyl set of all four operas, and the King Super Analogue Disc reissues of Das Rheingold and Die Walküre, I also own a Decca repressing of the original wide-band release of Rheingold dating from the same year of release - 1959 - and an original wide-band Decca set of Siegfried dating from 1963.
For comparison I bought a complete set of the 2022 remastered Rheingold on vinyl, and the single disc CD/SACD highlights disc which includes extracts from all four operas. I would have liked to have compared all four operas complete, in all formats, but since promo copies for reviewers are largely a thing of the past, I had to make do with something affordable.
With regards to the new 2022 Remastering on vinyl, CD and SACD (plus Blu-Ray Atmos mix, which I have not heard), let me quote from the essay Reissue Producer Dominic Fyfe writes for the vinyl box of Das Rheingold:
"Almost every tape box is marked "Edited & Passed: JC" where John Culshaw personally initialled each reel as passed for production.  These transfers were made as part of Universal Music's preservation project at the Arvato facility in Gütersloh, Germany.  Overseen by Andrew Wedman, formerly of Emil Berliner Studios, the tapes were aligned and played on Studer A820 machines coupled with Weiss analogue-to-digital converters and a proprietary workstation to record the output.  Working with 38 reels of original master tapes - some up to 65 years old and spanning seven years of recording - there were inevitably instances where some individual tapes needed edit repairs or suffered oxide shedding.  Tapes in poor condition were baked for ten hours at 55ºC to restore their integrity.
Photo of the master tapes for "Das Rheingold" included in the vinyl set booklet
"….. with a fresh set of 24bit/192 kHz transfers to work with, engineer Philip Siney has taken significant strides forward: the vastly extended dynamic range and frequency response obtained from working with transfers at this resolution allows, for example, the glorious overtones of the Vienna brass and strings to be heard as never before: tape hiss and noise reduction benefit from a far more sophisticated set of tools - including iZotope RX-9 and CEDAR Retouch - which are both more effective and less invasive than previous programmes."
While the Decca Ring has been remastered several times before for CD and SACD, this is the first time a new vinyl edition of all four operas has been issued since the various original and reissue Decca/London box sets, and the King Super Analogue Disc version of Das Rheingold and Die Walküre.
In the video below, Abbey Road Mastering engineer Miles Showell discusses making the new vinyl edition:
The vinyl set of Das Rheingold comes in a sturdy slipcase with the LPs contained within stiff cardboard sleeves.  The records were immaculate, contained within poly-lined sleeves.  The accompanying booklet contains a full libretto in German and English, with John Culshaw's original essay, and an extensive technical note from Dominic Fyfe (both of which I have quoted from in this and the earlier articles).  There are some session photos I've never seen before, and new photos of the original master tapes and of the Decca Tree.  The new artwork is underwhelming, but at least the striking original box set cover art is reproduced within the booklet.  Overall it's a nice package.
The CD/SACD disc of highlights is understandably more bare-boned, and several of the booklet pages were put together in the wrong order.  But the notes are good, though there are no texts or translations.  I believe the complete opera sets have more extensive booklets like the ones accompanying the vinyl reissues.
Listening to the Different Versions of the Decca Ring
I began my listening with the extraordinary orchestral Prelude to Das Rheingold, which on one level depicts the depths of the Rhine, but in essence is depicting the creation of the world.  The music begins on a unison low pedal point deep in the bowels of the orchestra to which instruments are slowly added, building from single notes to chords,  flurries and rushing scales, crescendoing to the appearance of the three Rhinemaidens.
In Ring Resounding John Culshaw talks about the difficulties they had in capturing this music in a perfect take.  Running out of time in the regular  sessions, Culshaw asked the orchestra if they would return to the studio late at night after performing a full opera.  Graciously they agreed, and they nailed it in one take.
This passage is the ultimate test for judging the quality of a pressing and your system.  If all is well you are going to hear each section of the orchestra enter, clearly articulated within the soundstage and with instrumental timbres precisely defined.
I started with my trusty 1970 vinyl pressing.  Everything was there as expected, with full dynamic range.  Then I switched to the King Super Analogue Disc pressing…..  Wow!  It was a whole other world of fidelity.  Instruments were even more clearly defined within the soundstage, the bass was deeper, the middle and higher frequencies sweeter and smoother, plus there was just that extra bloom around the instruments that you always get with tube mastering.  Plus I heard more of the Sofiensaal.  And there was that tell-tale goosebump feeling that you were sitting right in front of the orchestra.
Turning to the 2022 remastered vinyl I was impressed.  It had the same presence and flow of the earlier vinyl, but after a while I sensed something was lacking.  Then it dawned on me.  I was not hearing the very distinctive timbre of each section of the Vienna Philharmonic.  The strings were sweet, but they could have been from any orchestra.  Likewise the brass and wind.  The typically slightly thin, reedy oboe sound I am familiar with on other VPO recordings of this period had been smoothed out into something more generic.
A similar thing was happening with the voices as we moved further into the scene.  Fully three-dimensional on the King version, with a lovely bloom and no edge at all, on the 2022 vinyl they sounded more reproduced, less organic.  Not bad, just not as real.  The 1970 vinyl treaded something of a middle path between the other two versions.
I then put on my earlier Decca vinyl set, a same-year repress of the original 1959 wide-band version.  We were back in the world of the King pressing, except with more surface noise, and slightly less overall articulation in the detail of the orchestra.  But it shared with the King that palpable sense of being in the studio and in the presence of the orchestra itself, rather than merely a reproduction.
Now the CD/SACD highlights disc of the 2022 remastering does not have this opening scene from Rheingold, so to assess this I moved to the end of the opera when the god Donner conjures up a mighty thunderstorm (complete with a fierce hammer blow onto rock) and the gods enter Valhalla to a resplendent, brass heavy tutti from the Vienna Philharmonic.
Again the King Super Analogue Disc went the extra mile (or two) over my 1970 pressing, while the remastered 2022 vinyl simply did not fully capture all the distinct sonorities of the VPO brass, wind and strings.  You would never know you were missing them unless you had heard my original Decca vinyls and the King reissue; but once heard, never forgotten.  The early Decca wide-band repress again acquitted itself with distinction, only lacking the quietness and final degree of poise that the King pressing had.
Turning to the SACD you immediately heard what the 2022 vinyl, mastered from the same digital source file, was missing.  Like the King pressing in particular, all the richness of the orchestra, the dynamic slam, the voices, came across effortlessly.  Dialling down to the CD layer you definitely realized what you were missing from the SACD layer, but nevertheless it was a fine listen.
Now in theory, I asked myself, shouldn't the 2022 vinyl version - cut from the same source as the CD/SACD - at least be the equal of its digital equivalent?  I knew there wasn't anything lacking in my analogue set-up because those other vinyl copies conveyed all the richness and detail that seemed to be missing in the new vinyl edition.
I then compared scenes from Die Walküre: the Ride of the Valkyries, and the sublime end of the opera where Wotan puts his daughter Brünnhilde into a deep sleep and summons up Loge, the god of fire, to protect her with a barrier of flames.  It is an exquisite scene with Wagner excelling himself in his orchestration.  The King pressing again came out on top for all the same reasons enumerated above, with all the orchestral detail emerging cleanly, organically, and the distinctive VPO timbre intact.
Turning to Siegfried I had an original 1963 Decca WB pressing, the 1970 Decca from the complete bespoke Ring box, and the 2022 CD/SACD.  The 1970 pressing was fine, full of the analogue LP virtues, but turning to the Decca OG I was in another world.  This is an opera full of dark wind and brass sonorities, reflecting the claustrophobic forest where most of the action takes place.  Those dark, richly textured VPO sounds emerged with all the layers intact.  The male voices also presented themselves three-dimensionally, moving around precisely within the soundstage.  For the scene where Siegfried forges his magic sword, Nothung, Culshaw adds anvil hammering sounds that will make you jump out of your seat.  On the 1970 pressing they were a little thin sounding compared to the mighty heft on the OG.  With the OG I just kept wanting to turn the volume up (despite the distinct possibility of blowing out my speakers).  The SACD layer on the highlights disc again caught all of this, with just a smidge more detail and slightly less bloom.
Where the 2022 SACD really scored was in the exquisite Forest Murmurs scene, where Siegfried wanders through the rustling undergrowth and fashions himself a horn from the wood.  As he attempts to blow it, Wagner scores a series of attempted calls on a cor anglais (a fatter-sounding cousin to the oboe) and we hear him carving the wood.  Once he is done Wagner switches instrument to the regular French horn, wielded here by the VPO's principal horn player, Ronald Berger.  His rapidly accelerating horn calls ring out in the Sofiensaal to thrilling effect. On the SACD the complete lack of surface noise means you hear every little squeak and shift in movement within the soundstage, and all the details and distinctive timbre of the solo instruments.  You are right there in the forest with Siegfried.
Götterdämmerung is the only opera for which I do not have an OG pressing or a King Super Analogue reissue.  The 1970 set sounds fine, but by this time I was really noticing the slight thinness and lack of body in comparison to the sound on the SACD, the King pressings and early WB Deccas.  On the SACD, Siegfried's Funeral March - a real showcase for the might of the VPO brass - emerged with a force that will knock you back in your seat, as did the final Immolation scene, where Brünnhilde rides her horse onto Siegfried's Funeral Pyre, bringing about the end of the world as we know it.  Once more I feared for the safety of my speakers……
The Best Way to Listen to the Decca Ring: Final Recommendations
If you are a vinyl-only person, then the good news is you have a range of options.  For the ultimate vinyl experience (and the most expensive option) I would recommend finding the King Super Analogue pressings of the first two operas, Das Rheingold and Die Walküre (which will run you between $200 and $300 each on the used market), supplemented by first or early pressings of the next two operas, Siegfried and Götterdämmerung on Decca Wide-Band or "Made in UK" London Wide-Band pressings. (I will admit to never having heard a London pressing of these sets; I am merely going by my experience with London versions of other Deccas).  If you want to save a bit of money, replace the King Super Analogue versions of Das Rheingold and Die Walküre with original wide-band Deccas or Londons.
Next tier down is a trickier choice. You can go for one of the many later pressings - Decca or London Narrow Band: either individual operas or the complete set of all 4 operas (plus the Deryck Cooke "Introduction to the Ring" which is included in some of these.)  True, these later versions lack that extra magic and body to be found in the grooves of OGs or the King pressings, but they get you a long way there.  I have not auditioned the "Made in Holland" later pressings.  Avoid anything labelled "Digitally Remastered"!
Or, you can go with the new remastered 2022 vinyl, especially if you must have dead quiet surfaces. But note this: it will actually cost you more than a set of original pressings.  There's nothing especially wrong with it, but when you hear those earlier pressings you can clearly hear the difference.
I am not a particularly technically knowledgeable person, so I am not really in the position to speculate as to why the 2022 vinyl version is inferior to the 2022 SACD.  They are both sourced from the same digital master.  Some may say it has to do with the half-speed mastering; but the King Super Analogue Disc sets are also half-speed mastered.  Is it simply a question of the mastering chain in the Abbey Road studios?  I don't know, but maybe so.  Is it because it is sourced from a digital rather than analogue master?  I don't think so.  If the vinyl had matched the SACD I would have been quite happy (though fully aware that to bask in full analogue glory you must go for an OG or the King versions). I am not one of those people who rejects anything mastered from a digital file: I have many LPs sourced like this that sound excellent, and sometimes better than AAA equivalents. It's all in the listening: which version pulls you in more.
It's not that the new 2022 vinyl version is bad, it's simply not as good as I think it could have been, and that is regrettable when you think of how much time, effort and money has been spent on this project, and how many vinyl lovers would have been thrilled to have a brand new set of the Decca Ring in top quality sound.  But the good news is that there are plenty of those original AAA vinyl sets out there.
On digital media the closest you are going to get to the sonic experience of the top-flight vinyl is the new SACD version (and I assume Hi-Res digital downloads of same), and in some ways it will get you further.  You do hear every detail, though I suspect some listener fatigue might set in after a while.  But let me be clear: it's very, very good indeed - as it should be at the price - and I may well pick it up one day if the price is right. The only caveat here is that I have not heard the exorbitantly priced Esoteric and Stereo Sound SACD sets, though I somewhat doubt they can be better since they are essentially sourced from what is a second or third generation copy.
The big difference for me between listening to the OG or King pressings vs. the SACD, is that with the former I just want to keep turning the volume up, a sure sign that all is right in my listening world!
For CD only I have not been able to audition all the prior versions, although they have passed through my system at one time or another (except the last version in 2012).  The new CD version sounded fine to me, but I recommend you to read some of the various forum feedback before making a final decision, or try the sampler CD/SACD before committing to the complete set.
Let me end this by restating this is all only my opinion, and I am sure there are many of you out there who are far more familiar with all the incarnations of this recording than I am. Wagner's Ring is one of those works that inspires strong opinion and debate, and its many recordings even more so. Do please chime in below in the Comments section, whether you agree - or disagree - with my findings.
Other Recordings of Wagner's Ring
While I would always advise people getting into the Ring for the first time to go with the Solti recording, there are many alternatives.  I am not going to get too far into the weeds here.  When it comes to seeking out  different recordings of the Ring there is a bottomless rabbit hole you can disappear down into.  While opera buffs are their own subset of very passionate classical music lovers, within that coterie the Wagner fans are even more obsessive.  The internet will yield you hours of reading on the subject of "the best Ring".
However, I will stick my neck out far enough to mention a few alternatives to Solti.  I have already mentioned the live recording made by the Decca team at Bayreuth in 1955: this should be in every Wagnerite's collection.  The Testament issue is available on CD as individual operas, or the complete set.  It's not cheap, but it's worth every penny.  It was also issued on vinyl, which I have not heard, so I cannot speak to the difference between the two, if any, in sound quality.
My own introduction to the Ring was actually not via the Solti version, but via the recording by Herbert von Karajan and the Berlin Philharmonic on DG, in a 4LP box set of highlights issued only in the UK and US.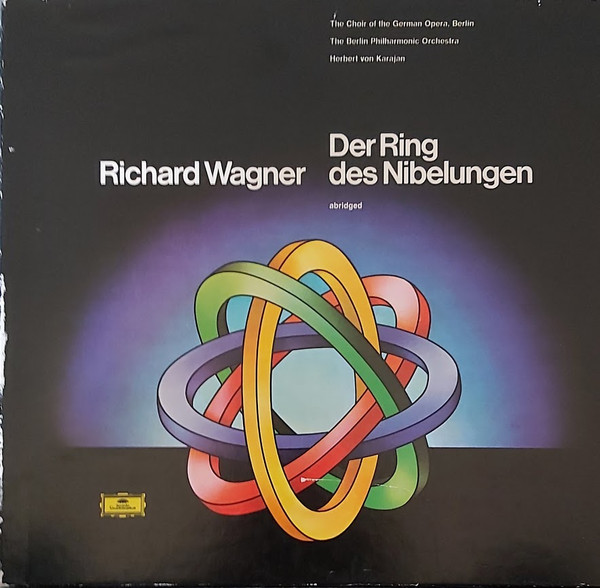 The Karajan Ring, issued between 1966 and 1970, is most commonly put forward as the main rival to Solti.  (The so-called "rivalry" between the two conductors was much exploited by their respective record companies.  In truth, they had a lot of respect for each other.  According to one of Solti's assistants, if either man was learning a new work already recorded by the other, that was the recording they would listen to).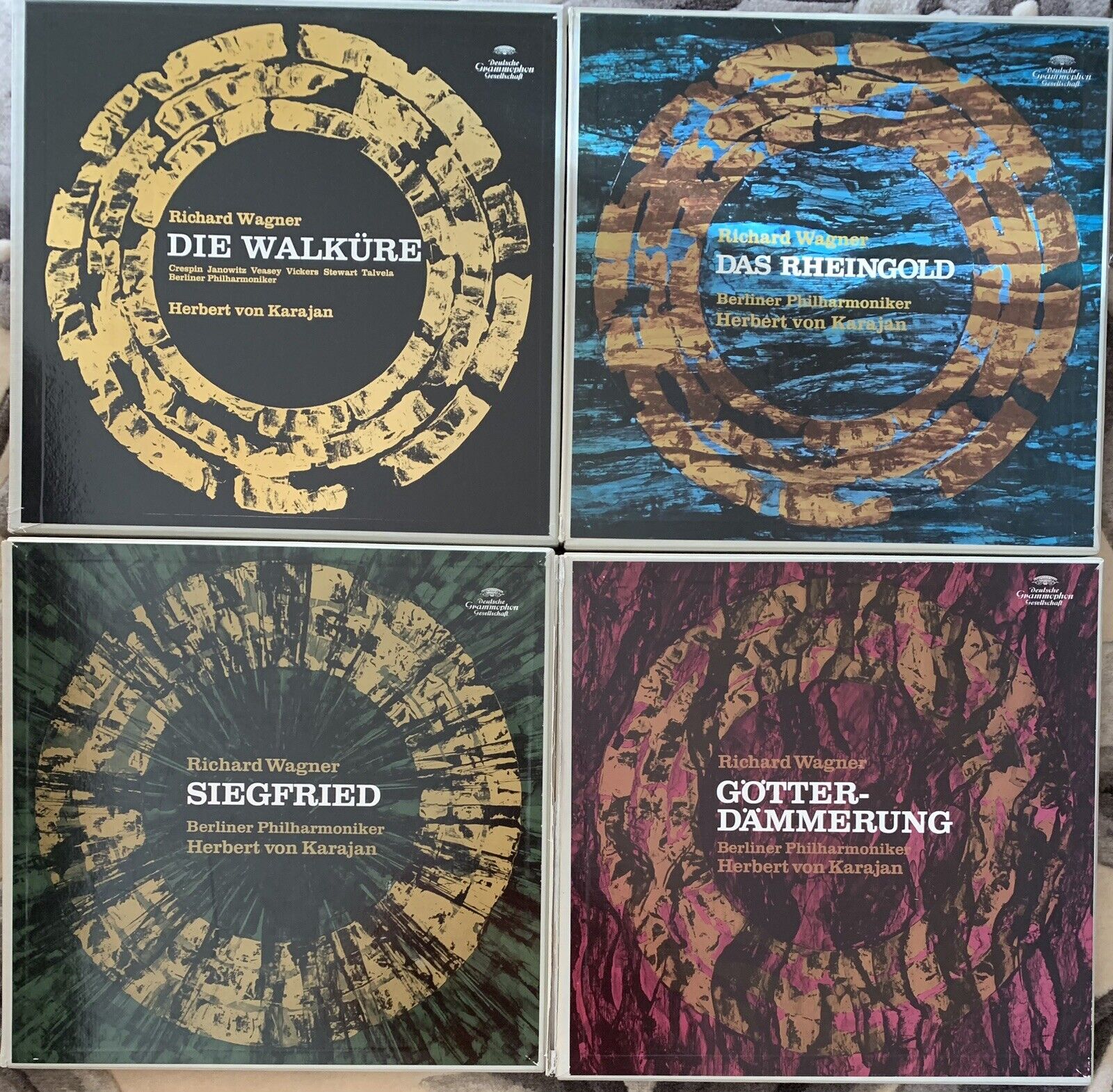 The Karajan Ring is a very different beast to the Solti version.  It is often described as being the "chamber" version, which I have always found a bit of a misnomer.  The emphasis is definitely on the orchestra, with Karajan often casting smaller-scaled voices that can occasionally feel overpowered - a matter of some controversy with many of his later opera recordings.  Unlike the Decca Ring, there are minimal sound effects, and in general there is less sense of an overall audio "production" in comparison to Culshaw's detailed audio staging: it is more of a straight recording.  I am especially fond of Karajan's Das Rheingold, primarily for Dietrich Fischer-Dieskau's probing account of Wotan, and Gerhard Stolze's sinewy Loge; also Die Walküre has the wonderful pairing of Gundula Janowitz and Jon Vickers as Sieglinde and Siegmund (Siegfried's parents). The orchestra is glorious, with a far more typically blended sound than the VPO's on Decca.  On LP the first three operas can be found in "large-tulip" (tube mastered) pressings and these are worth seeking out for the extra warmth to the sound.  There was a successful CD and Blu-Ray remastering.  This is one set I would love to see given the remixed/remastered treatment by Emil Berliner Studios for SACD or - dream on - vinyl.
A cycle that is often overlooked is Karl Böhm's live version from Bayreuth in the early 1970s on Philips.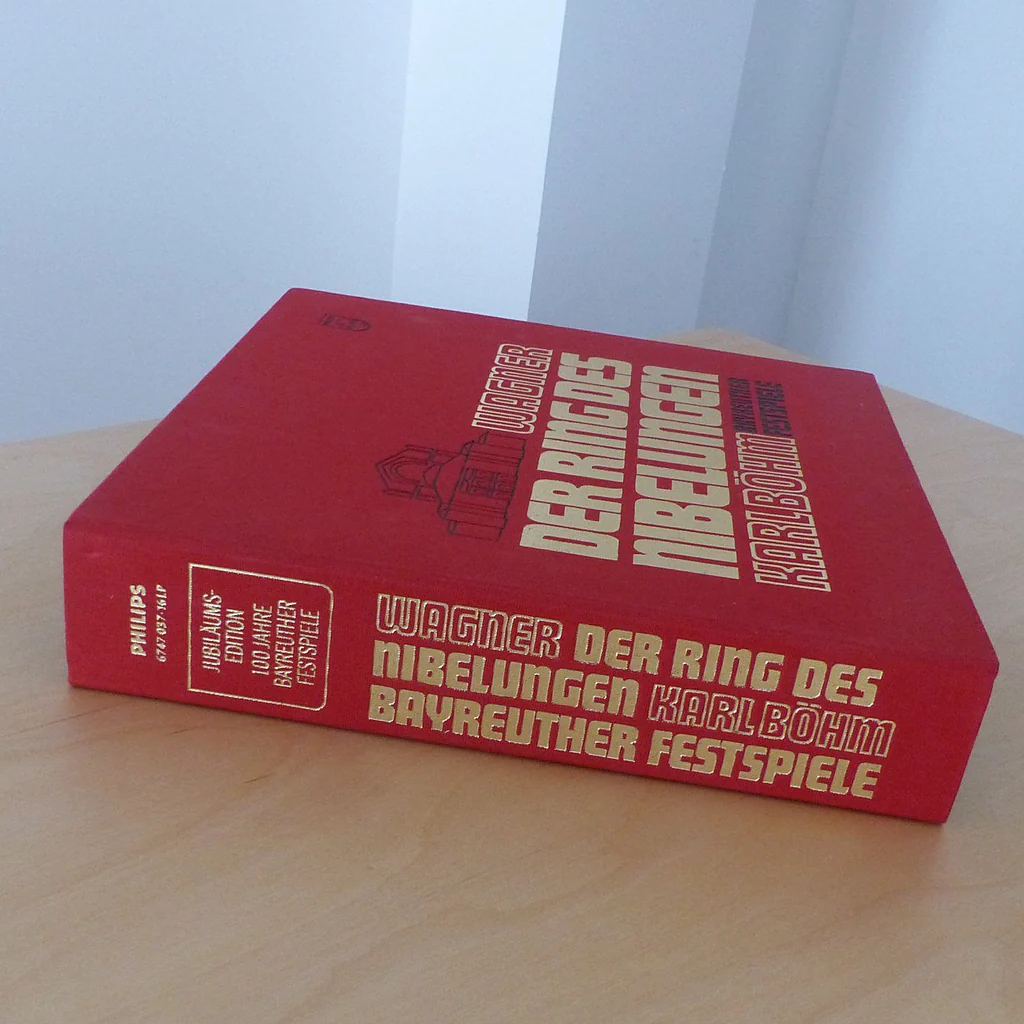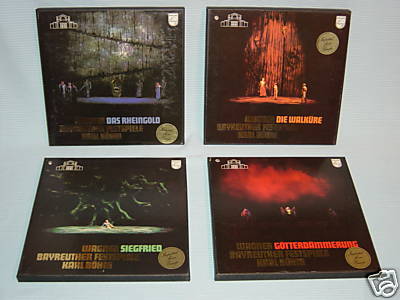 It is an excellent account, with tons of energy and great singing.  Pick up the original box sets for each opera, or the single all-encompassing box of 16 LPs, or the remastered CD version from the 2010s, available in a couple of different editions (but sometimes hard to find).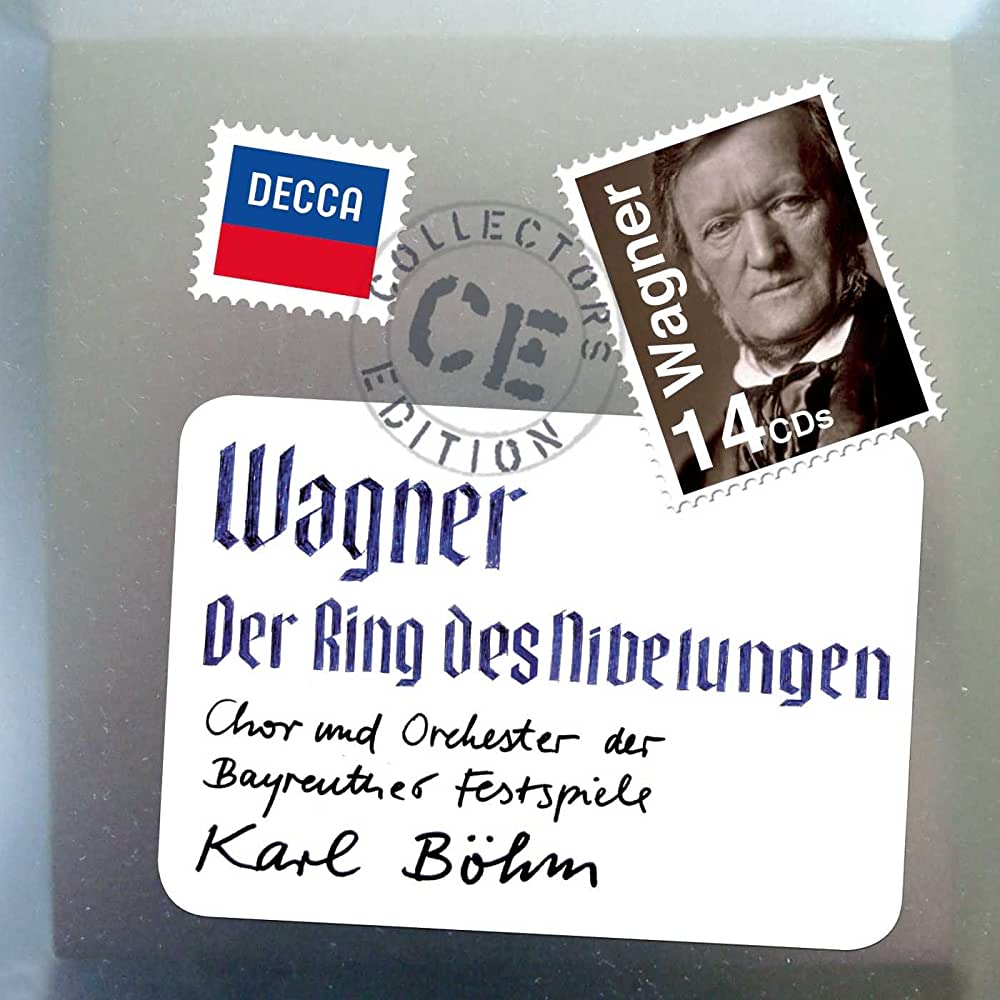 On video the essential version for me, as stated earlier, is the Pierre Boulez/Patrice Chéreau 1980 Bayreuth cycle, in its new remastered Blu Ray edition.  It is revelatory on every level, with Boulez revealing many new facets of the scoring, while Chéreau likewise shines new light with his revolutionary staging.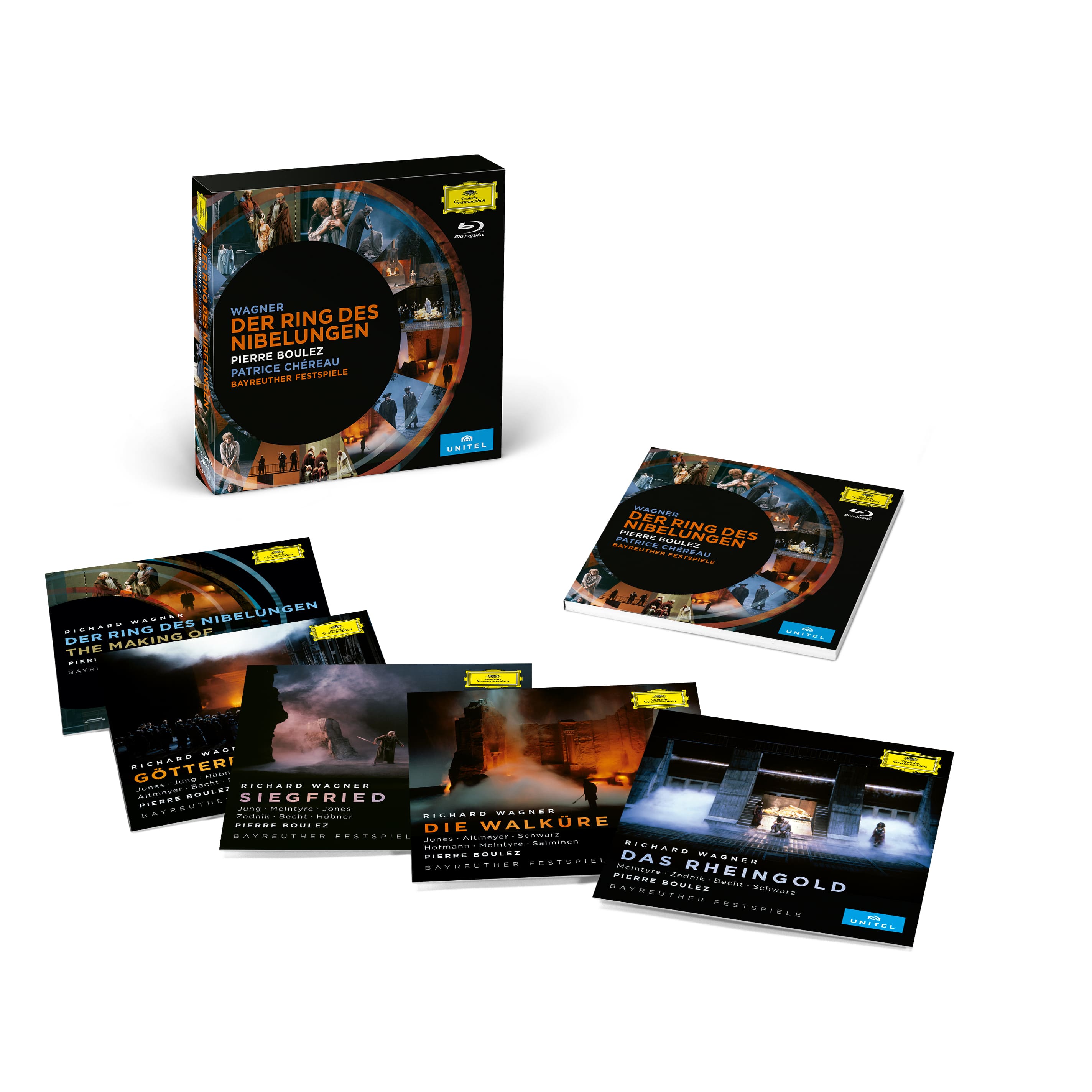 If you want to delve into older, historic recordings by some of the greatest Wagner conductors and singers, you are going to have to accept challenging sound.  In this realm you are going to want to start with Wilhelm Furtwängler's two cycles.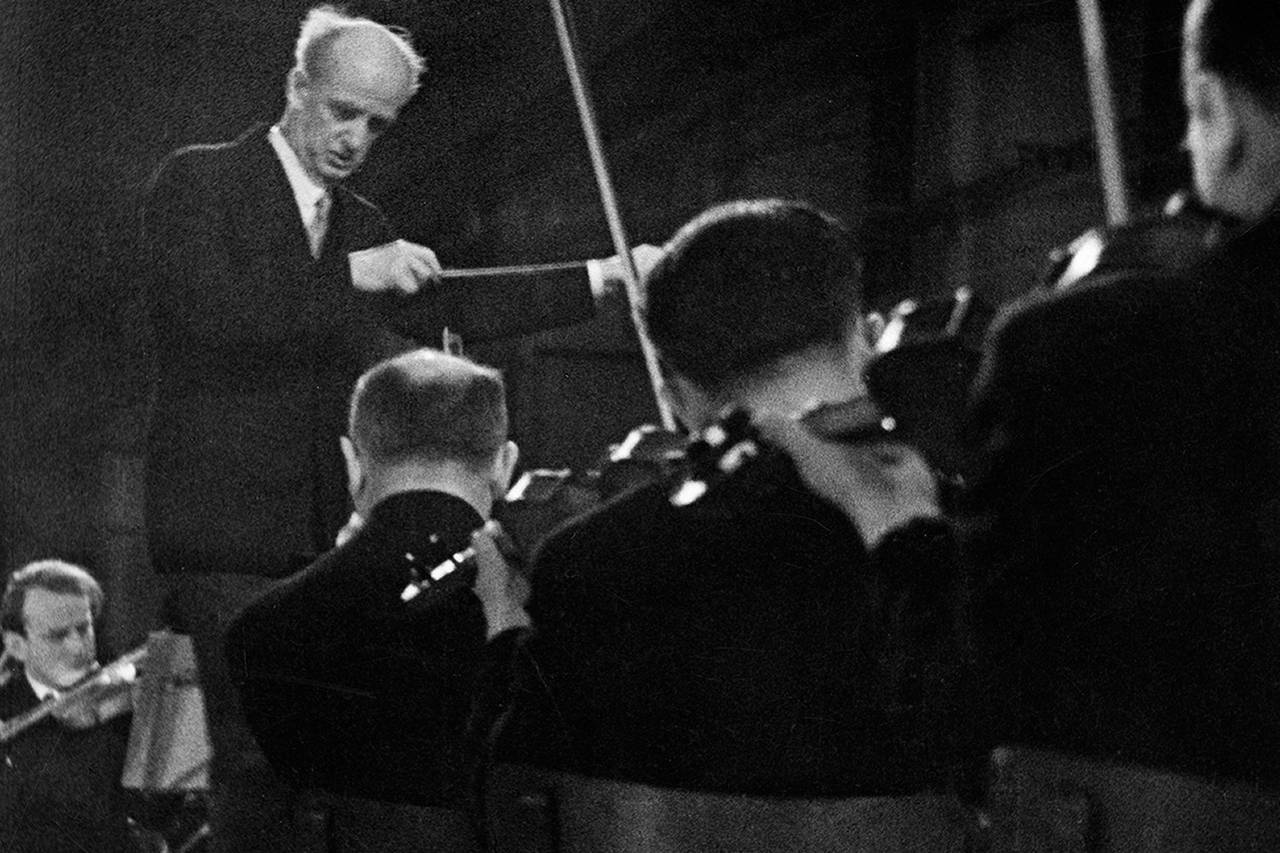 Wilhelm Furtwängler
EMI had long planned to record Furtwängler's Ring, but it never quite worked out.  So what we have is a cycle recorded live at La Scala, Milan in 1950, and a cycle recorded in Rome under studio conditions but with an audience, for radio broadcast in 1953.  For many, Furtwängler remains the quintessential Ring interpreter. 
The other historical set much prized among Wagnerites is the 1953 Bayreuth cycle conducted by Clemens Krauss.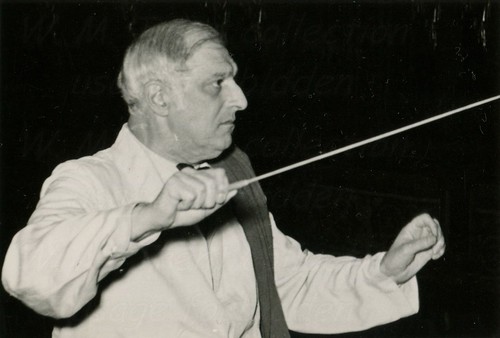 Clemens Krauss
I have recently been delving into the Krauss cycle and it is magnificent, with fabulous singing and playing all around.  For the Furtwängler and Krauss recordiongs avoid the myriad, bargain-basement vinyl and CD versions out there.  Head straight for the remasterings from Pristine Classical (www.pristineclassical.com), using their unique XR process.  Andrew Rose, a former BBC sound engineer, has revolutionized the classical historical market with his amazing revitalizations of previously dingy sounding recordings. He has removed the sonic barriers to appreciating historic recordings.  The purists may carp ("No it's only authentic if it sounds crappy"), but as far as I am concerned Pristine Classical remasterings are the gold standard in this market, and worth every penny.
Non-vocal Wagner on Vinyl
If your taste does not run to opera, but you want to explore the purely orchestral side of Wagner's Ring and other works (which is glorious in its own right), there are some splendid recordings to be had.  Many of these so-called Wagner "bleeding-chunks" are arrangements where the vocal line is given to different instruments.  Prime examples of these would be the "Liebestod" from the end of Tristan und Isolde, and "Wotan's Farewell and Magic Fire Music" from Die Walküre.
One of the great re-orchestrators was Leopold Stokowski, who remains one of the most recognizable conductors in popular culture by virtue of his appearance in Disney's Fantasia (1940), (which was also an early showcase for stereophonic sound).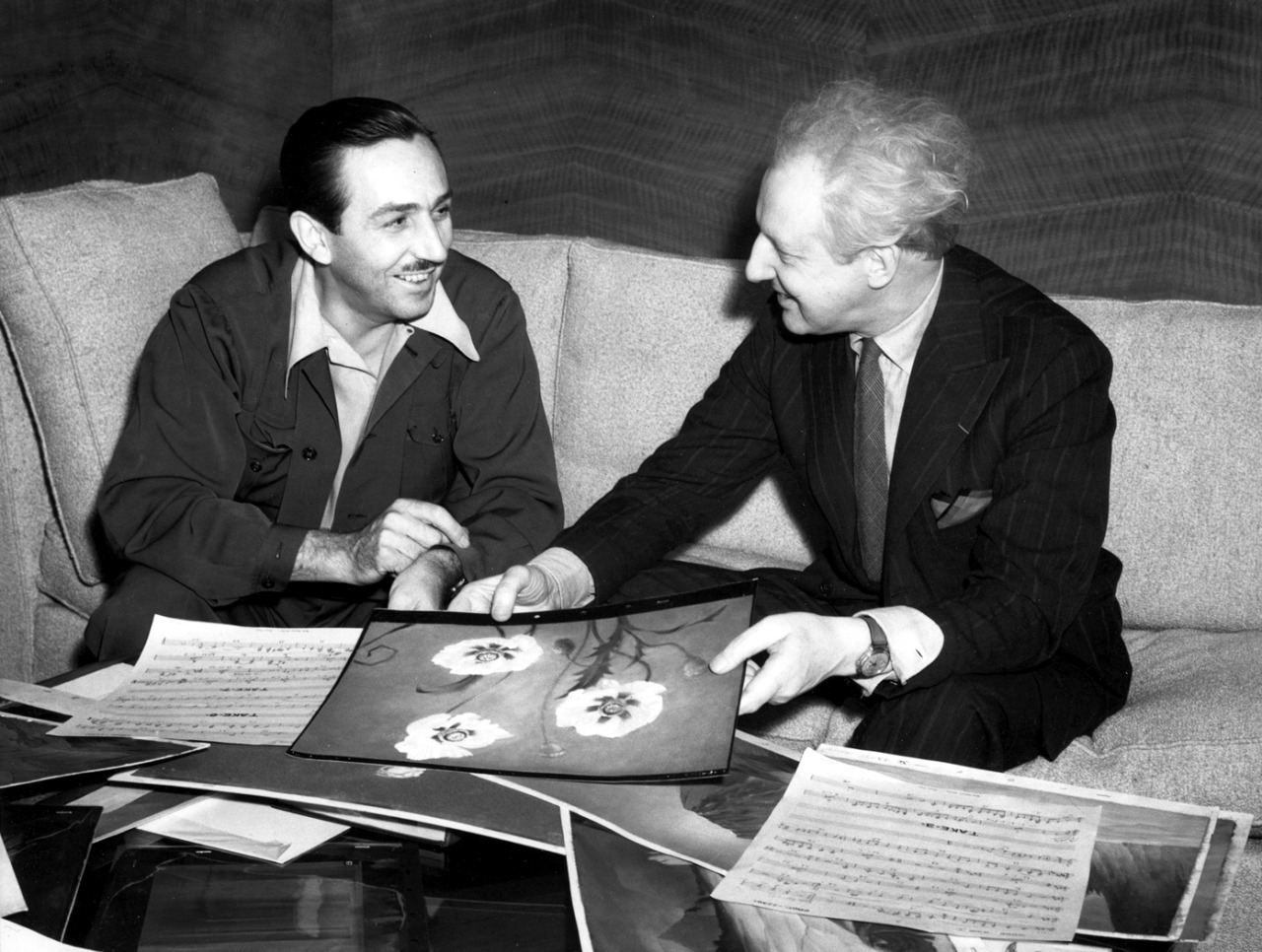 Leopold Stokowski (r.) and Walt Disney
Stokowski made many records of Wagner's orchestral music, but the one to go for first is one of my favorite RCA Living Stereo albums, as reissued AAA by Analogue Productions:  "The Sound of Stokowski and Wagner" from 1961. 
The sound on this is glorious - one of the very best of the AP Living Stereo reissues - and the performances are echt Stokowski: big and colorful.  Another Stokowski record worth seeking out is his 1966 compendium on Decca Phase 4 "Orchestral Masterpieces from The Ring of the Nibelungen" (UK pressings on Decca and London will sound identical).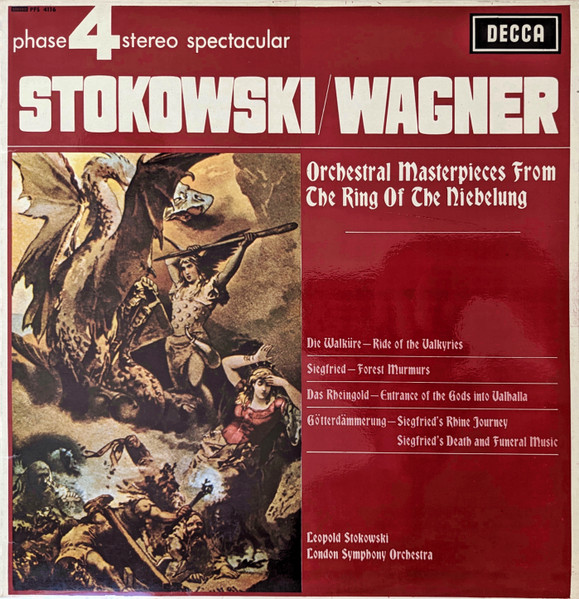 On CD I highly recommend the compendium drawn from several Everest records: "Stokowski conducts Wagner" with the Houston Symphony, available on the excellent Vanguard Classics Ultra Analog Series (EVC9024).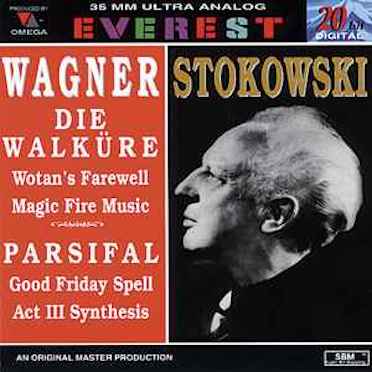 Another classic Wagner orchestral set of records is on Columbia/HMV, with the venerable Otto Klemperer and the Philharmonia Orchestra. 
Wagner fits Klemperer like a glove.  The first two records were originally issued separately in 1960, the third in 1963.  Early "silver-blue" label copies will not come cheap but sound marvelous.  Fortunately all these records were reissued numerous times, separately and in a box, and these later pressings sound excellent too if lacking that extra ounce of tube magic (always go for UK pressings, never US; German at a pinch).
Also of note on the EMI label are four volumes of Wagner orchestral music conducted by Adrian Boult with the London Philharmonic (a great orchestra for this music by virtue of its rich, ripe sound).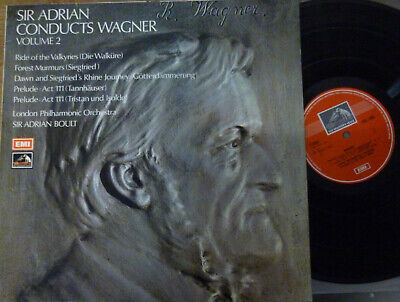 There are also two fine LPs by Herbert von Karajan with the Berlin Philharmonic, also from the 1970s.  All these records boast excellent EMI analogue sound of the period: typically a more mid-hall perspective than Decca.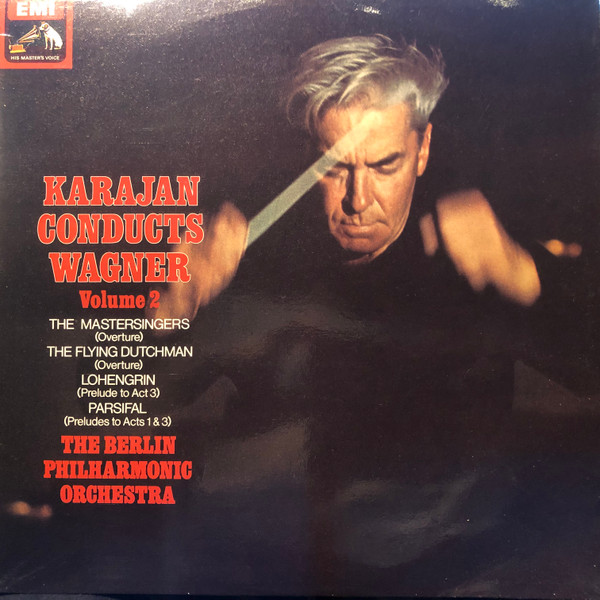 Karajan here is preferable to his later DG versions of the same music.  An exception though is the fabulous live concert by Karajan and the Vienna Philharmonic with Jessye Norman recorded in the Musikverein in 1987, only a couple of years before the conductor's death.  Hearing the VPO in this music under Karajan makes for a fascinating comparison with Solti. This is an essential pick for any Wagner fan.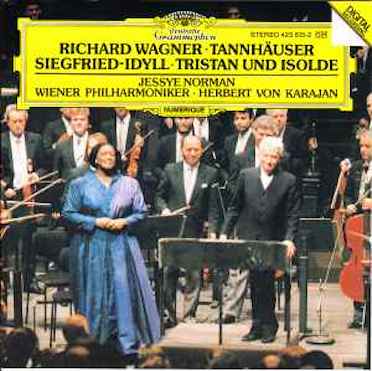 One more little known but superb 1997 CD of Wagner orchestral music comes from Charles Gerhardt and the National Philharmonic Orchestra on Chesky (CD 161). This is the same team responsible for the RCA Classic Film Score series on RCA, long an audiophile favorite.  DDD sound and performances are top tier.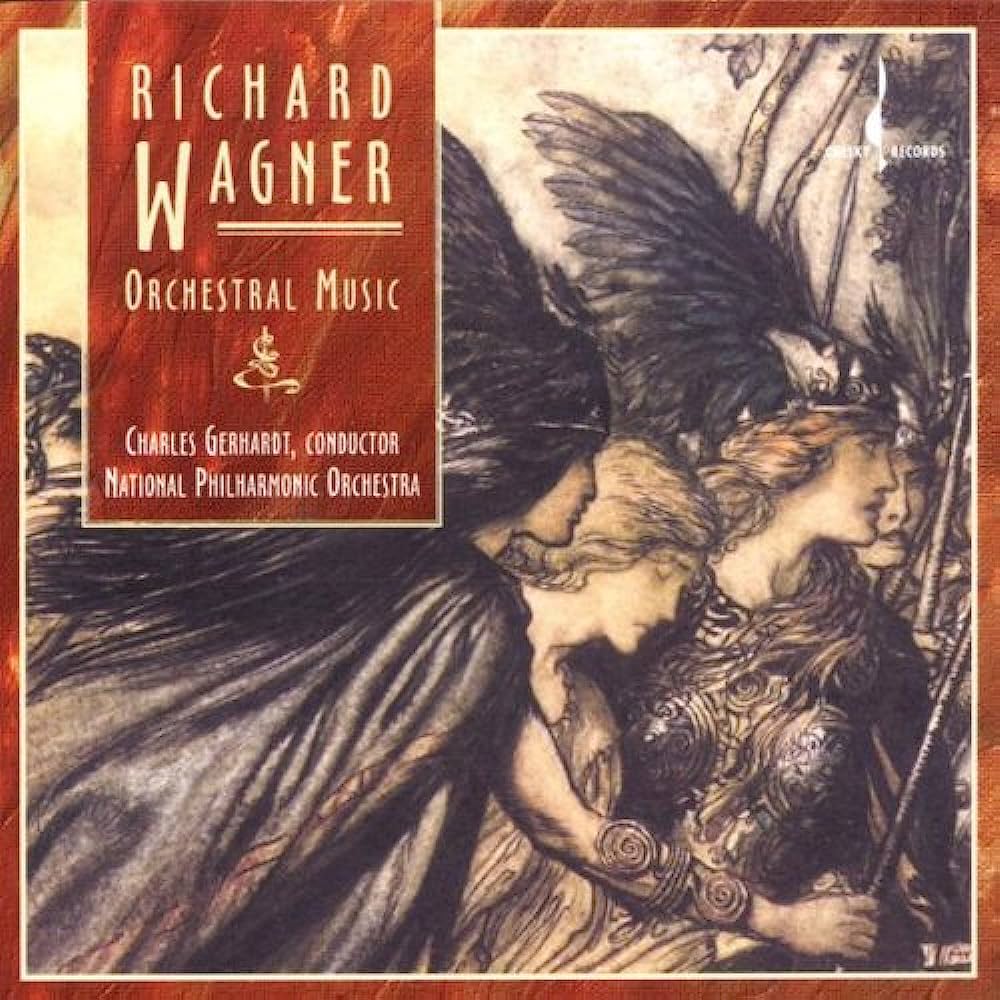 The disc includes Wagner's Siegfried Idyll, a charming distillation of themes from the Ring that the composer wrote as a surprise birthday present for his wife Cosima after the birth of their son named Siegfried (of course). She was awoken by its delicate strains wafting up from the stairwell on a Christmas morning at their villa on the shore of Lake Lucerne in Switzerland.
Further Reading:
It has been said that the only person who has had more books written about him than Wagner is Jesus Christ!  I don't know if that's true, but there are certainly many books to choose from if you want to learn more about this composer's life and music.  Leaving aside his odious character, he remains a pivotal figure in the history of music and popular culture. And for better or worse, his theories and ideas lie at the heart of the political and cultural upheavals of the early 20th century.
Still the sine qua non reference book for diving deep into Wagner's music is Wagner Nights by Ernest Newman, who was music critic of The Sunday Times for nearly forty years.  His writing epitomizes good, accessible, but thorough musicology.
The other essential book on the Ring is Robert Donington's Wagner's Ring and Its Symbols (1963), which incorporates ideas drawn from Jung.  Interestingly, Donington was also a key figure in the early music/period instrument movement - about as far away as you can get from Wagner!
If you want to gain some insight into Wagner's daily life and his personality, look no further than the diaries of his wife Cosima.  These are a surprisingly entertaining - if long - read.
As I have mentioned earlier, John Culshaw's account of recording the Decca Ring, titled Ring Resounding, is a terrific read for anyone remotely interested in the recording process, be they classical music enthusiasts or not.  He really knows how to tell a story, and it's a fascinating one.   I also highly recommend his autobiography, Putting the Record Straight.
The Wild Card....
Those of you "in the know" will have been wondering: "When is he going to mention Anna Russell?" Well, I already have, obliquely, when I mentioned that Siegfried - in carrying on with the valkyrie Brünnhilde - was actually bedding his Aunt (thanks to Wotan's inability to keep it in his pants, a common problem with certain gods, it appears). This revelation is one of the priceless moments (amongst many) from humorist Anna Russell's classic retelling of the story of the Ring, issued on one of her essential records poking fun at classical music. For those of you who know her work already, I need say no more. But for those of you who are just dipping your toes into the ocean that is classical music, I urge you to check out her various recordings. They are every bit as classic as the records of Bob Newhart, Pete and Dud, Monty Python (the topic of a future survey from this writer), and the Firesign Theatre. Enjoy.....
In Conclusion...
It had been a while since I had last sat down and really listened to extensive sections from the Decca Ring.  Doing so only rekindled my admiration for what the musicians and recording team achieved.  Over and over again my jaw dropped at the immediacy of the listening experience, and the imagination and technical finesse with which Culshaw, Parry and the rest tackled this mammoth undertaking.
I emerged with new-found admiration for how Solti handles the score: the performance is never less than riveting.  While some of the elder generation of singers may not be caught in their absolute prime, their insights gained over a lifetime of performance lend this particular studio Ring an authority which is rarely matched in later studio efforts.  The younger generation assume their respective mantles with distinction.  But I will single out the unstoppable force that is Birgit Nilsson.  She nails every phrase, every scorching high note with apparently no effort at all, and is intelligent and sonically pure to boot.  To quote Antony's eulogy to Julius Caesar in Shakespeare's play:  "When comes such another?"
As for the Vienna Philharmonic: that orchestra in that space - what an incredible sound!  Listening to those early Ring pressings and the King Super Analogue Discs reminded me of why I love to collect Decca/London LPs of this vintage, and especially VPO recordings.  You are really transported back in time to a sonic world that simply does not exist anymore.  But thank goodness it was captured in glorious analogue sound and transmitted to us in those simple vinyl grooves capable of holding such a range of not just sound, but also emotion - a technological marvel.
And finally the work itself.  The sheer scale of the thing is still unmatched in classical music.  (The great avant gardist Karlheinz Stockhausen had a go with his Licht cycle of seven operas - yes, 7!!! - I barely got through one of them, a profoundly depressing experience).  But within the epic scale of the Ring and its tale of gods, heroes, mortals  and monsters there lies a compelling family drama and stories of both doomed and glorious love, faith and betrayal, lust and power.  There's a reason why Der Ring des Nibelungen still grips the imagination of those who enter its world.  It contains within it multitudes.
And I can think of no better way of getting to know it than through the Decca Ring: small wonder that this continues to be celebrated as the greatest recording ever made.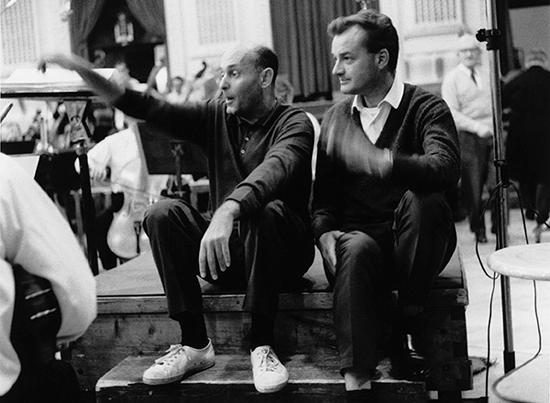 Georg Solti and John Culshaw
You can read Part 1 of this survey, covering the history, composition and performance of Wagner's Ring cycle, here.
You can read Part 2, covering the recording sessions for the Decca Ring cycle, here.