Toronto Audiofest 2023 Highlights
Dave McNair returns for the Candian show experience
Should I stay or should I go?
No, I wasn't listening to The Clash. I was mentally weighing whether or not to attend the 2023 Toronto Audiofest. I almost decided that I didn't have the time or money, but in the end, I went. And boy, am I glad I did!
On my first visit to Toronto Audiofest in 2022, I was struck by how different an audio show can be in a location other than the good ole US of A. Maybe it's simply the friendly, chill Candian vibes. Perhaps it's the personal warmth and excellent organizational skill of the show organizers, Michel Plant and Sarah Tremblay. It's both these things and more.
This year's show was held in the same Westin hotel near Toronto Pearson Airport, YYZ - pronounced Why, Why, Zed if you wanna sound like the locals. 
Toronto Audiofest is a small show compared to the American HiFi shows, but that doesn't mean a lack of fun or quality of systems. I think the quality of the exhibitor system setups In Toronto is kilogram for kilogram at quite an impressive level, considering battles were being fought against poorer-than-usual hotel room acoustics.
Saturday night was a particularly special time at the industry dinner and awards show. 
This year, the dinner was a standing affair. Industry folks walked around eating and chatting. I had a blast, and the food was terrific, as usual. Thanks, Sarah!  The after-dinner awards were focussed on the lifetime contributions of a few Candian HiFi icons and were personal. Lots of open-hearted emotion could be felt from this we-are-family crowd.
As I wrote in my report for the 2022 show, I'll talk about a handful of rooms that caught my fancy, although many more sounded pleasing to my ears.
Gershman Acoustics
Canadian manufacturer Gershman Acoustics had their flagship, Black Swan, playing with AON Art Canada electronics, Oracle turntable/arm, and Cardas cabling, this room was very nice sounding.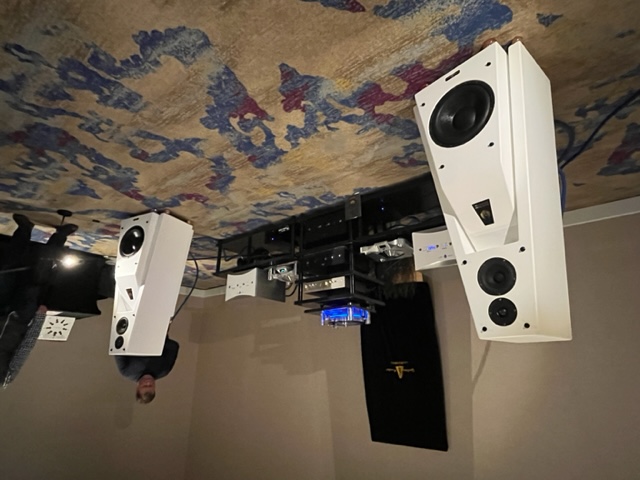 The Black Swans are constructed with a new approach incorporating two entirely separate enclosures placed one above the other so that they blend seamlessly into one. Each loudspeaker has a woofer enclosure placed on metal cones and an A-shaped enclosure suspended above it to accommodate the midrange and tweeter. The separate bass enclosure can be moved by a couple of inches to fine-tune the time alignment, with an additional benefit being that none of the bass energy — and there is a lot — can transfer into the mid and high-frequency enclosures. 
I've always liked the sound in the Gershman rooms at shows; however, this room was the best I've yet to hear from them.
Monitor Audio 
Barrie, Ontario dealer EQ Audio Video had several spaces in one large room with rotating plays of the various systems. In one scenario I particularly liked, Monitor Audio's new flagship Hyphn loudspeaker made a very impressive sound.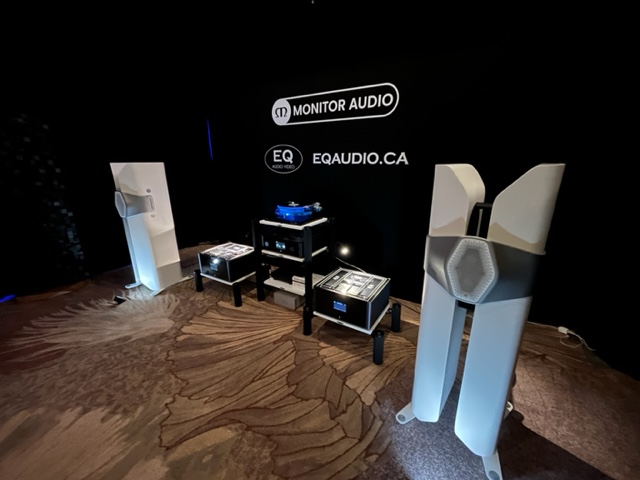 The look of this speaker is partly due to the unusual position of the two bass drivers, which are at the same height as the mid/tweeter section but contained in the two vertical 'wings.' 
The bass drivers are pointed at each other for reasons unknown to me, but it certainly worked! A super solid low end, with pinpoint and very dimensional imaging, was what I heard here. Michi electronics and a gorgeous turntable (that I forgot to write down), rounded out a system that was as striking visually as it was sonically. This was one of my favorite sounding rooms at the show.
Artist Cloner
This was my first experience hearing Candian manufacturer Artist Cloner, who makes electronics and loudspeakers. Two sizes of their Ether loudspeaker was on display. The cabinets feature a multi-layer construction, with the outer layer being a slate stone.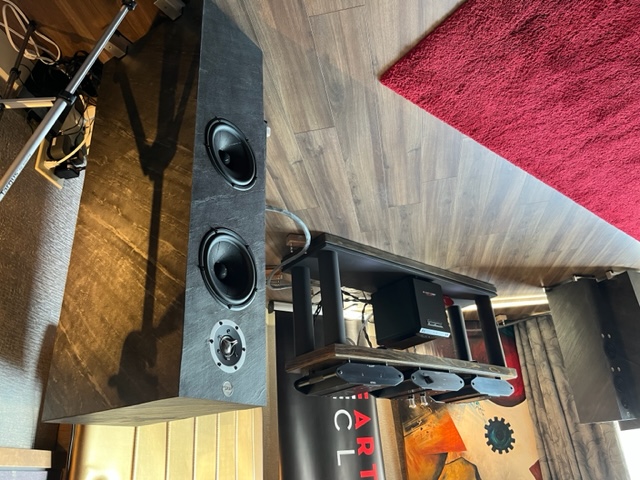 The electronics feature a cool and unusual-shaped enclosure with sloping sides to the top and bottom panels that hold chassis-depth handles. I saw tubes in the preamp. 
Even though this room had a reflective floor and large glass windows, I thought the sound was exceptional. Detail and imaging for days. While it sounded a bit bright (I blame it on a reflective room), this was one of the better-sounding systems, in my estimation.
Hearken Audio
In this room, retailer Matt Thomas of Hearken Audio had assembled a most unusual and very connoisseur-oriented system. I was captivated by the Bird of Prey tonearm with Miyajima cart mounted on a Jean Nantais Ultimate Lenco turntable. A second arm with a mono Miyajima was by Ikeda. I need to know a lot more about that Bird of Prey tonearm!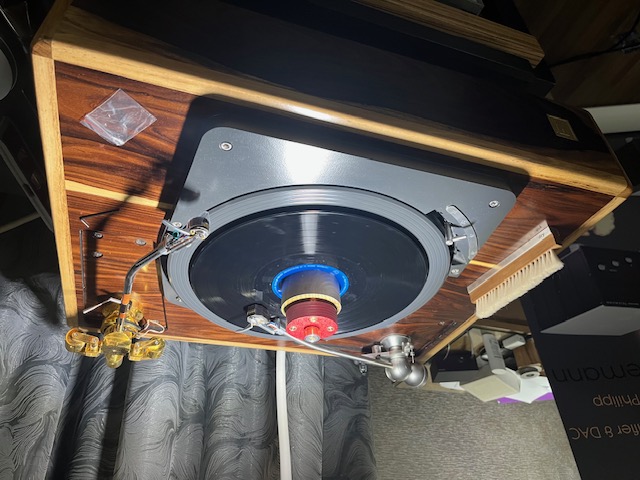 Even before hearing anything, a Linneberg phono stage going to a Miyajima preamp and OTL monoblocks had my vacuum tube-loving spider sense on overdrive. The speakers were a pair of Bastanis Dipole Matterhorn. I won't unpack the tech here, but it's as impressive as the gorgeous wood veneer. The speakers can be ordered in any wood or look you like, as Matt gets the Bastanis as drivers and construction plans, then builds to order. Nice!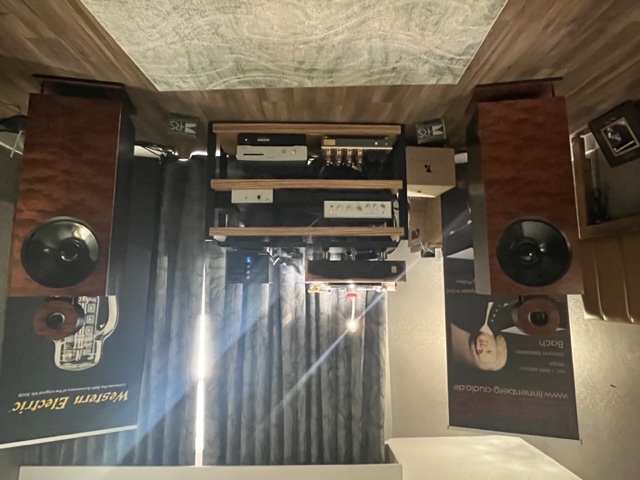 I found something special about the mids and high frequencies in this room pretty engaging. On one of my visits to this room, I listened to a mono jazz record, which sounded amazing. It's probably even more sonically impressive if the owner has 'em set up in a dark, wood-paneled room, complete with a vintage leather listening chair and smoking jacket. Hand me a Cuban, will ya?
Alsyvox
Like the EQ A.V. room, Canadian distributor Tr-Cell Enterprises had several systems in one of the large ballrooms. During one of the system rotations, I enjoyed hearing the Alsyvox - Botticelli panel speakers.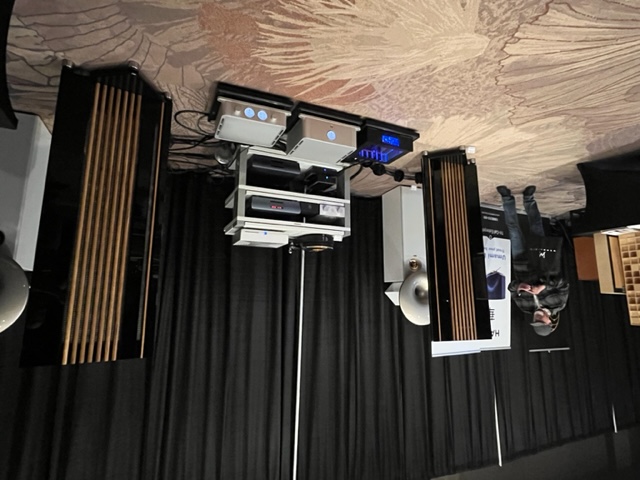 I listened to the larger Caravaggio and smaller Tintoretto at the Florida Audio Expo and was mighty impressed. I found this Toronto showing of the Botticelli to be even more impressive. Coupled with Vinnie Rossi's Brama electronics, the sound was superb.
Pretty much everything I've come to expect in a well-designed panel, but with more bass extension and sheer punch, than seems possible. The Botticelli had excellent speed and detail with a purity found in ribbon drivers like no other I've heard. I guess the room and the Vinnie electronics gave this system the edge over the excellent-sounding Florida showing. 
A brand to watch in 2024.
Acora Acoustics
This room was a partnership with Acora, Audio Excellence, and Sonic Artistry - two fine, Toronto-based dealers.
Once again, I found Val Cora's flagship VRC loudspeaker world-class. It's basically in a league of its own, and the Toronto showing only confirmed what I've already heard to be true on many occasions.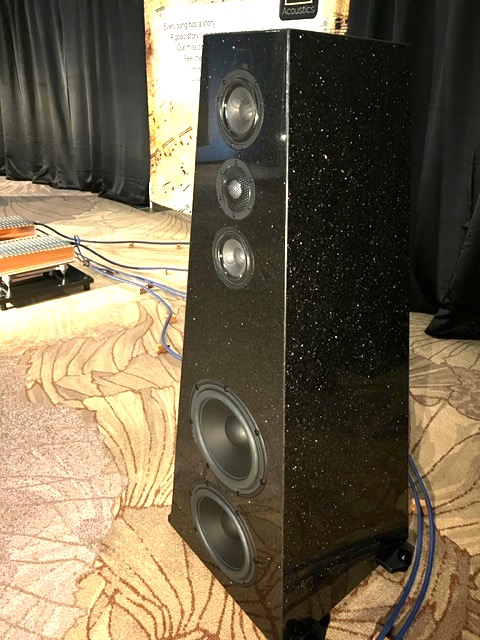 A full set of D'Agostino - Momentum series electronics coupled to the new SAT XD-1 turntable, CF1-09T1 tonearm, with Lyra Atlas Lambda cart, had the crowd swooning. Quick, get me some smelling salts - as much for when I saw the SAT price of $450,000. Well, to be fair this price also included a second SAT LM-12 arm with Lyra Etna cart. Cardas Clear Beyond cables rounded out the system.
With a Kraken-sized, yet detailed bass, the fastest leading-edge transients I've ever heard, and displaying only the texture of a recording without adding any of its own, the VRC is the real deal. Considering this room was huge and echo-y in a weird way, the sound was not diminished when sitting in a center (centre?) seat. I listened to a lot of music in this room. Since it was generally filled during the day, I returned for an after-hours platter party a few times. Sacré bleu!