Uhuru Afrika---Randy Weston's Forgotten 1960 Masterpiece
The Records You Didn't Know You Needed #12
In 1960, often referred to as "The Year of Africa," seventeen former French and British colonies in Africa became free, independent nations. In the U.S., in February 1960, the struggle of Black Americans to attain the civil rights which had been promised them by Brown v. Board of Education in 1954, entered a more aggressive, confrontational phase when in Greenville, North Carolina Black students, frustrated and angered by the slow progress in ending segregation, refused to leave a "whites only" lunch counter without being served. Sit-ins spread across the south as well as "wade-ins" at segregated municipal pools and "pray-ins" at segregated churches. The Baltimore Afro-American editorialized, "The 'winds of change' which are sweeping over Africa, are blowing in the benighted areas of the United States too."
On November 17 and 18, 1960 at Bell Sound studios in New York, Randy Weston recorded his composition, Uhuru Afrika (Freedom Africa) which was explicitly a tribute to "The New Africa" and an exposition of the African roots of jazz. Implicitly, the celebration of freedom in Africa was a demand for freedom in America as well. Weston later said of the all African-American cast of musicians that played on Uhuru Afrika, "They knew that freedom for Africa is freedom for us."
Pianist Randy Weston (1926-2018) was born and raised in Brooklyn New York. His father was a follower of Marcus Garvey and he instilled in his son Garvey's message of Black pride and self reliance and taught him that he was an African born in America. "I was in tune with Africa and I was always upset about the separation of our people" Weston said.
In 1951, Weston, moved to Lenox, Massachusetts to escape the pressures and negativity of life in New York as a professional musician. There, he met and attended lectures that emphasized the African roots of jazz by Marshall Stearns, author of The Story of Jazz. Weston became a musical demonstrator for Stearns' lectures and began collecting recordings of African traditional music. "It was a natural process of listening, but not necessarily listening with your ears, almost like listening with your spirit,' Weston said later.
In 1954, for Riverside, Weston made the first recordings under his own name, a piano-bass duo album, playing in a style influenced by his friend, Thelonious Monk, and by Duke Ellington. Over the next few years, he managed to carve out a career in the ultra-competitive 1950s New York jazz scene. In 1958, after his Riverside contract lapsed and he had recorded two one-off LPs for small independent labels, Weston signed a three-album contract with United Artists which was diversifying from its concentration on movie soundtracks. Weston's first LP for the label, entitled Little Niles, recorded in October 1958, is widely regarded as his first classic album.
Weston wrote later, "After that recording, I was anxious to do an extended piece dedicated to African people…I wanted to create a large scale suite to illustrate that the African people are a global people and that what we do and who we are comes from our collective experience, from our African cultural memory." His vision was of a large jazz orchestra paired with African percussion.
 Little Niles had marked his first collaboration with the gifted, but sadly underappreciated, trombonist-arranger, Melba Liston (1926-1999). They were to work together frequently until her death. Weston had never written for or arranged his music for a group larger than a quintet but Liston had extensive experience writing distinctive arrangements for the Dizzy Gillespie, Quincy Jones and Count Basie big bands. Liston agreed to arrange Weston's suite and the opportunity to work with someone so talented and innovative undoubtedly helped inspire him to write a composition that was quite different from his earlier be-bop styled pieces. The result, Uhuru Afrika was all but a co-composition.
Weston felt that the suite should have lyrics that expressed pride in African culture and the new free nations. Through one of Marshall Stearns' courses, he had met and become friends with Langston Hughes (1901-1967), a major figure in the Harlem Renaissance and one of the most important African-American literary figures of the twentieth century. At Weston's request and especially for Uhuru Afrika, Hughes wrote a poem that became the lyrics to the first movement and another poem African Lady which became the lyrics to the second movement. Hughes also wrote the LP liner notes. 
Weston pitched the idea of recording Uhuru Afrika to United Artists. The company was reluctant, probably because of the politically controversial nature of the piece and the expense of recording a twenty-four piece band but agreed if Weston would record a potentially lucrative Broadway show LP. Dutifully but with reluctance, Weston recorded an album of tunes from the now long forgotten show, Destry Rides Again. Then, in "The guy who promised you that doesn't work here anymore" ways of the record biz, United Artists refused to record Uhuru Afrika. Weston had no choice but to fulfill his UA contract and he did so with Live At The Five Spot featuring Coleman Hawkins and Kenny Dorham, an enjoyable if somewhat uninspired LP.
Weston then began the difficult task of finding a record company to record an album, though relatively moderate compared to what was to come in the late 1960s, was unprecedented in its explicit Black power political content. In 1959, major record labels and the jazz independents were steering clear of comment on the civil rights movement. Columbia in May 1959, refused to allow Charles Mingus to record the lyrics to "Fables of Faubus." The songs in the Blue Note, Prestige and Riverside catalogs dedicated to Dr, Martin Luther King and the civil rights movement were only to be recorded a few years later. In this inhospitable climate, Weston was to find a most unlikely sponsor.
Weston told Sarah Vaughan's manger-husband, C.B. Atkins, about Uhuru Afrika and he went to Roulette Records which Sarah was recording for and talked Morris Levy, the owner of the label into it. Mr. Atkins must have been a very persuasive man because it's hard to understand why Levy agreed. Roulette did not record much modern jazz other than Sonny Stitt and the label's main business was pop, novelty records, mood music and bargain compilations of doo-wop. The controversial record business career of Morris Levy has been covered in extensive detail elsewhere. It will suffice and be a major understatement to say that Weston had to have been surprised to hear that Roulette was willing to record Uhuru Afrika. The label was far from an ideal choice to issue the album but it was the only option.
For the recording, Melba Liston put together a band of first-call jazz session pros that could only have been assembled in a studio in New York in the late 1950s or early 1960s. Trumpets--Clark Terry, Benny Bailey, Richard Williams, Freddie Hubbard. French Horn---Julius Watkins, Trombones---Slide Hampton, Jimmy Cleveland, Quentin Jackson, Woodwinds---Cecil Payne, Jerome Richardson, Sahib Shihab, Budd Johnson, Gigi Gryce, Yusef Lateef, Guitars---Les Spann, Kenny Burrell, Basses---George Duvivier, Ron Carter, Drums---Charlie Persip, G.T. Hogan and, of course, Weston on piano. The band was augmented by the various percussion instruments of Babatunde Olatunji, Candido, Armando Peraza and Max Roach. That this amazing collection of busy musicians was willing to spend a day rehearsing Liston's complex charts and then two days recording them in the studio is testament to their belief in the quality and importance of the music.
After some stressful late night copying of the arrangements, last second tinkering by the perfectionist Liston and the rehearsal, the band appeared in Bell Sound studios, everyone on time, at nine a.m., a fact that Weston still marveled at nearly fifty years later.
Uhuru Afrika's first movement "Uhuru, Kwanza" is in two parts. It begins with a voice (probably Brock Peters) intoning "Uhuru" and the percussion immediately plays a blistering African 3 over 4 rhythm. U.N. diplomat Tuntemeke Sanga of Tanganyika (now Tanzania) then reads Hughes' invocation poem both in English and Swahili. "The freedom wind blows, Out of yesterday's night, (the band members chant) Freedom! Uhuru! Freedom!" (the band members ululate.) "When the musicians heard Langston's freedom poem…they instantly knew what feeling we were after; the poem really set the mood" Weston wrote later.
The drums continue to play after the invocation and lead into "Kwanza." Weston's piano enters playing a repeating rhythmic theme hard and percussively. The horns brilliantly arranged by Liston, sounding like the voices in African choral singing, call and respond to each other while playing the insistently shouting melody. All the while the African percussion plays complex polyrhythms like another orchestra.
For the second movement, "African Lady", Weston chose two non-jazz singers---Brock Peters, a baritone who went on to have a long and successful career as an actor and Martha Flowers, a classically trained soprano--- to sing Hughes' words which were written as a poem, not a song lyric. Considering all the talented jazz singers on the scene in New York in 1960, it might seem an odd decision, but Peters and Flowers were wise choices. The poem is not particularly singable and lacks jazz rhythm and Weston and Liston set it to a classical art song melody. Peters and Flowers both had big, beautiful and dramatic voices and they  sing/recite the words over beautiful Ellingtonian harmonies played by the band that creatively feature flutes, an instrument almost never used by Duke. (Abbey Lincoln recorded "African Lady" for Straight Ahead three months later and she sang it much the same way Flowers and Peters did).  Between the singing of the first and second verses, there is a jazz section with a hard swinging baritone sax solo by Cecil Payne. The piece ends with Flowers and Peters singing wordlessly together over flutes and gorgeous piano from Weston in his most Duke-ish style.
"Bantu", the third movement was intended by Weston to depict African people coming together in unity. The piece begins with Julius Watkins' French horn playing a yearning melody over the hushed, then awakening band playing Liston's beautifully scored dark yet light harmonies. This short intro is as gorgeous as anything Miles and Gil Evans created for Porgy and Bess. Weston then plays a short piano interlude accompanied by bass and his "deep in the keys" Ellington piano sound makes every note seems like its own song. The band comes roaring in with a repeating figure that Weston echoes over incredible trap drumming. The very talented, but now forgotten Richard Williams plays a short solo followed by a solo by the great Clark Terry and then they trade some jaw dropping fours. The percussion orchestra takes over and led by the congas, the next two minutes are a joyous communal celebration of rhythm with the band members joining in on the jawbone of an ass and coke bottles. The piece ends with the band playing the melody with biting ferocity over the percussion and drums laying down a multitude of interlocking, conversing rhythms. "Bantu" is probably the most intense, aggressive, soul hollering jazz piece recorded before the mid-sixties free jazz/new thing.
The fourth and last movement is "Kucheza Blues" ("The Swinging Blues".) In the liner notes, Langston Hughes wrote of it, "I would have called the final movement 'The Birmingham-Bamako Blues' for in this section there are overtones of both Alabama and Africa, Dixie and the Negro Motherland." The catchy melody is a blues in F that echoes African highlife music. It really is, as Hughes wrote, an African-style blues. Weston's piano intro, accompanied by congas and trap drums, is played with Monk-like percussive cross rhythms that make apparent the deep roots Monk's music had in Africa. After the band plays the melody with a light, airy texture, it's all solos until the end—Budd Johnson (tenor), Benny Bailey (trumpet), Jimmy Cleveland (trombone), Gigi Gryce (alto), Freddie Hubbard (muted trumpet), Kenny Burrell (guitar) and finally a superb "Monk in Africa" solo by Weston. In an unusual arranging touch, that heightens the African feel of the tune, the soloists play a chorus accompanied only by percussion and drums before being joined by the piano and bass. Horace Parlan recorded "Kucheza Blues" on his Blue Note Happy Frame Of Mind LP in a soul jazz style that while enjoyable, lacks the distinctive African flavor of Weston's version.
Uhuru Afrika was released in the Spring of 1961and it must be said that Roulette did not stint on packaging. The record was in a foldout cover with attractive art work. The liner notes by Langston Hughes were lengthy and there were short bios of all the musicians. But in 1961 Roulette was not the label to promote an album of adventurous music that was politically controversial. Roulette lacked--how shall I say?---gravitas. Hipsters, jazz fans and critics sympathetic to new developments in jazz like Uhuru Afrika, Dolphy, Coltrane and the avant garde didn't expect cutting edge music from Roulette. The record was ignored and did not sell.
The label in 1961 that would have been the ideal choice to issue Uhuru Afrika was Candid with its politically committed A&R director, Nat Hentoff who did let Mingus record "Fables of Faubus" with the lyrics. Two months before Weston recorded Uhuru Afrika, Max Roach recorded We Insist!---Max Roach's Freedom Now Suite  for Candid. The similarities are obvious. Both are five-part suites that celebrate African nationalism, African culture and African pride with poetry, singing, jazz soloing, African percussion and challenging, post-bop music. We Insist! was issued at the end of 1960, four months before, Uhuru Afrika. It was noticed and controversial amongst jazz critics but got little mainstream media attention and did not sell well.
Time, politics and the winds of jazz appreciation have been kind to We Insist! and in the intervening sixty plus years it has become an "icon record." The Library of Congress in 2022 selected it for inclusion in the National Recording Registry. It has been lauded in various jazz guides and has been in print, more or less continuously since 1980. A new vinyl issue is on the way in 2022. Uhuru Afrika, on the other hand, has slipped into an obscurity that would be all but total if not for Michael Cuscuna who has managed to reissue the album three times, most recently in 2004 as part of a Mosaic CD box which is long out of print.
Why Uhuru Afrika has gotten so little attention from jazz critics and fans is hard to understand. Maybe the cover misrepresented the record by proclaiming "Afro-Percussion" in the largest type and jazz fans assumed that it was one of those early 1960's "exotic" percussion records. Maybe putting Langston Hughes' name on the cover above Weston's made jazz fans think it was a poetry record. Maybe the whole "New Nations Suite" concept was just too serious and pretentious sounding. Maybe the fact that it's a big band album and the hardcore jazz audience tends to prefer small groups has limited its appeal. Maybe if I point out, I think, entirely correctly, that Uhuru Afrika with its Afrocentric music and lyrics, African percussion and groove based tunes was a forerunner of sixties "spiritual jazz," some readers may seek out the record. Hell, I'll go full out hyperbole and say it was the first "spiritual jazz" record.
After Uhuru Afrika, Weston recorded in 1963 another African themed album, Music from the new African nations featuring The High Life. He lived in Morocco from 1967 to 1972 and did not record during that period. He was to say later, "In Africa, I discovered what the true purpose of a musician is. We are historians and it is our purpose to tell the people the true story of out past and to extend a better vision of the future." For the rest of his life, he did just that, recording and touring frequently.
Sonically, Uhuru Afrika is a superb recording. No engineer is credited in the liner notes but whoever it was knew how to record a jazz big band. Soundstage is as wide as I have ever heard and front to back depth is excellent. Dynamic range is unconstrained and when the band plays loud, the listener feels the power. Imaging is tight and sharp. On "Bantu", the percussion orchestra section is an amazing sonic experience with the congas, bongos shakers traps etc. spread in front of the listener and the multitude of rhythms all so distinct and separate you can feel and "see" them. Tonal balance is warm and realistic without harshness. The Bell Sound studio was a large room and you can hear the sound of the band reverberating in it. Roulette, in the manner of early sixties record company stereo hype, emblazoned "Front Row Center Stereo" across the top of the front cover. Believe the hype. It's a demo, show-off quality recording.
Uhuru Afrika apparently only had one original press run by Roulette. Original, clean copies are rare but I think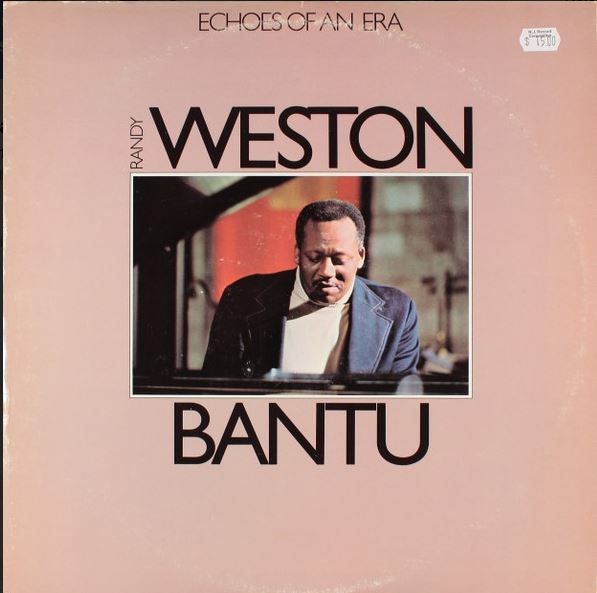 underpriced, considering their scarcity, at about $50. Roulette reissued Uhuru Afrika in about 1976 paired with the trio LP Piano A-la-Mode from the Jubilee label in a two record set called Bantu. I owned the set many years ago and remember that the sound was good but the vinyl was a bit noisy and Piano A-la-Mode was reprocessed fake stereo. I checked with a collector friend who confirmed my memory. Bantu sells for the bargain price of about $10 and is a great way for the curious but budget conscious to acquire Uhuru Afrika. There is a European public domain LP from 2017. I've never heard it. There's also a mysterious U.S. LP issue which might be from 2011. Due diligence is advised.

Many of the quotes in this article are from Randy Weston's highly recommended autobiography, African Rhythms.
Copyright 2022 by Joseph W. Washek
All rights reseved.