"Vintage" Walter Becker/Donald Fagen Interviews Still Hold Interest
So Cal's Harvey Kubernik conducted
Photo by Henry Diltz, Courtesy of Gary Strobl. 
 Kubernik recounts: late one night in the early summer of 1977 Donald Fagen and Walter Becker drove over from their Malibu pads to KPFK (90.7) FM where, with Los Angeles Times music writer/critic Richard Cromelin, I was co-hosting a show   and after chatting with us for a few hours they whipped out an acetate of Aja and spun for us "Black Cow" and "Deacon Blues"—along with some vintage jazz selections from the station's library. We'd actually hosted the world premier of Aja!
I saw the original band's Hollywood debut at the Whisky and again at a Glendale venue circa 1972 and I caught their 1974 "Midnight Special" taping as well as the "farewell" concert at the Santa Monica Civic Auditorium. In 1975 at Gary Katz's condo I interviewed Walt and Donald. In 1979 when I was appointed West Coast Director of A&R for MCA Records, I made the logical suggestion that Walter Becker and Donald Fagen pen liner notes for the Impulse Records jazz master tapes we'd just acquired from ABC Records. That idea wasn't well received by department heads.  I still think it would have been a good idea back then.
Harvey Kubernik Interviews Walter Becker. (Initially published 1999 in HITS magazine)
HK: The audiences currently attending your concerts know you pretty much exclusively from radio exposure, reissues, and the Citizen Steely Dan box set. The listeners know the music, your songs, and now twenty years later see the people, or the principal songwriters, etcetera, that put it together. The music defined you for and to the consumers.
 WB: For better or worse. A big bulk of the tunes that we are doing in concert we never performed them live. So, we're doing them live for the first time and that kind of gives it a little bit more of a credible recreation of something it might be.
 HK: Roger Nichols (engineer and veteran board director sound man for Steely Dan) was involved in mixing your live sound.
WB: When we came to L.A. in the early '70s Roger was an archetypical –in our eyes—southern California guy… sports car, scuba diving, filming auto races, all this stuff. That was a different lifestyle than anything Donald and I were familiar with and I think most of our interaction with Roger in those days was in the studio. I don't think anyone showed us the ropes in L.A. Now I don't really think there are any ropes in L.A.
HK: Maybe you have the best of both worlds. The people come and know the music, and know discover the players and the voices, and your own solo tunes in the process. They are here for the music and then the person.
WB: Well, that's kind of neat. We were probably successful in what we were trying to do in the '70s at projecting a kind musical persona that was not particularly you know, tied to one or two or five individuals and that was rather an outgrowth of our writing and recording style. And know –as you say—there is this bit of curiosity that is out there.
HK: Have the songs become even more rewarding because they now stood up to the test of time after 20 years on public display?
WB: It's funny, but that kind of thing probably happens more for listeners than for us playing them. We selected new songs we had never played before. And of the songs we had done years ago, we tried to diddle with them a little bit so that we'd feel fresh to play them and when we're actually doing it that's probably not so much the case for us than for people in the audience.
HK: Also, maybe with a couple of film scores, and some remastered reissues, Steely Dan, and especially the songs haven't been commercialized.          
WB: As far as not having our songs commercialized or exploited, on the one hand people were not for the most part running out to do cheesy cover versions of our songs.
HK: Touring seems easier for you now. You smile on stage. And the more recent tour was better organized and less stressful than what I remember of the gigs in 1974. Back then the songs seemed rushed. Hectic.
WB: Then, even on our best nights, it was this out of control kind of thing.
HK: You told Venice magazine "Donald and I were trying to do this well-orchestrated thing, and we had these wild men we were doing it with, including ourselves."
WB: Everybody was, uh, distracted by other elements in the traveling musician scenario. The thing is today, the scale at which we are doing it now makes it possible to call the shots in a much better way. And to plan things out. And the business of doing this has evolved to the point where it's very much a known technology and procedure. Everything has improved.  I like playing live. It's great fun, especially in this kind of context where basically everything is done for you and you kind of waltz in, and everything is pretty much perfect.
HK: O.K.  You've been a staff writer with a publishing deal. You wrote for the band, Steely Dan's catalog, and now, your own solo work. Are the disciplines the same in the writing situations? (at the time of this interview, Becker had released in 1994 "11 Tracks of Whack" and within a year had released "Two Against Nature" recently reissued by Analogue Productions for the first time sourced on vinyl from the original analog master tapes—ed.). 
WB: I think the basic tools are the same and the basic skills are the same.  And it's been such a long time since I tried to write songs for other people and I think about doing it sometimes and I may sit down to try and do that again just to see what happens.  But generally speaking, I don't know how that would be again.  Basically, it's the same thing if you're writing songs you know and trying to put together the pieces of the song.  On this album my original concept involved a very stripped-down sound, with strong emphasis on melody and bass line, and not too much in the way of chording.  The idea was to get a line of kind of spacious feel, where the harmonies were more defined by melodies and roots than spelled out with static vertical comping type chords.  My first dilemma was, how do I go about writing by myself, that is, without Donald? 
WB:  In our collaboration, he provided a lot of the harmonic direction and overall tonal framework, and his ability to develop great chord sequences, striking modulations, and so on, became an essential ingredient in our writing style.  I decided to use a minimalist approach that would enable me to focus on the overall thrust of the song, rather than bogging down in harmonic complexities and ornaments that were perhaps irrelevant in the musical context of the day. When you're collaborating, you often need to persuade your writing partner that an idea is interesting enough or strong enough to work with, and sometimes this is difficult or impossible to do.
WB: When you're working alone, you get to follow your hunches a lot more.  I also took advantage of events unfolding in my immediate environs as subject matter for songs in a way that was somewhat different from what we used to do. Generally speaking, I tried to suspend my critical perception of what I was doing, musically and lyrically until I had completed something, so as to range out a bit into new areas.  This experimental approach was helpful in maintaining a flow in my writing.
 HK: Also, since I've followed Steely Dan since inception and even when you were tune writers after a road scene with Jay and The Americans, did you ever think both you and Donald could survive and flourish as band leaders in the record business?  Brill Building to 10,000-15,000 seaters with a performing group playing original material? 
WB: To answer your question in a larger framework, I think when Donald and I started out we were arrogant enough to think we would be successful, in spite of the fact of what we were doing was as far off the beaten path as it was.  And so, we kind of had enough confidence in what we were doing to keep at it long enough until we prevailed, so to speak.  Certainly, it would be hard to imagine that we are still doing this and events have taken the shape that they have, you know, so many years later, I mean, quite surprising. Obviously for Donald and myself you know, the primary thing, the focus all those years was records and radio."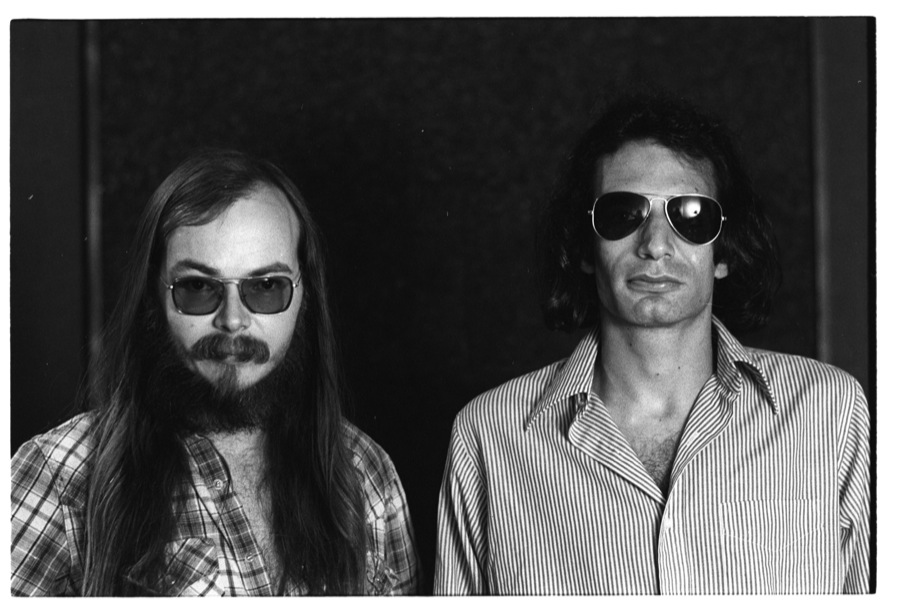 Photo by Henry Diltz, courtesy of Gary Strobl
(Portions of the transcript below from the KPFK-FM radio show with Becker and Fagen were previously published in Phonograph Record Magazine).
HK: Tell us about the album you've just finished
DF: It's called Aja (pronounced "Asia"), which is the name of a Korean queen if you will. We started it about a year ago. These things take a long time.
HK: Why?
DF: I don't know. I guess maybe we were too leisurely about the pace, although it seemed like we worked very hard on it.
HK: If everything is planned and arranged in advance—
DF: Right, you'd think it would be pretty quick, wouldn't you? I don't know. It's hard to play, we throw away a lot of stuff, we a a lot of stuff over, and it takes a long time.
HK: Any new approaches?
DF: We fooled around for a while with digital click tracks, which is a method used quite a bit to make records that are supposed to be metrically perfect. But we decided the tunes we had weren't suitable for that kind of treatment, so we went back to our tried-and-true method, which is basically go into the studio and have a bunch of guys play, and that worked out pretty good.
HK: How about the lyrics this time?
DF: It has no social significance. I think we're steering a little bit away from melodrama. The tunes we ended up with are in a somewhat lighter vein than the last album. There's some basically erotic material – not heavy breathing or anything, but...It's possible that the lyrics could get sparser and simpler, because people don't read anymore and they're a lot dumber than they used to be. It's always a challenge to fit certain lyrics to some kind of music or write some music that will most successfully express a lyric idea. The trick is to distill it and concentrate it so you have as few lyrics as possible...
 "….because people don't read anymore and they're a lot dumber than they used to be."—Donald Fagen in 1977
HK: What was your most disastrous show?
WB: Our most disastrous show was somewhere in North Carolina. Remember the show you wanted to go home after, when the truck arrived 2 hours late?
DF: No, but I remember the one where I plunged a speaker screw about three inches into my skull getting onto the stage and bled through the set. It did give a sort of grand guignol effect.
WB: They thought it was part of the show. And there was a show in Philadelphia once where a former lead singer of ours did sing an entire set a half-tone flat. And as if this weren't enough, he did see fit to split his pants.
DF: I thought it was a hell of a show.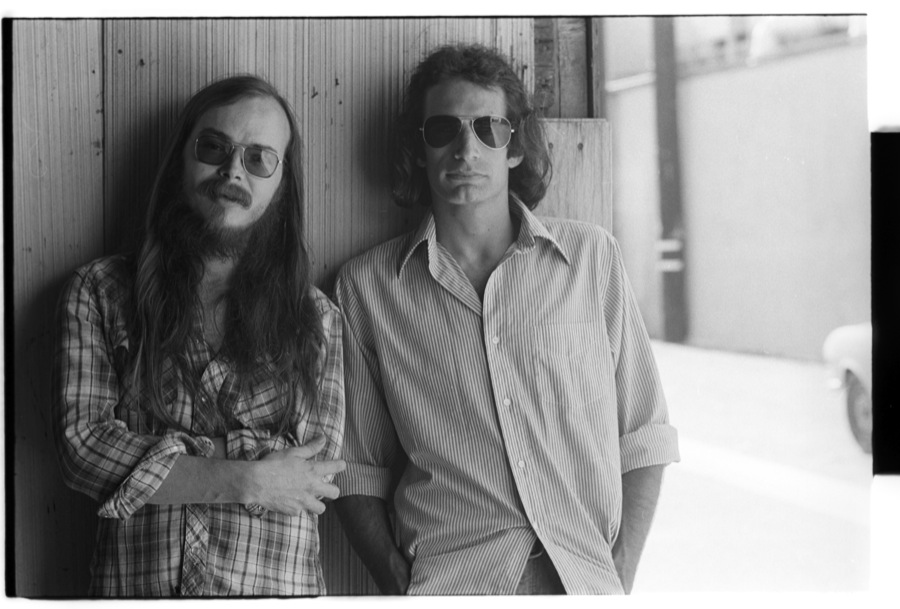 photo by Henry Diltz, courtesy of Gary Strobl
Excerpts from another Becker/Fagen interview Kubernick conducted in 1975 at producer Gary Katz's Encino, CA home for the now defunct Melody Maker at a time when the pair had decided to stop touring:
DF: We're not the least concerned about touring, We've never been that highly motivated to go out on the road. We enjoy performing but I'm not sure it's worth the inconvenience for a frail person such as me. The tour problems can be overcome by routing and good planning. We don't write when we are on the road. We have a lot of things to do and say and touring detracts from that. We try to communicate as best we can, the most coherent, articulate statements that we can make. If it didn't interfere with our activities or be such a pain in the ass, we'd go out on the road more. I've always regretted that it's hard to maintain the quality of your music presentation in the circumstances that you find yourself in. There are a lot of terrible places where music is presented. Also, certain groups go out on the road so much that the band members get sick…..
DF: We try to avoid gymnasiums. You'll never see us at the [Inglewood Forum]. We don't make any money on tours. We play in places that accommodate a limited number of people. Beyond that you can't be assured the sound is occurring. Our expenses are usually equal to the profits. We  tour out of obligation. I don't want to meet the audience. You have a more intimate relationship with someone who's sitting home alone listening to your records.  Playing live isn't that personal.
WB: When we played it was as direct as possible. No-one was sitting more than three miles away. The trend for rock and roll bands now is to play the biggest halls around. Also, I've noticed that bands who stay on the road for an extended time or most of their career, the quality of their show often suffers from the lack of new material, Then the quality of the records is even worse. The quality of rock music presented is appalling. Neither Donald or I go to rock and roll shows. There's not much to see.
HK: Can you a bit about your song writing process?
WB: Donald and I write together. The music is written before the words are added. It's like painting by numbers; we try and fill in the blanks.
DF:  We write for effect (said DF with a bemused expression on his face). Lately we've been getting into the social protest thing, like 'Black Friday' (about the stock market crash) from the new album. We may even do a song about Gerald Ford, the Kennedy assassination, or Da Nang. We write topical music. I don't think audiences have a problem relating. I mean, in England they do speak English. All culture gaps that occur when an Englishman goes to America or when an American goes to England, work to their advantage. They consider things which you think are mundane to be exotic. However, when we went to England last year, we had to spend 20 minutes explaining what "pretzel logic" was.
WB: Awards don't impress me. It depends on who is choosing. All I have to do is look at the name above and below us, and the credibility is gone.
We were the only people at Bard College who weren't rich. It took me a long time to figure out why everyone there had a Porsche but me. In fact, I always wondered why everyone had cigarettes but me. It was a very expensive school on the East Coast and everyone had a lot of money. I was on a scholarship and Donald bankrupted his father. I would still be trying to lay the tenor saxophone if it wasn't for Dylan. 
Copyright 1999, 2022, Harvey Kubernik
(Harvey Kubernik is the author of 20 books, including Leonard Cohen: Everybody Knows published in 2014 and Neil Young Heart of Gold during 2015.   Kubernik also authored 2009's Canyon Of Dreams: The Magic And The Music Of Laurel Canyon and 2014's Turn Up The Radio! Rock, Pop and Roll In Los Angeles 1956-1972.   Sterling/Barnes and Noble in 2018 published Harvey and Kenneth Kubernik's The Story Of The Band: From Big Pink To The Last Waltz. In 2021 the duo wrote Jimi Hendrix: Voodoo Child for Sterling/Barnes and Noble. Otherworld Cottage Industries in 2020 published Harvey's book, Docs That Rock, Music That Matters. And much more).