Welcome To Tracking Angle!
A New Site With a Decades Long History
You've arrived at a new website, but one with a rich, more than quarter century-long history of music reviews and feature stories, both in-print and online.
The Tracking Angle published its premier issue in January 1995 as a digest-sized, stapled, two-color, sound-conscious music magazine edited by Michael Fremer. It quickly became a full-color, glossy, perfect bound, full-sized magazine featuring an impressive roster of music reviewers and feature writers.

16 issues later, at the end of its fourth year, the difficult realities of print publishing caught up with the business—right when a major record label consolidation took place—and in fall 1998, The Tracking Angle ceased publication.

In 2003, Fremer launched the magazine's online counterpart MusicAngle, which soon became the hub of the then-nascent vinyl revival. Nine years later, in 2012, then-Stereophile owner SourceInterlink purchased Music Angle and launched Fremer's Stereophile-affiliated site AnalogPlanet, which became a renowned source in the record enthusiast and audiophile communities. With almost a dozen writers, the site published album reviews as well as turntable, phono preamp, and audio accessory reviews. The accompanying YouTube channel also featured footage from factory tours and audio shows around the world, eventually gaining 52,000 subscribers.

Fremer resigned from Stereophile and AnalogPlanet in June 2022, when he rejoined The Absolute Sound (where he started his audio reviewing career in the 1980s) and launched this new Tracking Angle website and its associated YouTube channel. Tracking Angle features an impressive roster that includes the entire former AnalogPlanet writing staff (Malachi Lui, Nathan Zeller, Michael Leser Johson, Joseph Washek, Mark Dawes, Evan Toth, Willie Luncheonette, Jacob Heilbrunn, and Joshua B. Smith). Also joining us, late of Stereophile, is author/journalist and jazz critic Fred Kaplan.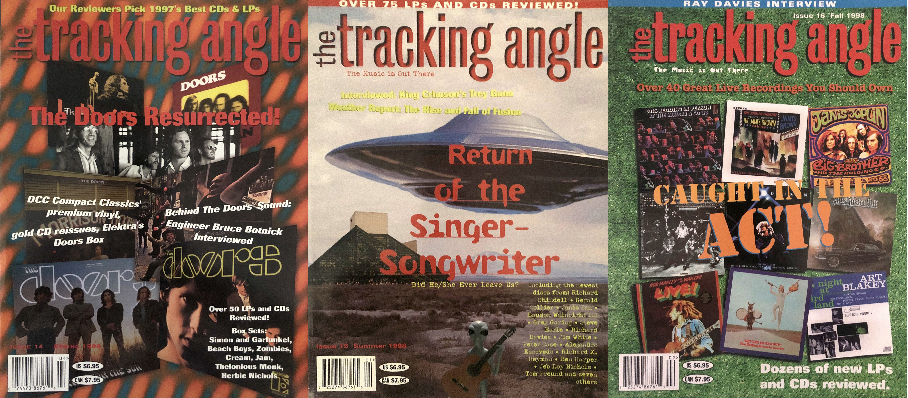 Please explore the new website's features and enjoy its intuitive interface and visually pleasing design. The site will be aesthetically and operationally refined as we move forward, so please be patient as we work out any possible glitches.
TrackingAngle will feature music reviews spanning all genres and formats with an emphasis on vinyl records but also including digital streams and downloads, CDs, SACDs, and maybe even a cassette or two. We will also review turntables, phono preamplifiers, audio and vinyl accessories, DACs, amplifiers, loudspeakers, streaming devices, and more. Our emphasis is on entry level to moderately-priced gear, but we'll occasionally assess more costly products. In addition, we'll have audio show reports, factory tours, and interviews with musicians, technicians, and business owners. 
Please subscribe to the TrackingAngle YouTube channel, follow us on Twitter and Instagram, bookmark TrackingAngle.com, and join our mailing list and Facebook group. Meanwhile, enjoy our opening offerings, which include a mix of new reviews and features and some older ones from the Tracking Angle print magazine.
Note: Some features including comments are not yet "live" but will be implemented in the next few days following the September 12th site launch. If you wish to make a comment now please join the Facebook group (link above) and let us know how we are doing.