"A Love Supreme" Gets A Supreme Analogue Productions UHQR Release
is this the best sounding "A Love Supreme" and even if it is, is it worth $150?
"Don't throw your love away, No, no, no, no, Don't throw your love away, For you might need it someday". Lyrics from a song first recorded by The Orlons but later made popular by The Searchers. Good advice then and now.
I'm not exactly "late to the fair" on this classic Coltrane album. I bought it new when it was first released January, 1965. A kid in my Cornell University, University Halls 3 dorm said "just get it" and so I did. And of course, I still have it.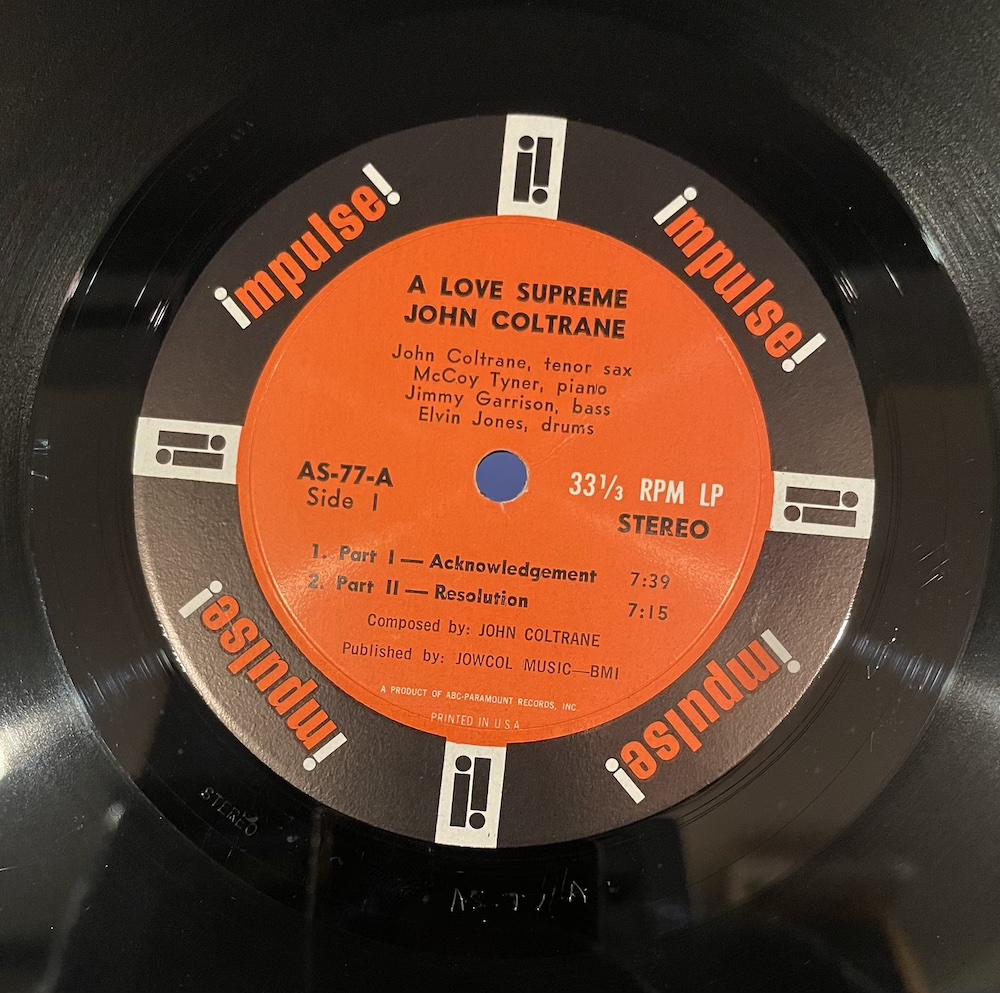 He was a huge Coltrane fan and had an orange spine section I can still see in my head, with the full lineup at that time of Coltrane's Impulse! output. He had Africa/Brass, Coltrane, Ballads and Impressions. The sound emanating from his room was unlike any other on the floor, though mine spewed, among others, Monk's Criss-Cross and Somethin' Else labeled for contractual reasons as a Cannonball album. My jazz tastes were more mainstream. His more exotic.
A Love Supreme's ferocity scared me first play. The opening part's chanting and insistent religiosity—even if it was presented in the abstract— reminded me of Hebrew school (especially "Psalm"), which I didn't like. I was happier listening to Monk mischievously bang out "Hackensack".
It was more spiritual than "religious" but the distinction wasn't clear to me in '65 and as a declared agnostic it was off-putting. These guys standing around a microphone chanting "A Love Supreme" struck me as hokey—who knew then that it was all Coltrane overdubbed? Not I.
All these years and a few acid trips later (none in 50 years) Coltrane's communication rings clear and true, its ecstatic message resonates, though religious fervor for me remains a spectator sport. I'm happy to watch and in the case of A Love Supreme just listen.
If you think an original pressing of A Love Supreme is "the one", you probably haven't heard it. My copy begins with a 60Hz hum before the music begins and it continues throughout, though in the background. The original is not the "holy grail" of A Love Supreme pressings. Is this new UHQR?
After listening to the UHQR once I first listened to the version Kevin Gray cut for Speakers Corner at AcousTech Mastering and released in 2001. It sounds sweet, soft and distant compared to the UHQR. The piano and bass are muffled and distant. The overall perspective is flat and two dimensional. Imaging is indistinct. The tom-tom hits lack transient detail. Cymbals lack sizzle. I used to think this one was real great because it's so well pressed but....
Next up was the 2010 double 45 also mastered by Kevin Gray at AcousTech. It sounds somewhat more open than the SC pressing but not by much. The piano is muffled, the toms are soft and distant, the cymbals lack shimmer and Coltrane's sax, while fairly present is "soft in the reed".
Last up was Ryan Smith's cut for the 33 1/3 Verve Acoustic Sounds series reissue. You can be sure Ryan cut from the same tape and probably at the same time as he cut the 45rpm UHQR version. Ryan's 33 1/3 cut is vastly superior in every way compared to all that came before it. It is not even a close call or a matter of opinion this time! Garrison's bass is cleaner, better focused in three dimensional space, and musically fully defined. His fingers can finally be heard plucking the strings whereas in previous versions there's "bass". Tyner's piano is better defined and spatially more coherent. The transient attack is better. Jones's drums also have the same "more live" qualities, especially the cymbals and toms. Everything beats what came before.
I've gotten the emails: "Did you get the UHQR? is it really better than the Verve/Acoustic Sounds version Ryan Smith cut? Is if worth $150?
So let's start with the packaging. You either appreciate these dowel boxes or you don't. I do. If you don't, take the record out of the box, put the box in the attic and just stop complaining about it. Comparing the laminated gatefold jacket of the Verve Acoustic Sounds series reissue with the UHQR cover, well, why should they be so different? Why should the UHQR jacket look so much better? Actually, the 2010 Analogue Productions double 45 jacket appears indentical to the UHQR and both are better. You can see below: on the left, the UHQR. On the right the Verve Acoustic Sounds version.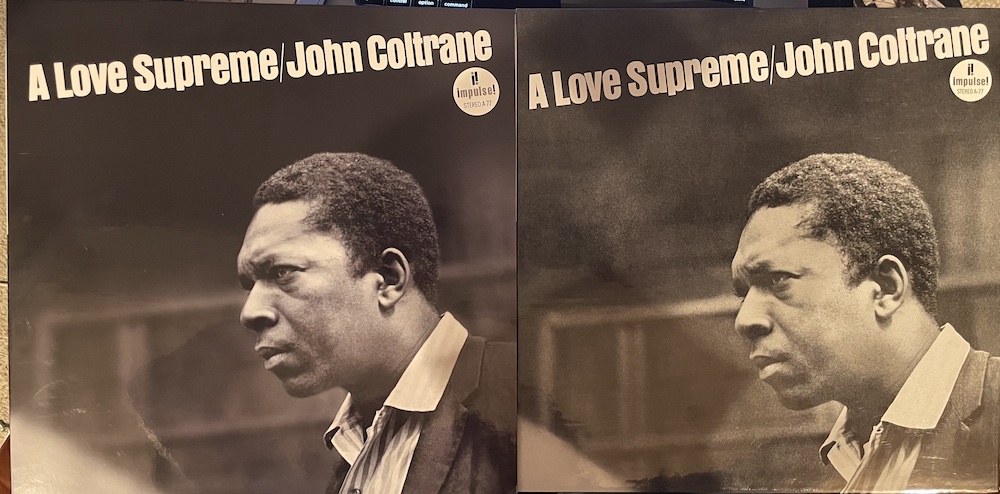 Granted this is a "snapshot" comparison and there's a bit of added glare on the right photo in addition to a color shift not seen "live" but it serves to accentuate the grain that's in the photo on the right that's not in the UHQR cover photo or in the 2010 double 45. You can see how much more of Coltrane's right shoulder appears in the photo on the left because obviously the left side photo appears to be taken from the original and the one on the right from a copy or even a photo of the copy. I'm not sure why the same photo couldn't be or was not used for the Verve Acoustic Sounds edition but it clearly wasn't.
If you appreciate the big visual difference between those two photos you will surely appreciate the sonic differences between the Verve Acoustic Sounds 33 1/3 edition, which is really good with this UHQR, which is, to say it in technical terms "insanely better" and the proverbial "window into the studio" when the session was recorded.
In what ways? Every way, actually. You'll hear it from the opening tam-tam hit—especially if you've been playing this album for fifty years! The background quiet is noticeably better than even the quietest regular QRP pressing. Tyner's piano appears in three dimensional space, Jones's stick work on cymbals and woody rim shots startle. The difference between this version and every other one including Smith's cut from the same tape at the same time is not subtle and if your system has the resolution you'll immediately hear it and be glad you made the $150 investment. I know I am!
One more thing: as well all now know, there's a story about "the original tape" not sounding so great so in 2002 Rudy Van Gelder procured a one off the master that had been sent to the U.K. when the tape was new and stored at Abbey Road Studios.
A picture of the tape is in the UHQR's full sized booklet. More important though is what's included in Ashley Kahn's annotation. While UMG is still catching flack for an accidental fire started by construction worker's grievously sloppy mistake that destroyed many masters, the problem here, according to Kahn, goes back to a decision made in the early 1970s by ABC-Paramount executives as a "cost saving" move, to discard many master tapes in order to save on storage costs.
To quote Kahn: "This meant that in the case of many Impulse recordings—such as A Love Supreme, only one copy of the album remained in the vaults, often a Dolby-ized, multi-generational copy of the master—losing some of the sonic details and depth of the original master."
Clearly sometimes, insisting on "master tape purity" as a cutting source makes little sense. This is one of those times. So, is this one worth $150 even if you have the previous Smith cut? I can't answer that question for you or tell you what to buy or know how your financial value system works but if this album is meaningful to you and you want by far the best sounding version ever released, this is it.
I hope the Orlons/Searchers song quote at the head of this review makes sense to you. If not, ponder it for a minute. You don't have to call nobody else.