Analogue Productions' "Stand Up" Reissue Stands Up to Time Musically and Sonically
cut all-analog at 45rpm from original master tapes
Jethro Tull is this weird guy with an old man fetish, who fronts a rock band playing the flute while standing on one leg. That's what we thought. He made weird noises too, while playing flute standing on one leg. A few who knew Rahsaan Roland Kirk's music knew from where came this old standing on one leg guy's flute sound (and noticed the credit on the first side ending cover of Kirk's "Serenade to a Cuckoo"), but there was no Internet and news traveled slowly back then, so Jethro Tull he was until he was Ian Anderson fronting a band called Jethro Tull. Jethro Tull the man was an 18th century agriculturalist/inventor.
Anderson only took up flute because he was frustrated by his third rate guitar playing and his inability to better or equal the "Cream" of the guitar playing crop. He'd only been at it for a few weeks when Tull began (he'd formed many previous bands) but he learned quickly and his choice of the equally idiosyncratic and humor tinged Kirk as a role model was a smart move.
This Was, the band's Island Records (ILPS 9085) debut was recorded between June 13th and August 23rd 1968 and released soon thereafter with the famous "pink label" inside and a fold-over laminated jacket outside demonstrated to any American record fan who bought and compared it to the meek Reprise release just how much better sounding were those Island records.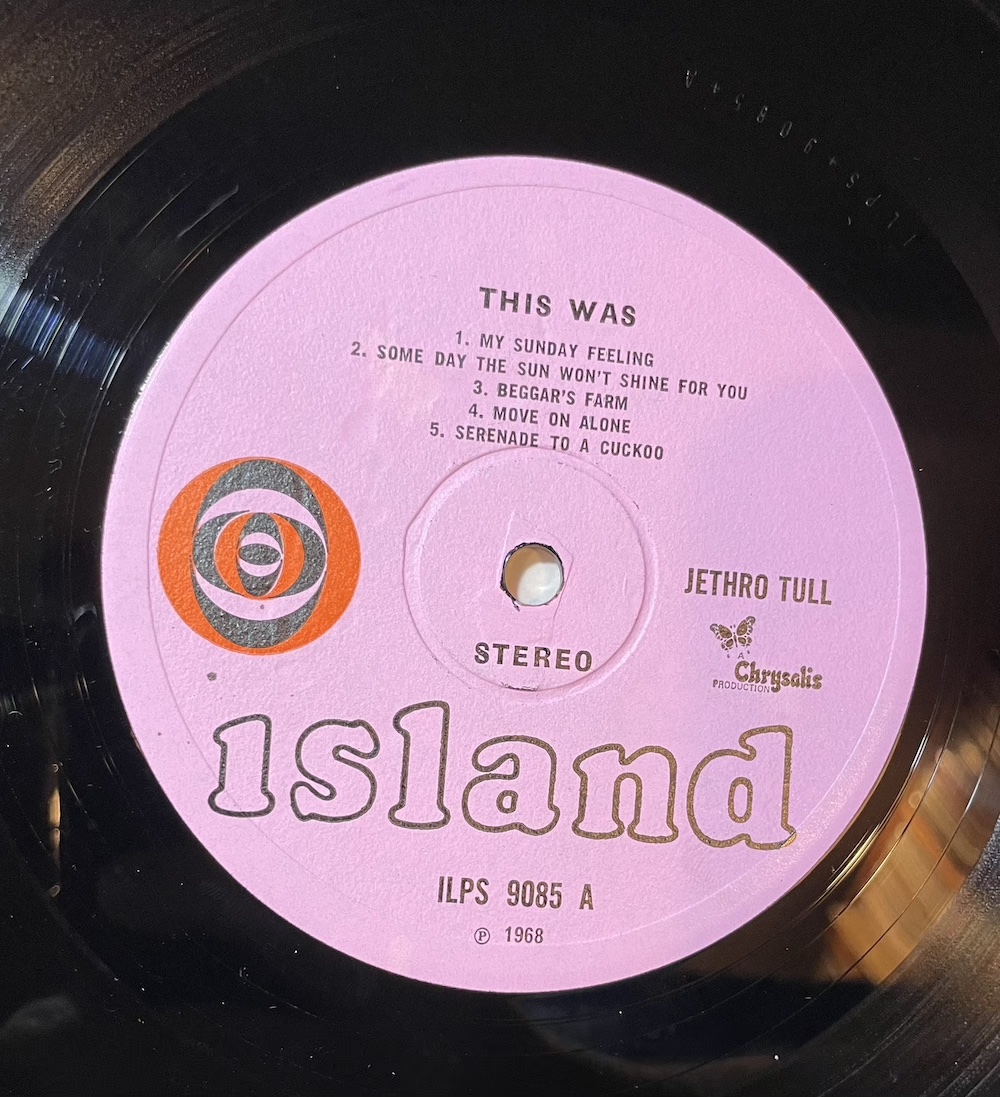 By the second album released September 1969 Anderson was a stand-up guy and the whole thing came into focus, for the band and for the fans. The first album's raucous, sometimes manic blues/jazz sound yielded to the follow up's move into folk/rock guitar driven territory combined with catchier tunes that appealed to a wider audience—though "Nothing Is Easy" is as bluesy a jazz number dominated by Anderson's flute as anything on the first album.
Stand Up (ILPS 9103) hit #1 on the U.K. charts and ended up being the group's only number one album there. The ever-changing Jethro Tull line-up was and is like a revolving door. Clearly this four man lineup featuring Anderson (on guitar, flute, organ, piano, balalaika mouth organ and vocals) bassist Glen Cornick (who died of congestive heart failure in 2014 at age 67 in Hawaii and who exited the band just before Aqualung was recorded), drummer Clive Bunker (still with us; left Tull in 1971), guitarist Martin Barre (still with us, and with Tull for 43 years!) was among the best "working band" line ups.
Even though Barre was a new recruit, his work on Stand Up gave it a harder rock, wah-wah tinged sound and was key to the album's success—as was Anderson's songwriting, which combined strong melodies and thoughtful lyrics. Anderson's concerns were more those of a middle aged man than of a 22 year old. "Nothing is Easy" offers encouragement, "Reasons for waiting", a simply expressed tender love song backed by a lovely string arrangement. It's an album full of understated gems. "Look into the sun" is a regret tinged beauty. Plus, you can't go wrong covering Bach as the group did here with "Bourée". Anderson's advice on "Fat man" remains true today!
Again, the sonic differences between the dynamic and high frequency extended original U.K. pink label Island and the meek sounding American Reprise were major! The recording by Andy Johns at Morgan studio was and is very good. The second U.K. pressing on the "pink rim" label doesn't have the original's punch, snap and solid bass extension.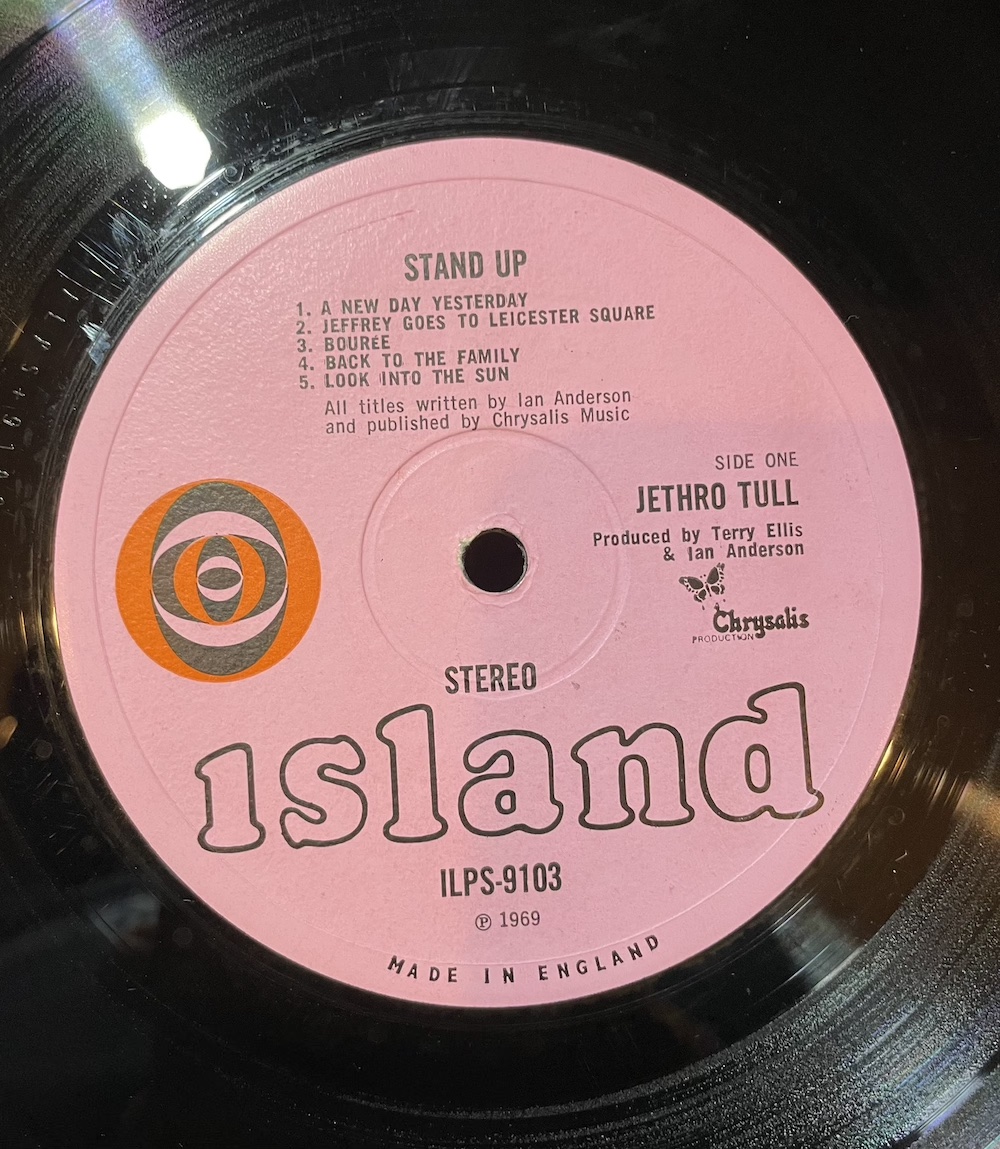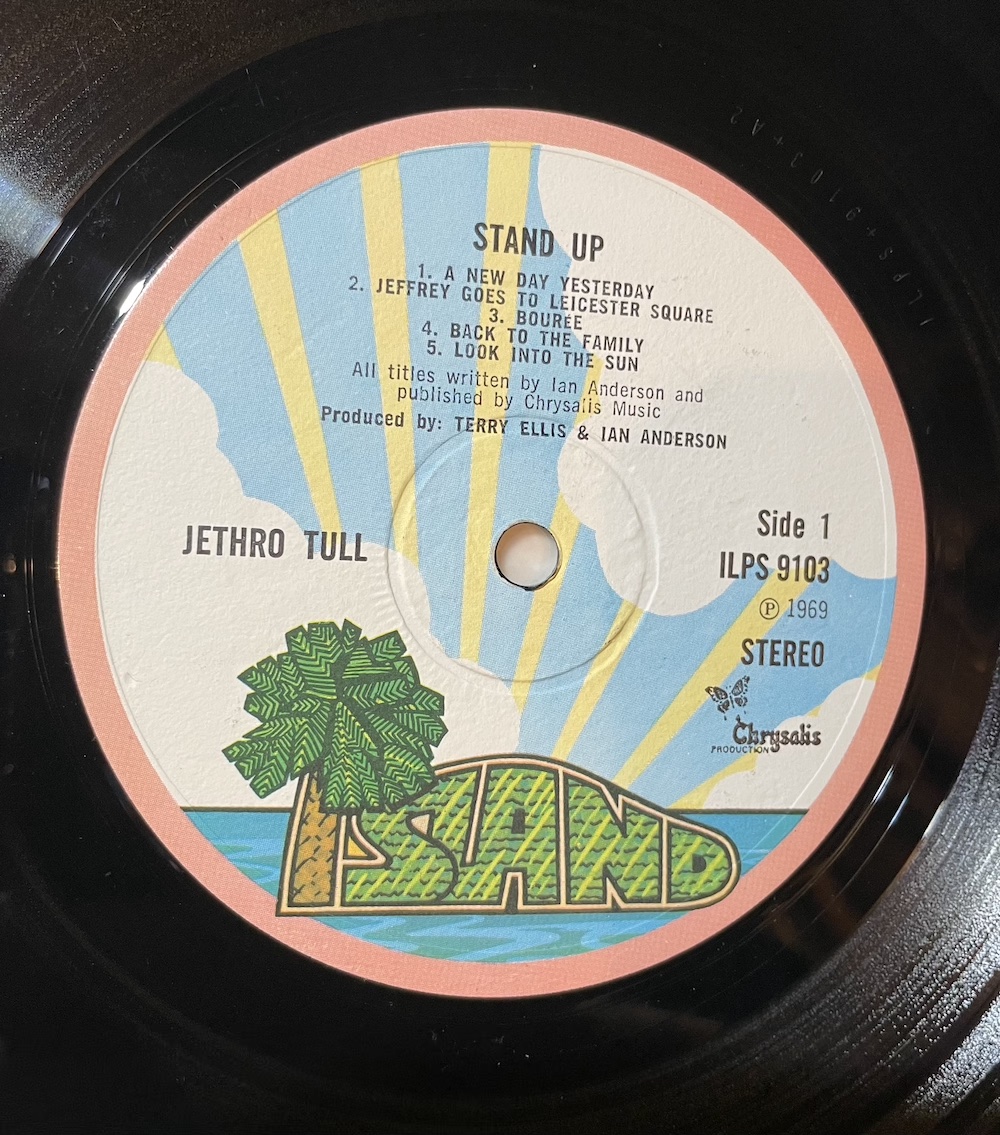 Now comes Analogue Productions' 180g double 45rpm reissue sourced from the original Island master tapes sent over from the U.K., cut by Kevin Gray at Cohearent Audio, pressed at RTI and housed in a laminated gatefold "Tip on" jacket complete with "pop up" band.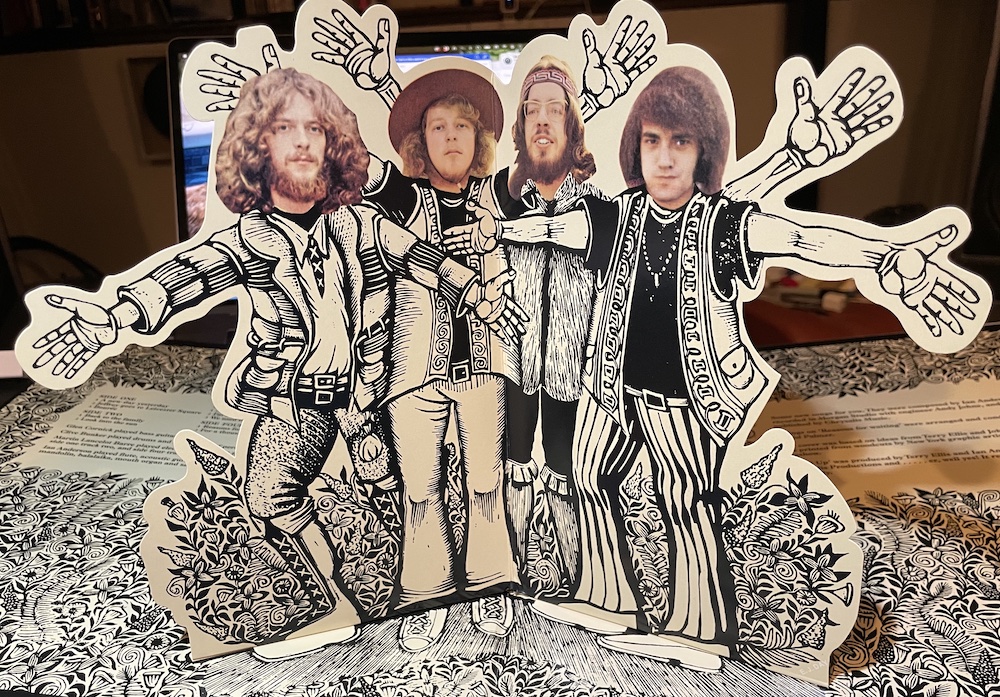 The packaging is exquisite! Only word for it. AP couldn't get permission to use the pink label so uses the green Chrysalis one. The cover art color doesn't quite match the original's, but the first pressing cover doesn't match the second. The first's blacks are more muted (you'd think the opposite). The new reissue has a bluer tint and blacker black contrasts. Does this matter? No. You care more about the sound.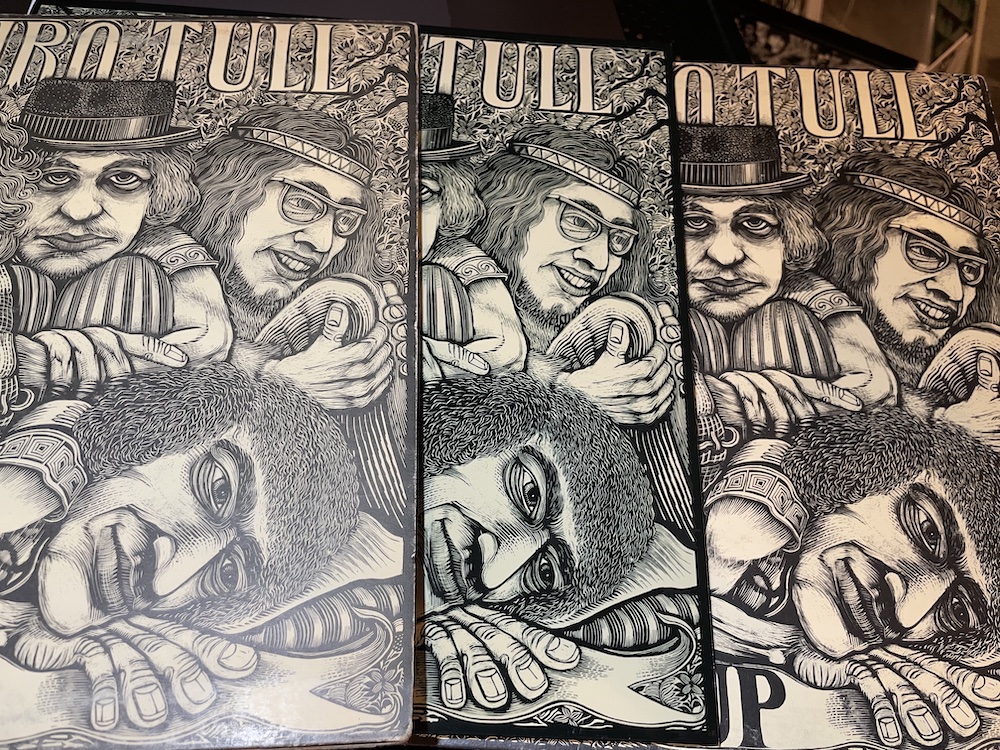 L-R: original, Analogue Productions, second pressing
Here's the deal: if the goal was to duplicate the original pink label Island sound, this reissue misses that, which is good because this new double 45 reissue is far superior to the original in every possible way.
The tape was in great shape, that's for sure. Clarity, transparency, high frequency extension and especially transient precision are all far superior to the original. Bass is honest, not hyped up and the mastering delivers full dynamics that are somewhat (but only slightly), compressed on the original. Ian Anderson's vocals are naturally present as if you are on the other side of the microphone. Most importantly, the overall timbral balance sounds honest and correct. But especially great is the transient clarity on top and bottom.
If you're fortunate to have an original pink label Island, at first you might think the sound is somewhat "laid back", but that's only because the mids and upper mids are not hyped up as they are on the original. That adds some excitement, but it clouds the picture and greatly obscures detail.
If you're at all unconvinced on "A new day today", you'll be sold by "Jeffrey goes to Leicester Square" and "Bourée"—even if you've heard it 100 times will give you a thrill, with a bass line that's taut yet supple and flutes that are velvety smooth yet airy all set against super black backgrounds.
There's a Steven Wilson remix that I've not heard but this record is not in need of a remix. It's probably recorded to 4 tracks and the mix does similar things heard on the original "Revolver" (hard left/right with center) but it all works well here because the basic tracks are so well recorded.
Best of all, as the title suggests this album "stands up" to time. It hasn't lost a thing musically, lyrically or sonically. Highly recommended!