Azymuth's "Telecommunication" Reissue Delivers
Craft Recordings and Jazz Dispensary Reissue Unique Funk-Jazz From Original Master Tapes
Formed near the sunny sands of Rio De Janeiro in 1973, Azymuth is a Brazilian funk-jazz trio though they manage to sound like a much larger group, especially when hosting guest players. The band features Jose Roberto Bertrami (unfortunately, deceased in 2019) on an array of keyboards, Alex Malheiros on bass and Ivan Conti on drums. These three musicians initially connected with one another in a previous band called Group Projeto 3 which later became Grupo Seleção. The band copped their new name - Azymuth - from the title of a song released by their contemporary, Marcos Valle, himself a legend in the Brazilian music scene who had asked the group to perform on some work that he was producing. 
 After a few releases on different labels, the band found a steady home with Milestone Records and released several albums on the label, most notably, Light as a Feather (1979) which contained the UK Top 20 hit, "Jazz Carnival" serving to align the group with both jazz fans and dancefloor inhabitants thereby creating a rich fusion of both jazz and disco. 
Craft Recordings and Jazz Dispensary have recently reissued Azymuth's 1982 release Telecommunication - the group's eighth album - as part of their Top Shelf series. It has been remastered from the original analog tapes by Kevin Gray at Cohearent Audio and is pressed on 180-gram black vinyl at RTI.
 The vinyl is incredibly quiet, clear, flat, dynamic and features plenty of strong, tight and focused electric bass. However, on my copy, the end of each track has a brief and curious static noise in the left channel. It lasts from the tail end of the song and through most of the dead wax in between numbers. The noise does not appear during the actual music, but it is a mysterious - and somewhat distracting - defect in an otherwise virtually distortion-free record. The album jacket is not a super-luxe affair, but the original cover art appears to have been faithfully duplicated; the colors and images are sharp and detailed. The record comes packaged with an audiophile/rice-paper inner sleeve, so you don't have to use one from your own stash. 
 In comparison with digital versions (Quobuz - CD quality), the vinyl is the clear winner. High end frequencies are much more tamed and earthier; this is especially obvious on the percussion and drum tracks as all of the songs on the album share a similar overall mix; the snare can appear somewhat metallic on the digital version. The tamed high-frequency transients make a positive impact on the album's overall presentation and don't take anything away from the particularly appealing percussion tracks which serve to add a distinct flavor on each track. 
 "What Price Samba" is a percussive, synthy groove with elements of primordial vaporwave. While "Country Road" is a mystically hypnotic bossa nova tune with some enjoyable female vocals. Those who love the sound of a Fender Rhodes and a Hammond organ will find much to enjoy on "Nothing Will Be As It Was" which also features some complicated time signatures. And those who like their keyboard offerings to go a step further will relish in the mysterious vocoder playing on "May I Have This Dance? (Concede-Me Esta Danca?)" Bertrami's keyboard offerings were certainly the heart and soul of the group, his ability to skillfully integrate several keyboard parts into each song deftly serves to emphasize the unique quality of Azymuth's music.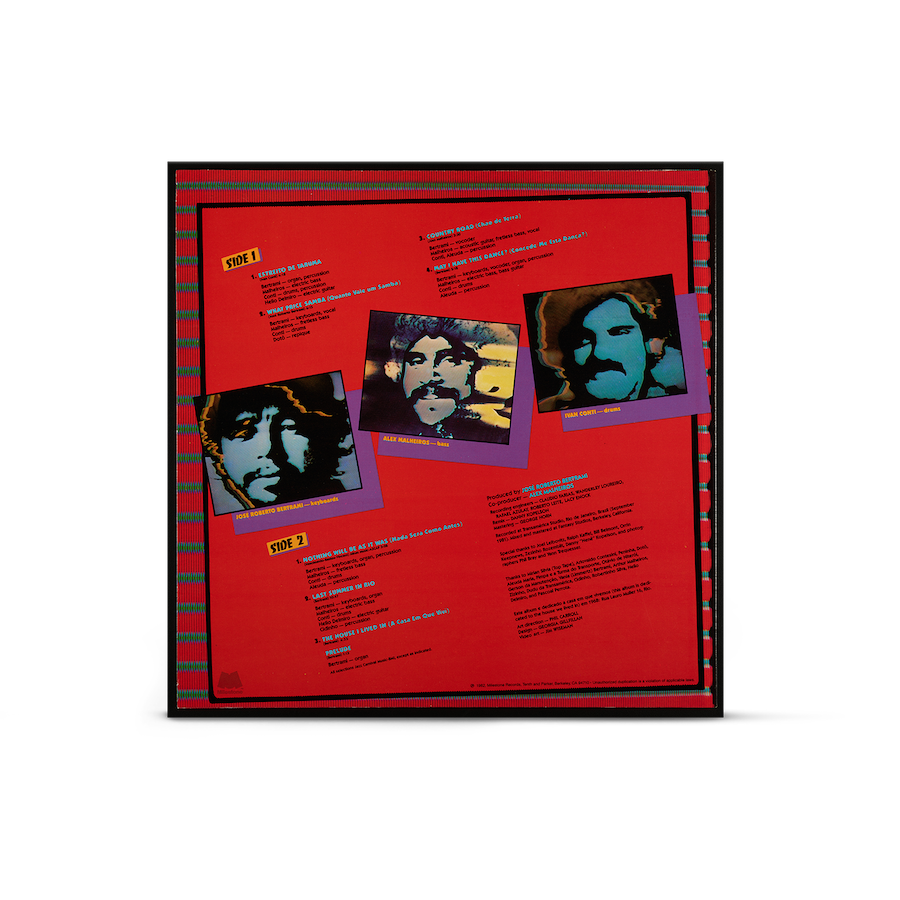 "Last Summer in Rio" is a standout track on the album and it is a long one, clocking in at ten minutes and forty-seven seconds. This song features some other guest players which serve to broaden the trio's musical diversity. The guitar of Helio Delmiro is a welcome addition on this track. Again, tunes like this are a vibe: something you might listen to on a long drive; to reiterate - even though the band may stretch out, they do not become stale. 
 In general, the album features excellent rhythms and grooves coupled with satisfying compositions; the music doesn't get bogged down. The compositions have space to develop and grow which is especially remarkable - again - given the fact that this is a trio, for the most part. 
 What separates this recording from other jazz funk releases of this era is the analog nature of the synthesizers that are featured; this was a time just before the proliferation and domination of the digital keyboard sounds that led to the creation of a slicker, smooth jazz sound. In many ways, one might consider this album a bridge, or transition between those two worlds. Another key takeaway from this album - and from much of Azymuth's output - is its sheer inventiveness; how ahead of their time the arrangement, playing, production - and even art design - were; start with Telecommunication and let it lead you through the rest of their catalog.  
 I have not heard an original pressing of this album, but overall, this vinyl pressing is snappy and dynamic, it sounds great. If you are a fan of funky, soulful jazz - with a sprinkle of fusion - and if you love the sambas and bossa novas of Brazil, then this is something you'll enjoy, perhaps with a caipirinha in hand.