Chasing the Dragon Tackles "Scheherazade" In Multiple Formats
performance and sound at a very high level
Chasing the Dragon returns with another superbly recorded classical music "warhorse" performed by the National Symphony Orchestra, U.K., this outing conducted by the orchestra's current musical director Anthony Inglis, with Leader Katerina Nazarova playing a Del Gesu violin valued, the annotation says, at 7 million pounds.
The venue for this "Scheherazade" was Henry Wood Hall, an unused church turned into an orchestral rehearsal and recording studio. It's a modestly deep but wide space with a high ceiling that produces excellent, spacious acoustics with well-controlled reverberation. The photo in the booklet shows the large orchestra with strings arrayed in a compact arc across the space's floor and the brass and woodwinds behind on risers. The hall's relative shallowness helps produce in the recording a super-wide, dramatic and immediate soundstage.
With its sweeping, dramatic melodic structure and rich orchestration, Rimsky-Korsakov's symphonic suite composed in 1888 is a movie soundtrack to a non-existent movie. It's one of those "If you want to get into classical music and don't know where to start" sure bet pieces that never fails to work its mysterious charms. Classical music often puts "newbies" at sea. In this case it's intentional. Even if you haven't a clue about the story, you'll be riding the waves and smelling the salt air.
Maybe it's because the orchestra is so experienced performing and recording musicals and film soundtracks or because of Inglis's experience conducting same, but for whatever reason or reasons, this performance wrings from the four part piece every bit of juice (or sea water) it has to offer. Even if you've heard it a hundred times, you'll hear that Inglis has crafted a memorable take on a familiar work, that's high on drama in a modern cinematic way that suits the piece and the times. Nazarova's performance and the silky tone she elicits from the instrument surrounded by a generous cushion of air is worth the 7 million. I wish I could dissect and explain the performance in the Ward/Johnson manner but I can't. I'll just say the way it's conducted, played and recorded is remarkably even-handed, well-balanced and revealing without sounding like an antiseptic Steven Wilson re-mix. Every quality you'd like to hear in a classical music recording—timbral and textural generosity, micro and macro dynamic scale, imagining and staging verisimilitude—choose your most important recorded criteria, and this one delivers them. Hearing the space so clearly, and hearing for instance the woodwinds and flutes float in space with the reverb behind clearly presenting the space, puts you in the room.
What you see in this photo I copied from the sumptuously produced booklet accompanying the LP is what you hear whichever format you choose: vinyl, CD or reel to reel tape, though they sound somewhat different from one another in part because of how each was produced.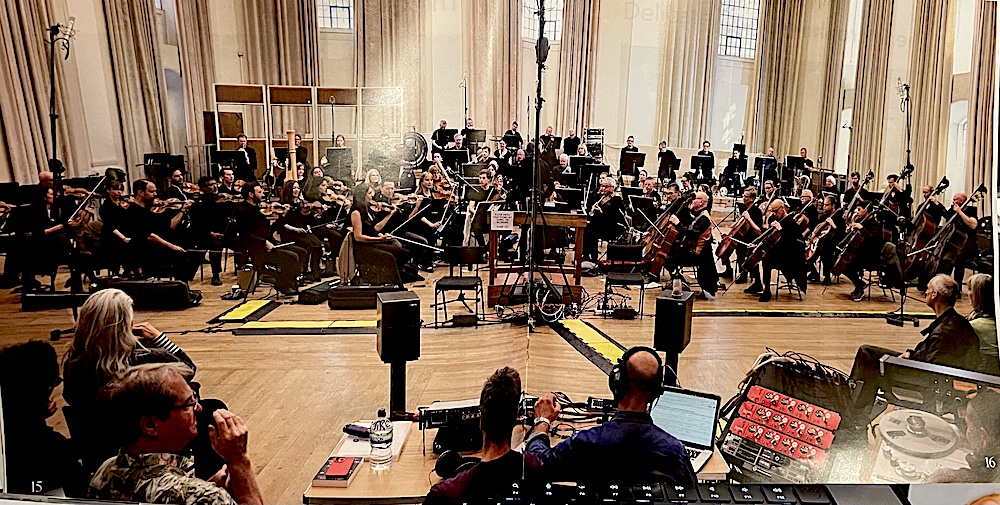 The various formats present a series on interesting complications. The recording was simultaneously to mixed down 1/2" analog tape on a Studer 820 running at 30IPS and to multitrack 32 bit 192kHz digital via an 8 channel Nagra VI with each microphone (a total of 14 microphones by my count) being "...recorded individually...".
That may seem a mathematical mismatch but here's how it worked (at least according to the annotation): a pair of tube-based ELAM 251s (AKG designed for Telefunken) were used as the main stereo pair, five Flea manufactured AKG12s were employed as "outriggers" and for the first violin, percussion and woodwind section, Neumann KM84s were used on the tuba and woodwinds, a pair of Neumann U89 were on the brass section, a Neumann U47FET picked up the harp and a pair of Neumann TLM67s were on the lead cello and timpani. Obviously, with 14 microphones, 'each' couldn't have been recorded individually. Perhaps Mr. Valentine will explain and I will updated this review!
Once the session had been completed the team went to AIR Studios for the final mix down by Jake Jackson on AIR's Neve board with conductor Inglis on hand to insert "the very best takes of the violin solos and (to) correct any small changes of tempo within the mix."
In other words, if you buy the $499 15 IPS 1/2" tape dupe, you get a live AAA mix of a single take. If you buy the vinyl LP, you get the final corrected high resolution digital mix cut 1/2 speed at 16 2/3s with the file also played back at 1/2 speed.
The CD is produced using a down-converted file. According to producer Valentine, the vinyl cut from a high resolution file sounds better than the CD produced using a down converted file. Not surprising! And what I heard as well.
I auditioned all 3 formats, but not the binaural "dummy head" version also simultaneously produced to double DSD and PCM and available as downloads.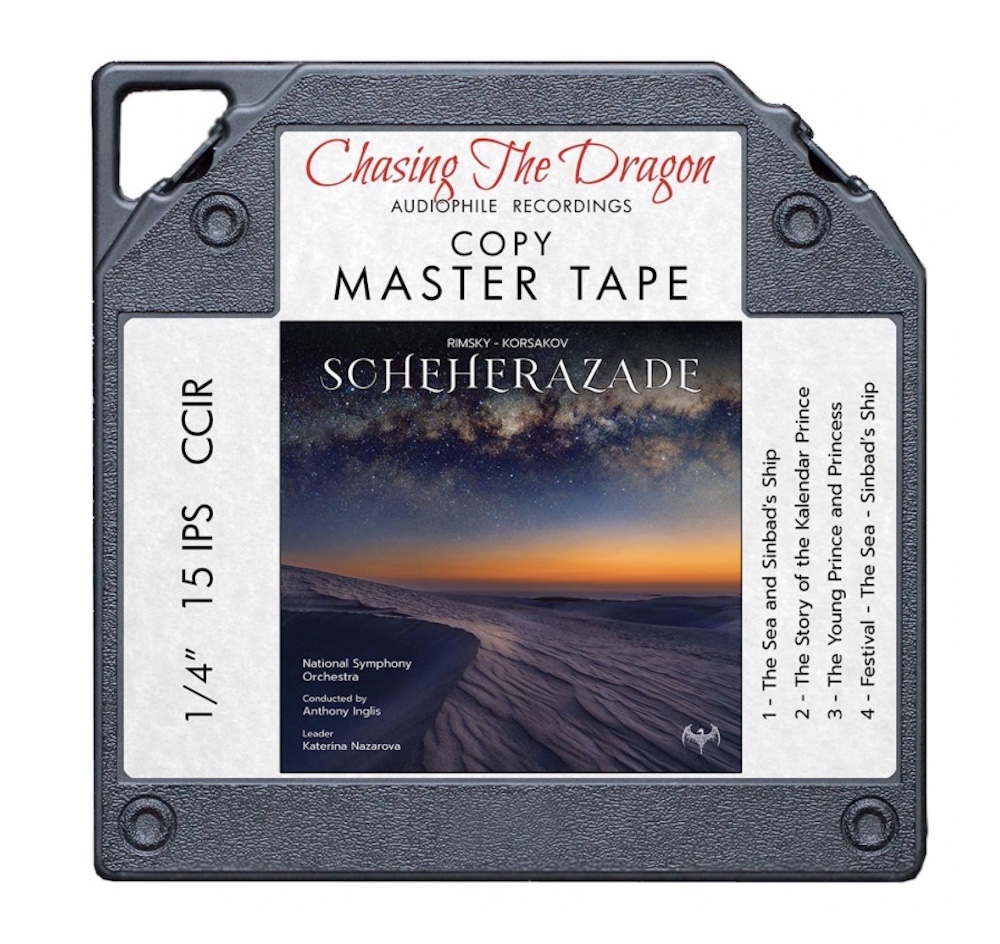 I have a restored Revox A-700 that sounds wonderful and this all-analog tape was clearly the winner especially in terms of transparency, spaciousness, silky string tone lushness and in every way possible. The tape is "you are there"
The CD sounded "ok" and like a CD. It lost the most compared to the R2R tape and it added a layer of "CD hardness and opacity".
I played the vinyl first before reading anything about how it was produced. The overall sound was reasonably spacious, though I'd not previously heard anything recorded in this hall so had no benchmark. The overall sound was not as transparent as on some of the older Chasing the Dragon titles that were AAA, and when the orchestra played full-tilt there was an occasional sense of "instrumental congestion" that was definitely unusual for a Chasing the Dragon production. Still, I was only slightly disappointed because the mix was so well-accomplished and of course the performance majestic.
However, going back to the tape made clear that on the vinyl the woodwinds playing at the back of the room were not presented nearly as far back on the stage as they were on the tape nor as transparently, and that the cushion of air around the violin was diminished (but still there) and the sonorous string tone slightly hardened. The overall timbral generosity heard on tape becomes by comparison somewhat miserly and the giving textures recede somewhat. How much of that is tape vs vinyl and how much is analog vs digital I can't begin to say.
However, had I not been spoiled by the tape I'd have been more than satisfied by the vinyl sound, which is definitely demo disc quality and quite spectacular, with dynamics as wide as you'll hear on a vinyl record. I wonder what a lacquer cut from the master tape would sound like and why this release wasn't produced that way? A comparison would be interesting. Let's do a Go Fund Me and find out!
But most importantly, this performance is well elevated above the usual "great recording, so-so performance" audiophile fare—and my "go to" version of this is the Reiner/CSO "Living Stereo" classic. This one brings to life the violent death wish story of a fictional Persian Sultan who, betrayed by his first wife, marries a new virgin every day for three years and beheads her the next morning before she can again betray him—until Scheherazade comes along. What is wrong with "these people"?
Forget the creepy story —based on "One Thousand and One Nights"— and enjoy the sensuous fantasy musical narrative presented here with a performance as vivid, engaging and thrilling as the sound. Congratulations to all involved in this production! (The "9" rating is for the very good LP. The tape would get an "11" for sure).