Craft Reissues Albert King's "Born Under a Bad Sign" in All-Analog Stereo
in celebration of King's centennial year
Don't let the blues get you down. In fact, sometimes, a good blues session can be an uplifting experience, perhaps even cathartic, if you like. The blues aren't played to make us feel bad, on the contrary, they exist to remind us that we're not alone with our troubles, and while we may not find the answers we need, sometimes misery loves company and that companionship can be very valuable especially when it comes in the form of a well-pressed piece of vinyl.

Such is the case with Albert King's Born Under a Bad Sign stereo reissue by Craft Recordings (originally on Stax) released in time to celebrate the electric bluesman's centennial year (King was born April 25, 1923 in Indianola, Mississippi). And what a pedigree this album has: often considered one of the greatest electric blues albums ever released, it has been inducted into the Grammy Hall of Fame and the Blues Hall of Fame, and the album was also added to the Library of Congress's National Recording Registry. Rolling Stone also included Born Under a Bad Sign in their "500 Greatest Albums of All Time" list and the Rock and Roll Hall of Fame includes the title track in their list of 500 Songs That Shaped Rock and Roll.
This isn't the first time that Craft has tackled the recording: in 2019 the album was a limited Record Store Day release in mono with 2,250 copies being produced. While that version was mastered by Kevin Gray, this one is pressed on 180-gram vinyl using "(AAA) lacquers cut from the original stereo tapes" by Jeff Powell at Take Out Vinyl (presumably cut on their Neumann VMS70 lathe). It's also available in hi-res digital (192/24 and 96/24) and SACD (these mastered from the original stereo tapes by Kevin Gray at Cohearent Audio). Unfortunately, this listener does not have a copy of the mono vinyl version with which to compare this new reissue, but hi-res versions of the recent mono master are easily found on streaming services. More on mono vs. stereo soon.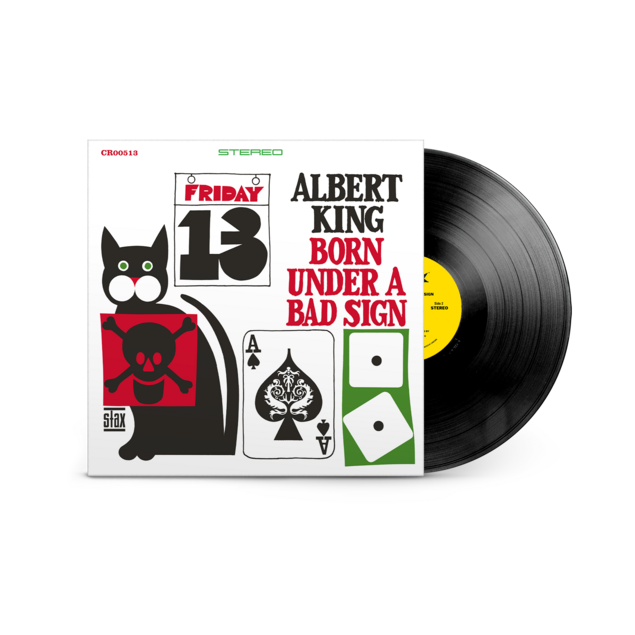 This new stereo pressing is flat, extremely quiet, free of extraneous noise and infinitely crankable. The stereo separation is good and presents a wide, detailed soundstage which is all the better to focus on the album's secret weapon(s): Booker T. and the MGs - and the Memphis Horns - who both serve as the supporting musicians on these sessions and add plenty of funk and drive. Of particular interest is hearing Booker T. Jones primarily playing piano in lieu of the organ. The rhythm section of Donald "Duck" Dunn and Al Jackson, Jr. animate the sessions with ample forward motion and propulsion. Note Dunn's terrific bass playing on "The Hunter": he (and Steve Cropper) link up on a 12-bar blues figure but infuse it with plenty of bumpy, radio-friendly pop flair. 

Sides one and two display two very different sides of this bluesman. The first side underscores the funkier mode of things, while the second side is geared a little more toward the late-night hours. Of course, the album kicks off with the title track, "Born Under a Bad Sign" which is certainly the centerpiece of the record in both sonics and performance. Al Jackson's snare and the Memphis Horns both elevate this number to new electric blues heights. It's the song with the best overall mix, too.
It's curious why some of King's vocals on this album are mixed so low, particularly on "Cross-Cut Saw". Perhaps this was done in an effort to allow King's guitar to take center stage over the vocals. "Personal Manager" is another song giving credence to this earlier theory. Here, King's voice is overtaken by his guitar, the Memphis Horns, and Jackson's drums which - as the song progresses - come in hot and heavy. However, when King starts his solo (perhaps his finest on the album) - on what was presumably his Gibson Flying V - and the Memphis Horns come blowing their horns, it's enough to make a listener forget there's a vocal at all (you'll be glad the solo is an extended 24 bars rather than just the standard 12)! 
"Oh, Pretty Woman" - not that one - illustrates just what Jim Morrison probably had on his turntable in the late 60s. If you love the Doors' style of swampy blues but would like to investigate what might have well been its inspiration, look no further than this tune and also - of course - "Down Don't Bother Me" (see the Doors' "Been Down So Long" on 1971's L.A. Woman). I'll bet both of those songs were Jim's favorite cuts.

"As the Years Go Passing By" suffers from some of the earlier referenced sonic drawbacks. King's vocals might even be described as somewhat wooly even though Booker T.'s piano stabs and riffs add brightness and vitality. The guitar tone too features a thinner sound with a bit less sustain. New amp? Old strings? Different mic placement? With over a year of recording, who knows? It could be that some of the stereo mixing peculiarities stem from the fact that this album is really a compilation of five different sessions recorded over the course of about fifteen months; perhaps a few different people were involved in the mixing of each session thereby impacting the album's sonic continuity. While a remaster of this album is always welcome, perhaps a stereo remix is in order in the future.
"I Almost Lost My Mind" is a personal favorite: it's the fusion of the blues form with a melodic commercial appeal that is irresistible. The ebb and flow of the melody echoes a lullaby of sorts, and King's effortless command of the gently building song structure is captivating and subtle percussion also adds welcome color. Here again, when compared with the mono mix, we find two stunningly alternate universes. The mono provides tremendously more vocal detail and upfront attention: you're sitting in the studio in front of King while he belts out his well controlled vocals. The stereo mix - on the other hand - gradually tells the song's story through the introduction and instrumental placement as the tune develops and showcases the band's textural dynamic. The two mixes are so different from one another that neither is better. Chocolate or vanilla; whatever you like is fine. Hemming and hawing over whether you prefer Born Under a Bad Sign on stereo or mono is a good problem to have. Fortunately, this new version is pressed so well that any concerns about vinyl quality can be cast aside during your personal shoot-out sessions. 
King's voice deserves a special note. Were he not known as a ground-breaking electric blues guitarist, he could have had a career as a crooner. Look no further than his take on the album's concluding track, "The Very Thought Of You" to witness his exemplary vocals. Again, for a treat, a listener might consider comparing this latest stereo remaster to the hi-res mono version currently found on your favorite streaming service. King's vocals here are warm and exemplify the years of performing he already had under his belt (King was 43 at the time of the recording). You might have come to hear some guitar-slinging, but you'll stay for the vocals. 
When things get really bleak, if life becomes frayed and torn, remember that you're not alone. Others have felt the way you're feeling, and - believe it, or not - they've felt much worse. So, save yourself some money on psychoanalysis. Consider being uplifted by the blues. A quick trip to the record store might cure whatever is ailing you and picking up this stereo reissue of Born Under a Bad Sign might be the only prescription you need.