Diving Deep into the John Williams' Harry Potter Film Scores
La-La Land Records' Essential Deluxe Limited Edition is Back In Stock!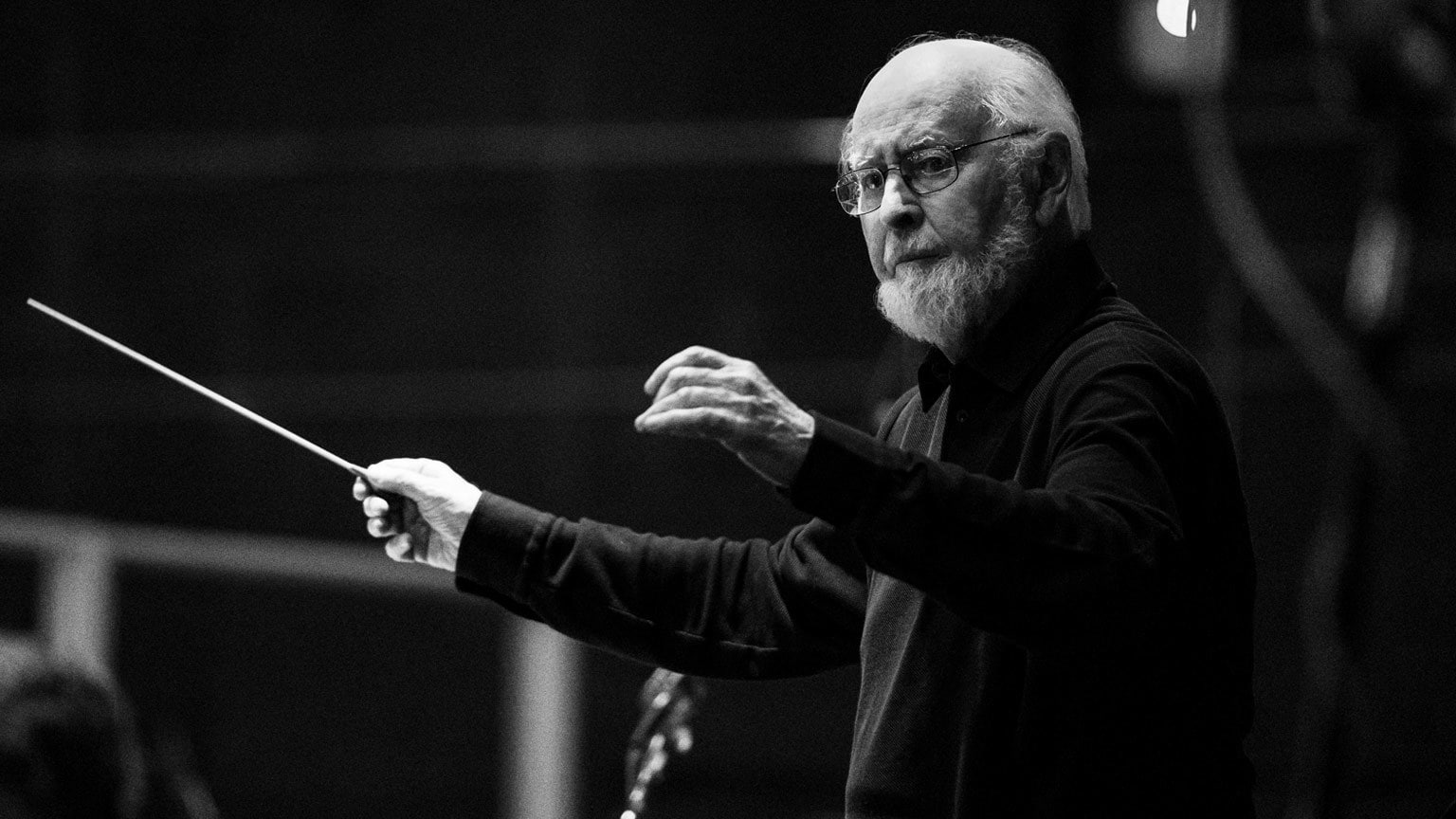 John Williams
Even within the context of his catalogue of one classic film score after another, the three films that John Williams scored for the Harry Potter franchise - Harry Potter and the Sorcerer's Stone (2001), Harry Potter and the Chamber of Secrets (2002), and Harry Potter and the Prisoner of Azkaban (2004) - occupy a very special place.  But you wouldn't necessarily have known that to judge from the somewhat parsimonious manner in which the soundtrack scores were originally issued.  Those CDs left out a ton of music, their liner notes were minimal, and the sound was merely serviceable.  Vinyl editions jumping on the vinyl revival bandwagon were nothing to write home about either.
However that all changed when La-La Land Records first put out this deluxe 7-CD set in 2018.  Labelled a "Limited Edition" it quickly sold out.  A couple of years later it reappeared, sold out again, and now it is thankfully available once more, so no need to pay double or triple the asking price on the second-hand market. At least for the moment. 
La-La Land Records is one of several specialty soundtrack labels that have consistently been doing stellar work reissuing newly remastered editions of a huge range of film scores, incorporating unreleased cues and any ancillary musical material (promotional spots, concert suites etc.) they can lay their hands on.  This set is chock full of music, with many surprises along the way.
The heart of the set lies in the full scores themselves, beautifully remastered by Mike Matessino from the original elements.  Those original elements are all digital, but the quality of the recordings, done mainly in Studio 1 at Abbey Road, is exceptional.  No surprise here, given who the engineers were:  Simon Rhodes for the first two films and Shawn Murphy for the third.  I wish all classical digital recordings of full orchestra were this luminous. (In the new Disney+ documentary about Abbey Road, If These Walls Could Sing, Williams rhapsodizes about recording in Studio 1 with the LSO and other British musicians).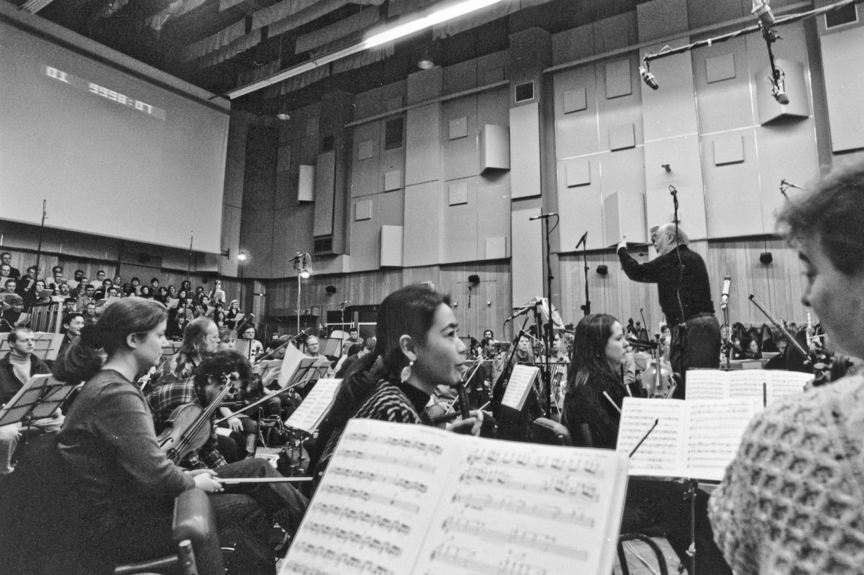 John Williams conducting at Abbey Road Studio 1
Matessino - the point man for many other La-La Land special editions - also provides exemplary, detailed liner notes for each film, contained within beautifully produced booklets that accompany each separately packaged soundtrack.  Another "master" booklet contains all the track listings, plus comments from the directors and John Williams himself.  Everything is contained within a sturdy, handsome slipcase.  A plethora of photos and beautiful graphic design (even on the CDs themselves) round out a set where clearly no expense has been spared, reflected in the price, around $105 on the label's website, lalalandrecords.com.
It may come as a surprise to learn that Williams wasn't necessarily going to score these films.  His involvement began when Warner Bros. needed some music for a promotional short and asked Williams to come up with something.  That "something" turned out to be Hedwig's Theme, which he composed without viewing any actual footage! This magical cue, built around a tinkling celeste (enhanced with some discrete electronics), is the music most closely identified with the films.  The theme is masterly in a number of ways that perfectly set the scene for the emotional and thematic landscape of the films to come. Not surprisingly it has featured prominently in all seven scores, even the ones not composed by Williams.
This is a melody that starts out conventionally enough, such that you think you know where it might lead.  It carries a sense of both magic and comfort; familiarity, even nostalgia.  But then it takes a detour into unusual, angular, and chromatic intervals and unexpected harmonies.  It may indeed be magical, a fact enhanced by the use of the celeste (the instrument forever associated with magic and childhood by virtue of Tchaikovsky's use of it in his ballet The Nutcracker); but that magic clearly has another side to it too, a side that may not be so benevolent (which is indeed the way of the magic depicted in J.K. Rowling's novels). There are darker overtones at play in this music, as there will be for Harry and his friends as their story unfurls through the increasingly threatening scenarios of successive films in the franchise.
Anyway, when producer David Heyman first heard Williams's theme he felt it perfectly captured the world they were creating, and the rest is history.
Lumos! (Hedwig's Theme)
In Harry Potter and the Sorcerer's Stone, director Chris Columbus, with whom Williams had worked on the first two Home Alone films (which also conjured up a sense of innocence and magic alongside a degree of menace), was charged with introducing us all to this new Wizarding World, establishing its rules and mythologies, setting the scene for all that was to follow. In Chamber of Secrets he began to darken the tone as the forces of evil gather and organize.  Listening to the complete scores one is struck anew by just how brilliantly Williams creates an entire world in music that is endlessly inventive and so perfectly matches the drama.  It is simply impossible to imagine this world without his contribution.  It is also remarkable how well the music plays away from picture - the only allowance you might occasionally have to make is for some of the shorter cues that end abruptly.  Anyway, listening to the scores complete, largely in sequence, is far more satisfying than any cherry-picked version.
(Quick note here: owing to scheduling conflicts, Williams's role in Harry Potter and the Chamber of Secrets was partly at one remove, with arranger, orchestrator and conductor William Ross picking up the slack - a not-unusual practice in film scoring. However it is still essentially an all-John Williams score.)
The scores for the first two films are cast in the familiar Williams idiom of late 19th century Romanticism with a dash of early 20th century spice (think Wagner, Rimsky-Korsakoff and Tchaikovsky, with seasoning by Debussy, Ravel and Prokofiev).  Williams has long applied Wagner's leitmotif technique to his film compositions, whereby a web of different themes associated with particular characters or ideas are interwoven to reflect and tell the story in purely musical terms (a technique pioneered in Hollywood by Max Steiner and Erich Wolfgang Korngold).  This allows him to not only reflect and/or enhance the essence of a scene or a particular dramatic moment in real time, but also to allude to a related moment elsewhere in the story, or to reference something or someone we're not actually witnessing onscreen right now, something which nevertheless still has import.  This means that the music can have many layers, adding immeasurably to the depth of the viewer's experience.  This is also the reason why it is so easy to listen to these scores away from the films themselves: they play like an opera without singing.  Matessino's notes do an excellent job of detailing all the different leitmotifs in Williams's scores, and how they interrelate.
The tone darkens considerably in the third film, Harry Potter and the Prisoner of Azkaban.  This set's liner notes go into some detail about how the director worked with Williams to take the music in this new direction, to reflect the more complex and foreboding narrative, something Williams was not only onboard with, but reveled in.  The result is a score full of more experimental procedures borrowed from mid-20th century's avant-garde composers like Penderecki and Ligeti.  Note clusters, atonality, and unusual orchestration litter this score, especially when it comes to depicting the ghostly Dementors who terrorize Harry and his friends.
Apparition on the Train 
A different kind of dementia emerges in the cue that accompanies Harry's wild road trip in a magical double-decker bus.  In the liner notes for Prisoner, director Alfonso Cuaron recalls:  "I showed the scene to John and he said: 'I know just what to do'… He told me he didn't want me to hear it until they recorded it.  So I arrived at the session and there was this big band and the hugest brass section I've ever seen in my life, and they started playing this funny, spooky, really bizarre piece of music".  Matessino continues: "The composer had tapped into his own jazz background and early exposure to big band music to capture the Knight Bus sequence's frenzied, cartoonish quality.  Saxophone, accordion, calliope, car horns and unique percussion instruments combine to make it one of the most distinctive cues in any Williams score.  Williams remembered: 'I thought Alfonso would tear his hair out and say, 'What is this crazy thing?' But he loved it.  It was a quintessential piece of silliness'". 
The resulting cue, presented in this set in extended form, plays like the Cantina Band cue from Star Wars on acid!
The Knight Bus (Extended Version)
Going in yet another direction, Williams had to come up with a song for the big Homecoming scene at Hogwarts.  Williams turned to the highly appropriate text from Shakespeare's Macbeth where the witches incant:  "Double Double, Toil and Trouble…. Something Wicked This Way Comes".  He gives it a tilt towards Renaissance Faire territory, partly by incorporating instruments of the period like recorders, crumhorns and the like, performed by the early music ensemble, the Dufay Collective.
Double Trouble
Enjoying the effect this had, Williams went on to incorporate the instruments into other areas of the score, most hauntingly where he uses the plaintive tones of the treble recorder to evoke the memory of Harry's mother.
On the Bridge - Remembering Mother
Not to detract from the excellence of Williams's music for the first two Harry Potter films, I must confess that I have come away from the presentation of the Prisoner of Azkaban score in this set with the firm belief that this belongs in the pantheon of his greatest scores, residing comfortably alongside The Empire Strikes Back, Close Encounters of the Third Kind, and E.T.: The Extra-Terrestrial.  It's a terrific listen, full of unexpected twists and turns!
If any of the above has piqued your interest, if you are a film music fan, or a John Williams devotee who hasn't already acquired this set, then you simply must do so before this set goes out of print again.  It is a treasure-trove of music, and will give you many hours of listening pleasure.  While it would be lovely to have at least Prisoner of Azkaban on vinyl, no allowances need be made for the sound on these amply filled CDs.  We owe La-La Land Records a huge debt for the care with which they have assembled this set, cutting no corners, and presenting these marvelous scores in a manner befitting their excellence.
Buckbeak's Flight
What to Listen to Next:
I will readily admit that Hedwig's Theme is one of my favorite John Williams creations. If you want to hear it developed into a full-scale virtuoso showcase for violin and orchestra, then check out the album Williams made with superstar violinist Anne-Sophie Mutter, Across the Stars. Better still, listen to their amazing live performance on John Williams in Vienna, drawn from the the composer's series of live performances with the Vienna Philharmonic Orchestra at the Musikverein, released in 2020. If you can afford it, splurge for the double CD/SACD version of the complete, unedited concert, including Williams's introductions to certain pieces. It's a joyous occasion, and you get to hear the one-of-a-kind VPO brass section having the time of its life. You will not be disappointed.
Hedwig's Theme with Anne-Sophie Mutter (violin), John Williams and the VPO
Any of the John Williams Special Editions on La-La Land Records are worth seeking out on the second-hand market. There are the usual familiar blockbusters, but also many rarer and more unusual scores from across his over 60-year career in film. Some will be more reasonably priced than others. The extended soundtrack to E.T. was also issued on good-sounding vinyl. At one point Mondo Records issued Jaws and Jurassic Park in their bespoke vinyl series with beautiful new artwork. The pressings are somewhat noisy, but good sounding nevertheless (as I recall Jaws was cut at 45rpm). These will cost you a bit on the used market. Subscribe to La-La Land's site and you will get advanced notice on their new releases - which are extensive - and when they do a re-press of an older edition. Right now I would highly recommend the just-released new expanded edition of John Barry's music for Richard Attenborough's Chaplin - a superb score for a highly underrated film.
Also, look out for the upcoming Henry Mancini tribute from Quincy Jones, on which Williams revisits his early years as a session musician - yes, that's him playing piano on the soundtrack to Peter Gunn.