Hilary Hahn Returns to the Stage with "Eclipse"
Hahn's first recording after nearly two years away features two war horses and a challenging hidden gem
In 2019, Hilary Hahn, one of the world's leading violin virtuosos, announced she would be taking a one-year performing sabbatical.  Little did she know, that period of time would see a prolongment of several months due to factors outside of her control.  Her triumphant return to the concert hall in the spring of 2021 was an emotional experience for her, and from those first few concert programs back, we now have a new double LP set of recordings, her latest release on Deutsche Grammophon since last year's outstanding album Paris.
Eclipse features three large works for violin and orchestra: Antonín Dvořák's "Violin Concerto in A Minor" (1879), Pablo de Sarasate's "Carmen Fantasy" Op. 25 (1882), and Alberto Ginastera's "Violin Concerto" Op. 30 (1963).  Topping out at almost 80 minutes and spread over 2 LPs, this album is a significant undertaking for an artist reestablishing her footing.  For assistance, Hahn is collaborating with conductor Andrés Orozco-Estrada and the Frankfurt Radio Symphony (known in German as hr-Sinfonieorchester).  Fans of classical music viewing on YouTube are likely familiar with this orchestra, as they upload a large number of video recordings from their subscription series, due in part to broadcasting grants from the German government.  
The first work on offer, the Dvořák, is the most traditional of the three concertos, although it broke enough formal conventions in its day that its dedicatee, famed violinist Joseph Joachim, refused to perform it (a fate he also inflicted upon Robert Schumann).  Despite being a work by a major romantic composer, this concerto lacked top-billing status for much of the 20th century, and it is only in the last two decades that it has achieved widespread popularity.  Like much of his late period music, here Dvořák blends Czech melodies and rhythms with wider German formal structure.  All the music on this album is technically demanding, but the biggest obstacle often encountered with this work is emotional endurance; the ability to keep the music energetic and connected throughout.  Hahn might have had personal reservations about her ability to pull this feat off, but none of it shows to the listener.  Here she is sure footed and confident, using her technical ability as a platform to flesh out all the dynamic sensibilities in the score, right up until the triumphant finale.
Sarasate's Carmen Fantasy is the most 'standard' work here, a longtime showpiece and recording war horse.  Sarasate was primarily a violin virtuoso, and most of his compositions were vehicles to show off his technical abilities.  The Carmen Fantasy is by far his most performed work, and features a suite of well-known themes from George Bizet's opera "Carmen". This piece is unique because it is a Spanish composer arranging a French composer's idea of 'Spanish music'.  Hahn is no stranger to this work, and it shows.  Here she really digs into the Spanish dance forms, with a keen musicianship that extends beyond mere technical ability.  The orchestra and Orozco-Estrada are superb accompanists throughout, shaping and bending to Hahn's musical directions with silky ease.
The real meat of this album though, lies in the Ginastera, a colossal work that is seldom recorded.  The New York Philharmonic commissioned the concerto from the Argentine composer for the opening of Lincoln Center, with the premier given by soloist Ruggiero Ricci and conducted by Leornard Bernstein.  The concerto retains a traditional three-movement structure, however it eschews many other structural conventions.  The first movement begins with a fiery, five minute solo violin cadenza, and once the orchestra enters the listener embarks on a series of short 'studies' exploring various technical themes.  This is followed by an Adagio movement "per 22 solisti", meant to highlight the principal players of the New York Philharmonic.  This movement is less of a solo concerto for the violin, and more of an intricate chamber music collaboration, featuring numerous technical solos for each instrument.  The work finished with a lightening quick Scherzo,  made up of intricate and interweaving lines between the soloist and various percussion instruments.
Hahn describes being obsessed with the "tantalizing, magical weirdness" of this concerto, and I share her fascination.  It's a very tumultuous and dark work, written in the composers later Neo-Expressionist period.  While not being as angular and disorientating as purely atonal or serialist music, it is still a jarring yet enthralling listen.  This work is notoriously difficult, both for the soloist and the orchestra, which may be why it has seen remarkably few recordings during its lifetime (and none on vinyl that I'm aware of).  Hahn has a daunting task here, as particularly in the opening cadenza, of preparing a dizzying array of notes and chords into a convincing and emotive musical statement, something that she thankfully delivers quite assuredly.  Likewise the playing of the Frankfurt Radio Symphony is sensitive.  It is all too easy to play music like this with an uncaring brash approach, something this ensemble manages to avoid.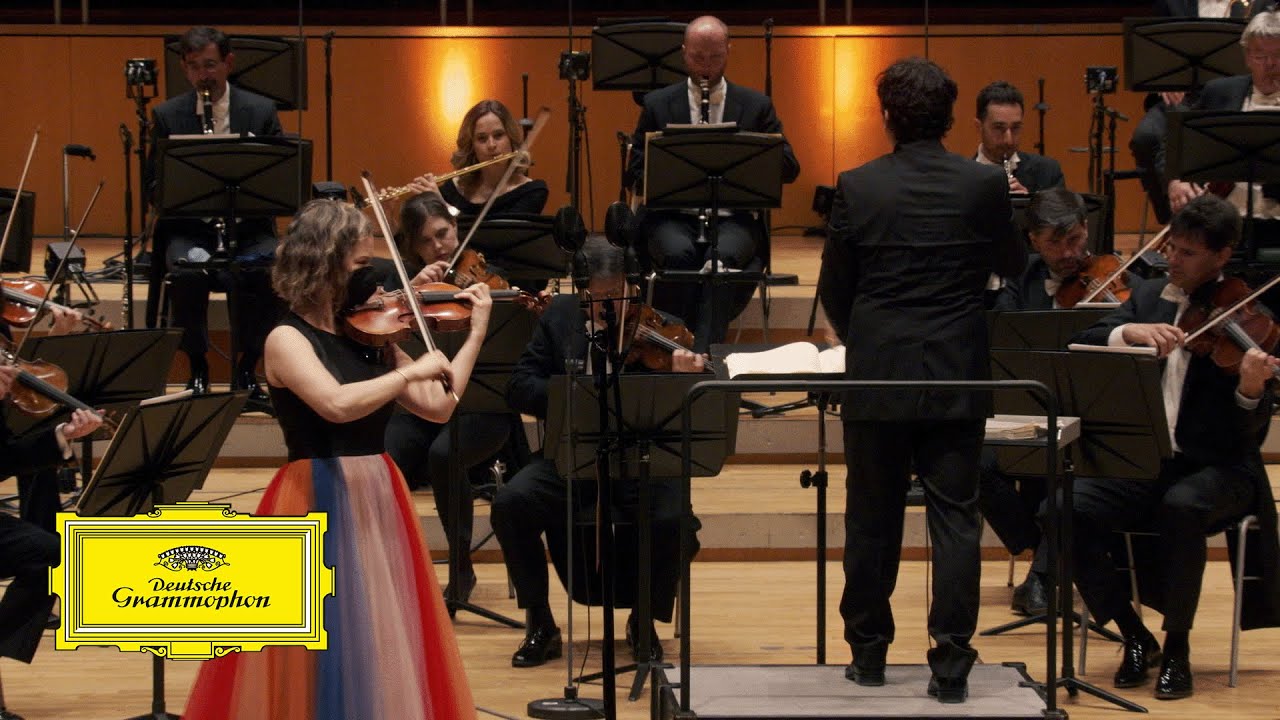 Unfortunately the sound on this double album is not nearly as good as Hahn's previous effort with the Orchestre philharmonique de Radio France.  Both albums were cut by Sidney Meyer at Emil Berliner, but this outing, engineered by Philipp Knop and mixed and mastered by Christoph Classen, displays highly unnatural balance between the orchestra and soloist, both in terms of dynamics and color.  Hahn's playing on this recording is very spot lit, which is not necessarily a bad thing as it allows her musical affects to shine through at all times, but the spotlighting is wildly out of proportion to the rest of the orchestra, to the point where I often could not bring myself to imagine the two sharing the same stage. The result is that sections of orchestral tutti that should be massive, sound muffled and rolled off.  It doesn't matter how robust and full bodied Hilary Hahn's playing is, something is wrong when a solo violin sounds dynamically louder and more in your face than an orchestra playing a fortissimo passage with full brass and percussion.  I also noted a lack of distinct soundstage, and particularly a bit of a muffled quality in the orchestra winds that always made the accompaniment lack a vibrant color.  Especially in the Ginastera, there are multiple solo lines that have to interact with the violin, and they really never feel distinct or like the violin's equal. I don't think this is the fault of the musicians, but rather engineering choices designed to highlight the soloist. That philosophy works in the simple accompaniment of the Sarasate, but falls apart in more complex passages in the Dvorak and Ginastera.
Where does this new recording sit in the pantheon of violin concerto records?  I took the liberty of pulling out my Cisco pressing of Nathan Milstein playing the Dvorak and Glazunov violin concertos with the Pittsburgh Symphony (SP-8382).  This recording is much more transparent and three dimensional, portraying better texture in both the soloist and the orchestra.  It is also quite a bit brighter in tonal quality which was a bit shocking when played back to back with the Frankfurt recording.  Also shocking was how much better the orchestral playing on the Frankfurt effort was, although they do have the modern benefit of lots of "splicing".  Milstein's playing is a little more aggressive and straightforward, while Hahn displays a more playful side, particularly in the 3rd movement finale, but both are at the top of the class when it comes to performances of this late romantic gem.  For the Sarasate I played my Speakers Corner reissue of Ruggiero Ricci's 1960 recording with the London Symphony on Decca (SXL 2197).  Both performances are top notch, but the classic Kingsway Hall sound has a big leg up over the rather artificial sounding modern rendition.
So why buy this new recording?  Well, in my opinion this set is worth it for the Ginastera alone, which is a seldom recorded, seldom performed, masterpiece.  It's easy to recommend older, better recorded renditions of romantic war horses, but those recordings don't exist for this work, and Hahn here has stepped up to the plate to give this monumental work of South American expressionism its big major label debut.  Because of that, I would still recommend this album despite the pitfalls, because the music is something new and exciting to most listeners, and the performances by both soloist and ensemble are of first rate quality.  Welcome back Ms. Hahn.