John Lee Hooker's 1976 Hunter College Solo Appearance Released on Double Disc Vinyl
New BMG Release Proves That Less is Sometimes More
If we set our musical Wayback Machines to 1976 what do we find dominating the radio landscape? ABBA had two of their biggest singles that year, "Dancing Queen" and "Fernando" and Queen was king with "Bohemian Rhapsody". Chicago's "If You Leave Me Now" was a monster hit, as was Elton John and Kiki Dee's, "Don't Go Breaking My Heart". If there is one commonality between those five songs, it's the slick and glossy - perhaps even hedonistic - production values. For better - or worse - the five songs listed above, the five biggest-selling global singles of 1976, still stand as some of the most "produced" songs of the 20th century.
So, enter the anomaly. In an alternate universe - in New York City - a concert took place that couldn't be further removed from the flash and pizzazz of the day's most popular music. A blues singer from Tutwiler (or Clarksdale), Mississippi, who was in his early 60s, took the stage at Hunter College to perform a set of songs accompanied by nothing but his electric guitar: that man was John Lee Hooker. Hooker played two sets that day, and a new double album features both, released together for the first time. 
Hooker Alone: Hunter College 1976 on BMG is the new record. In 2022, BMG acquired the rights to John Lee Hooker's music interests and this is the first release since that acquisition; other releases from that catalog are said to be following soon. Hooker was perhaps the world's greatest bluesman, or - as the 180-gram album's succinct liner notes by Kent Cooper proclaim, "the most influential and important blues singer and guitarist of all times." 
"I Miss You So" begins the album and captures a peak moment of excitement for Hooker and the audience. Still, it also prepares the audience - and the home listener - for the meditative quality of Hooker's performance to come. While many of these songs feature Hooker's trademark blues-boogie, much of the album has a plaintive, hypnotic, engaging quality; the set list features the best of both approaches. It's not easy for one man with a guitar - featuring no effects other than a guitar amp on the clean setting (with maybe a touch of reverb) - to captivate an auditorium, but Hooker does it with ease. 
Blues rock featuring Hooker's influence became a popular commodity in the 1970s and 80s, and "Boogie Chillun" (John's first big "hit" which was initially released in 1948) demonstrates where this sound originated. Only three years before this live performance, ZZ Top's "La Grange" had popularized a version of the song's riff - and a pale imitation of Hooker's inimitable voice. Six years later, George Thorogood and the Destroyers released "New Boogie Chillun" (did it need an update?) on their incredibly successful, super-hit 1982 album, Bad to the Bone. But Hooker's 1948 original - and the version on this live set - refuse to be bested. Imagine Hooker's reaction to hearing his unmistakable influence on songs like these, which were significant hits and received extensive radio play during their time (and still do).  
The crowd calls out for "Boom Boom" and Hooker responds, "okay, give me a little time to change my keys and I'll get 'Boom Boom' for you. Thank you for being so kind and so patient in waiting." He launches into the unmistakable riff and the sound of the lyrics flows from his larynx with a comforting familiarity but is also accompanied with plenty of spunk and energy. In introducing, "One Bourbon, One Scotch, One Beer" Hooker admits, "I could use one by now...you sure ain't got it in here" which seems to come at the end of the first set. Hooker doesn't rush through this version, and settles on a sturdy tempo to close out the set.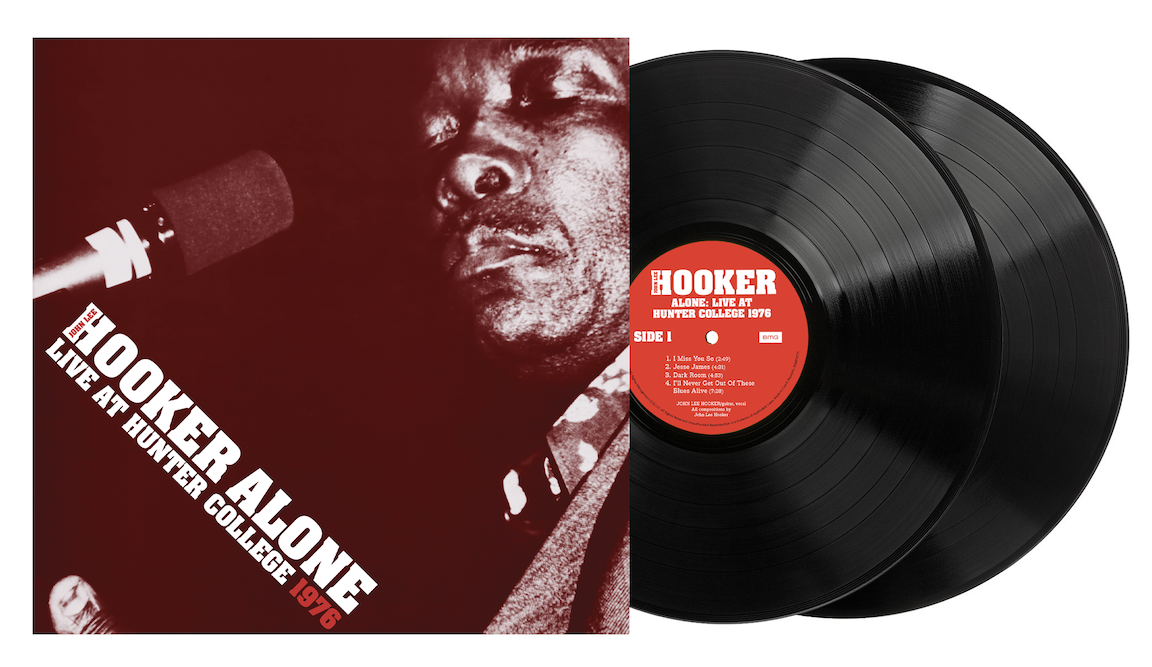 There are moments when listening to this album where it's easy to forget that a live audience is present. Their rapt attention and silence during Hooker's intimate performance are astounding. No one was on their phone in 1976, that's for sure. The audience is fully absorbed in Hooker's nuanced and meandering performance, happy to follow him wherever the path may lead. One might think that the audience will join in with John Lee to add some accompaniment to his solo performance, which they do during "Mama Killed a Chicken" - however - they soon find out that Hooker is playing to his internal metronome and they struggle to follow the master. 
In fact, on "Tired of Being Your Doggie" someone in the audience plays a harmonica along with Hooker who doesn't bat an eyelash. The reverb and distance of the harp add an otherworldly and perfectly spooky element to the performance, and to the recording. Hooker even seems - at some points during this number - to engage in some interplay with the masquerading harp player. He goes with the flow, which can serve as a suitable thesis for the whole album. Hooker finally encourages the audience to clap for the "young man" who played on a few numbers. 
Hooker's conversational approach to the audience is polite, affectionate, and sincere. "Thank you for lending me the sound of your hands," he says after several songs. It must have been a phrase he used many times during his career, but he puts forth the sentiment with warmth. He also explains to the audience how he enjoys playing on his own, "I enjoy sometimes just sitting down, you know, and just playing by myself, alone without the band...it's nice to relax, to just sit by yourself and just play, you can do what you want to do." He continues, "with the band you can't do that, you got to lay back and everybody plays their part. But this way, all parts are mine and (with an infectious chuckle, he says) I can do what I want to do and I enjoy that sometimes," to which the audience responds with supportive applause, of course.  
Look no further than "Feel Good" to get an idea of the freedom and joy that Hooker felt playing unencumbered with a band. He can mess around with his tempo and take chances on his solos to his heart's desire. The only people he's interested in pleasing are himself and his audience. "Some People'' finds John Lee ruminating upon the basics of life and humanity, the similarities between the young and the old, and how they both yearn to find happiness by remaining focused on the simple things in life. In this way, Hooker presents almost as a sage or guru sharing his philosophical wisdom with a young audience. 
"Crawling King Snake" best known by many readers as the stomping blues number attacked by the Doors on LA Woman was popularized by Hooker in the 1940s and serves as the album's closer. His version on this album couldn't be more removed from the Doors' take. It's not better, and it's not worse: it's just a different planet, and it's also six years after that version. 
The vinyl variant of the release was pressed at Precision Record Pressing in Canada, and the plant staff cut the lacquers. My pressing was a little noisy, with occasional pops and clicks throughout, sometimes disrupting the delicate ambiance of the recording and serving as an intrusion upon Hooker's whispered passages and quieter moments. Poly-lined paper sleeves are also included. 
The quality of Hooker's vocals - and guitar - are excellent: they are big and wide providing much more detail than I anticipated they would. This high-quality recording allows the listener to focus on intricate details like Hooker's tapping foot, the laughs of audience members, and a very slight hum from either the lighting or the building's heating system (the performance took place in February, after all). I don't mention the hum as a detractor, only that there is a natural - almost transportive - element to the album's soundscape; details like this encourage me to imagine the springs in the auditorium's seats and perhaps some asbestos floor tile beneath my feet. 
Hooker Alone is an essential album for two critical reasons: the first is that it is an important archival artifact of one night in the history of John Lee Hooker, who was a towering figure in blues and popular music (and culture). The other lesson to be gleaned from this album is the important reminder that sometimes - often, even - less is more. If music, a feeling, art, or otherwise, can be conveyed in its most simplistic, stripped-down terms, something is very right with the performer and their material. 
Though late 70s radio was pumping out songs with massive production containing all the sonic bells and whistles that were all the rage, a presentation as simple as Hooker's concert at Hunter College contains just as much power, confidence, and presence as those big budget blockbusters.