Living in a Haze by Milky Chance
The German Duo Release an Addictively Enjoyable Album
What do you get when you combine acoustic singer-songwriter qualities with the electronic and infectious beat of the dancefloor? You might find something similar to the German duo of childhood friends, Clemens Rehbein and Phillipp Dausch who go by the moniker Milky Chance. This review may be your introduction to the band—if so, then Willkommen!—but Milky Chance have existed for about a decade and have just released their seventh full-length, Living in a Haze on their newly formed and independant Muggelig Records label. The alt-pop group have recently gained a huge world-wide audience: they have played Lollapalooza and Coachella and have over 10 million monthly spins on Spotify. Currently, they are in the midst of a 60+ date tour of North America.

Living in a Haze was recorded in Berlin at Jazzanova Recording Studios and the album unleashes a dozen bite-sized nuggets of guitar anchored, radio-friendly electronic pop that are easily enjoyable upon first cursory listen, but the deeper and more thoughtful production and compositional elements of the record stand up to repeated spins. 
The title track "Living in a Haze" explores the concept of escaping life's challenges by simply hitting the town and enjoying oneself, "I've been living in a haze, what a foolish life...I should be dancing the night away." This lead-off track serves as a high energy introduction to the duo's songwriting and production strengths. "Golden" brings down the tempo just a bit and creates a fusion of murky acoustic guitars with a danceable rhythm track. "Favorite Song" might just be my favorite song on the album. I wouldn't call it a throwback, but there is an element of 1990's left-field goodness infused into the track that recalls Beck - perhaps Soul Coughing - or, maybe even a small slice of Cake (Bavarian creme, perhaps?).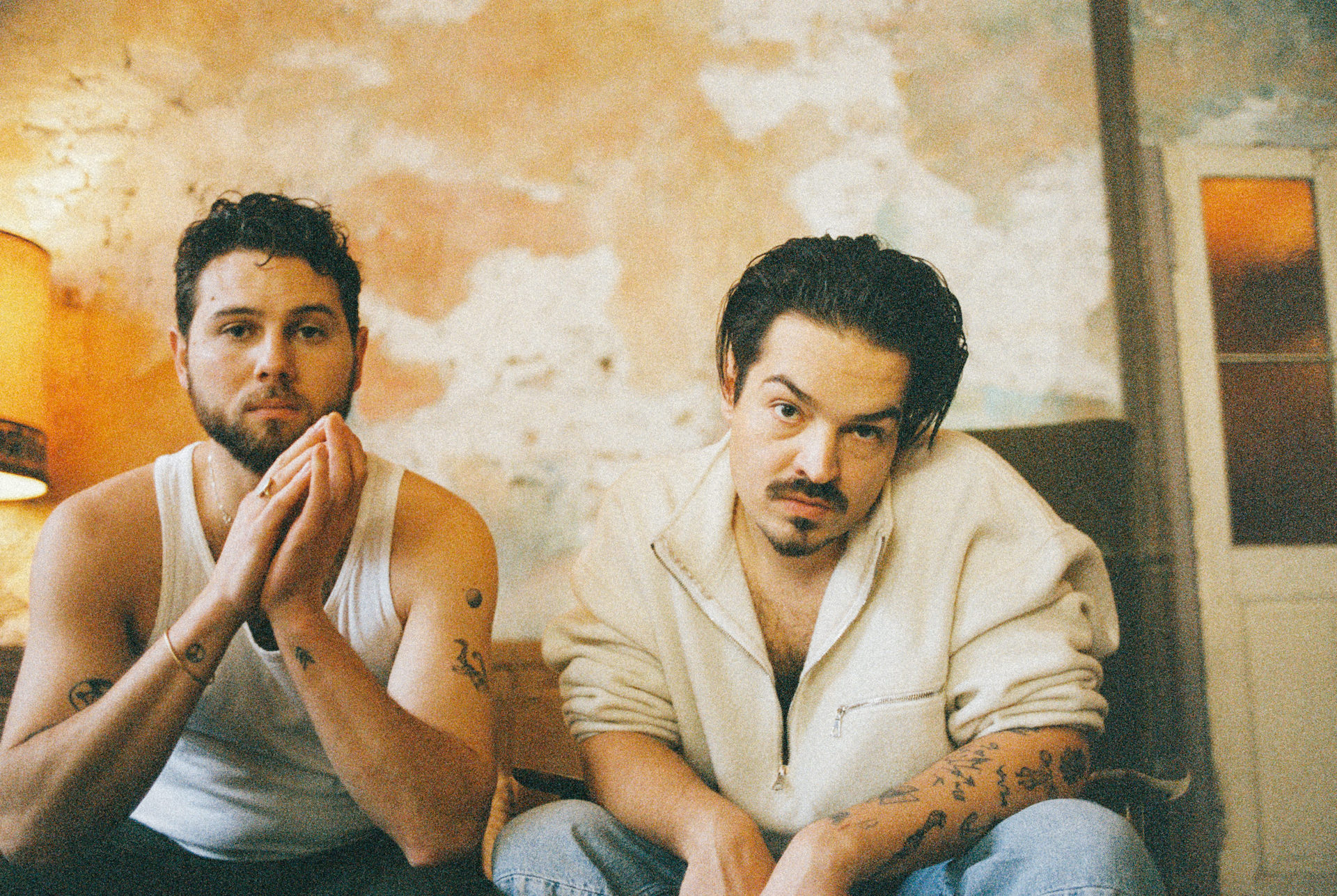 "Better Off" begins side two with another infectious groove. Don't let my highlight of danceable beats make one think that this is just a dance-oriented record. You will certainly be encouraged to get out of your listening chair to move around, but great music encourages movement. While much of the album proudly puts forth the club-floor aesthetic, most of the songs have an enjoyable and unique helping of ambient and atmospheric background to keep the listener engaged. As Rehbein explains, "In order to really connect with an audience...music needs a sense of physicality and movement."

On "Flicker in the Dark '' the duo collaborates with Malian artist Fatoumata Diawara who - along with her own illustrious modern African musical career - has also featured on a Gorillaz track. Damon Albarn returned the favor by recently lending his voice on a track of hers, "Nsera". The addictive guitar solo coupled with a West African influenced summer-time cadence is hard to resist; these elements work in tandem to bring "Flicker in the Dark" to the next level. "Like a Clown" fails to ignite the excitement of the rest of the album, but the song's spidery and clean-guitar riffs, determined tempo and evolving rhythm track keep the ears interested.
"History of Yesterday" features a guest vocal from Montreal based singer and songwriter, Charlotte Cardin whose deep, husky voice serves as a suitable accompaniment to Rehbein. Cardin, however, is a bit underutilized here, singing only one verse of the tune. Those who were wearing the production hats on this song should have nudged Cardin into a few more spots on this number, particularly during the song's middle eight.
Vocally, sounding loose and relaxed is a talent and Clemens Rehbein has it. His voice is grainy and his approach presents as a ruffled afterthought, but his lyrical attack is cool, calm and irresistible.  
The party begins to wrap up as the group puts forth, "Frequency of Love" which is the only true ballad on the album and highlights a different side of the duo's songwriting skills. It's an atmospheric, piano driven - almost jazzy - way to end an album that refuses to lose energy and forward motion throughout the preceding 11 tracks. There is a sonic landscape on this track that recalls Bowie (the Berlin trilogy, of course) and creates a welcome dreamy environment to serve as the album's delightful digestif.
The brevity of the album's songs is appreciated (the longest song clocks in at 3:38); like a quick but exciting theme park roller-coaster, once you exit the ride, you'll want to jog back on line and experience it again. Because the songs are short, the lack of filler means more killer. Vocals on most songs begin within four bars and avoid drawn out introductions. The mantra on Living in a Haze is to be kind to your audience and keep them wanting more. 
The black vinyl variant that I received is flat, perfectly-centered and extremely quiet and transparent - even before a cleaning - with deep bass that doesn't muddy your exploration of the record's other sonic attributes. The album was mastered by Zino Mikorey in Berlin and pressed - as you might have guessed - at Optimal Media in Germany who did an excellent job on this das wunderbar pressed album that is enjoyable to listen to at high volume. Prost!

Physical media is fabulous and "Living in a Haze" reminds listeners of the joy that can be found exploring a well-packaged and produced album cover. The graphic design and goodies contained herein are a treat for those who appreciate thoughtful aesthetics. The album's cover art displays a captivating college and the matte gatefold sleeve opens to reveal the musical duo mischievously enjoying a wild ride in a Target shopping cart. Included on the inside gatefold sleeve is as much production info as you can handle (though it is tricky to read). These details are valuable for those of us who enjoy reviewing the minutiae of an album's nuts and bolts. The jacket houses four items: the record sleeve which features more collage art in the same matte, light cardboard presentation of the exterior sleeve, and there are also three 12x12 one-sided lyric cards with an artistic mash-up on the opposite side. As is often the case, a picture is worth a thousand words but Milky Chance - and their independent label - have done a commendable job manufacturing an impressive physical package. And, I might add, they have done so at a very reasonable price point: brand-new copies of the record are currently selling online for $19.99.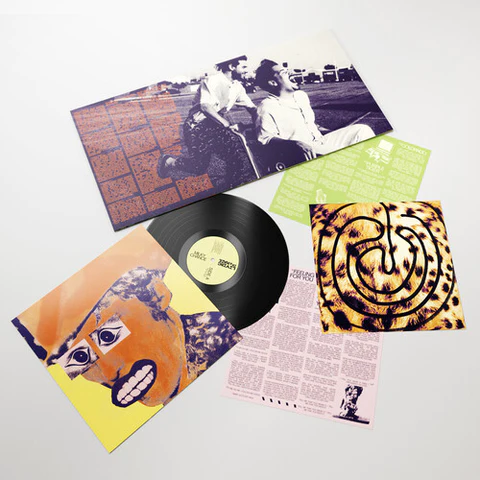 The addition of the lyrics is notable. While a first-listen might lead one to assume they've come across an enjoyable pop album (which they have), the depth of the duo's lyrics are impressive. So, having the ability to follow along with a very easy-to-read lyric sheet (or, sheets in this case) is a welcome addition. 
Milky Chance's latest release is pop-oriented and radio friendly, but - like the best music - it's well-crafted and addictively catchy. Our German readers might say, "Es hat einen guten Beat und man kann dazu tanzen." which translated into English is a quip famously used by Dick Clark on American television, "it's got a good beat and you can dance to it." But, of course, there's more to it than that: Milky Chance's Living in a Haze offers plenty to enjoy, in both sonics and aesthetics; das ist gut.