Mingus Box Set of His 1970s Atlantic Recordings Is A Treasure Trove And A Mixed Bag
8 LP set highlights the later Atlantic output of the great bassist, composer and arranger.
"You can't improvise on nothing, man; you gotta improvise on something", says Charles Mingus in his wild, wonderful autobiography, Beneath the Underdog. Mingus is perhaps best known as a free-thinking bass virtuoso, but the quote comes from the mind of one of the greatest composers in all of jazz. At my house, Duke Ellington reigns supreme on top of that particular list, but Ellington admirer Mingus is a runner-up, hot on the heels of people like Thelonious Monk, Miles Davis and Bill Evans.
Mingus' format as a deeply spiritual, playfully inventive and stylistically uninhibited composer, player and bandleader is very much in evidence on Changes: The Complete 1970s Atlantic Studio Recordings, an 8 LP (or 7 CD) box set of his late-era recordings for the label. 
First, a bit of local color. April 12th next year will mark the 60th anniversary of the night Mingus and his sextet, featuring Eric Dolphy, Dannie Richmond, Jaki Byard, Clifford Jordan, and Johnny Coles, played a legendary concert here in Oslo, Norway, directly underneath Edvard Munch's epic mural "The Sun" in the University auditorium. Legendary to us Norwegian jazzheads, that is – but this 1964 gig is worth watching for anyone interested in jazz.
While Mingus is best known for his 1950s recordings for Columbia and Atlantic and his early 1960s sessions for Impulse!, there is a treasure trove of music to be found in the records from his late period with Atlantic. Lesser known than earlier highlights like Pithecanthropus Erectus, The Clown, Blues and Roots, Mingus Ah Um and The Black Saint and the Sinner Lady, but still great.
Mingus re-signed with Atlantic in 1973, and recorded the seven studio albums collected here before his tragic death at just 56 in January 1979 from the neurodegenerative disease ALS, also known as Lou Gehrig's disease. The eight record in the set is a collection of outtakes, including four different takes of pianist Don Pullens funky, Bo Diddleyesque Mingus Moves outtake "Big Alice".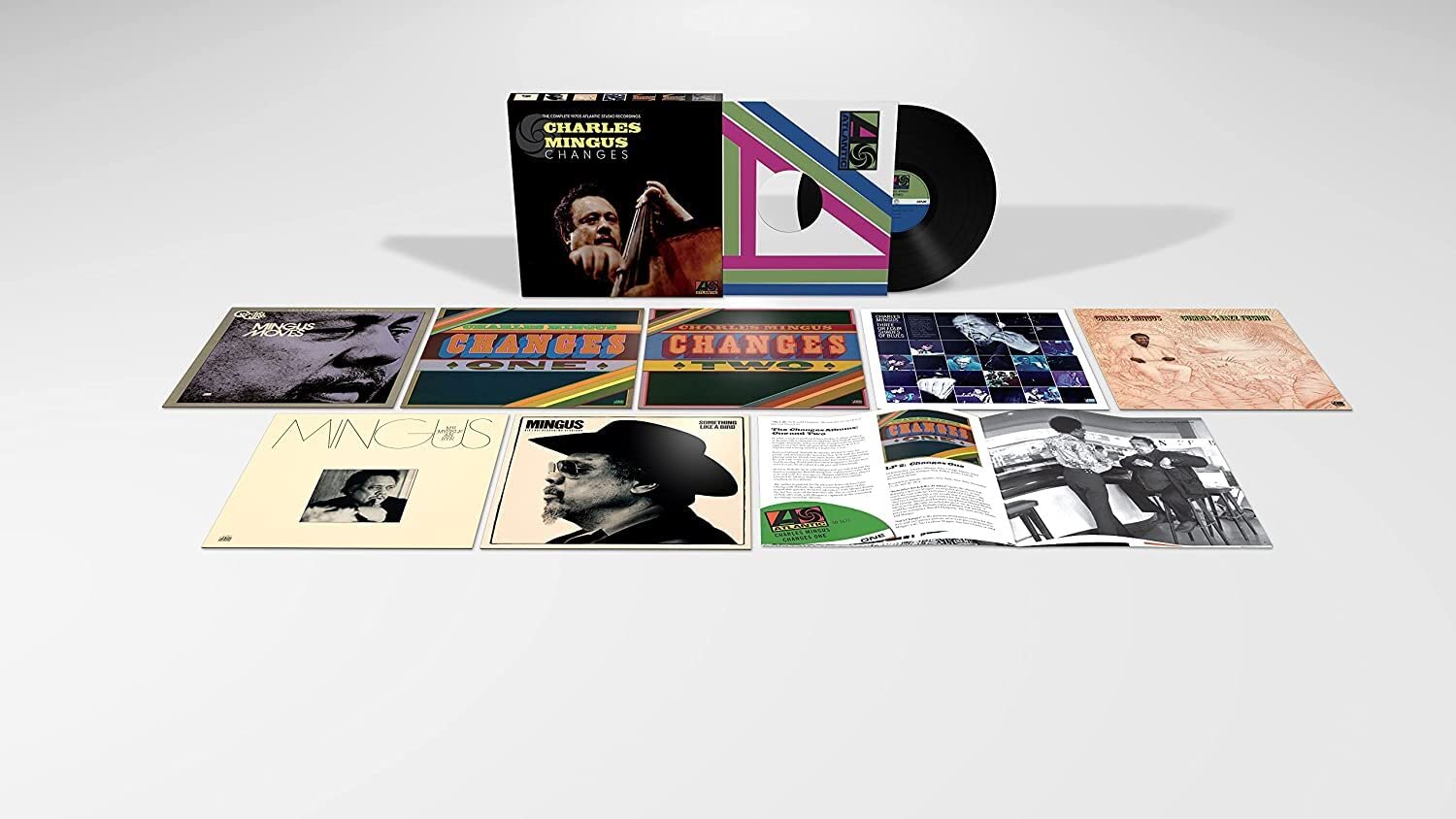 The albums were remastered, probably from digital master files, by John Webber at Air Studios in London. Webber also cut the lacquers. My emails to Air and Webber went unanswered, so I can't tell you why an AAA release didn't happen, nor about the origin or resolution of those digital files, or what adjustments (if any) were made during the remastering process. The good news is that the records sound pretty great, and mostly very close to the originals. Especially the three earliest records in the set, Mingus Moves, Changes One and Changes Two, are great sounding recordings, full-bodied and lively, with air and a percussive snap to the low end. Mingus Moves was produced by Neshui Ertegun, the two Changes by Ilham Mimoroglu, and all three engineered by Gene Paul. Sound quality drops a bit on a couple the later recordings in the set. They're not bad-sounding, but appear thinner and less airy after the first three. Webber clearly hasn't attempted to beef the less stellar-sounding recordings to a degree that would have bordered on remixing. 
The records were pressed at Optimal in Germany. The discs in my set were perfectly flat, with quiet surfaces throughout. The box comes with a full-size 22-page booklet with photos and new liner notes by Canadian musician and arranger Andrew Homzy. No big essays on Mingus and his 70s legacy, though, as you would wish for in a set like this. The covers are solid cardboard, with colors looking reasonably correct. For some reason, Rhino has a used scan of the cover of the quadrophonic version of the earliest album in the set, 1974's Mingus Moves, instead of the regular original. The inner sleeves are thick, unlined paper, which frankly isn't good enough. With the prices charged for reissues and box sets these days, consumers should be able to expect at the very least more vinyl-friendly polyethylene-lined inner covers, or even the rice paper-style specialized sleeves used by Acoustic Sounds, Mobile Fidelity and others. 
Mingus Moves was recorded in October 1973 at Atlantic Studios in New York City. "Canon", the opening track, is a quietly swirling pentatonic conversation between George Adams on tenor sax, Ronald Hampton on trumpet, and Don Pullen on piano. It has some stylistic echoes of John Coltrane and Pharoah Sanders, especially in Adam's playing. The hard-swinging "Opus 4" is more in the Ellington vein, with playful use of percussion and the exuberant stylings of Pullen. 
Pullen, Adams and drummer Dannie Richmond are also, alongside trumpeter Jack Walrath, at the heart of the two records that make up the highlight of the box set. Changes One and Changes Two, recorded over three nights at Atlantic Studios in the last days of December 1974, are among Mingus' minor masterpieces.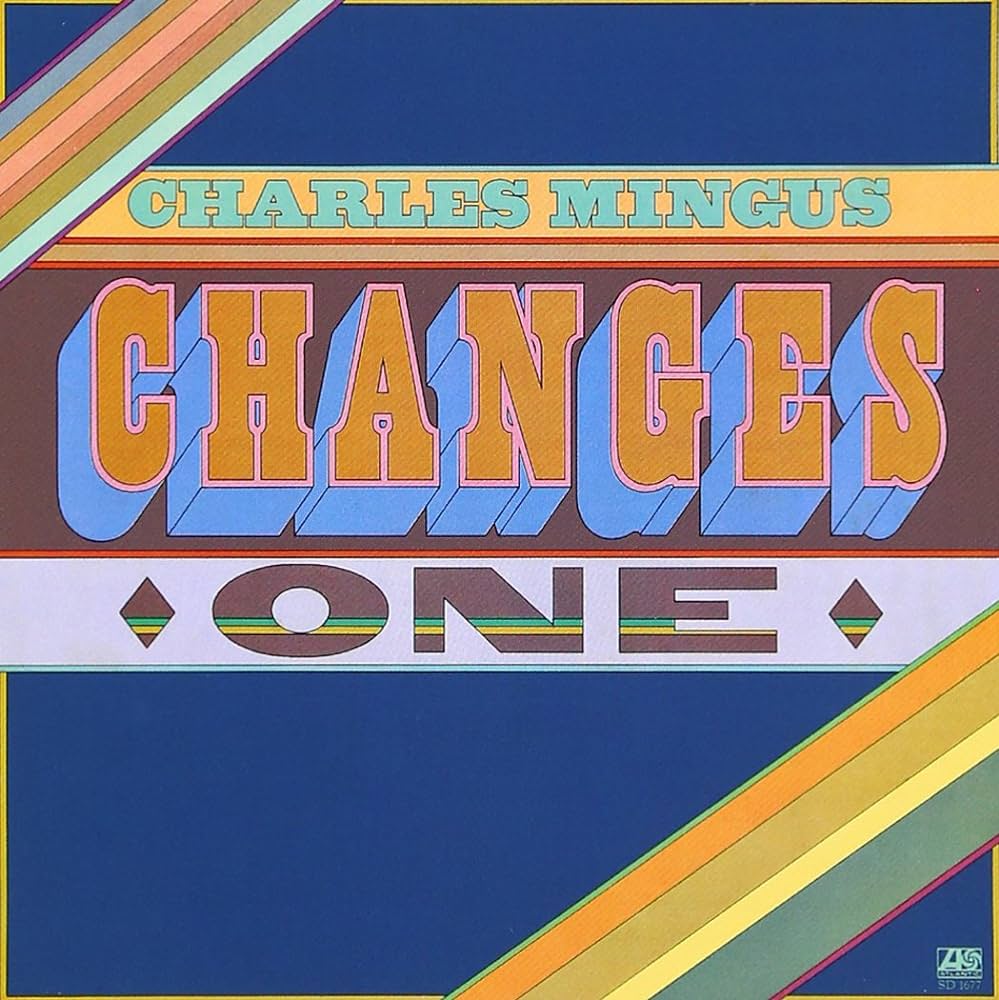 Changes One opens with the bouncy "Remember Rockefeller at Attica", but really comes into its own with the 17-minute long «Sue's Changes», written for Mingus' fourth wife. This sprawling suite ebbs and flows, immediately making clear that our man's genre-defying music was firmly based in a compositional style inspired by his idol, Duke Ellington. It doesn't quite reach the Duke's level of compositional sophistication, but is still a trip and total joy. Some listeners might struggle with the rather abrupt jump cuts between styles and tempi, or the free blowing towards the end, but that's just the kind of acidity you want in your sauce to keep it from being too syrupy.
On side two, Mingus' blues roots out are in full force on "Devil Blues", before the Ellington connection is made explicit with the tender ballad "Duke Ellington's Sound of Love»

Mingus was the undisputed heavyweight champion of song titles, often using them to address political issues. Changes Two opens with the swaying midtempo "Free Cell Block F 'Tis Nazi USA", which features some great tenor playing by George Adams. "Black Bats and Poles" is another barnstormer, with the signature Mingus combination of large group finger-snapping brassy swing and wilder, freer outings.
On Three or Four Shades of Blue, recorded in New York in March 1977, Mingus surprisingly brought in guitarists Philip Catherine, Larry Coryell and John Scofield. The album features "Better Git Hit In Your Soul" and a version of the seminal Lester Young tribute "Goodbye, Pork Pie Hat" from Mingus Ah Um. The guitar pairing show a willingness to think outside the box and move with the times, but doesn't gel entirely. It probably works best on the title track, a complex suite where Mingus references Tadd Dameron, Ellington, Count Basie, Afro-Cuban, Puerto Rican and East Indian music – and then some.  
Cumbia & Jazz Fusion, recorded at the same time as Three or Four Shades of Blue, was the last album Mingus played on, as he was diagnosed later that year with ALS. The  music was commissioned for the film Todo Modo, and follows the film's plot about cocaine trafficking from Colombia to New York City. The 28 minute long title track is a wonderfully opulent and funky, if perhaps slightly kitschy, musical journey from the jungles of South America (complete with a plethora of jungle sounds) to the streets of New York.
Me Myself An Eye and Something Like A Bird were both recorded in 1978 without Mingus present. He was in Mexico hoping to find a cure, or just some reprieve from his illness, and sent taped recordings of himself singing themes and melodies back to New York, where Jack Walrath arranged and orchestrated. Mingus' mastery as arranger is very much missed on an epic track like the fusion-y and somewhat overloaded "Three Worlds of Drums" on Me Myself An Eye.  It features a stellar lineup, including Michael and Randy Brecker, Larry Coryell (who plays a wonderfully wild solo), Eddie Gomez, Joe Chambers and Steve Gadd, but without the leadership of Mingus in the studio, they're mostly funking in place. 
After that exhilarating but somewhat heavy-handed fusion fest, the big band swing of Something Like A Bird serves as a retro reminder of where Mingus was coming from. Not everything in this box set is of equal importance, but the quality and versatility of his 70s output is still astounding. The fact that originals or even earlier represses of many of these records are relatively rare to come by in the wild, should also factor in when you consider buying.
As a whole, Changes: The Complete 1970s Atlantic Studio Recordings reads almost like an encyclopedia of jazz, showcasing Charles Mingus' amazing breadth and versatility as composer, arranger, player and band leader, his willingness to mix idioms, cross-pollinate and just let rip with everything he loved about the greatest American art form.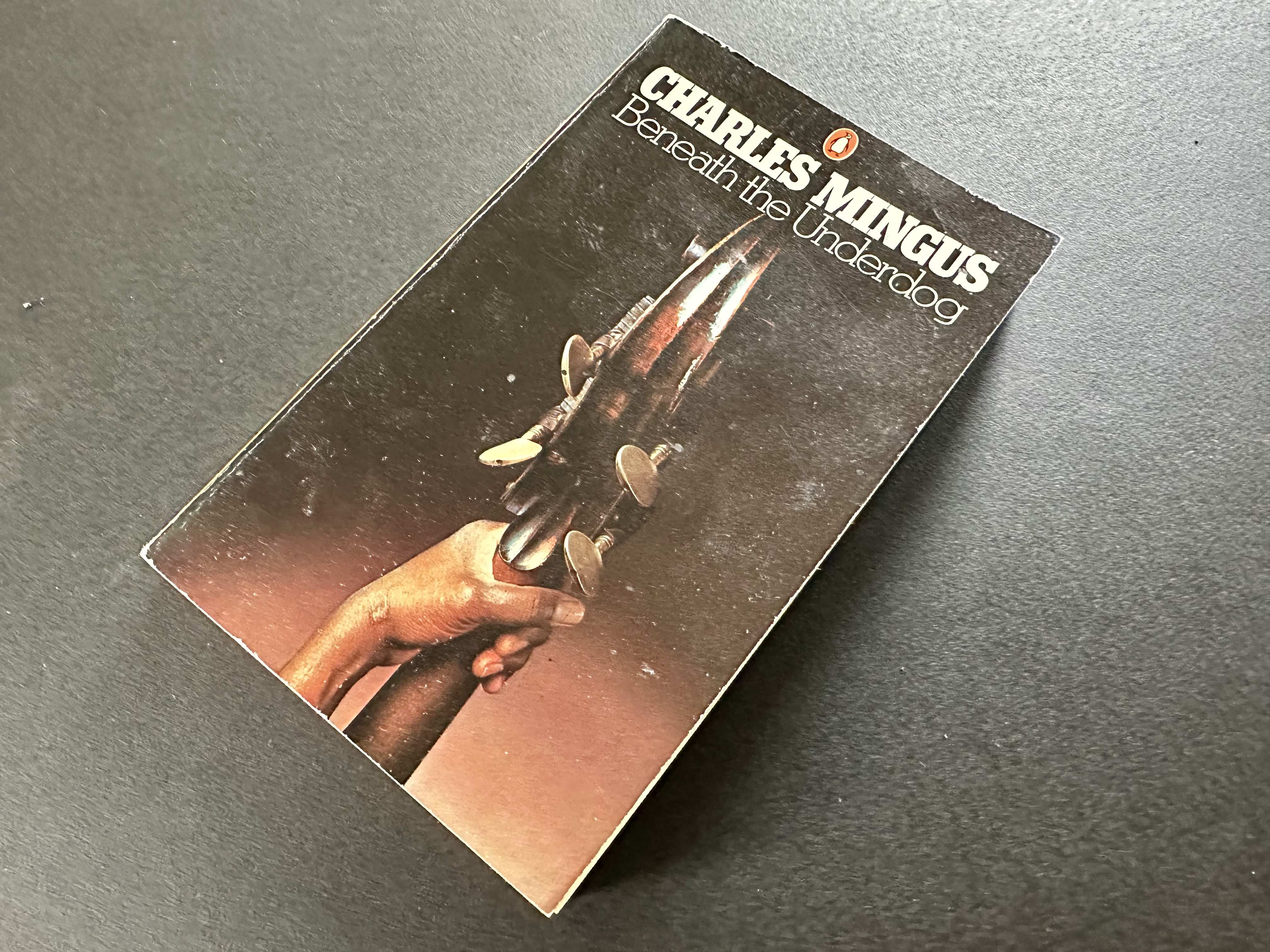 The author's well-worn copy of Mingus' autobiography. Here's another great Mingus video from 1964