"Peter Frampton @ 50" Box Set Rights a Musical Wrong!
these albums deserved a far greater audience then— they'll hopefully get one now
Peter Frampton left Humble Pie on the eve of its huge success with "Smokin'" but not before recording a few great ...Pie albums with Steve Marriott including As Safe As Yesterday Is and Town and Country. Frampton decided he wasn't born to be in a boogie band and for him the correct choice was to leave and chart a new course. That lead to a series of well-crafted, tuneful self-produced albums that took him into different, more inviting musical territory.
The three albums in this box set should have propelled Frampton to solo artist stardom but that didn't happen. It took the public another few years before he'd achieve superstardom in 1976 with Peter Frampton Comes Alive!—one of the all-time best selling live albums. The seeds for that double LP's success were in these records but the public never went back to look, which left them sort of "marooned" or "orphaned". Now, Intervention has brought them back in this three LP boxed set, leaving out Something's Happening, which was Frampton's third effort and followed Frampton's Camel. That was probably the correct call. Though the album included three songs that would be included on ...Comes Alive! the album wasn't as "happening" as the others.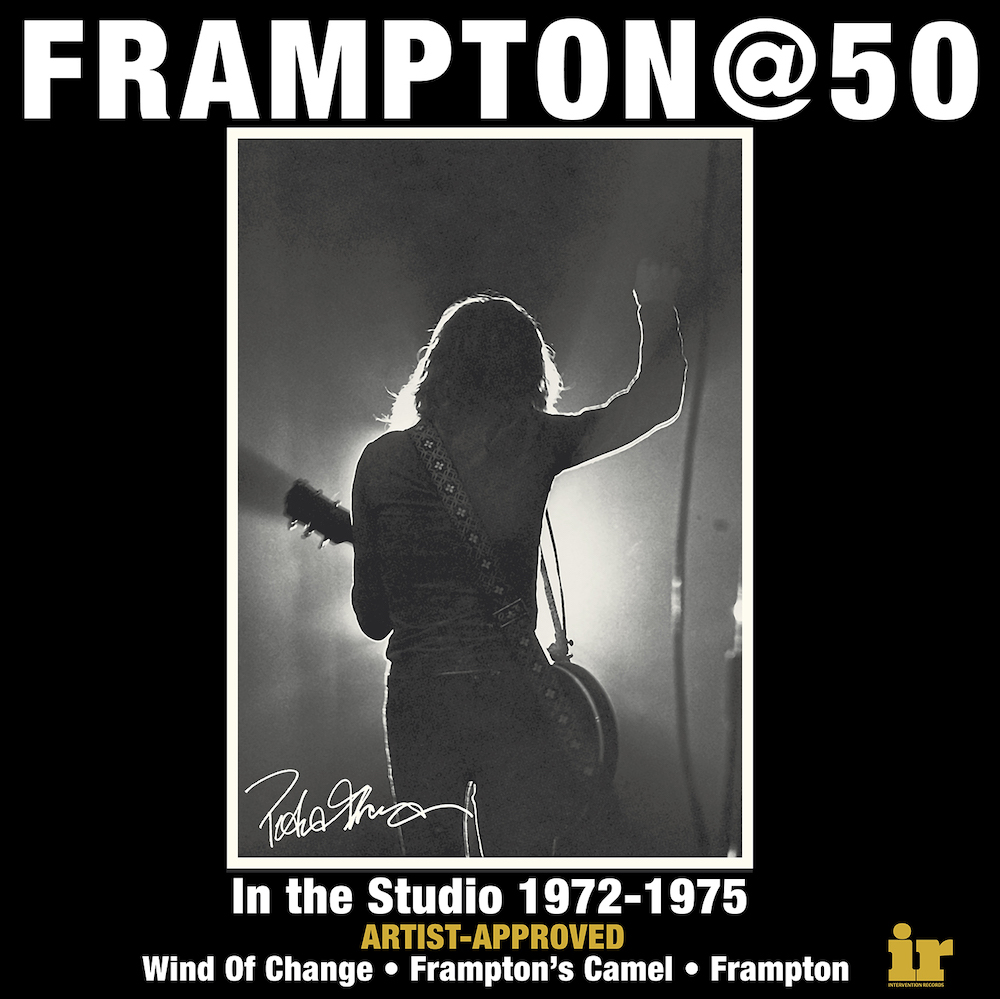 For the self-produced Wind of Change Frampton called upon some old friends including Andy Bown who'd been in his first band, The Herd, formed back in 1965 when Frampton was 16 years old. The Herd had a few hits before he left to form Humble Pie with Steve Marriott who'd exited Small Faces—one of the '60s greatest bands IMO—but not before teen Rave magazine voted Frampton "The Face of '68".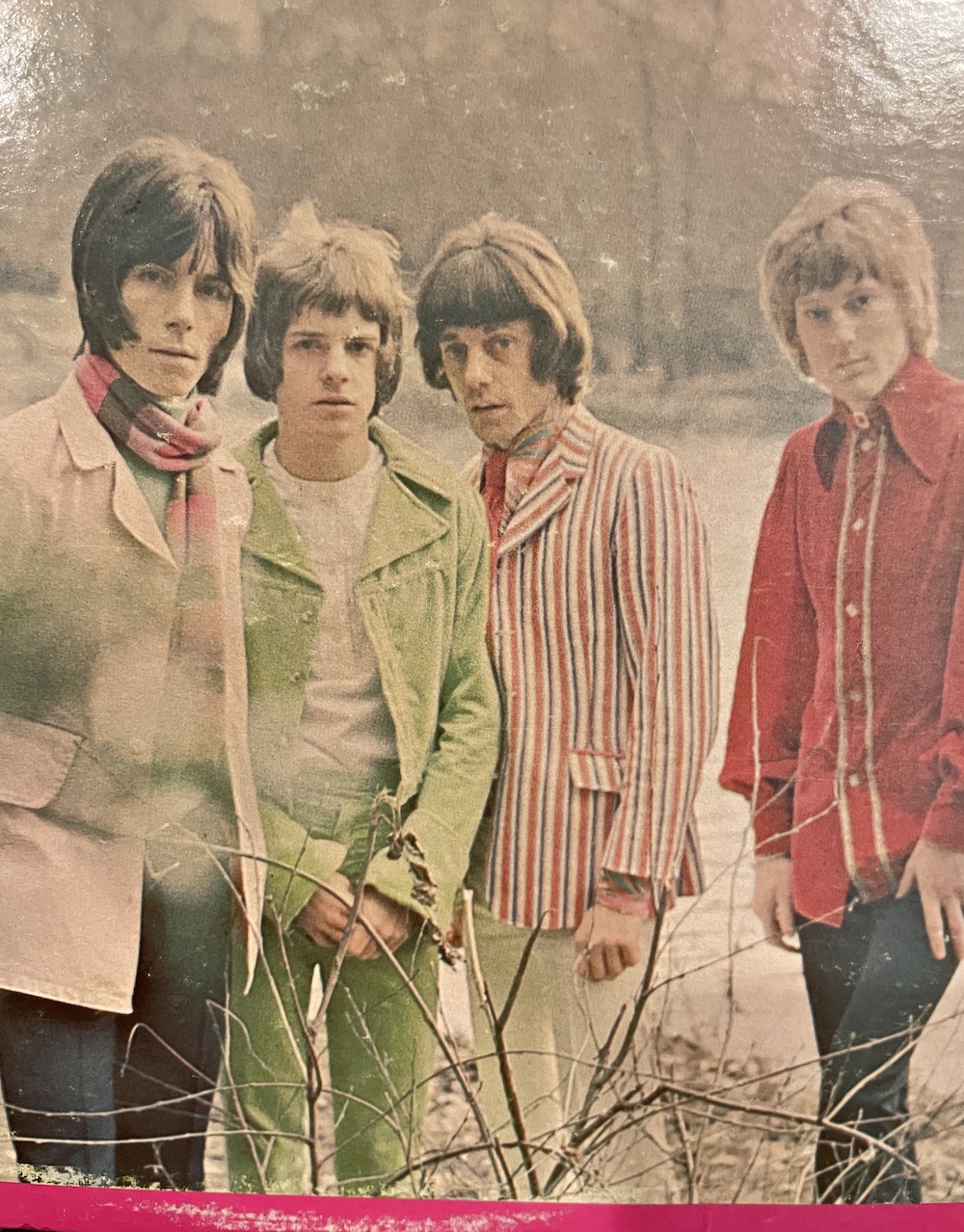 Frampton, then 16, wearing that green "thing" and saying to the camera, "What am I doing here?"
Frampton's Wind of Change all-star lineup included Spooky Tooth's Mike Kellie and Mick Jones, Rick(y) Wills who went on to play with Foreigner, Roxy Music and others, and of course Ringo Starr who plays on a few tracks, one with his pal Klaus Voorman. in addition to the players, Frampton chose to record the album at famed Olympic Studios (one track was recorded at Island) with Chris Kimsey behind the board and co-producing. Kimsey is probably best known for his later association with The Rolling Stones. Frampton also brought onboard arranger Del Newman whose string arrangements for Cat Stevens' Tea For the Tillerman was the beginning of a long association with pop and rock musicians including Paul Simon, Scott Walker, Nilsson and many others.
Wind of Change had everything going for it including A&M's backing. The label had signed Frampton as a solo following Humble Pie. Despite all of that, the album stiffed at 177 on the album charts. It must have been a huge disappointment to Frampton, especially since it was a self-guided release.
But now here it is, back, in all of its rich with acoustic guitars glory, mastered from a really fine sounding analog tape. The album opens with two meditative tracks "Fig Tree Bay" and "Wind of Change" and then heats up with the lilting "Lady Lieright", a not particularly distinguished "jazzy" cover of "Jumping Jack Flash" (better sounding now than in 1972) and then "It's a Plain shame", which made the ...Comes Alive cut along with the title tune, "All I Want to Be (is by your side)" and "Jumping Jack Flash", which makes more sense on a live set. The music resides at the pleasing intersection of rock, pop and acoustic jazz.
Perhaps the live set buyers figured they already had these tracks so why go back to the studio versions? Why? Listen here and you'll know. These versions are more intimately played and arranged and show off Frampton's "musical goodness" and sincerity before the "blow kisses" phase overwhelmed his innate foundational musical sensibilities. Del Newman's arrangements on "Fig Tree Bay" and "Oh For Another Day" are highlights. Not every system can fully unravel the flute and marimba parts on "Fig Tree Bay", which are easily lost in the musical swim. They are almost shockingly laid bare on this re-master but not because they've been spotlit.
I'd abandoned my original U.S. pressing for a Japanese one that must have been cut when the mastering house had abandoned the preview head for a digital delay line. For years I thought it was just a blah recording, but wow! It's actually as good as you'd expect from Olympic. Chris Bellman nails it, as usual. Dare I say it? Yes I will: on this reissue Wind of Change "comes alive"! The worst you could say about this record is that minus Steve Marriott's manic energy, the rocking isn't as heavy as it had been, but that's okay. Frampton's guitar work acoustic and electric was stellar. The outstanding pressing quality, with plating at RTI, proves that Cleveland's Gotta Groove can press with the world's best.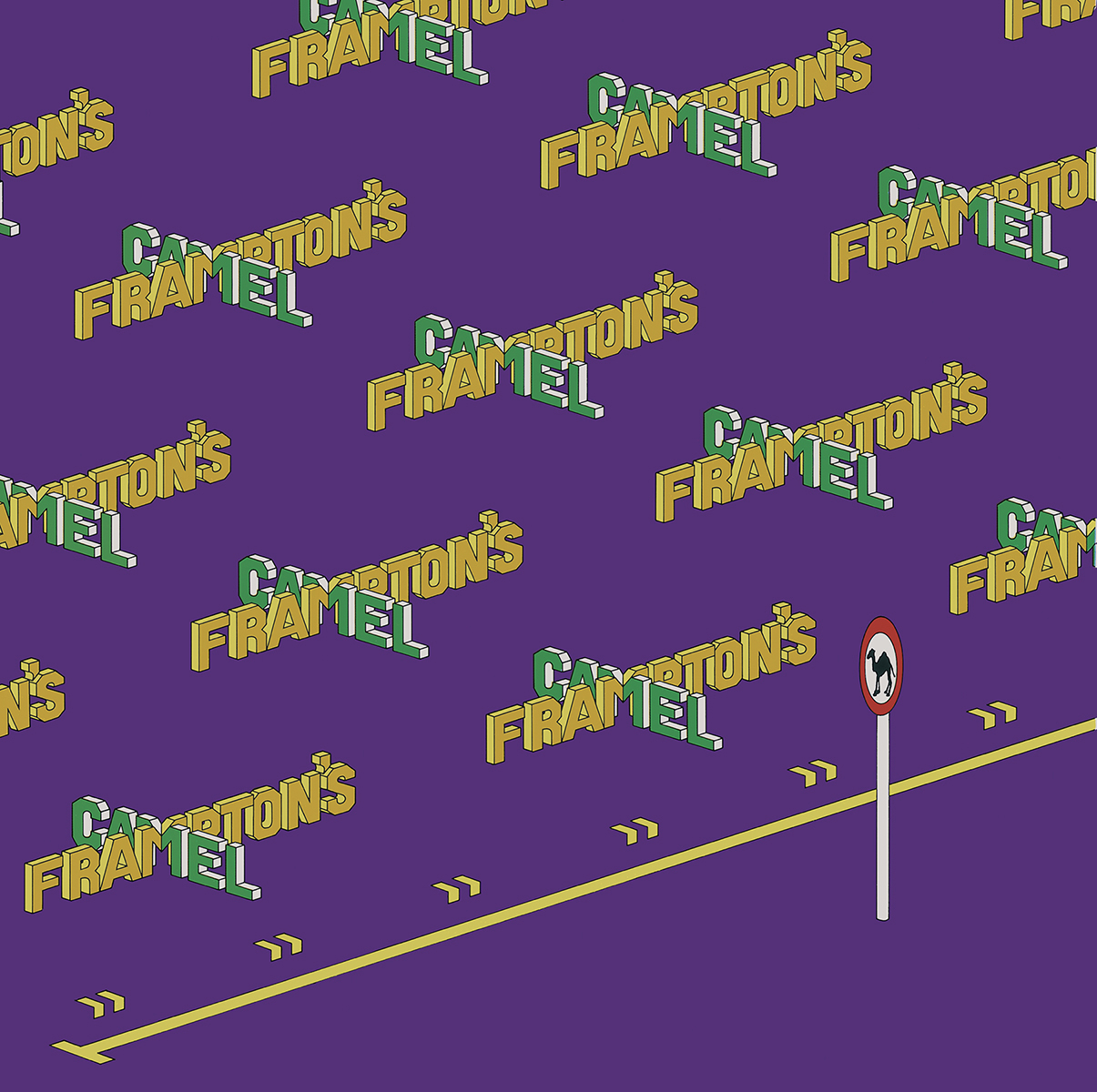 The next year Frampton decided the solution to the chart doldrums might be a group effort so he formed Camel with Wills, John Siomos and Mick Gallagher. Gallagher, best known as a member of Ian Dury and the Blockheads, also joined The Animals for a short time after Alan Price exited. The Gallagher-Frampton "good timey" collaboration "All Night Long" is one of the album's highlights. "Lines on My Face" hint at Frampton's falling under Stevie Wonder's musical influence and his side ending magnificent cover of "I Believe (When I Fall In Love With You It Will Be Forever)" ices the deal. "Lines on My Face" and "Which Way the Wind Blows" express the singer's troubled personal life at the time, but always the optimist he ends with the Wonder tune.
The album's mix of heartbreak, optimism, the rousing anti-coke rocker "White Sugar" and the beautiful ballad "Just the Time of Year" plus the audience bonding closer "Do You Feel Like We Do" add up to a "can't miss" album that did. It chart topped at 110 and great singles like "Do You Feel Like We Do" did nothing.
This was when I was late night on WBCN in Boston and playing the hell out of these first two albums. Frampton's Camel was playing at The University of Rhode Island so I ended up sitting in the backseat of someone's car with later to become The New York Times's chief music critic Jon Pareles. We both knew something was happening.
Later, Frampton was in Boston, heard me going on about him and he called in. Watch the recent interview video below. This album was mostly recorded at Electric Lady Studios in New York with Eddie Kramer behind the board with additional recording at Olympic. This re-master sounds good but not as revelatory as the Wind of Change in this box. The tape sounds a bit less "sparkly" and extended on top but it still sounds better than the original Japanese pressing I've got here. and possibly it's what the original sounded like as well. Don't get me wrong: it sounds good!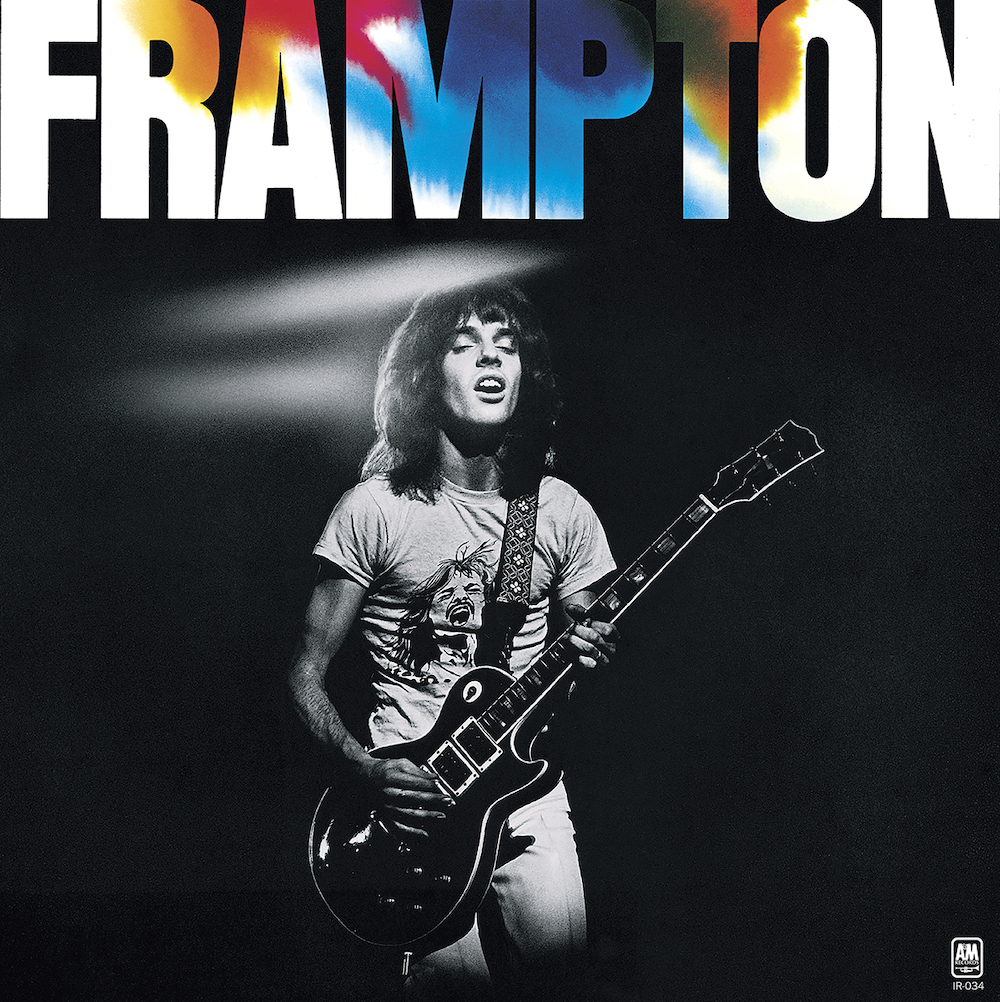 A less visionary label head would probably have axed Frampton by this time, but Jerry Moss and Herb Alpert were believers. The box skips over Something's Happening, so onto Frampton released in 1975. Frampton returned to the U.K. to record in a castle using Ronnie Lane's "Reels on Wheels" mobile studio with Chris Kimsey behind the board recording a trio: Frampton on guitars, piano, organ, bass and "talkbox", which he first heard at Abbey Road during George Harrison's All Things Must Pass sessions, John Siomos on drums and percussion and old bandmate Andy Bown on Fender bass.
The stripped down approach yielded a far less busy production that allowed Frampton's guitar work to really shine and the rhythm section to effectively drive the grooves in the new tunes, which were also finding new footing and energy, definitely influenced again by Stevie Wonder. Listen to "One More Time" and side one's closer "Fanfare". The Wonder influence is clear elsewhere but Frampton makes it his own.
When an album has a classic like "Baby I Love Your Way" buried mid way on side two you know you have a great record. The album closer, ("I'll Give You) Money" is about as "hard rock" as Frampton got on these post Humble Pie albums. The album's higher energy, instrumental clarity and uptempo vibe pushed the album to #32 on the charts. Better, but still not high enough. Only one thing to do: put together a touring band and hit the road. That's what Frampton did following the release of this record, which was written and recorded in a very short timespan.
While the original Frampton came in a standard jacket, Intervention did a gatefold here with the original's insert printed on the gatefold inside. It's a nicely upgraded package for a strong Frampton effort and the sound is the most direct and upfront of the three. That's what happens when you strip it down and do what is essentially a "power trio". This record sounds fantastic! Better than the original, which sounded plenty good mastered by Arnie Acosta at The Mastering Lab.
This box is how a reissue should be approached: get master tapes, and if that's not possible get safety masters as is the case here, with Intervention getting 1/2" safety copies and providing that information on the jacket backs. Get a great production team organized to produce the reissue. Here Chris Bellman cut lacquers at Bernie Grundman Mastering and the lacquers were taken immediately over to RTI for plating. Gotta Groove in Cleveland pressed on 180g black vinyl. The pressings I received were 100% perfect in every way.
Stoughton Printing created the "Tip on" paper on board jackets with glossy finish that looks far more attractive than the originals. The only oddity is the photo on the back of Frampton's Camel, which looks noticeably washed out compared to other pressings I've seen. When I asked Intervention''s Shane Buettner about this he said that in order to get the color correct on the jacket front (if you look at 100 originals you'll see 100 different colors, but there is a correct one), the back photo had to look as it does—a bit washed out. Otherwise, everything about this set defines how reissues should be produced. The spine printing on the new Frampton's Camel jacket is upside down, you'll notice. That's purposeful. It's how the original U.K. pressing was printed and Peter wanted it to be "authentic", Intervention's Shane Buettner told me
Hopefully this limited to 2500 copies box set will sell out and it, and the individual LPs available separately on vinyl and on SACD will finally reach the audience they deserved to reach fifty years ago! Then musical justice will have been done!
Postscript:
Frampton, then 25 years old, and his manager Dee Anthony decided to embark on a grueling live tour aided by booking agent/impresario Frank Barsalona. Wally Heider recorded the Winterland concert in San Francisco, which was the source for much of Comes Alive. Late December, 1975 Frampton played the final album for Jerry Moss who asked where the rest was. He was down with a double LP set.
A few weeks before the album's scheduled release, shows in Commack Long Island, and Plattsburgh, New York were recorded, the former by Eddie Kramer, yielding "Show Me the Way" and the later by Chris Kimsey, which produced "Baby, I Love Your Way". The album launched while Frampton was still actively being promoted. All of the touring and promoting had paid off and the rest is recorded history. Frampton was still a young man and by then had attracted a young audience of teenaged girls who fell in love with his non-threatening good looks and the uptempo tuneful music.
Frampton played the old Boston Garden on a hot June 15th, 1977 and I dragged a bunch of people to see him unwind on his black Gibson Les Paul as he'd done in that URI gym only a few years earlier, but by this time he was pretty burned out and he spent most of the show satin shirt open, blowing kisses to the teenyboppers. A few weeks earlier he'd finished his Comes Alive follow up album I'm in You—the one with the open shirt cover shot and it was clear to older fans that Peter was on the wrong path. I produced local radio commercials for that album and even though I was a big fan, every time I'd mention I'm in You I'd follow it with a short sound effect of a woman screaming. Clearly Dee Anthony had gone from career guidance to career exploitation culminating in the debacle that was the "Sgt. Pepper's Lonely Heart's Club Band" movie.
Frampton fought back and forged a comeback and we are all so happy he's done that and that he'll be on the road this summer! And of course all of his fans for 50+ years are thrilled to see these three records get the Intervention treatment. Now equally thrilling would be reissues of: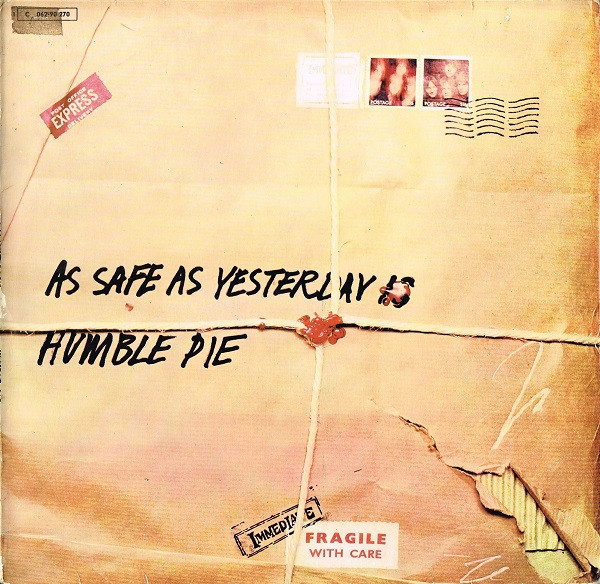 and: