"Thriller" Ala Mobile Fidelity
The 40K One-Step Is a Mixed Sonic Bag
Copy # 026812 arrived a few days ago so obviously this is far from the first review of Mobile Fidelity's edition of Thriller, but perhaps having the last word works well too.
Prepping for my expert witness turn in the civil trial of Quincy Jones versus the estate of Michael Jackson required me to listen to and sonically dissect all three of the Q/Jackson collaborations, though Bad was the most critical for the purposes of the lawsuit.
I also delved into the career and legacy of recording engineer Bruce Swedien, whose collaborations with Q begin in Chicago in the 1950s when Jones was with Mercury Records and Swedien was a youngster working for Bill Putnam at his Universal Recording Corporation, or as Swedien called him, "the father of modern recording". Putnam's list of accomplishments could and has filled a book. Swedien, by the way, got his first Grammy for his work recording at Universal The Four Seasons' "Big Girls Don't Cry", which is a superb sounding record. Quincy produced Lesley Gore's "It's My Party". These guys may have come from the jazz and classical worlds (Swedien started out in Chicago at RCA), but they were also well-suited for pop production.
Jones urged Putnam to move to California and with help from Frank Sinatra and tape recording pioneer Bing Crosby, in 1957 he opened at 6050 Sunset Boulevard, United Recording. A few years later he acquired Western Recorders, down the block at 6000 Sunset and re-named it all United Western Recorders. In 1985 Putnam sold the original United Recording studio to Allen Sides, a name familiar to many reading this, who renamed it Ocean Way. Today's EastWest Studios was formerly known as Western Studios, which was half of United Western and...it gets complicated and involved now defunct Cello Studios. The good news is that EastWest survives as a premier recording facility and both Putnam's and Swedien's names are held in the highest regard by anyone interested in the recording arts and sciences.
Despite by 1982 the onslaught of digital recording and the pressures to convert to it which believe me, were enormous, Bruce Swedien, who'd moved to California with Putnam, with a $750,000 budget (close to two million dollars today), chose to record and mix Thriller in the analog domain at Westlake Studios, a seven studio complex located not in Westlake, but in West Hollywood. Westlake was founded by recording engineer Tom Hidley who, among other things, had collaborated with "Madman" Muntz in the development of the first looped tape cartridge-based car stereo system.
What does all of this have to do with Thriller? Thriller was the analog culmination of the forty year history of Quincy, Putnam and Swedien, who would then use the digital Mitsubishi X-800 to record Bad, which was a damn good sounding digital recording!
The point is, given this history and given that the original mastering for the album, which remains the best selling album in history certified 38X Platinum was by Bernie Grundman working in close cooperation with Q and Swedien, it's not a legacy to be blithely forked with. These guys know what they wanted and got what they wanted, which is to to say their results are carved in stone or vinyl. And by the way, it was all recorded in eight weeks!
Mobile Fidelity claims its version has the approval of the Jackson estate. But then so did the recent 40th anniversary digital edition, which is a compressed, picket-fenced piece of sonic shite that Swedien, who passed away on November 16th, 2020 at age 86 of Covid related complications never got to experience. That listen would have killed him.
Swedien's complicated but carefully plotted microphone techniques produced dramatic, three-dimensional results. First, he'd record Jackson monophonically into a single Shure SM57, then he'd embellish that with repeated overdubs using a variety of techniques including using Blumlein pairs, all made easier to accomplish because of Michael Jackson's unerring vocal timing: he was able to perfectly track and duplicate previous takes.
This is but one reason the record sounded as great in audio salons around the world as it did on the radio. The record "popped", had tremendous three-dimensionality and at the time was an incredibly fun "listen". It combined pop and rock and funk and dance and sound effects and monsters and Eddie Van Halen, and Steve Lukather and much of Toto, out of wedlock children and Paul McCartney and Vincent Price. It had everything. Eddie Van Halen played so loud, the studio monitors caught fire and had to be put out with fire extinguishers.
Work proceeded around the clock. Quincy listened to more than 600 songs before choosing what's on the record. Four were Jackson originals. Rod Temperton wrote "Thriller" (originally titled "Starlight"), "Baby Be Mine" and "The Lady In My Life".
Vocals (repeated again and again and again) were recorded with the lights out. Duke Ellington had once told Swedien many years earlier at a Chicago session that "things don't happen in music until after dark". "The Girl Is Mine", the McCartney duet, was the first track recorded, with everyone playing live in the studio.
After nine songs had been completed, Jones chucked four of them and started over. After that slough off, Jackson brought in "Beat It".
In the end after all of that work no one was happy with how Thriller came out so it was all remixed, with each track taking a week to complete. Swedien did ninety one remixes of "Billie Jean" alone. Mix #2 is on the album.
Swedien was so fastidious and worried about tape degradation—particularly the transients— that he recorded rhythm tracks to 24 track tape and put the tapes away until the final mix so they wouldn't get repeatedly shuttled and lose their sonic "edge". Quincy, on the other hand claims that the rhythm tracks were recorded to 16 track machines and then were (are you seated?) digitized to preserve a sound he called "big legs and tight skirts".
By the time of Thriller's release, record sales were plummeting and stores were under tremendous financial pressures. Jones made the album his mission to save the record business and he did! Swedien said "We wanted the sonic values of Thriller to recharge the industry." And it did.
Quincy Jones said he wanted the album to be remembered not just for the music, but for the quality of its sound. According to one observer Quincy and Bruce were like "two bodies with one brain."
With "Beat It" complete, Swedien immediately assembled the master reels and took them to Grundman for a test cut, which he brought back to the studio. No one was happy. Jackson was left bawling. The problem was length. The record was too long. Cutting it meant dipping the level and compromising the sound on the tape. The team went back, spending a day on each song, editing, nipping and tucking it down to a completed length that could be properly cut.
To prep for the MoFi-original pressing comparison I played two early pressings that sounded for all intents and purposes identical. Both were pressed at Columbia's Pitman, New Jersey pressing plant. One is 2C/2D and the other is 2B/2B. Sony's Haarlem, The Netherlands pressing plant (now Record Industry) supposedly went 24/7 for months if not longer just pressing Thriller for world consumption. I hadn't played the album for quite some time so hearing it again on my current system was an ear opener.
First of all, as with most pop music, there's not much in the way of seriously deep bass on most of the record. The kick drum gets down to just below 50Hz. The bass, main synth and organ bottom out around 250Hz. Most of the sonic action is between 500Hz and 5kHz.
Nor is there compression in the recording. Swedien never used a compressor or limiter on the master, though on individual tracks he occasionally used a Universal LA2A tube compressor usually compressing 1 or at the most 2dB. The lack of compression kept things clean and not at all gritty, but overall bright. What Grundman had to do to in terms of dynamic compression never was documented, or at least that I could find.
Here's an interesting factoid: Bernie Grundman and Bruce Swedien were long-time pals and often worked together. Swedien in 1994 wanted Grundman to master the Jackson HIStory - Past, Present And Future - Book I
box set but in New York City at The Hit Factory. The set included remastered hits and new tracks so the studio was booked around the clock for Jackson in addition to two weeks for the new mastering, with Grundman shutting down his Hollywood facility for two weeks. Grundman had to be paid for all of this time and closed studio time too.
Grundman said in an interview you can read on the site UPROXX that the mastering charges came to around $200,000 alone! Swedien is quoted elsewhere as saying that CD mastering better captured the original recording than did the original LP. Well I have the 3 LP box of History (median price on Discogs is $300) so that made for an interesting comparison.
Playing the original pressing made clear that side one is the more aggressive sounding of the two, beginning with the post-disco "Wanna Be Startin' Somethin'", which has those super bright synth accents and an aggressive, glassine horn chart. The opening synth chatter—like darts to the eardrums— is probably enough to turn off many audiophiles but it was Quincy's wake up call to the rest of the music loving world. Despite all the left/right chatter, Jackson's voice remains in the clear, remarkably so.
The song's coda did start something: a lawsuit initiated by Cameroonian saxophonist Manu Dibango. The "Mama-say mama-say ma-ma-coo-sah" part was lifted from Dibango's 1972 disco hit "Soul Makossa" (which we used to refer to as "Solid Mucousa").
"Baby Be Mine" stays lively with a bright, prominent clap track offset by relatively deep synth bass and bright horn accents that sail into the fadeout. The McCartney duet ballad lets off the brightness pedal, giving the two vocalists room to express themselves. Swedien's vocal recordings are exemplary—even the spoken parts three-dimensionally large, yet intimate.
Other than the not particularly deep bass line and kick drum, the title track is also bright and noisy. If side one was bright and meant mostly for dancing, side two was notably warmer and meant more for listening. Both original copies produced that side one/side two sonic distinction.
Nothing on the opening track "Beat It" approached the harshness and brightness found on side one. The bright drum accents are there, but not nearly as sharply expressed or as prominent. The left/right vocal calls and responses to Jackson's centered lead are notably three-dimensional, hanging in space as few do in most pop music recordings. No mystery there.
Much of what was done on the Thriller album overdubs were true stereo recordings, which of course added depth, image solidity and immediacy. In his book "In the Studio With Michael Jackson", Swedien writes, "These true stereo images add much to the depth and clarity of the final production. I have a feeling that this one facet of my production technique contributes more to the overall sonic character of my work than any other single factor."
While "Beat It" shifts the sound compared to side one, "Billie Jean" represents a total sonic shift from commercial pop to a true audiophile recording, Swedien was clearly capable of producing and one of which Jones was certainly appreciative. By "Billie Jean" if listeners weren't hooked they'd never be so why not go for a really great sonic experience from that track to the end? If it was coincidental, so be it but I doubt it, so profound is the timbral shift from bright and hard to rich, deep and warm.
"Billie Jean" features the famous tamped down kick drum produced by a covering Swedien fashioned from moving quilts. The microphone was placed within an opening in the cloth. The entire kit sat on a drum riser—an eight foot wooden platform raised nearly a foot off the ground—designed to prevent floor coupling, similar in concept to what IsoAcoustics feet accomplish placed under loudspeakers. The riser helped keep the drum sound, clean and well-focused and the covering helped produce the particular drum sound heard throughout the album but most clearly on "Billie Jean".
Doing the One-Step
As I'm sure you know, MoFi has, for at least this release, chucked the older style box, which the company started with back in the 1980s when it issued UHQR records, in favor of a slimmer slipcase type package, which is a big improvement. It takes up less shelf space and is just a neater presentation. However, I realize MoFi has never been fastidious about the cover art, and so I don't expect high quality but the Thriller cover art here makes Jackson look like a figure at Madame Tussaud's Wax Museum. It's really inexcusable in this digital photography day and age. I know MoFi can do better here.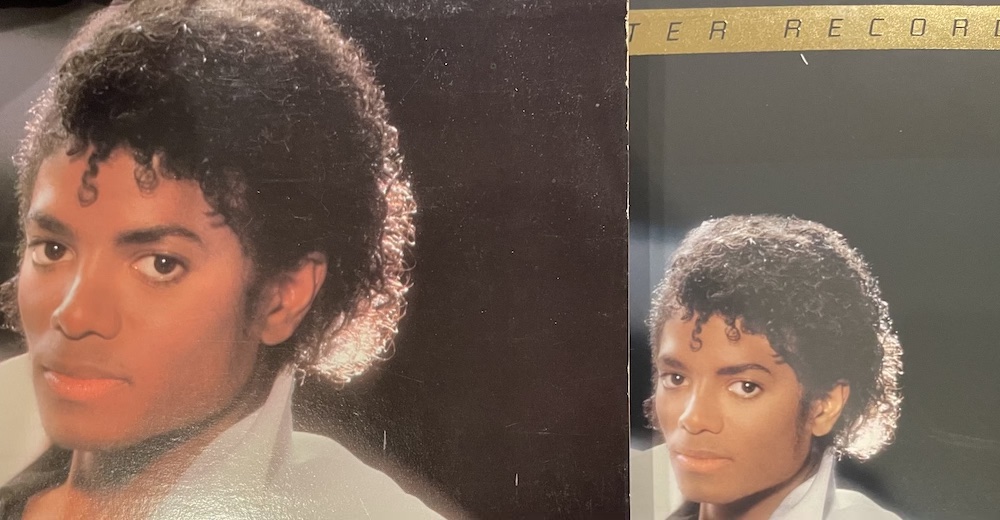 But as Berry Gordy famously said "It's what's in the grooves that counts" (or words to that effect). Producing the album as a "One-step" avoids generational loss as the plate pulled from the lacquer presses the records instead of being used for another round of plating to produce a mother from which stampers are pulled in the standard 3 step process. That's advantage #1 as long as the stampers gets refreshed every thousand records or so, which of course is how the skeptics began trying to understand how MoFi could produce so many stampers using "the original master tape".
The second advantage here is the use of the special NEOTECH vinyl compound, which is not exclusive to Mobile Fidelity. It costs more to produce and is more difficult to properly press but results in a much lower noise floor.
Here's the good news about this new Mobile Fidelity Thriller: unlike many other MoFi's going back to Stan Ricker's days, MoFi does not apply the "smiley face" EQ here, which can be heard on so many of the label's releases, including The Beatles box set, that caused Geoff Emerick to call the box's Sgt Pepper's... "RUBBISH" when I played it for him. He made me take it off.
The equalization choices here—if any—are modest. The guys wisely left alone what Swedien put on the master tape and the timbral differences between the original pressing and the new One Step if any are inconsequential. I hope that continues!
However, the lower noise floor allows a much lower level cut. Clarity is improved, low level detail is increased, and whatever timbral effects there are from digitization are minor, in part because the recording begins pretty bright and hard. Side one of the One Step Thriller is a success—not that the original is anything but successful in its own right.
BTW: the version of "Billie Jean" on the 3 LP History Past, Present and Future sounds like a mid 90's CD transfer. It's really annoying sounding!
Side two of the One-Step sounds as if the MoFi engineers either lost interest or weren't really paying attention to what the original intended—or perhaps the digital conversion has more of an effect they were unable to counter. The depth and warmth beginning with "Billie Jean" found on the original, goes missing on the One-Step, which frankly sounds more like a CD transfer.
Depth flattens not only in terms of soundstage, but worse, in the vocal imaging. Jackson's voice is warm, deep and three-dimensional on the original. On the One-Step it sounds flattened and somewhat hard and cold. The entire presentation loses the depth and warmth heard on the original.
Not that side two sounds bad. It does not. It just doesn't sound better than the original, nor does it sound as good IMO—and I appreciate that they didn't dial up the bottom and top as they obviously did on One Steps like Couldn't Stand the Weather (which when I played it for a prolific YouTuber had him saying "hmm pushed the loudness button on that one"), Blood On the Tracks and Tapestry. (BTW: the Fletcher-Munson curve, which posits that our hearing loses bass sensitivity at lower volumes is what was used to justify "loudness" buttons on 60's and 70's era audio gear. It's supposed to raise only bass frequencies but some mistakenly also boosted higher frequencies).
MoFi gives you an honest accounting of Thriller sourced from a digital file, carefully mastered, plated and One-Step pressed at RTI on the quietest vinyl. The original gives you an honest accounting sourced from a fresh analog master tape, cut by Bernie Grundman, supervised by Bruce Swedien, approved by Quincy Jones and pressed 3 step at a commercial high volume pressing plant.
Other than less than exemplary cover art reproduction, I think Mobile Fidelity's One-Step Thriller is worth the $100 investment. They took great care in what they did, especially in giving buyers what's on the file they created from the original tape, and the new packaging is a big improvement over the previous box. People who made the investment love the album and I'm sure many, if not most are happy with the result. But if you listen to a clean original side two on a good rig and step back from the hype, hysteria and pronouncements from the online instant mini-experts, well.....