Tom Petty and The Heartbreakers' 1997 Fillmore Residency Documented On 3 Vinyl Sets
how much fun do you want to have?
Tom Petty was a high schooler when Jimi Hendrix, The Doors and Led Zeppelin played the Fillmore Auditorium. Now, having tired of playing the hits in tight set lists for stadium crowds, the band booked itself into the Fillmore, January of 1997 determined to just play. Play some hits for sure, but also play the tunes that growing up set his and the band's musical hearts afire.
57 songs were in the list following rehearsals. They included everything from "Jammin' Me" written by Petty and Mike Campbell with Bob Dylan, The Zombies' "I Want You Back"' a "B" side Petty had heard the band play in concert when he was a kid, and of course hits like "It's Good to Be King" stretched out with guitar jangle and gentle sways of keyboards and tremolo fills, "Free Fallin'", and many other hits fans wanted to hear. But more to the point, these were sets the band wanted to play and hear.
These were crowds interested in the deep dive and the fun and that's much of the excitement in the grooves here as well. They did Elvis, Ricky Nelson, Bill Withers, Them's "Gloria", Kinks, Stones, of course Chuck Berry—a surf infused version of "Goldfinger"— even of course a Grateful Dead tune ("Friend of the Devil"), Booker T.'s "Green Onions", and some J.J. Cale too.
They booked Roger McGuinn, as an acoustic opening act and he later joined them for The Byrds songs. Carl Perkins was there too, and John Lee Hooker walked across the street from his Boom Boom Room and joined in.
They played 85 songs including a new one nightly. 58 tracks are on the deluxe box set's 6 LPs, including 35 covers totaling 4 hours, arranged for listening not in chronological order. So sides 11 and 12 give you rousers "Bye Bye Johnny", "(I Can't Get No) Satisfaction", and "It's All Over Now", "Louie Louie" on one side and "Gloria", and "Alright For Now" from Full Moon Fever, Tom Petty's first solo album that MCA didn't want to release and actually initially rejected.
The band was the core: Petty, Mike Campbell, Benmont Tench and the late Howie Epstein, joined by Scott Thurston on guitar and monster drummer Steve Ferrone who joined the band in 1994 after Stan Lynch's exit. The group was born to play "Eight Miles High" with Roger McGuinn.
How and why this high energy, guitar-driven stuff sat in the can for all of these years is a mystery (though tracks probably did appear on some CD compilations). It's so great, especially in these dwindling rock days. The level of musicianship is as high as you'll hear on a live set and Ulyate confirmed there were no post production overdubs. You are hearing the live playing.
If you like the sound of electric guitars you'll love the overall sound, the stereo spread, the depth and dimensionality too. There are no notes about the sound source recorded by Biff Daves and Westwood One on the set produced by Petty's long time engineer Ryan Ulyate and Mike Campbell but Ryan Ulyate' confirms the recording started life as 2" 24 track analog tape, 15IPS, Dolby SR, that was transferred to 96/24 ProTools and mixed "in the box". Ulyate's mixes are spacious, three-dimensional and models of clarity and timbral jingle-jangle. Vocals are well-recorded and presented.
The sound will not disappoint you: it's full color, three-dimensional and pristine.The analog-y nature of the source material shines through. Crank it up and enjoy the almost carefree, fun-filled era that's further and further away in the rear view mirror. You can almost choose your seat by setting the volume.
3 vinyl versions of the album are available (as well as 2 and 4 CD sets). The deluxe $174.98 6 LP numbered set box, with not a dud track among the 58 tunes, includes a full sized, nicely presented 26 page photo filled booklet that includes San Francisco Chronicle music journalist Joel Selvin's annotation and a folder full of tchotchkes including guitar picks in a CD sized insert, a "the fillmore house band" cloth sew-on patch, an all access back stage pass replica, an LP jacket sized color poster, a trio of set lists with pen and pencil drawn changes, and a copy of the official Spring-Summer 1997 Fan Club Newsletter, which was all about this event, including that the final night, February 7th, was a three-and-a-half hour long show!
The second vinyl option is a $49.98 3 LP triple gatefold set that includes 33 tracks, 18 of which are covers for a total of 2 hours of music plus the Selvin annotation as an insert. It's got a fine set of Petty faves, guest spots and covers. You'll have to research the tunes to decide if the deluxe box is worth your while and money and while the box's extras are kind of superfluous fun, the 3 LP set misses a lot of great music. The Record Industry pressing quality is uniformly high throughout.
The third vinyl option, for uber-fans and people with lotsa money is the $549.98 6LP Uber Deluxe Limited Edition set of 500 exclusive to the Tom Petty Store that includes a lot of "stuff".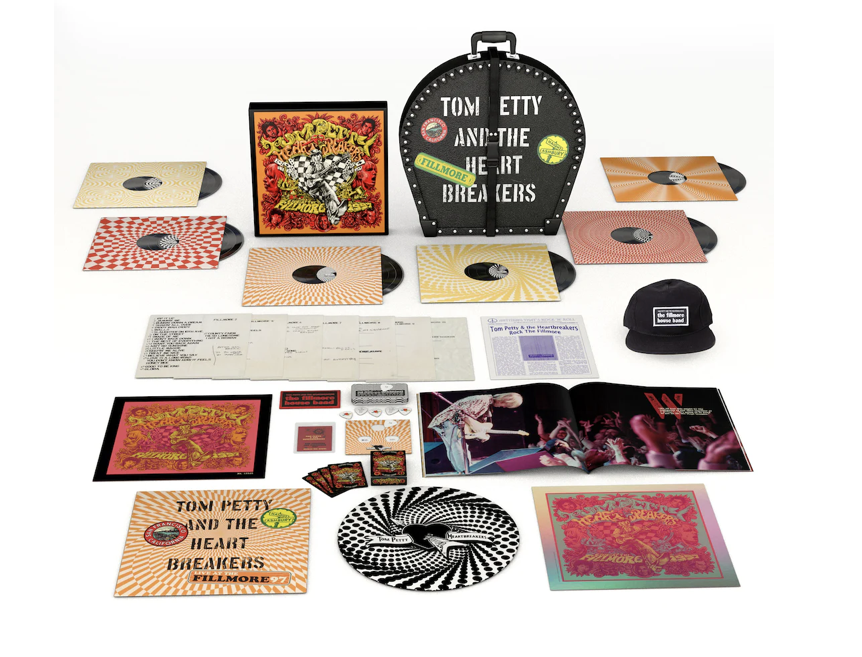 Ah, Joel Selvin! I remember visiting Selvin back during The Tracking Angle magazine days insisting to him that vinyl was the best way to enjoy music and predicting what has come true, which he thought was absolutely crazy. LOL etc.
Finally, there's this wonderful encounter between good friends Tom Petty and Garry Shandling, who was an audiophile by the way, who owned Wilson Alexandria loudspeakers. You'll surely enjoy watching the two of them. Petty was also a guest on the Larry Sanders show and that stuff if also somewhere on YouTube.