UHQR "Can't Buy A Thrill"—You Can Buy a Thrill
a remarkable "pick up" band's assured debut
When Steely Dan recorded "Can't Buy a Thrill" it was more of a "pick-up" studio band than a "group". As Donald Fagen recounts in the notes accompanying this new UHQR release sourced from the original master tapes (shown on the notes insert), Fagen and Walter Becker had failed as ABC Dunhill "staff composers" and decided it was time to live the dream leading a real band.
The pair called their friend New York guitarist Denny Dias and producer Gary Katz (who'd gotten the duo their staff composer job) called "...a couple (of) guys he knew from Boston, drummer Jim Hodder, late of Boston psychedelic band The Bead Game and Jeff "Skunk" Baxter, late of Ultimate Spinach and a stint at famed Jack's Drum Shop on Boylston Street adjacent to The Berklee College of Music. 
Hodder, who drums and sings lead here on "Midnite Cruiser"and on "Dallas", the group's first single that targeted commerciality and veered far from Becker and Fagen's core artistry, quit when his role was diminished to back up singer, as heavyweight drummers Jim Gordon and Jeff Porcaro took over that job. Hodder, who went on to work as a session musician, died in a swimming pool drowning at his home in 1990 age 42. Baxter went on to The Doobie Brothers and then much to the "shock and awe" of music fans became a missile defense consultant for the U.S. military. Palmer, who sang "Dirty Work" and "Brooklyn (Owes the Charmer Under Me)" as well as double tracking many of Fagen's vocals to hit the higher notes, is now a digital photographer.
The tale told on Denny Dias's Wikipedia page tells a somewhat different story about how "the Dan" formed than how Fagen tells it. Nonetheless Dias, who's still with us, and who plays the "Do It Again" sitar solo, continued with the band as a session musician following Becker and Fagen's decision after the Pretzel Logic tour to break up the band. He appears on Katy Lied, The Royal Scam and Aja.
Guitarist Elliot Randall, whose solo on "Reelin' in the Years" is now legendary and who repeated that role in 2009 when Steely Dan played Hammersmith Apollo in London, also has a Wiki page with some interesting "stuff", some related to Becker and Fagen and some not. The page says he made some demo recordings with the duo when in 1970-1971 they were touring in Jay and The Americans' back-up band. One can imagine the vocal-reticent Fagen (who in retrospect has nothing vocally to apologize for having forged an original instantly recognizable vocal style) listening to the operatic voice of Jay Black (né David Blatt) hitting those high, dramatic notes on "Cara Mia" and the group's other hits. His page also says he was a childhood friend of Jeff Baxter's and that's the connection. Fagen writes that Randall's participation on Can't Buy A Thrill was because he was "...a friend who happened to be visiting the studio that day."
Does this disputed history really matter? Not really but it adds some interest to a review of a record that's had fifty years of coverage (the album was originally released November, 1972. All that's left to say about the songs, the playing and the singing is that it's a remarkable debut album that instantly identifies the Becker/Fagen sound (though it's not there consistently throughout) and Fagen's incisively drawn character studies. Also clear are the duo's jazz predilections with Victor Feldman on percussion, "Snooky" Young on Flugelhorn and Jerome Richardson on tenor sax. Many jazz greats would sit in on future sessions.
So how does this latest and most costly edition sound compare to "others"? I listened to an original "1A" ABC Records pressing (ABCX-758), a Japanese reissue (VIM-4044), a 2000 Speakers Corner reissue cut on Neumann lathe 320, which at that time resided at the Emil Berliner Studios in Hanover, Germany, and the brand new "commercial" version Geffen Records just reissued from a digital file, plated at GZ Media and pressed at Precision.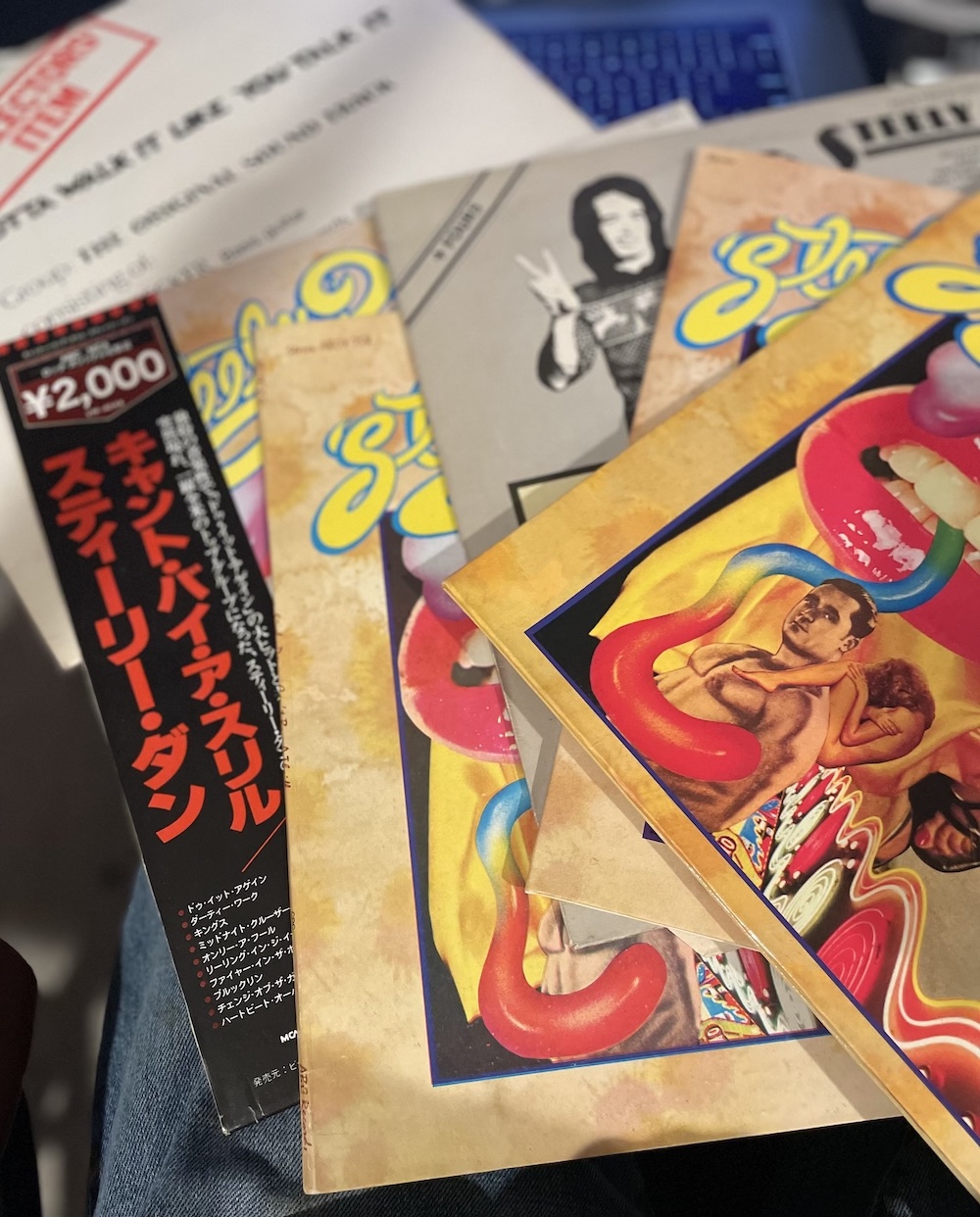 You'll also see in the picture a Steely Dan English 45rpm EP containing "Do it Again", "Dallas", "Haitian Divorce" and "Sail the Waterway". Behind that is a reissue of a Becker/Fagen oddity: calling themselves "The Original Soundtrack" they recorded this oddity soundtrack for the movie "You Gotta Walk It Like You Talk It" with Denny Diaz (sic) and drummer John Discepolo, produced by Kenny Vance (né Kenneth Rosenberg) who was an original member of Jay and the Americans, which released fifteen albums, by the way.
Excuse me for interjecting here but that movie was directed by Peter Locke. Peter Locke is co-founder of The Kushner-Locke Company. Kushner produced both "Animalympics" and "Tron" the two films I worked on and if memory serves, Locke hired me to edit the trailer for "Rude Boy" the movie featuring The Clash.
Vance was working at the famous Brill building when in 1967 Becker and Fagen knocked on his door and played for him their songs, which he liked and so offered to manage and produce them. The duo wrote horn and string sections for Jay and the Americans albums. In 1971 Vance brought to producer Richard Perry the Becker/Fagen song "I Mean to Shine" who brought it to Barbra Streisand. She recorded it for her album Barbra Joan Streisand. Vance is still around. It would be foolish to not track him down for an interview.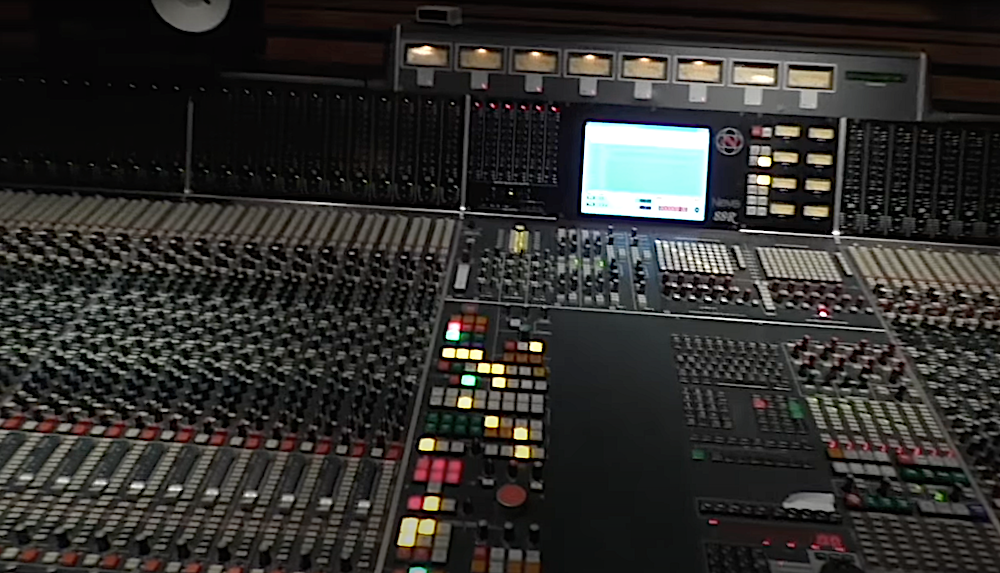 The Neve board at The Village Recorders
Oh, right! The listenings. If your "go to" copy is the Speakers Corner edition, chuck it. It's been bass boosted and compressed and sounds thick and not particularly good. The Japanese reissue is better but still clearly from a secondary source though as usual very well pressed. The American original is very good! Cut from a fresh tape and my copy at least, bought new in 1972 still sounds great: "punchy" and bright and open on top in a good way. If you have that and you're only a casual Steely Dan listener, you are good to go.
When I first listened to this new UHQR, having "grown up" with the original, I thought it sounded a bit soft and almost anemic, but it's cut at a relatively low level, which the Clarity vinyl makes possible without having noise get in the way. It's a very quiet vinyl formulation.
This means you can really crank up the UHQR. In fact, to really enjoy it, you must. When you do, the music will come to life on top, the midrange will bloom with detail and the bottom will be firm, deep and satisfying. Vocal clarity and "body" benefit greatly from Grundman's mastering, yet Victor Feldman's percussive accents remain sharp, clean and present.
Start with side three's "Reelin' in the Years", especially if you are acclimated to the original pressing and I think you'll be sold on your purchase. If not, spend a few more dollars for the new mastered from digital Geffen/UMe edition (B0035111-01). That will do it.
The UHQR packaging is as usual, very high quality. The laminated Stoughton "Tip on" jacket is beautifully produced and the image reproduction very well done. The track listing on the back cover has been updated to show four sides. And of course there's no bar code.
For those squealing about the wooden dowel box and how much shelf space it takes up, remove the jacket from the box, put the box in the basement or attic, give it away, or return it to Acoustic Sounds so it can be sent to someone who wants it. Now everyone can be happy!
One final thought: I enjoyed every play, even the lesser sounding ones. The musicianship is so good on this record. Even the tunes that don't quite hold up well fifty years later are well played. Who's doing this kind of work today in rock?