UHQR "Rastaman Vibration" Gets the Riddim Right!
Only around 300 copies remain of this limited to 3500 copies release
By the time "Rastaman Vibration" was released in 1976, Bob Marley had already released seven albums, the first four of which had limited distribution outside of Jamaica. "Catch a Fire," his first for Island, released in 1973 with the famous Zippo lighter flip up jacket, was a big deal in American reggae-loving outposts like Boston, where the 1972 low budget film "The Harder They Come" starring Jimmy Cliff had been a major sensation running throughout the summer of 1973 in "herb encrusted" midnight screenings at Cambridge's Orson Welles Cinema.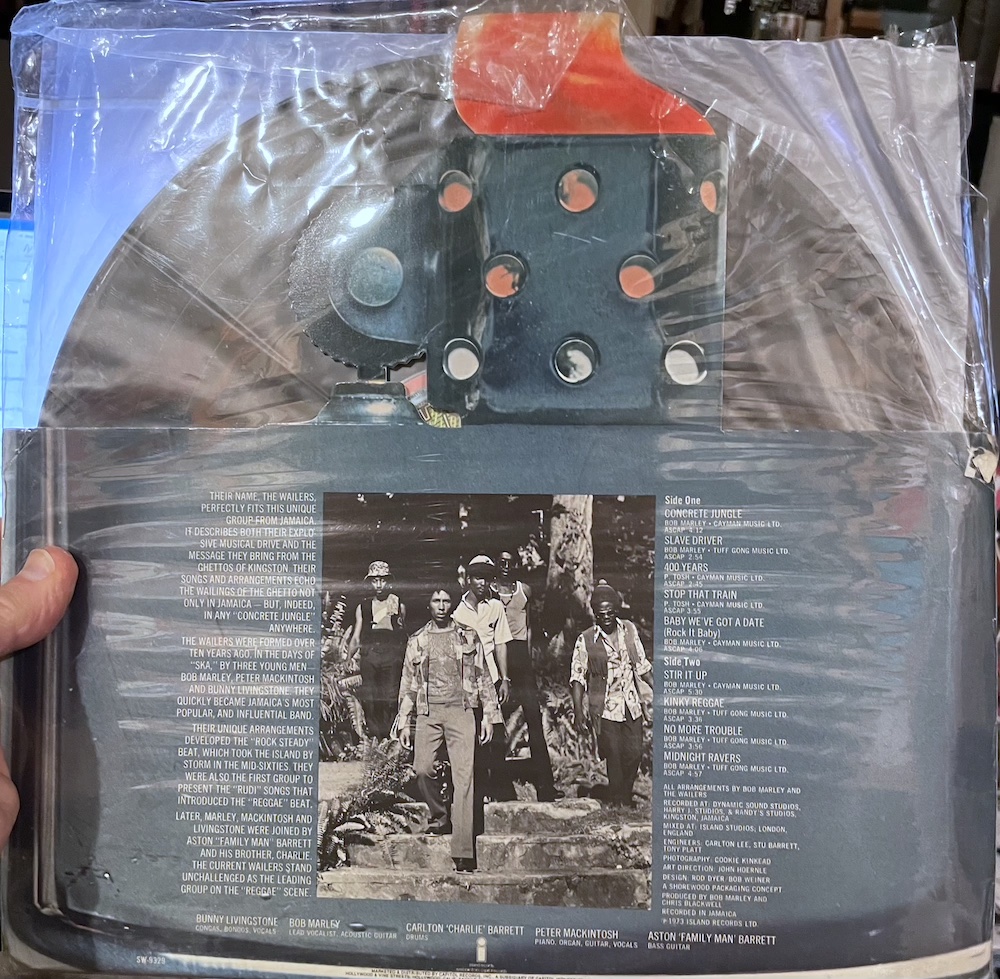 I'm sure the top of the Zippo lighter cover is somewhere between records but in 30 year's of looking I've not yet. been able to locate it.
The Harder They Come soundtrack album had been released February, 1973 in America on Island's Mango Records subsidiary (SMAS-7400) and with tracks by Cliff, "Frederick "Toots" Hibbert and Desmond Dekker, who with his group the Aces in 1968 had the first reggae hit in America with the mystical and endlessly listenable "The Israelites" had whet the appetite of Boston's counterculture both for more reggae and for championing the underclass the movie spotlit. The album was in heavy rotation on WBCN-FM the city's most important broadcast cultural influencer.
Not surprisingly, Catch a Fire's release two months later created an even greater sensation in Boston and Bob Marley and The Wailers quickly became a major musical act there, though the album was a bare #171 blip on the Billboard charts. Ditto The Harder They Come, which reached #140.
When in July of 1973 Bob Marley and The Wailers came to play a week-long stint at Boston's Paul's Mall, a basement level nightclub on Boylston Street, across from the Prudential Center, everyone who was anyone in the counterculture wanted to attend. But the place held but 350 people so many people who wanted to couldn't. WBCN broadcast the July 11th, 1973 show and recordings of it have been bootlegged. That appearance featured both Bunny Wailer and Peter Tosh who soon after left The Wailers to pursue solo careers.
Marley and The Wailers returned to Paul's Mall June 23-29th 1975 and again WBCN broadcast an hour long performance that's been bootlegged. Stupidly I didn't record either of these radio shows, happily I was at one of those 1975 shows. The set list was:
01. Trench Town Rock
02. Concrete Jungle
03. Rebel Music
04. No Woman No Cry
05. Natty Dread
06. Get Up Stand Up
07. Kinky Reggae
08. Stir It Up
09. I Shot The Sheriff
Not bad! Bob Marley and The Wailers returned to Boston June 8th, 1978, playing two shows, this time in association with WCOZ-FM a far more commercial station than was WBCN. Bob Marley had hit the mainstream
Oh, right, Rastaman Vibration (ILPS 9383) Marley's eighth album was the first to crack Billboard's Top 10, reaching number 8. Burnin', released October of 1973 got only to 151. Such a low number is difficult to grasp given Bob Marley's status today. By the time this album was released Marley was a world-renowned, much-loved figure as a musician and spokesperson for the world's downtrodden.
But this album's first side is more celebratory and aimed at the larger audiences Marley was reaching than it was a side of protest songs. It opens with the up mood "Positive Vibrations" followed by the big hit "Roots, Rock, Reggae" perfect for a large audience singalong. Those are followed by downcast songs about street violence and a mother's anguish, then songs of betrayal and negativity. Side two returns to the exploitation and racial injustice complaints. "War", the next to the last song on side two is based on a 1963 United Nations speech delivered by Ethiopian Emperor (and God figure in the Rastafari religion) Haile Selassie. It's pretty much word for word the speech set to music. The song remained on the Marley live set list from the album's release to his untimely 1981 death at age 36 from a treatable melanoma that appeared under a toenail that he thought was a soccer related bruise. "Rat Race", the album's finale covers all of Marley's bases from religion to colonialism to general exploitation. "In the abundance of water, the fool is thirsty", he sings.
As with many Island Records originals, whether released in the U.K. or America, Rastaman Vibration was mastered at Sterling Sound, this one by its founder Lee Hulko, though his usual "LH" is not found in the lead out groove area (I hate "dead wax". It's not dead and it's not wax). The original pressing is smooth and almost soft and sweet in the midrange with the bottom end less punchy and aggressive than reggae demands. It's possible Hulko attenuated the bottom, and boosted the lower midbass to give the sonic appearance of deep bass but whatever the cause, the original lacks "riddim" drive.
This limited to 3500 copies UHQR restores the bottom end wallop without sounding artificially "EQ'd". There's far greater overall transparency and more precise high frequency transients so synth lines really come to life. It's a big improvement over the original. The limited to 3500 copies is unfortunate because as soon as it was announced, this edition just about sold out. Analogue Productions' Chad Kassem had struck the deal with UMG and The Marley Family pre-Covid and he was unable to up the release numbers or add formats. So if you want a copy, click below the YouTube video, which is a radio bootleg of Bob Marley and The Wailers playing Boston's Music Hall in 1978. I was there too!
As with the original, "This album jacket is great for cleaning herb" it advises on the inner gatefold. However, two things have changed. The first is that in many if not most places herb is legal! The second is that the reissue's sackcloth texture is even more pronounced than on the original so it's even better for herb cleaning, or so I've been told. In addition, the artist's name across the top and album title across the bottom are spelled out in far bolder relief on this reissue's very well reproduced jacket. No skimping as there shouldn't be on a premium priced UHQR release. Fans who get this all analog release will be pleased.