Verve's By Request Series Releases Gabor Szabo's "The Sorcerer"
Szabo Conjures Up Magic in 1967
Live albums aren't always my preferred format. Sure, there are certain tracks that I've grown accustomed to hearing performed in the live vein, but I'm not often excited about the prospect of an album "captured" in a live setting, or of a particularly excellent live recording. I'm primarily interested in music that's created in the studio; that's what I consider the recording artist's ultimate canvas. 
However, Hungarian guitarist Gabor Szabo is one of my favorites. So, hearing that Verve's new By Request series - pressed at Third Man Records - would feature Szabo's 1967 release, The Sorcerer, I became curious. Recorded over two nights in 1967, the record features Szabo fronting a five-piece group: Szabo on guitar, Jimmy Stewart also on guitar, Louis Kabok on bass, Hal Gordon on percussion, and Marty Morrell playing drums. The album was originally produced by Bob Thiele and includes liner notes written by Nat Hentoff. 
Though I'm a Gabor fan, given my usual avoidance of live recordings, I've never heard The Sorcerer. Being unfamiliar with the specific album provided me with another reason to give the album a fair audition. The album begins with the funkily chugging "The Beat Goes On" which may be the centerpiece of the entire project. Gabor's intrinsic approach to the song is impressive; it's a tune you've no doubt heard numerous times, but what Szabo doesn't play gives the listener a new perspective. 
Another key element of the performance captured on The Sorcerer is the addition of percussion (Hal Gordon) to the group which is especially exciting on "Little Boat (O Barquinho)". Together, with Marty Morell's funky drumming, a propulsive and explosive effect is created that must have been an enthralling experience for the audience in attendance on this run of shows. But this isn't just a funky soul-jazz affair, Szabo and his group offer up a wide palate to this Boston audience exploring both droney psychedelia and pop polish. Which, judging by the occasional chatter during some numbers, the crowd may - or, may not - have been ready for. 
In fact, the longer I listened to the album, the more I grew fond of the intimacy of Boston's Jazz Workshop crowd which was small and - in my imagination - pretty hip (Fred Taylor's Jazz Workshop was the epitome of hip!_ed.). The moments of chatter, laughter, the clink of a glass, a stifled cough, and perhaps the ring of a cash register create a welcome ambiance to this intimate and intense session. The spectators become a part of the overall presentation. 
Listeners should keep in mind that - on this date - Gabor is playing an acoustic guitar (as he often did). Readers who are musicians - especially guitarists - will understand that while playing "cowboy chords" on an acoustic can often be done with ease, depending on the setup and action on your acoustic, finger-picking can be a difficult - if not painful - experience. While a footnote on the gatefold indicates that "Gabor Szabo plays a Gretsch Guitar," any gearhead worth their salt will be able to identify that the pictures accompanying this recording show Gabor playing a Martin D-45 dreadnought acoustic with an aftermarket DeArmond pickup. For more info about Gabor's six-string gear, spend some time at Douge Payne's tribute website to Gabor hosting several pages of info written by Jimmy Stewart. 
This brings us to a discussion of Jimmy Stewart and his pivotal role as guitarist #2 on this album. Stewart's playing brings a key counterpoint to Szabo's playing: he's gentler while Gabor's attack is aggressive. Stewart is cerebral, and Szabo is emotional; instinctual. Like Paul Yandell was for Chet Atkins, or Lou Pallo for Les Paul, Stewart was the perfect foil for Szabo's playing. Stewart also provides extra texture with his playing by alternating the types of guitars he's performing with. He even works with 12-string guitar on "What is This Thing Called Love?" and on the album's closer, "Comin' Back". The 12-string also mimics an organ part on "The Beat Goes On".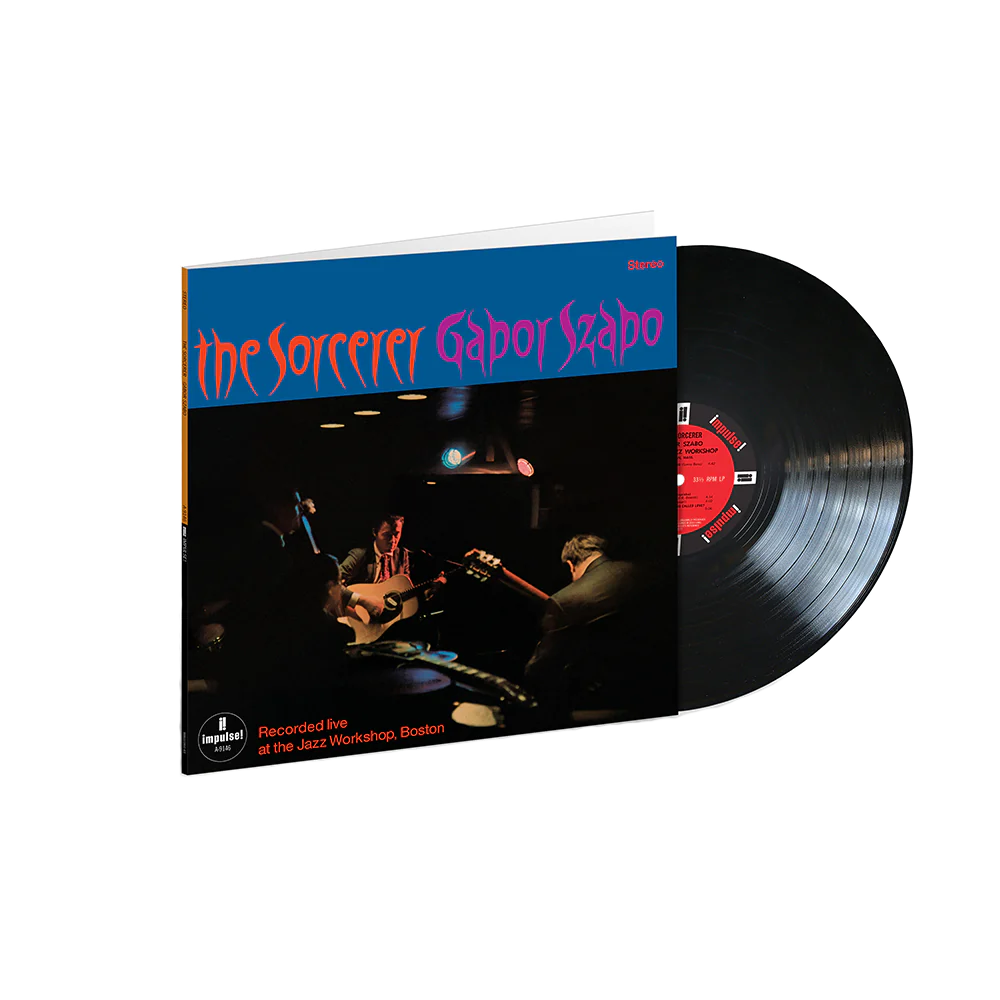 Middle-Eastern flair is what highlights Gabor's individuality. A track handily demonstrating this is his original composition "Space" featuring his controlled use of feedback and a pair of finger cymbals (Turkish Zills). Gordon's percussion throbs throughout the tune, but again fights for its place in the stereo soundscape while competing with Morrell's drums. Stewart's nylon string guitar again serves as a gentle background to Szabo's metallic lead parts. Also alluring are the moments in Szabo's playing which probably both informed and reflected the popular music germinating around him. A learned listener can easily pick out stylistic hints of Jerry Garcia or Robby Krieger.
"Stronger Than Us" from A Man and a Woman (1966) serves as a fitting intermezzo between the album's two more experimental numbers  - "Space" and "Mizrab" - and again features beautiful counterpoint and harmony playing with Stewart who employs a nylon-stringed guitar. This cut also signals to the crowd and record-buying public that Szabo was comfortable performing songs that were familiar in the pop-circuit. The arrangement here creates a successful tension and dynamic build - so much so that when the song breaks down in the middle - the listener becomes deflated assuming that the song has ended. Fortunately, the music returns and finishes with gusto. 
The sound on this release is forward and exciting, with a focus - of course - on the mid and higher frequencies that the guitars of Szabo and Stewart inhabit. Kabok's upright bass gets a bit lost in the sauce though Morrell's drums provide plenty of saturated spank and pop when things get cooking: again, especially on "Little Boat". Unfortunately, a rather annoying and repetitive section of pops and clicks appeared during the second and third songs on side one. An inspection with my naked eye revealed no visible damage to the grooves. While the issue somewhat improved after a few cleanings and repeated spins, the noise never completely resolved. It's a shame too, as the rest of this flat pressing is virtually noise free. "KEV" in the deadwax refers to Kevin Reeves at East Iris Studios in Nashville, TN. Reeves is also currently vice president of studio operations for Universal Music Group. The gatefold jacket is well-done; the images are crisp, but it's a non-glossy, direct-to-board printing affair. 
Even though Hentoff's liner notes claim that "there is no overdubbing or any other utilization of post facto devices," there are a few moments in which the listener might ascertain a skillfully made edit - or two - which leads me to theorize that - somewhere - someone might have tapes featuring a complete show (or shows) containing other songs and extended versions of what's included on this album. Could an expanded deluxe reissue happen one day?
My chief complaint is that the album is too short (8 songs)! With all of my grousing and griping about live music, I find myself wanting more after this performance. I may have been dragged along to see the show, but - once the lights came up - I didn't want to leave.