Hana Does a Umami in Blue, Read the Review
Is it as good as the buzz surrounding it?
The Perfection room was one of the standouts at Axpona 2023, sporting ARC, Wilson Audio, Clearaudio, dCS and the new Hana Umami Blue cartridge. I was struck to see and hear a system weighing in at over $375,000 using a $2,500 cartridge. I knew I had a review sample of the new Hana Umami Blue cartridge coming, so I was pretty stoked about it, given what I'd heard at Axpona.
Hana Moving Coil Cartridges
Though Masao Okada-san has been designing and building great cartridges for many brands at his Excel factory in Tokyo since 1970, the Hana brand was created only recently— in 2016. Since then, Hana has been on a roll, releasing a series of great sounding transducers, and making a name for itself with high and low output moving coil cartridges exclusively imported to the US by Musical Surroundings.
Hana first rolled out the EL, priced under $500, then the SL at $750, the ML at $1,200 and then at $3950, its flagship Hana Umami Red . All of these cartridge models, both low and high output versions and a mono one too, have been well received at their respective price points by both consumers and reviewers. The expression "giant killers" has often been used to describe them.
The Umami Blue
On March 1, 2023, Okada-san unveiled his latest creation, the Hana Umami Blue. At $2,500, the Blue is intended to fill the gap between the ML and the Red. This is a handmade, low output MC cartridge that leverages much of the technology found in the very well-respected Umami Red.
The Umami line features an Auricle™ body, which is CNC machined from Duralumin (the trade name for an age-hardenable copper-aluminum alloy) and enameled with a special Melamine thermosetting process. The Umami Blue, like the more costly, Red is equipped with a boron cantilever and Microline stylus.
The Umami Blue generator uses an Alnico magnet made from a blend of aluminum, nickel, and copper. The material is said to have better saturation control, which helps cut down on distortion and non-linearities. A cross-coil armature is wound with high-purity copper wire that produces an 8 ohm internal impedance.
The key generator parts such as the magnetic pole pieces are cryogenically treated, which is claimed to enhance the material's crystalline structure, resulting in improved magnetic field control. Subjecting metals to cryogenic processing is said to reduce the number of structural vacancies within the material, resulting, when used in cartridge generator systems, in a decrease in artifacts within the electrical current, commonly referred to as noise. Research indicates that reducing noise leads to the production of a more accurate signal, thereby enhancing overall performance and durability. My friends over at AV Options have for years been using "Deep-Cryogenic treatment" as an upgrade for select parts (AV Options is affiliated with this website's creators_ed.)
Setup
Setup seemed easier than it should have been. The recommended tracking force for the Blue is 2.0 grams. I found it tracked beautifully at 1.80 grams, so that is where it stayed through the duration of my review.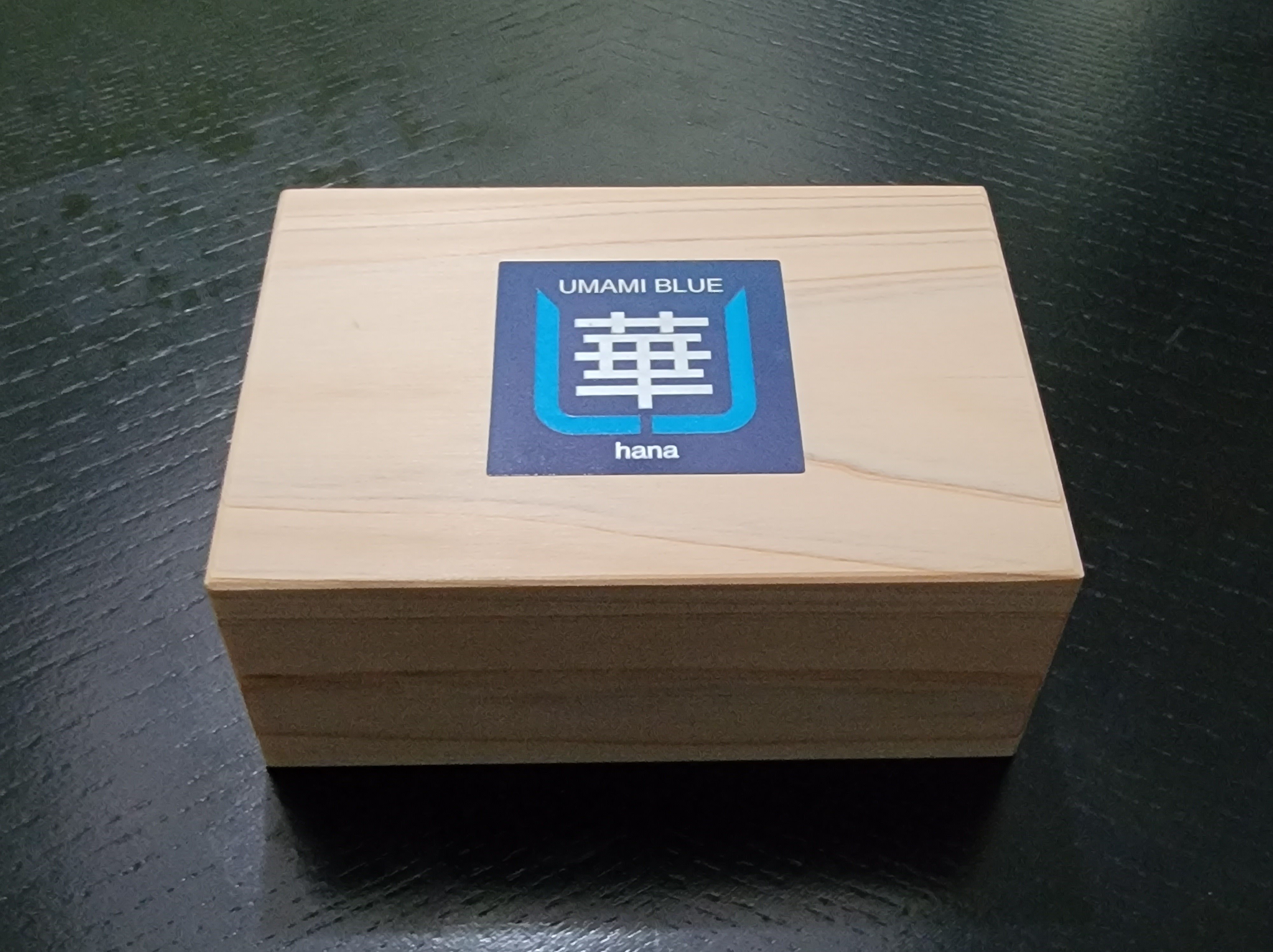 Initially, I had the load set at 80 Ohms to match the Umami Blue's 8 Ohm coil impedance as per the 10X rule. I ended up finding that in my system 100 Ohms sounded better. The slightly higher impedance really opened the cartridge up on both of the phono stages I used.
Hana Umami Blue—First Impressions
For all of the superlatives we use in this hobby, the one word I would use to describe the Hana Blue is simply clear and devoid of a specific character (well, that's more than one word). The tonal balance is silky and extended both on top and on bottom. The Microline stylus produces dead quiet in the grooves. The mids have a pleasing glow and a velvety feel. The finely textured sound excels in capturing the essence of the human voice. Instrumental decay is generous and fades slowly, continuing its decay regardless of musical macro transients. Impressive.
The Hana Umami Blue delivered impressive dynamics while avoiding bloat or overly-taut "punchy" sound. One thing that may contribute to that observation is that the cartridge is a little leaner in the lower mid-range compared to "bloomier" sounding cartridges. The lowest registers are clear and accurate, helping to produce a rhythmically tight bottom end. The Umami Blue's personality is not thick, bloated or "tubey", but rather clear, rhythmic and dare I say... "musical" and well-balanced.
On simply miked recordings of acoustical instruments the Umami Blue produced an impressive sense of the space in which the recordings were produced as well as a realistic presentation of room ambience. These are performance characteristics usually reserved for far costlier cartridges.
Critical Listening
The initial critical listening spin was of the very familiar "Bird On a Wire" from Jennifer Warnes Famous Blue Raincoat ( Impex MMP6021). The Umami Blue delivered an intense rendition, dripping with passion. The deep pounding drum thwacks that frame the arrangement were delivered powerfully and cleanly, though the bottom end slam on the track was not quite as powerful as I've heard from a few other cartridges I've auditioned but I never felt I needed more. There was no mid-bass overhang. The lesser percussive accents had impressive transient clarity and were well layered in three-dimensional space. The Sony digital recording can sound bright and aggressive on lesser cartridges. Here, though bright, the presentation wasn't harsh and Warnes' voice was presented naturally, hanging freely in three-dimensional space well in front of the speakers. The cartridge delivered the title track effortlessly, unforced and just there.
Next, I put on the Verve/Analogue Productions edition of We Get Requests (V-6/8606-80033797-01) by the Oscar Peterson Trio—a fantastic sounding album mastered by Ryan Smith at Sterling Sound and packaged in a laminated "tip-on" gatefold jacket, that has been in heavy rotation at my humble abode.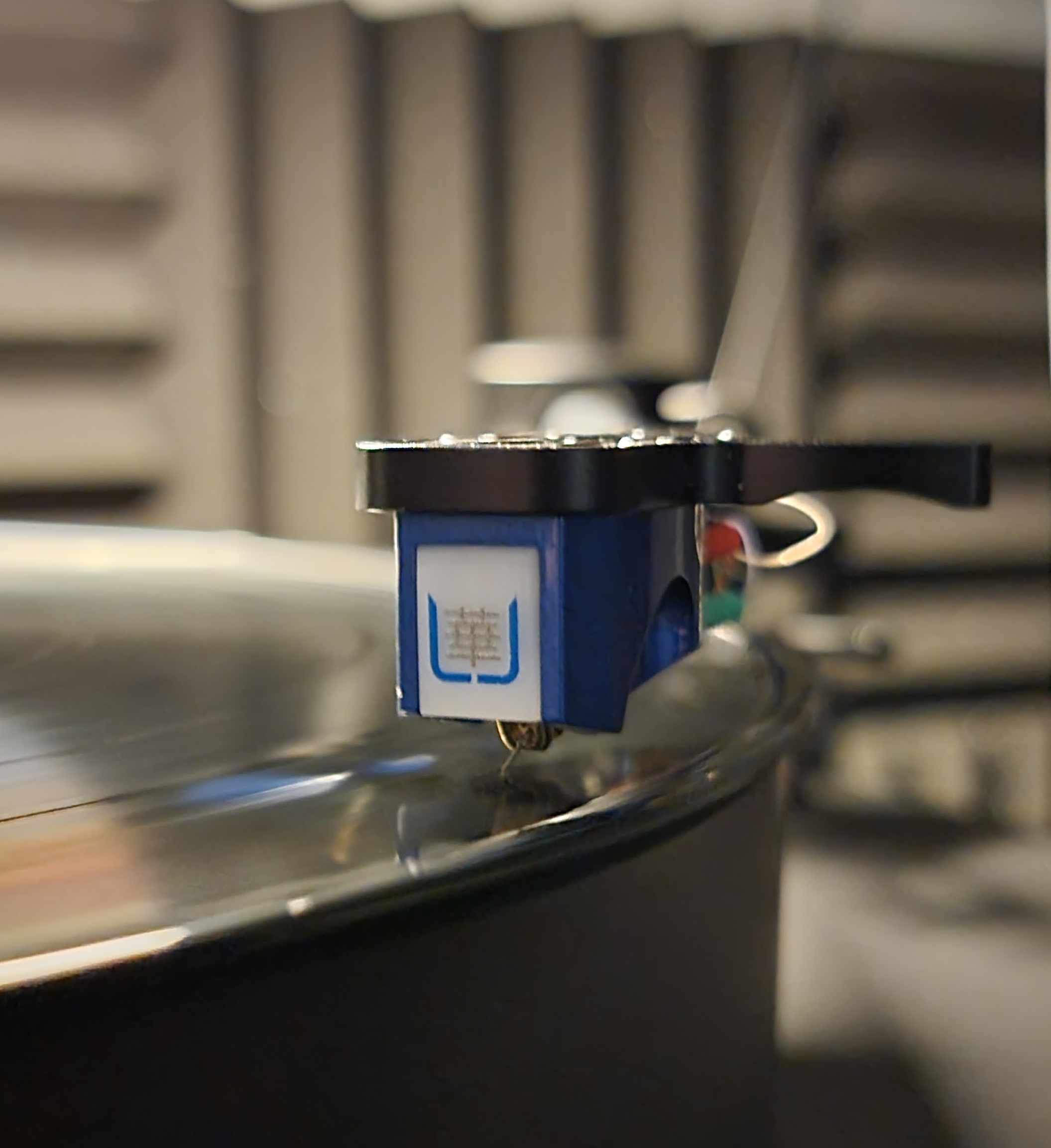 The first cut, "Quiet Nights of Quiet Stars" really let the Hana Blue's best qualities shine. Dead silent pressing, everything was spatially in its place (the recording engineer was Bob Simpson, best known for his "Living Stereo" work) and I felt almost overwhelmed by the details the Blue pulled out of the grooves— like my ears were not able to pick up all of the nuances. The Blue really seems to extract everything from a recording and lay it out beautifully without pushing its own sound on the music.
Ray Brown's bass had a perfect combination of textures and transients, with Oscar's piano floating over it. Drummer Ed Thigpen's intricate percussive work, precisely reproduced, kept me deeply involved. This is the kinda stuff that converts lifelong digital advocates.
Next I wanted to spin an "oldie but goodie", so I put on The Cowboy Junkies' The Trinity Sessions (Analogue Productions APP 072). The Umami Blue produced super quiet backgrounds on "Mining For Gold", not a hint of a stylus coursing through grooves. The noise floor was beneath the depths of hell, letting me hear the air flowing through the Church of the Holy Trinity recording venue (as well as the air conditioner rumble). On the second track, Margo's voice coupled with the harmonica delivered pure musical bliss, with the Blue's microline stylus delivering the depth, layering and pin-point image precision picked up the single Calrec Soundfield microphone.
At this point I was getting pretty excited and running through "audiophile check list" albums like a mad man. Listening to Diana Krall's Love Scenes (Impulse! 602547376985) Christian Mcbride's bass on "Peel me a grape" was pleasingly fat, yet detailed and precise-sounding. Her voice was as seductive as ever and track-to-track recorded differences were easy to discern.
I was feeling a little frisky so I decided to give my somewhat abused copy of Black Sabbath's Paranoid (Rhino R1 78976) a spin. After a good cleaning I dropped the needle on "Planet Caravan''. Geezer's bass sounded taut and solid as the congas floated from right to left. The solo was notably dynamic and unusually powerful. I am quite sure that I was bothering the neighbors throughout the album.
It is almost impossible to not reference at least some Dire Straits, so I choose On Every Street (Vertigo 3752914), their last studio album. Listening to "You And Your Friends", the opening guitar in the right channel ripped through my listening room with forceful dynamics. Knopfler's voice was ten feet behind the plane of the speakers. On the solo, the right channel handled the macrodynamics while the left delivered that delicate arpeggio, cleanly delineating the graceful decay.
The solid attack produced by the rolling drums on "Calling Elvis" created a heightened rhythmic sense while the cartridge's ability to reveal low level detail shone a subtle spotlight on Knopfler's grungy but slight fingerpicking on the right channel—all of it hitting me in the chest. Good stuff!
Micro Dynamics
In an effort to accurately convey in writing my critical listening experience, I feel it may be helpful to provide you with my interpretation of some commonly thrown around terms like "microdynamics". My interpretation of "microdynamics" is being able to hear delicate level variations in the background of the music, while maintaining textures, even as a crescendo may be occurring in the forefront. How well a piece of equipment grapples with microdynamics helps differentiate good from great.
I say that to say this: The Umami Blue has microdynamics in spades. Never did the Hana smear or blur the tiny variations of a background instrument regardless of what else was occurring. The Hana Umami Blue's ability to delicately handle multiple layers of musical dynamics, even when the album is pushing the limits, makes it a special cartridge for $2,500.
Casual Listening
Music is playing all of the time in my home. I no longer have a dedicated listening room so my main system is in my living room. There were a couple of stand out sessions of non-critical listening when I was struck by how good the music sounded, which made me stop what I was doing to sit down and listen.
One of these encounters was when spinning the live album John Mayer Trio Try! (Aware/Columbia 827969951151). I remembered liking the music but thinking the recording left something to be desired. This go around, playing side 2, "Gravity" was haunting and involving. John's strat rang out, floating in front of me, sounding way better than I remember it being.
Then moving into "Vultures", I could hear the ever so slight variation in overtones when he simultaneously hits the high note with his guitar and voice. Maybe I just incorrectly remembered it or maybe the Hana was extracting more out the grooves. Either way, it sounded wonderful.
Listening to North Mississippi AllStars, Upstairs at United (453 Music United Record Pressing 453 1966) the opening track guitar was so rich, I first thought the guitar distortion was dust on the stylus, or cartridge mistracking, but it wasn't. It sounded so realistic, it just tricked my brain.
There was good depth between Luther Dickinson's voice and background singers . As the liner notes revealed, "Every song was recorded live, in one take, sometimes the first take, sometimes the second, but always one take. No overdubs and on a vintage, all analog setup."
The last revelation that the Hana Umami Blue gave to me was an album that I have heard a million times…The Beatles Abbey Road (Mobile Fidelity MFSL 1-023). I'm not going to go into too much detail, but from the first bass run of "Come Together", this was a new experience. Arguably, the Beatles best music, I just don't remember the sonics being the album's draw, but damn it sounded good.
The Conclusion - So How Good Is the Hana Umami Blue?
If I sound like I'm kind of smitten with the new Hana Umami Blue, it's because I am. The Blue doesn't impart much of itself onto the sound, while really digging deep into the grooves and it does so dead silently.
Although $2,500 is not an insignificant investment for a cartridge, it's still far less than many top level moving coils out there. Many music lovers would never spend $2,500 on a phono cartridge. If you are one, consider this: The Umami Blue costs less than the upgrade package on your last car. And for that, (on the right turntable) you get a world class performance front end. If you are looking for a new cartridge and you are thinking in the $1,500 range, find a way to spend the extra money! You wont regret it. And if you are looking for a more expensive cartridge, you should first give the Blue a listen. It's that good.
Music lovers are all different and wish to achieve different things with their systems. Some look for timbral accuracy and harmonic richness. Some need laser-like imaging and a deep soundstage. Some desire dynamics and detail. Regardless of your personal requirements, the Hana Umami Blue won't disappoint. Is it the perfect cartridge? Absolutely not. There are differences between a $2,500 cartridges and ones that costs north of 10k. The Hana Blue just lessened that gap. I am quite confident that in 10 years the Hana Umami Blue will be regarded as one of those products that was "the one to beat", at or anywhere near its price tag.
Associated Equipment
Turntables:
Clearaudio Performance DC AiR turntable with the Tracer tonearm

Schiit Sol
Phono Stages:
Audio Research PH5

Musical Surroundings Phonomena III
Preamp: Audio Research LS2B
Power Amp: Audio Research Classic 60
Speakers:
Specifications
Hana Umami Blue Moving Coil Cartridge Specifications
Body:

Material: Duralumin (A7075)

Finish: Melamine Thermosetting Process (MTP)

Cantilever: Boron

Stylus: Microline Nude Diamond

Magnetic Circuit:

Armature Material: Permalloy

Armature Shape: Cross Plate

Material: Pure Iron

Magnet: Alnico (AI-Ni-Co)

Coil

Coil Impedance: 8 Ohms

Output: 0.4mV

Coil Wire Material: High Purity Copper

Load Impedance: >80 Ohms

Treatment: Cryogenic - Front Yoke, Rear Yoke, Pole Piece, Terminal Pins

Specifications:

Frequency Response: 15-50,000Hz

Output Balance: 0.5dB/1Khz

Channel Separation: 30dB/1KHz

Tracking Force: 2 Grams

Trackability: 70μm/2g

Dynamic Compliance: 10X10(-6) cm/dyne (100Hz) Estimated at 17X10(-6)cm/dyne at 10Hz

Cartridge Weight: 10.8g

Cartridge Height: 15.8mm