At AXPONA 2023 Wilson Audio, ARC, HANA, Clearaudio and dCS Swing For The Fences
appropriately named the "Perfection Room", this may have been the best sound at the show.
One of my absolute favorite rooms at AXPONA 2023 was the Perfection Room by Quintessence Audio Ltd out of Morton Grove, IL.  They were supported by Musical Surroundings, the North American distributors for Hanna, Clearaudio, DS Audio and their branded products.  They had three demo rooms, which were jam-packed at all times. After three or four tries to get into one of the demos, I was able to catch a back corner in The Perfection Room. 
The Analog Rig
The analog rig was the stunning Clearaudo Innovation Wood Turntable with Universal 12" Tonearm ($20,000), the new Hana Umami Blue MC cartridge ($2,500) and the Audio Research Ref 10 phono stage ($35,000).  I could hear from the back of the room that I was going to like this system. 
After patiently waiting in a dimly lit corner for the next audiophile to give up their seat, I was finally rewarded with a good spot. I managed to squeeze into the center of the second row and needless to say, I was pretty stoked about it.
Visually as Stunning as the Sound
Detailed and immersive sound spilled out of the new Wilson Audio Alexia V speakers ($69,500/Pair) sporting a custom green paint job ($79,500 in special finish). This wasn't just "availability in multiple colors"...These speakers had a glossy, smooth finish with a deep luster, reminiscent of a custom paint job showcased at a car show. The Alexia V appeared to be a metallic mint green? Even in the sparsely lit room I could see the sparkle of the paint.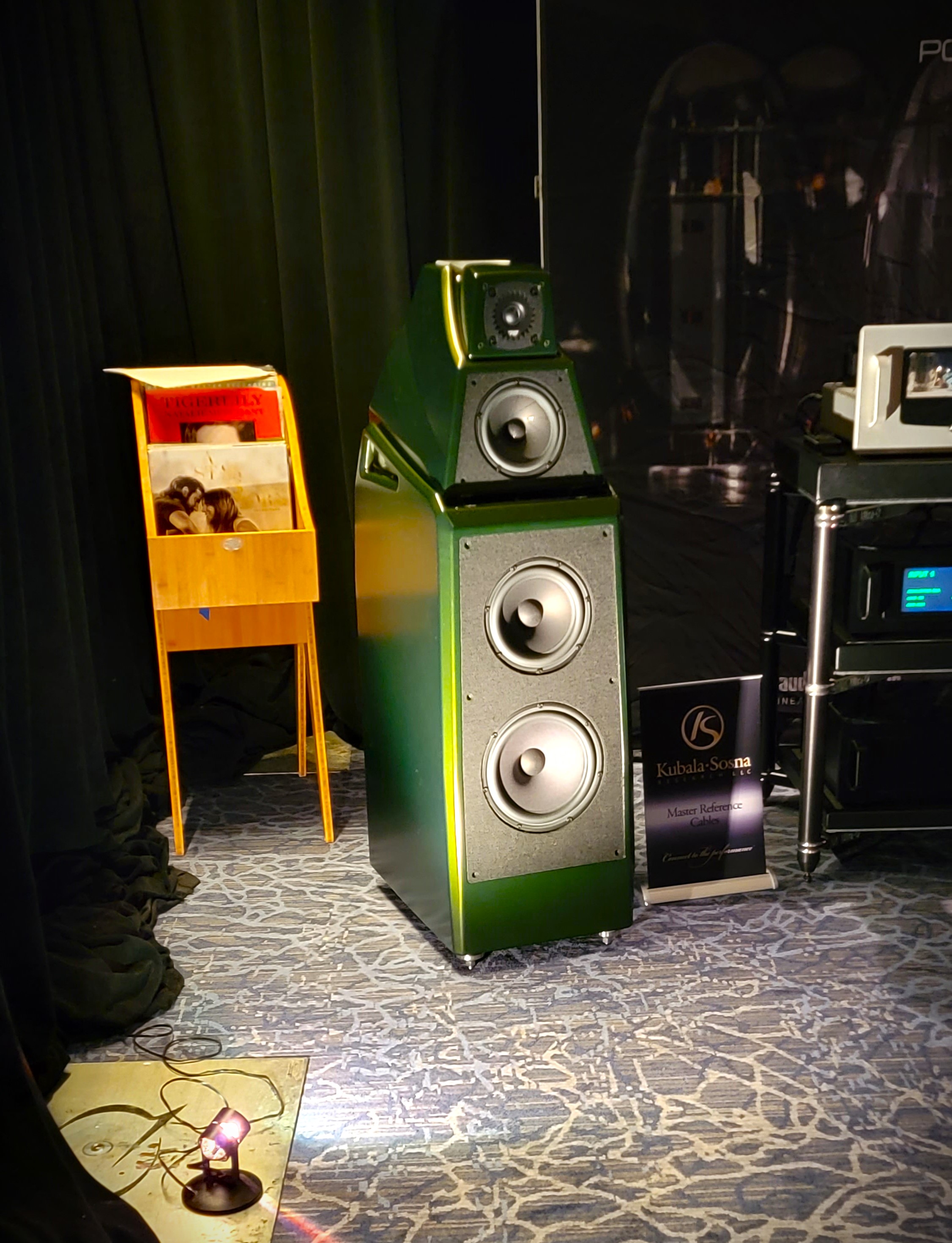 An Equipment Mismatch?
If you took notice of the prices of the gear, you might have noticed something interesting. This ultra-high end system, costing over $375,000, was sporting a $2,500 HANA Umami Blue cartridge. This new moving coil shares the Auricle™ body, boron cantilever and micro line stylus with the more expensive Umami Red. Taking the quarterback role in such a "cream of the crop" system is pretty impressive considering the cables, which were Kubala Sosna Research, priced at $88,000. 
The Sound of Music
This was one of those systems that is hard to describe.  The sound was meticulously accurate but somehow still rich with overtones. The soundstage went from wall to wall and imaging was precise (even with some dudes' heads directly in front of me).  They were not playing traditional "audiophile demo music" but rather spinning a live version of The Rolling Stones' "Love in Vain".  You could tell that these guys were truly music lovers first.
I enjoyed the song more than I ever remembered. There was that extra "something" that really sucked me into the music.  If anyone from that room knows the album that version was from, please let me know in the comments as I now need that in my collection (Get Yer Ya-Ya's Out?_ed).
I wasn't expecting to get so intimately enthralled while being in a crowded room full of strangers, but there are times when there's a synergy between the music and the system that just moves you…this was one of those moments. No doubt this was some of the best sound at the show.
I wanted to push the guy in front of me out of the way, kick up my feet and listen for a couple hours, but I had to move on. After walking out of the room, I asked my non-audiophile friend who was there with me, "what do you think"...she said WOW, that was really impressive. I wholeheartedly agreed.
Sorry about the quality of the photos, the room was very dim and I didn't want to be "that guy" taking pictures with a flash as people were engulfed in their musical experience.
Full System Details
Speakers: New Wilson Audio Alexia V ($67,500/pair - $79,500 in special finish)
Line Stage: Audio Research Reference 10 ($35,000)
Phono Stage: Audio Research Reference 10 ($35,000)
Power Amps: Audio Research 160Mk II tube monoblocks ($38,000 per pair)
Turntable & Arm: Clearaudio Innovation Wood turntable with Universal 12" tonearm ($20,000)
Cartridge: New HANA Umami Blue MC ($2,500)
Digital: New dCS Rossini streaming DAC ($32,800)
dCS Rossini Master Clock ($10,850)
Wireing: Kubala Sosna Research Sensation cables ($88,000)
Heavy Lifting: Olympus Turntable Stand in black lacquer ($16,000)
Critical Mass Systems new Ultra Q Equipment Rack ($23,000)