Lehmannaudio Decade Jubilee MM/MC Phono Preamplifier Packs a Deft Sonic Punch
don't be fooled by the diminutive package—or that it appears identical to the "non-Jubilee" Decade
Lehmannaudio's original Black Cube, introduced in the late 1990's and still in production, set a high bar for what a moderately priced phono preamp could accomplish. Since then the Cologne, Germany-based company has added a top of the line Silver Cube in 2002 (now costing $4699) and over time filled in the price points in-between with the Decade in 2005 (celebrating the company's 10th anniversary), the Black Cube Statement a year later (among other Black Cube updates and variants) and more recently the Decade Jubilee, noting the company's 30 years in business.
Though it looks similar if not identical to the standard Decade, there's a great deal new "under the hood" that distinguishes it, and claims the company, justifies the $1400 cost increase, as well as its claim that this is an entirely new phono preamplifier. The Jubilee introduced in 2022 costs $3499. The standard Decade today costs $2099.
Decade or Decade Jubilee is a two box design, each 4"W x 11"D x 2"H connected via a Neutrik-terminated umbilical. One chassis contains the PWX II LC power supply, the other the signal processing circuitry, including gain stages and RIAA equalization. Both sport attractive brushed aluminum face plates (also available in other fascia choices including extra cost chrome). The power supply's panel is simple: the "mandatory" blue LED plus a silkscreened Lehmannaudio logo. The other faceplate offer three switches, each with an LED alert. The leftmost switch inserts what used to be called a "rumble filter" —a 6dB per octave bass roll-off at 50Hz. The middle switch labeled "high" adds to the signal 10dB and the rightmost switch labeled "MC" adds an additional 20dB to the 36dB MM gain, giving you four gain choices in total of 36, 46, 56 and 66dB.
Loading is set via dipswitches located on the bottom of the signal chassis. If a choice of 100 and 1000 ohms is too limited for you, open the chassis and solder in your resistor choice on the two open board positions and select dipswitch "6".
Upgrades From Standard "Decade"
The Decade Jubilee's PWX II LC power supply is an upgraded version of the standard one, featuring the same circuit and shielded toroidal power transformer but with a new circuit board incorporating thicker copper traces and among other component improvements, Mundorf electrolytic caps—the kinds of upgrades that might be classified as "tweaker delights" but which of course have definite sonic and measured electronic benefits. The PSU offers a pair of outputs, the second one reserved for other Lehmannaudio products.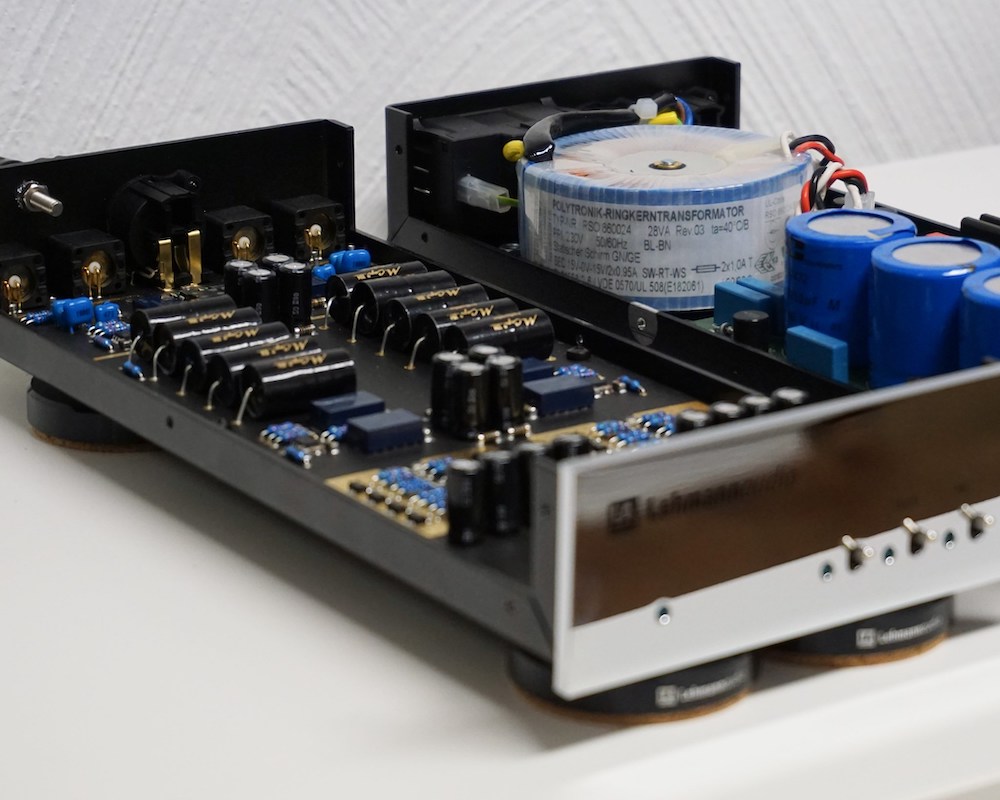 Damping material has been applied to the PSU chassis interior and Lehmannaudio's new vibration suppressing feet support both the PSU and signal carrying chassis.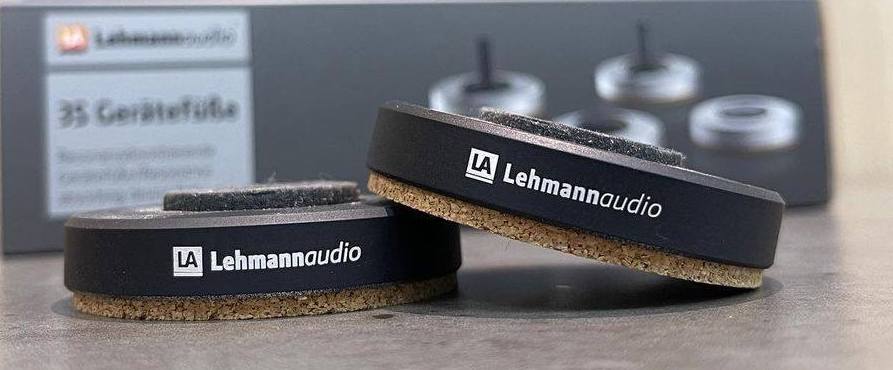 The feet use a fabric material and string suspension invented by Manfred Diestertich, longtime Audio Physic loudspeaker designer, to dissipate vibrational energy into heat. I didn't audition the Jubilee with and without the feet but the benefits of vibration control on electronic components has long been observed and measured. The claims for these footers include improved dynamics, overall improved clarity, better bass control, and blacker backgrounds.
When Lehmannaudio's Norbert Lehmann visited last summer to hand-deliver the Decade Jubilee he told me about some of the unique parts used in the signal processing side of the preamp, including special low noise microphone preamp chips usually used in pro audio applications that feature constant current differential bipolar transistor arrays produced by a California-based company, that produce the notable S/N ratios shown in the specs below.
The passive RIAA part of the Jubilee is essentially lifted from the far more costly Sliver Cube and includes Mundorf foil capacitors, a four layer circuit board and a considerably improved output stage compared to the standard Decade, the details of which aren't necessary to go into here. The point is, the Jubilee is not a standard Decade with a few minor upgrades. It is a new design incorporated into an older, serviceable form factor. Of course be sure to change loading from 47kOhms when switching from MM to MC.
Set up and Use
Lehmannaudio uses high quality gold plated chassis-mount RCA jacks, which is good, but the back panel's jacks are not silkscreened or in any way identified as to input and output, so be sure to check the manual before using and if you need to change anything make a note of what goes where. Otherwise setting up and using the unit couldn't be easier. The 100ohm, 1000ohm MC choices are sensible. I used the 100 for most low output low internal impedance cartridges and 1000 for a few with higher internal impedances, like the X-quisite ST, which has a recommended load range of between 400 and 800 ohms.
The Jubilee required a long break-in period. Just turn it on and leave it on. The sound gradually improved over the first fifty or so hours and even after that slowly improved for a short time thereafter, though even cold out of the box it was obviously not your ordinary small box phono preamp.
Soundsational
Among the first cartridges I tried was the "lowly" Ortofon 2M Red, which always has an "ok" kind of clean, but somewhat "tinny" sound with overly defined transient edges and meager "color saturation". The 2M Red's sonic performance through the Jubilee was almost shocking. The sound produced had a sweet, graceful, almost "ripe" presentation I'd never before associated with that cartridge. On the other hand, when had I paired it with a $3500 phono preamp? Like, never. And not that it's likely any Jubilee buyer will either, but it made clear that a good phono preamp can work miracles with a budget priced transducer.
When I reviewed the Esoteric Grandiose T1 turntable for The Absolute Sound (not yet published as I write this) I was able to use it's plug in head shell feature to test the Ortofon Concorde Elite MkII MM cartridge ($439.99) mentioned in a news note. It has a "healthy" 8.5mV output that I figured might be too high for some MM phono preamps. It certainly wasn't a problem for the Jubilee, which didn't sound at all stressed by the 8.5mV injection. Instead, the Ortofon sounded dynamically bold, full-bodied and in full control, though of course with its elliptical stylus profile did not deliver maximum detail resolution and transient speed.
I had the X-Quisite on the Schröder OMA arm so first used it, setting the impedance to 1000 ohms. The cartridge incorporates a one piece ceramic cantilever/coil former unit that produces speed, detail and upper frequency timbral and transient precision on brass, reeds and percussion. While I like using it with the dedicated transformer and ran it first into the MM set-up, the MC setting produced equally precise and rich results.
What I first heard on another record had me pulling out a "sonic spectacular" from another era (1968), The Glory of Gabrieli Music For Multiple Choirs, Brass and Organ (Columbia MS 7071) featuring E. Power Biggs, The Gregg Smith Singers, The Texas Boys Choir and The Edward Tarr Brass Ensemble. There's a lot going on in that recording produced in the San Marco cathedral in Venice, at the time a seriously deteriorating edifice.
The complex recording only gets better over time as my stereo did likewise. It's a real test of the entire analog front end. The Jubilee's rendering of this sonic spectacular that of course I'd not have known about were I not a subscriber to Stereo Review magazine, whose music reviews more than compensated for the middling and muddled equipment reviews (the opposite of what's found in some contemporary audio mags, where the equipment reviews are more useful than the record reviews written by people owning mediocre at best systems).
The Jubilee's rendering of this recording was rich and full bodied, probably more so than through my reference CH Precision P1/X1, though not as well-detailed or dynamic but consider the more than ten times the price differential! Though the Jubilee did a good job resolving the recording's spatial glory it didn't quite separate the strands as well as the far more costly P1/X1 nor did the brass have quite the burnished sheen, but the chorus sounded eerily "there" and convincing and let me stop comparing a $3500 phono preamp with one most people can't afford and will never buy. The Jubilee's performance achieved a richness and resolve few phono preamps manage at its price point. A few using tubes deliver the richness, but don't deliver the Jubilee's taut, well-controlled bottom octaves, speaking of which, unless you have serious "rumble" issues you're best off not using the "rumble" filter. It lops off too much bottom end.
The Jubilee's excellent S/N ratio specs are easy to believe. The LA 4's Pavane Pour Une Infante Défunte (East Wind 10003) a direct to disc sonic spectacular that features dead quiet, tape hiss-free backgrounds and the Jubilee delivered them noise free against dark black backgrounds. The LA 4 (Bud Shank, Laurindo Almeida, Ray Brown and Shelly Manne) make beautiful, luxurious music on this superbly recorded disc well worth picking up if you see one. They usually go for far less than they are worth. Aside from the quiet backgrounds the Jubilee delivered the bass, drums flute and guitars with an even keeled timbral balance, and pleasing three-dimensionality, though with transients on the slightly soft side.
The same was true on Eliot Fisk Guitar (Mark Levinson MAL 6) A 45rpm sonic wonder I've used recently as an evaluation tool for both transient and imaging performance. The guitar appeared in three dimensions on a jet black background, just a slight bit softer and smoother than far more costly phono preamps deliver it. Not compared to anything else, the presentation was riveting and convincing and had I been obligated to blind guess the cost of the phono preamp being used in the demo I'd have put it in the well above $5000 range.
Conclusion
Super quiet, timbrally neutral and coloration free and with a smooth transient character and bottom and top end extension that sounds complete, well controlled and more importantly well-balanced in every parameter from bottom to top, the Lehmannaudio Decade Jubilee is as outstanding and authoritative sounding as it is mundane to look at. Hopefully you're not buying a phono preamp for looks alone or for looks at all.
Finally I have to apologize here to Norbert Lehman for how long it's taken to get this review published. The review sample arrived before the website was up and running and while I kept installing and listening over the months other things got in the way. So here it is. The sound is as "right" as the price. The Decade Jubilee is meant to install and "forget" in that word's most positive meaning. If you have a recently purchased moderately priced cartridge you love that you're using with an even more moderately priced phono preamp the Decade Jubilee would be a good next step up—at least based on what it did for the Ortofon 2M Red!
German language videos:
Specifications
Decade Jubilee

Sensitivity for output level 775 mV/ 0 dB (with activated high gain switch)

Gain 1 kHz

Maximum input level 1 kHz

Signal to noise ratio (RMS unweighted)

MM: 3.8 mV/1 kHz; MC: 0.38 mV/1 kHz



MM: 46 dB; MC: 66 dB

MM: 45 mV; MC: 4.5 mV

MM: 78 dB; MC: 69 dB


Gain

36 dB, 46 dB, 56 dB, 66 dB

Channel separation

> 80 dB at 10 kHz

Input impedance

47 kohms, 1 kohm, 100 ohms
1 x custom load

Output impedance

5 ohms

Input capacitance

47 pF to 1,370 pF

Channel mismatch

typ. max 0.5 dB

Bass filter

50 Hz, 6 dB/oct.

Power consumption

app. 13 VA

Outer dimensions W x D x H

Audio section: 110 mm x 280 mm x 50 mm
PWX II LC power supply: 110 mm x 280 mm x 50 mm

Weight

Audio section: 0.87 kg
PWX II LC power supply: 1.56 kg
Manufacturer Information
Lehmannaudio Vertriebs GmbH
Waltherstraße 49 – 51
51069 Köln
Germany

Tel.: +49 221 – 29 49 33 20
Fax: +49 221 – 29 49 33 19
Email: info@lehmannaudio.com