Technics SL-100C Is a Grand Bargain
a "Premium Class" 1200 variant for $1000
Technics couldn't have better timed its 2015 re-entry into the audio enthusiast turntable market. Interest in vinyl took off that year, growing 30% from around 9 million sold in 2014 to 12 million in 2015. 
Skeptics and naysayers credited Adele and Taylor Swift for that year's boost but each year since, and without a "big" record, sales continued growing until in 2021, unit sales, not just dollar sales surpassed those of CDs. Vinyl was victorious. 
Sales grew 22% in the first half of 2022 surpassing 19 million records sold. For the week ending December 22nd sales hit 2.2 million, making it the largest weekly sales figure since 1991 when the company Luminate began electronic tracking. True, Swift, Harry Styles and Beoncé sold a lot of records, but that was only part of it.
Whoever at Panasonic pulled the trigger on the Technics SL-1200 re-launch (I think I know), made the right call! In the years since, Technics has introduced a series of new, well-received direct drive turntables, the latest being this one, the SL-100C priced at the magic $999 spot on the turntable dial, complete with an Audio-Technica AT-VM95C cartridge installed on the head shell (available separately as a $69 combo). 
 The SL-100C is available only through the Amazon Technics store. If you click on the link and buy one, TrackingAngle.com gets absolutely nothing. We don't do that—not that there's anything (or much) wrong with that.
What You Get And What You Don't
The SL-100C platter doesn't include the strobe etchings, and there's no pop-up cueing light, pitch control with slider, or "on-the-fly" VTA/SRA adjustability. For most users those features will hardly be missed, and many might prefer this 'table's less busy, more elegant design. Even though speed is not adjustable it's easy enough to use a strobe card to check it or another device like the Shaknspin, which I used. Do you really need the pop-up cueing light? Probably not. You can adjust SRA/VTA by unlocking the arm platform by rotating a locking lever located just behind the anti-skating knob and manually moving the arm platform up and down. It's a smoothly operating mechanism that holds its position when unlocked and offers on its side a series of index lines. 
Otherwise, you get all of what the more costly SL1200 G series 'tables give you—at least in terms of features and accessories: a coreless, direct drive D.C. motor, the magnet for which is integrated into a well-damped die-cast aluminum platter with heavy rubber mat, a 230mm effective length "S" shaped aluminum pipe arm with detachable head shell, dustcover, tonearm cables, and accessories.
The arm is the familiar static-balanced, universal S-shaped design using the same gimbal suspension construction and machined housing found in the SL-1200.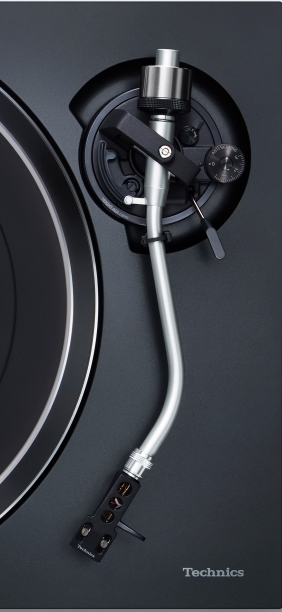 Likewise, the motor uses the techology developed for the SL-1200 series and the SL-1000R.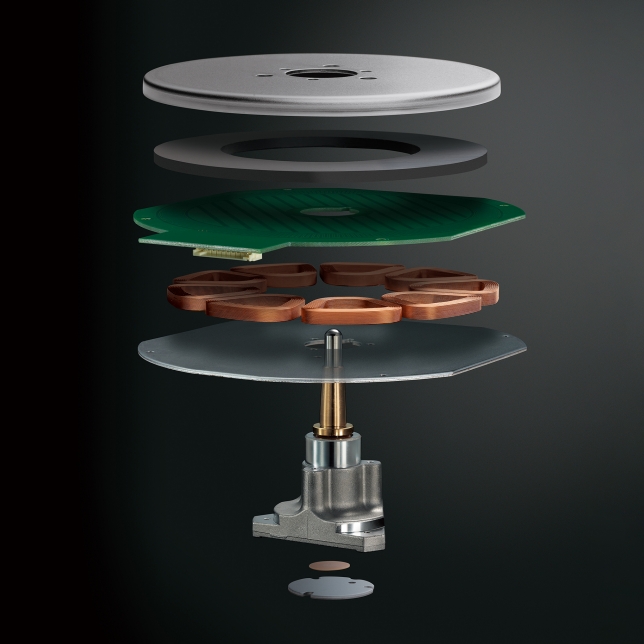 And, unlike many turntables at this price point, the SL-100C features a sophisticated die cast aluminum chassis Technics says is "...rigidly integrated with a special material consisting of ABS-mixed with glass fiber..." to produce a double layer construction. The feet combine springs and rubber to provide isolation and damping.
Plus, you get the aforementioned cartridge, installed on the head shell, ready to plug in and play. The 'table can rotate at 33 1/3, 45 and 78 and the arm incorporates a mechanical end of record lift mechanism. One notable difference between the 1200G and GAE is weight: the SL-100C weighs approximately 22 pounds versus the 1200 G and GAE's almost 40.
Easy Set-up And Use
 So easy, there's no point in going into it. Therefore, let's get right to performance. The supplied .4mV output MM cartridge, with its .6 mil conical stylus is pleasant enough but it seriously restricts the sonic performance this turntable can deliver. 
Of course, go ahead and use it, especially since it tracks at 2 grams and will take good care of your records, but the sound will be kind of soft, warm and though pleasant, seriously lacking in detail and spatial finesse. Channel separation is rated at 18dB@ 1kHz, which is minimally acceptable, though honestly, the soundstage was wider than I was expecting. Better cartridges are spec'd at 25dB and over. 
The good news is that if you are not adept at cartridge set up, or just don't want to mess with it, there are a half-dozen interchangeable styli options (they are different from the more familiar AT95 series), including elliptical, nude elliptical, nude microlinear and even a Shibata replacement that costs $199, which no doubt takes this design to new sonic heights.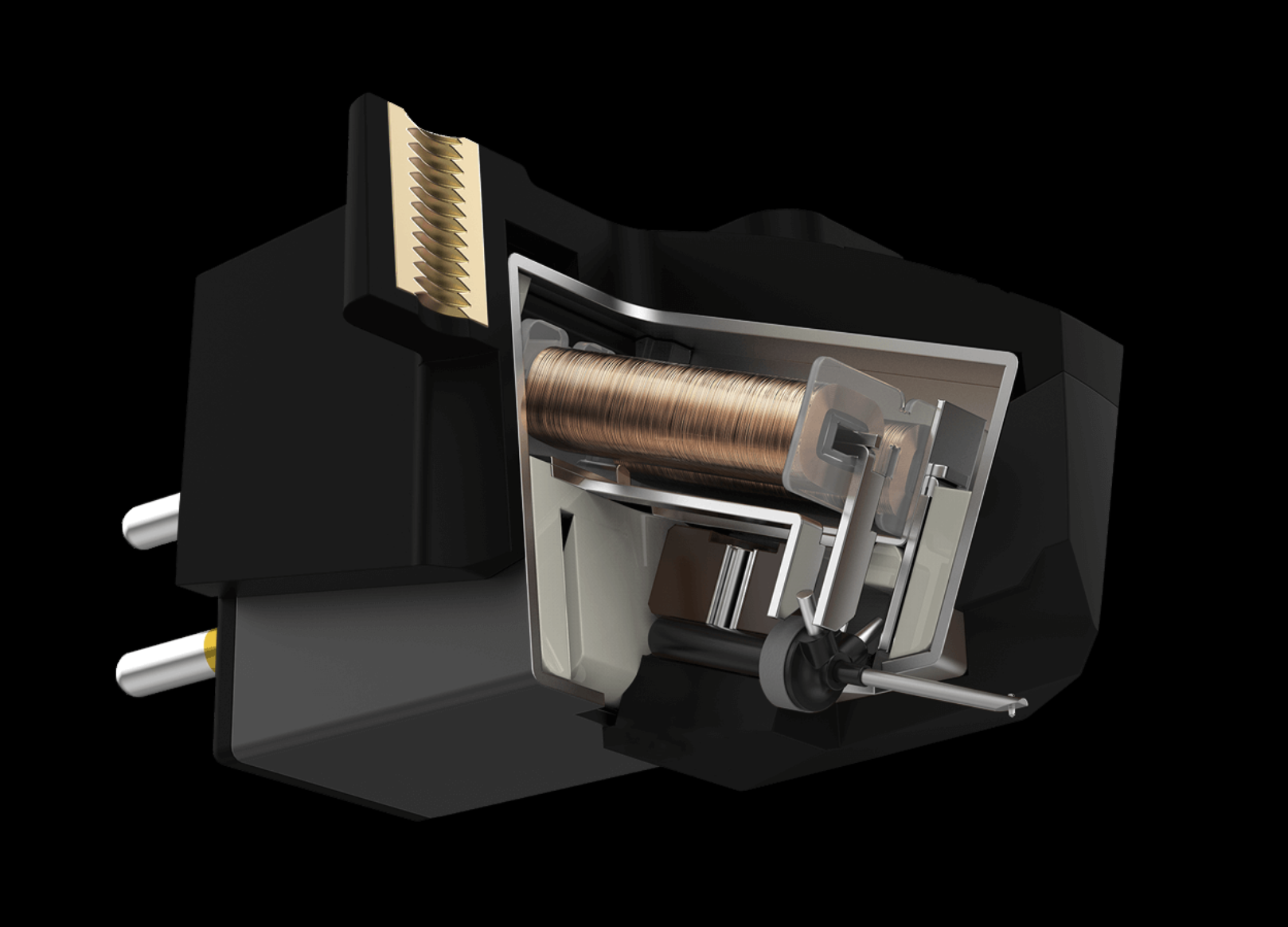 The basic cartridge is typical Audio-Technica high quality at a low price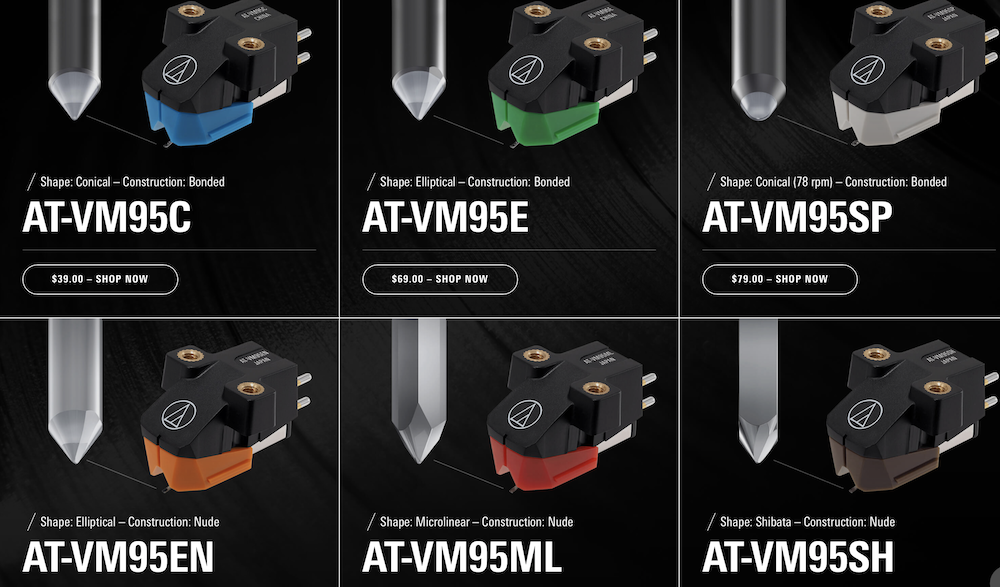 You can easily upgrade by swapping out the stylus assembly
 Or, you could do what I did and plug in a $439.99 Ortofon Concorde Elite integrated cartridge/head shell. Aside from looking great, it sounds so as well, though with its 8.5mV output (about double the normal MM cartridge output) you have to be careful about overloading your phono preamp. 
The Elite tracks at 3 grams and is spec'd at 25dB channel separation. With its nude elliptical stylus and (user replacable) aluminum/magnesium cantilever assembly and newly developed suspension material, the 'table's sonic performance became ridiculously good: quiet, stable, dynamic, three-dimensional and just plain exciting and fun.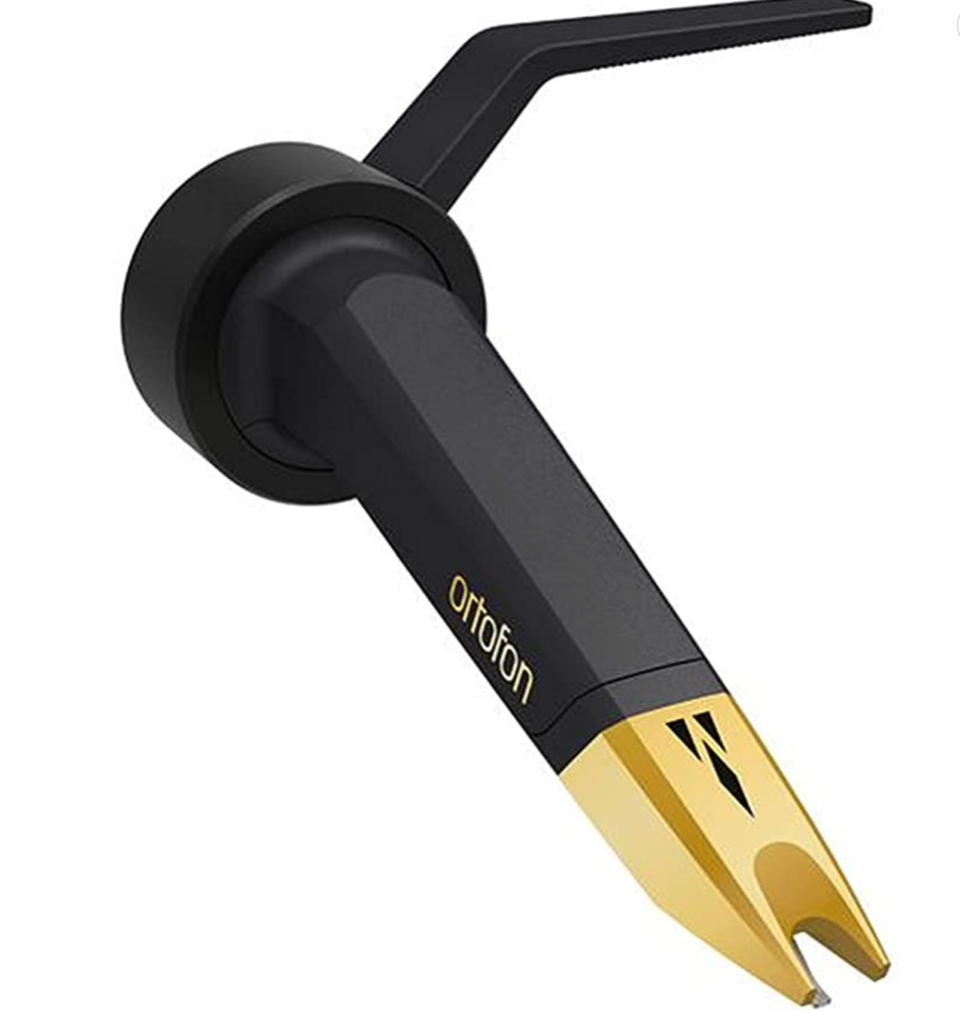 But before getting to sonic details, here's what I measured: the 'table consistently ran at 33.35 using the Shaknspin device, which is close enough to 33.33. You won't see that minute difference using a strobe disc. The other speeds were equally accurate (strobe measured). The Shaknspin app's "deeper dive" produced these results, which are good.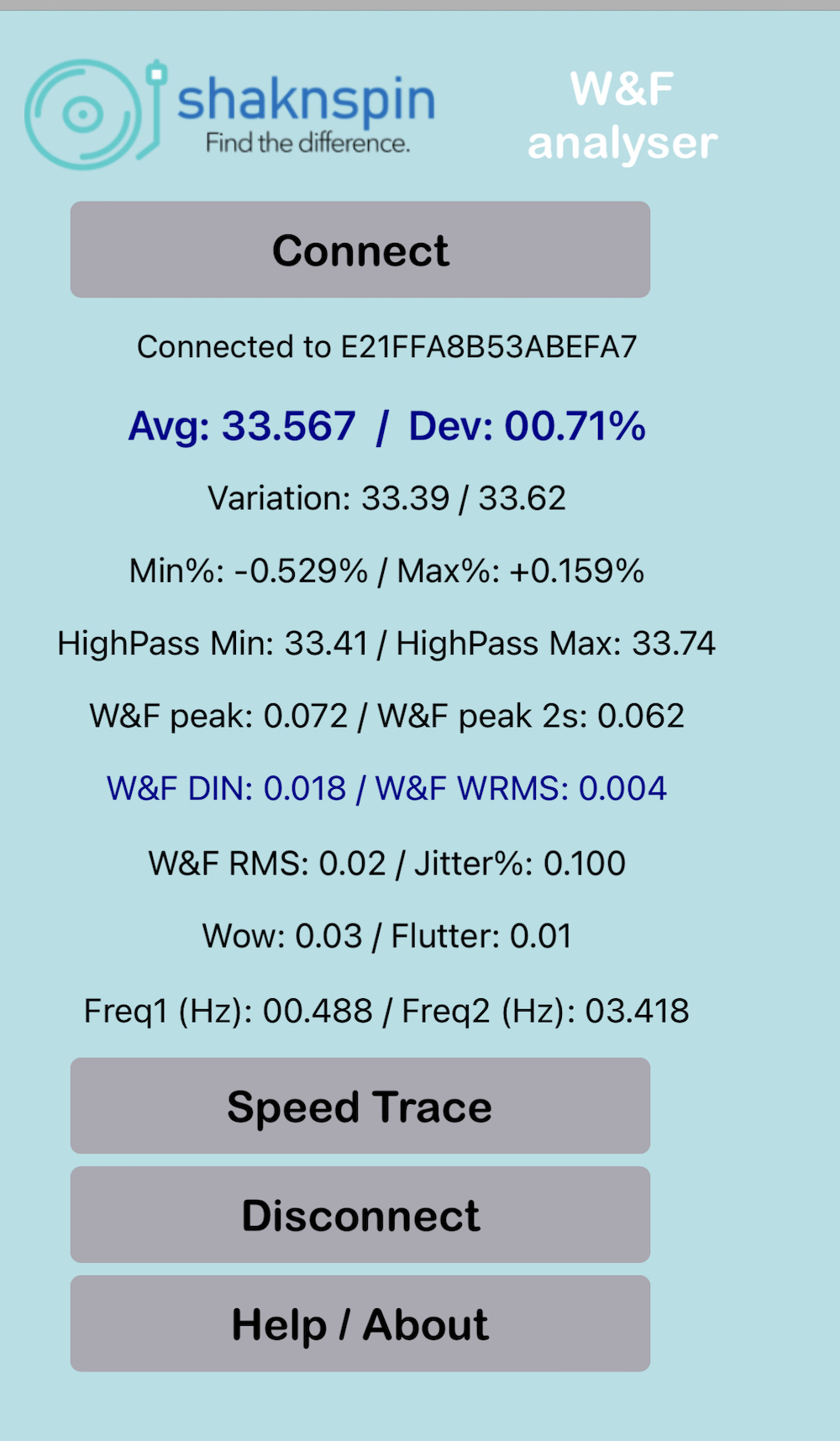 Check the measurements on this site of the similarly priced U-Turn Theory and you'll see a mixed bag comparison. The U-Turn is better in some respects, the Technics in others. My point is that neither belt nor direct drive is inherently superior. Execution counts and at this price point you have some really interesting choices.
SL-100C Sound
With the Concorde Elite installed I started with Steppin' Out! A Tone Poet Blue Note reissue of ST-84138 a tenor saxophonist Harold Vick session featuring Blue Mitchell, Grant Green, John Patton (organ), and Ben Dixon. I admit to being unfamiliar with him, but no longer! Vick and Mitchell flat out sail throughout.
The 'table presents a solid rhythmic foundation with Patton's organ providing the solid but subtle bass line that the 'table doesn't smear or over-accentuate. This 1963 session is not the richest RVG and the 'table (and cartridge) don't add what's not there.
 A hankering for Dusty Springfield brought out the double 45 Analogue Production reissue (APP 8214-45) of Dusty in Memphis cut by Kevin Gray. It kills the muffled original. Dusty appears center stage with the background singers and the strings behind and midway between her and the left speaker. It's a crowded center that's cleanly rendered with all the elements nicely separated from one another and Dusty's sibilants rendered cleanly. Gene Chrisman's kick drum in the right channel pops convincingly, though with not much weight. That's the recording not the turntable. 
 Moving to a rig costing 40X+ more produced a vast improvement in transparency and space, with Dusty way more "there" but the recording's bright, lively nature and lack of bass weight was there as well. All in all, the comparison confirmed the SL-100C's even-handed timbral balance and its low bottom octave coloration, which is one place less costly turntables often have problems. 
I always go back to The Modern Jazz Quartet's European Concert (Atlantic SD 2-603) for a good transient, bass and spatial test. To a great degree, if everything's working right, you should be hearing the cartridge more than the 'table and that's what the SL-100C and Ortofon Concorde Elite combo delivered.
Percy Heath's bass was rendered cleanly if somewhat lighter in weight than the record can deliver, and Connie Kay's drums had a bit more sizzle than usual, plus the applause somewhat more resembled rain on the roof than claps but Milt Jackson's vibes and John Lewis's piano had pleasing, crystalline clarity. 
I ended up trying a few other moderately priced cartridges on the 'table including a high output Grado Opus3 ($275), which has outstanding separation (30dB and is impervious to capacitive load. It added some bottom end weight and more midrange luxury to the mix. It was my favorite cartridge on this turntable, though all that I tried sounded very good and tracked well.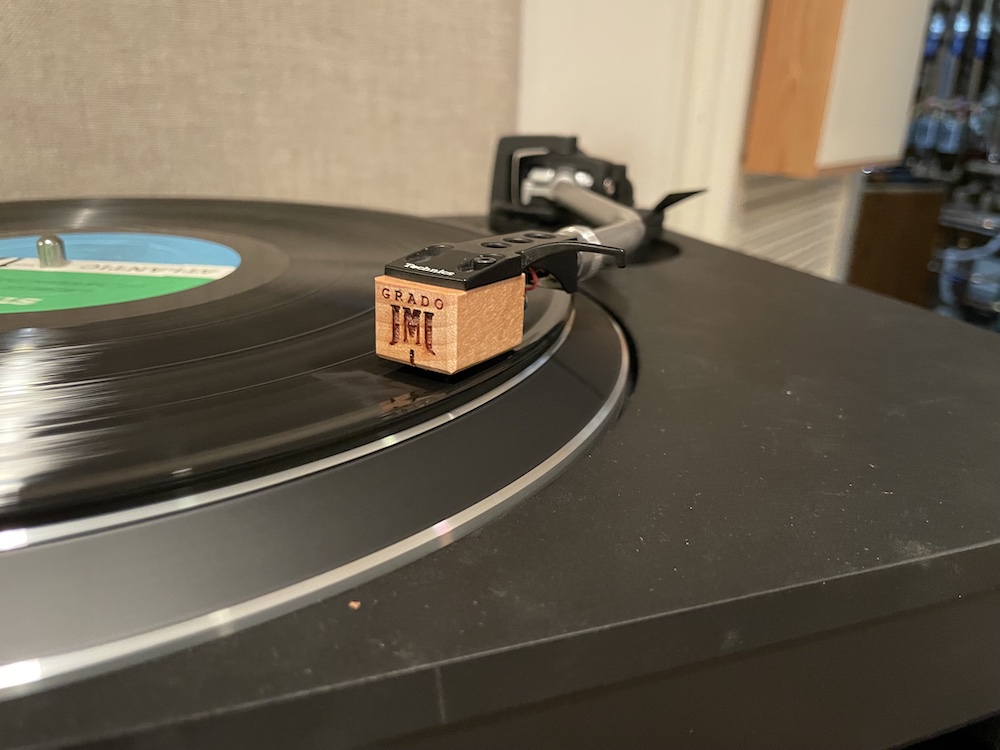 The MJQ record now sounded well more familiar with Kay's drums having more skin, more weight and more overall "swing". Lewis's piano sported more wood and the applause more flesh. I've heard this cartridge sound sluggish on some belt drive 'tables but the fast, clean, direct drive SL-100C made for a great combination.
Conclusion
Technics has been building variants of its classic 1200 direct drive turntable for many decades now. It knows what it's doing! The SL-100C turntable is a high value, high quality variant that offers much of what the bigger, more costly models do at a lower price. You lose the built-in strobe and cue light and pitch control, but you get a cleaner looking turntable that can still play three speeds and the mechanical end of side auto-lift is an attractive feature and you can adjust VTA/SRA.
 It's a quiet, solid, high-torque performer, with good speed stability and low background noise. The arm is also a "known quantity" that's long been known to provide a good ride for a wide range of cartridges.
 If I had to characterize the SL-100Cs sonic character I'd say it's on the slightly cool side, but that's easily compensated for by choosing the right cartridge. The Grado Opus3 partnered well if that's the direction you wish to go. 
You can enhance the turntable's performance with a mat change, or by adding a record clamp and/or weight or by placing it on a platform like the IsoAcoustics ZanZen 1. 
Final thought: there are plenty of "copy cat" 1200s out there. With the SL-100C you can have the real deal for $1000. Ain't that grand?
Specifications
Turntable Section
Type

Direct Drive Manual Turntable

Motor

Turntable Speeds

Starting Torque

Build-up Characteristics

0.7 s. from standstill to 33 1/3 rpm

Braking System

Wow and Flutter

Turntable Platter

Aluminum diecast
Diameter:332mm
Weight:Approx. 2.0kg (Including Turntable Sheet)
Tonearm Section
Type

Effective Length (from the tonearm pivot to the stylus)

Overhang

Tracking Error Angle

Within 2° 32' (at the outer groove of 30cm(12") record)
Within 0° 32' (at the inner groove of 30cm(12") record)

Offset Angle

Arm Height Adjustment Range

Stylus Pressure Adjustment Range

Headshell weight

Applicable Cartridge Weight Range(including Headshell)

(without auxiliary weight)
5.6 - 12.0g 
14.3 - 20.7g (including headshell)
(with auxiliary weight)
10.0 - 16.4g
18.7 - 25.1g (including headshell)

Head Shell Terminal Lug

1.2mmφ 4-pin terminal lug
Bundled Cartridge
Terminals
Audio Output

PHONO (Pin Jack) x 1
EARTH TERMINAL x 1
General
Power Supply

AC110-240 V, 50 Hz / 60 Hz

Power Consumption

8 W
Approx. 0.2W (Standby)

Dimensions (W x H x D)

Weight

Accessories

Turntable, Turntable sheet, Dust cover, EP record adaptor, Balance weight, Head shell, Cartridge(audio-technica AT-VM95C), PHONO cable, PHONO earth lead, AC power supply cord, Owner's Manual
Manufacturer Information