No Sanctuary Here - a Deep Dive Into Music at the Munich High End Show
played-to-death audiophilia and mind-expanding esoterica in Munich's listening rooms
An old favorite was spinning in the dimly lit DeVore Fidelity room on the ground floor of the Munich audio show. Yesterdays is a 2001 live recording from Tokyo by the Keith Jarrett Trio featuring Gary Peacock and Jack DeJohnette, also known as the Standards Trio, released by ECM. The O/Baby speakers delivered the opening Horace Silver tune «Strollin'» in all its foot-tapping glory. 
 – Jack DeJohnette is probably my favorite jazz drummer, remarked speaker designer and music nerd John DeVore. Many a jazz aficionado would agree, but the very idea of having a favourite jazz drummer, not to mention the good taste to have it be DeJohnette, is frankly not something you would expect from most designers or brand owners at a hi-fi show.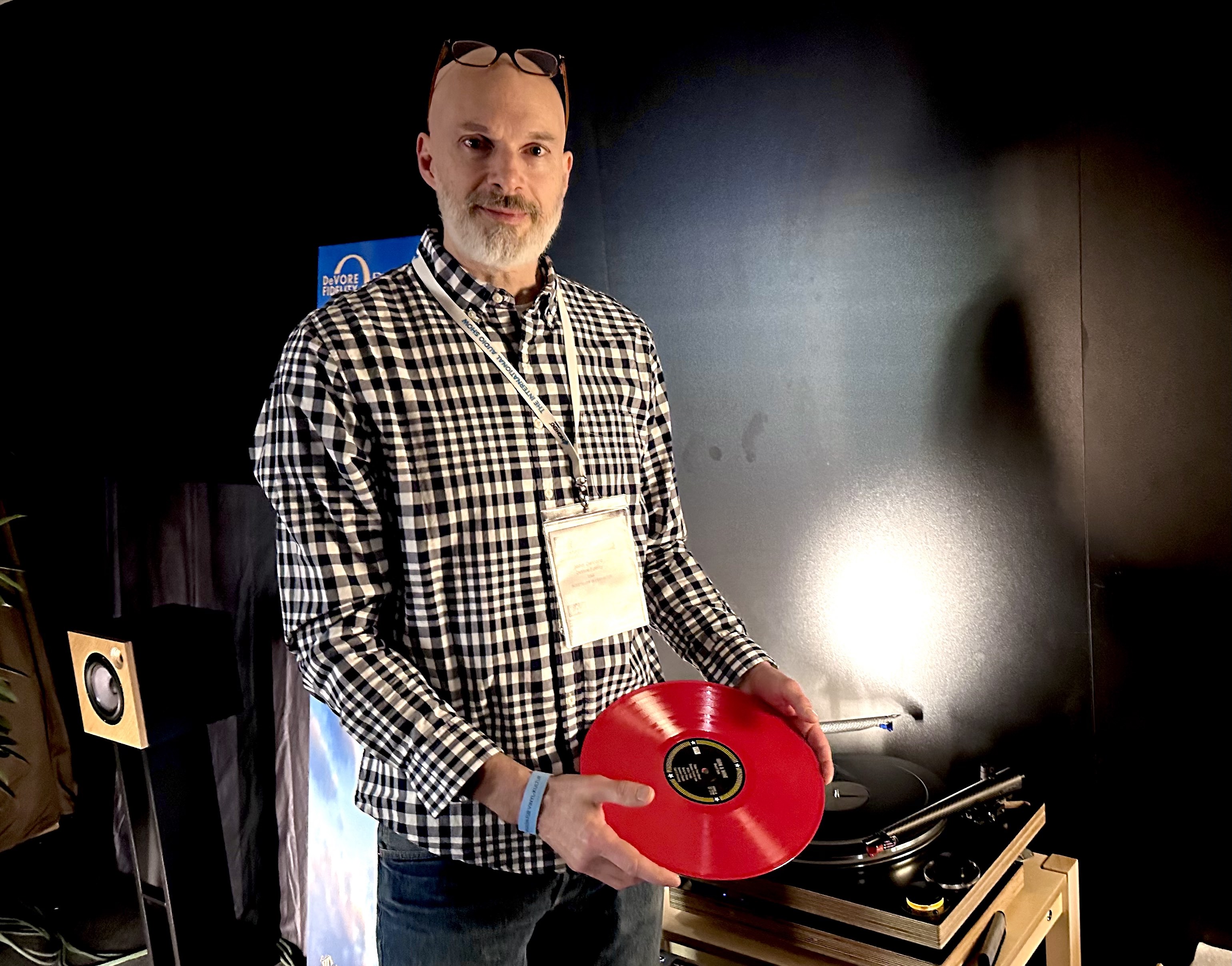 John DeVore in his dark and dingy Munich listening room, ready to spin some Iron & Wine on a prototype Wand turntable. Photo: Jan Omdahl
At last year's Munich High End, hearing Led Zeppelin's «SInce I've Been Loving You» on the O/Babys was an absolute joy. The smallish speakers, with their 6.5-inch drivers, may not have delivered the last bit of weight and slam on the recording, but boy, did they bring the soul and grit of it. This year, DeVore's room was one of the first I stumbled into, only to be met by the sweet sound of vintage Rufus and Chaka Khan. «Ain't Nobody» was a perfectly uplifting start to the day, but unfortunately not a perfect example of the kind of music you normally hear at audio shows. 
To this year's event, as to every show, DeVore had brought a carefully curated box of records.
– The pick is fresh for each show. I start selecting records to bring a few weeks before the show, always a mix of new acquisitions and old favorites.
In his Monkeyhaus in Brooklyn's Navy Yard, DeVore keeps his 10.000 or so records sorted by a system of color-coded Post It-notes. Green is mono, blue is «interesting» or «go back to this one», pink is «good sounding», and so on. 
– The better sounding the demo, the better you sell. So I'm sure pink might impress more. But then, at a later stage with a customer, they will want to hear stuff they care about regardless. When in retail, I sold by doing great demos. You take care to do a careful setup, and to find music that will connect to that customer. I always start out with the good sounding stuff. It's a blessing and a curse to be the speaker designer. If it sounds bad, people blame the speaker. Nobody cares about who designed the isolation platform.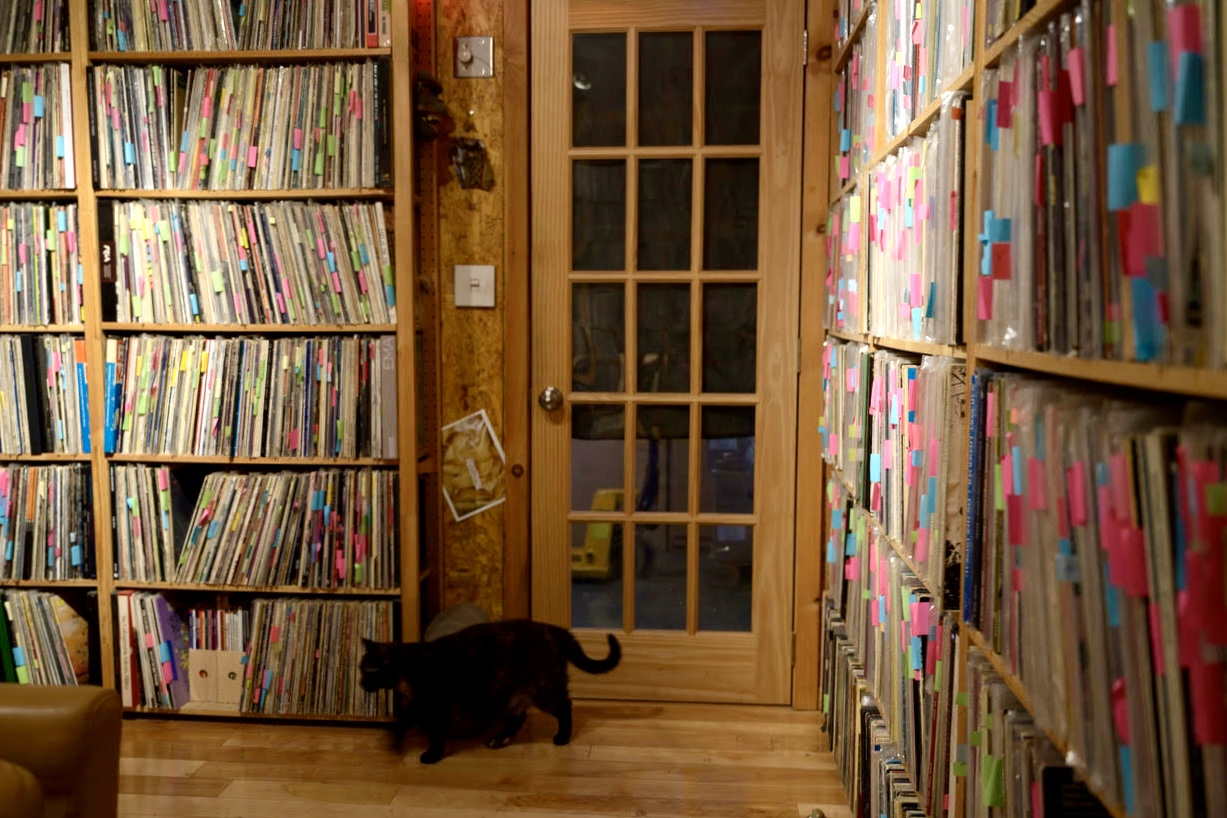 Post-It-notes marks different categories of music at DeVore's Monekyhaus in Brooklyn. Pink is «good sounding». Photo: DeVore Fidelity
– If it sounds bad, people blame the speaker. Nobody cares about who designed the isolation platform.
***
You may have heard the old saying: some people have hi-fi gear to listen to music, while others have music to listen to hi-fi. Spending a few days at Munich's world leading High End show in May, you will encounter weird and wonderful people of both demographics. Not  just amongst sales people, marketing executives, audio journalists and thousands of hi-fi pundits: Company founders, product designers and engineers of rare caliber also come to the show, to hawk their products and talk about their more or less idiosyncratic design ideas and engineering philosophies.
You might even bump into some bona fide music legends. At this year's show, guitarist Al DiMeola was «brand ambassador», while producer and music mogul Rick Rubin spent two days at the show as a civilian.
Friendly and talkative audio industry legends abound. These are extreme people, the lengths gone to in pursuit of audio nirvana truly mind-boggling. Just look at two of the turntables in this show video from Tracking Angle's editor, the MT One System by Wilson Benesch and the Astellar from Acoustic Systems. The level of technical innovation and engineering presented by WIlson Benesch design director Craig Milnes and Acoustic Systems founder Dietrich Brakemeier is just out of sight.
But are these the people you would want to hang out with for a late night of record spinning?
I have no reason to question the depth of musical understanding of Messrs. Milnes and Brakemeier,  but on a more general, industry-wide level, there seems to be limited correlation between audio engineering prowess and musical taste. 
Equipment philosophy and music choice seems somewhat related, though. More often than not, the coolest and most interesting music is played by the people with the more idiosyncratic gear. The smaller boutique brands are generally «cooler» than the behemoths, which is often reflected in the choice of music. In general, the tubes/horns/vinyl people also seem to have slightly more adventurous musical  taste than the solid state/digital crowd. There are many exceptions to this rule, however.
There also seems to be some correlation between room styling and music on offer. The heavier the luxury car showroom vibe, the duller the music. The bigger the company logo, the smaller the selection of non-audiophile records.
The darker and weirder the room vibe, the higher the likelihood of hearing some Led Zeppelin, Aphex Twin, Stevie Wonder, Rahasaan Roland Kirk, Arvo Pärt, or Vashti Bunyan. 
Dress code can be another giveaway. Sales representatives in suits, or chinos and tucked-in polo shirts sporting company logos, tend to have the more boring music. Look for the wild-eyed guys in shorts or a Hawaii shirt, or for the all too few women. 
In some rooms hosted by very prestigious brands, you'll hear the same old «audiophile» demo tracks ad nauseum, be it Stevie Ray Vaughan's «Tin Pan Alley», Nils Lofgren's «Keith Don't Go», Hugh Masekela's «Stimela (The Coal Train)», Chris Jones' «No Sanctuary Here» or Patricia Barber's «Let It Rain»: Well recorded, mostly acoustic fare, with plenty room ambience, dynamics, body and weight, and a clean, well-sorted soundstage where instruments rarely crowd the same part of the frequency spectrum. It's the kind of stuff that will make almost any system sound «good».
This is an environment where music can all too easily be reduced to just signal –  a tool by which to evaluate equipment, or the success or failure of a particular gear maker to get decent room sound against heavy odds.
All the more reason to celebrate the people bringing great, eclectic and surprising music – and great sound. 
Paradoxically, truly great listening experiences are few and far between at hi-fi-shows. The equipment demonstrated may be the finest money can buy, but there's no getting around the limitations of the physical surroundings, the noise of the crowd, the heat in the rooms, the frantic and soul-sucking nature of the whole show experience.
The huge, efficient Munich exhibition space, flowing with daylight, is far preferable to the more common and claustrophobic multi-floor hotel setting of most hi-fi-shows, but conditions are not ideal for serious music listening. 
***
Still, there are rooms I return to every year, safe in the knowledge I will find both great sound and great music. One such room is that of Kevin Scott of Definitive Audio and Living Voice, the English maker of ultra-expensive horn speakers and somewhat less expensive dynamic speakers.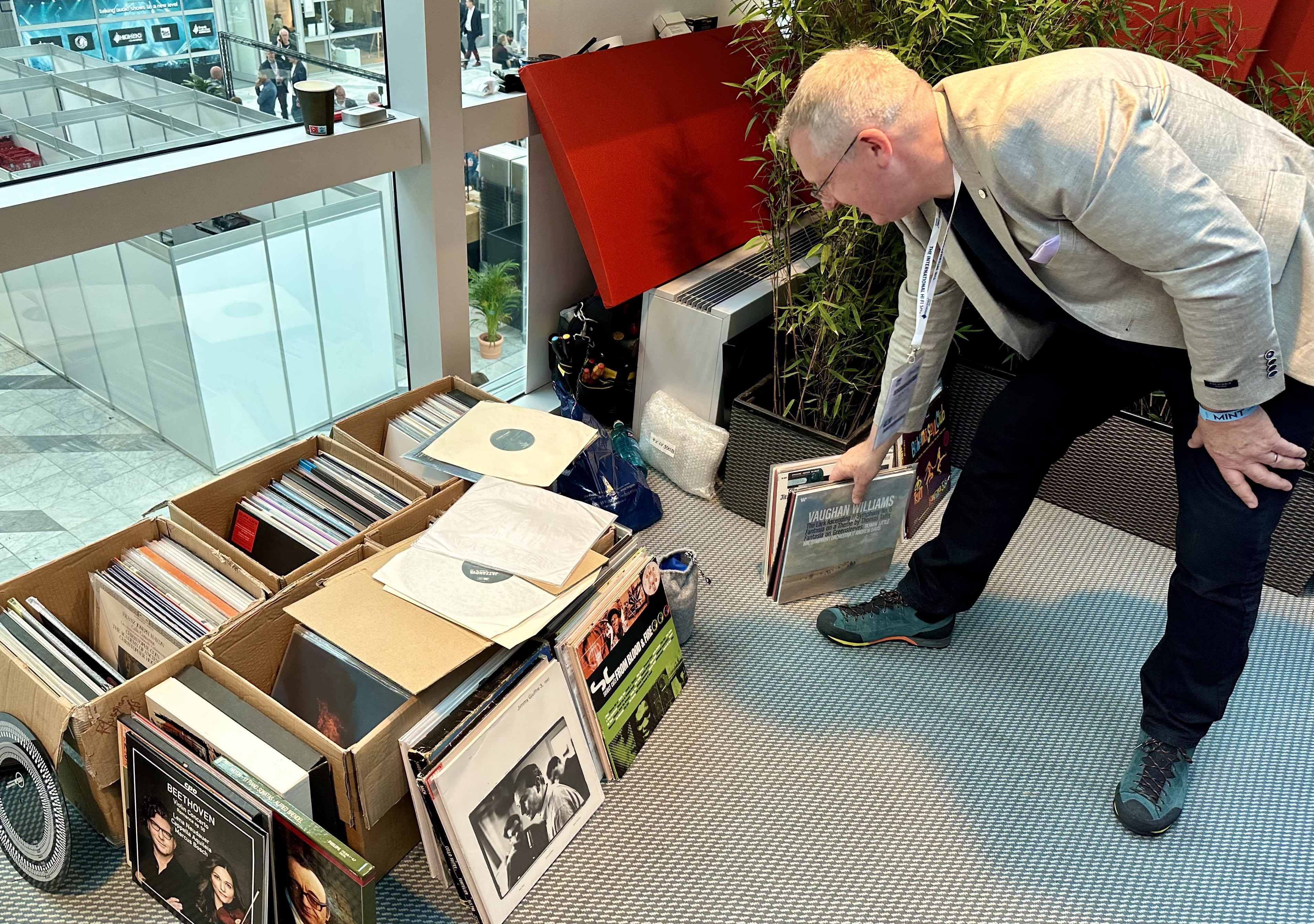 Kevin Scott of Definitive Audio and Living Voice making difficult decisions. Photo: Jan Omdahl
This year, Scott brought prototypes of the new R80 speaker with external crossovers, as well as his usual array of batteries powering the system. During playback of a UK 1973 release of the 1967 Melodiya recording of Shoctakovitch' symphony No. 13 In B Flat Minor, Op.113 «Babi Yar», with the Moscow Philharmonic Orchestra conducted by Kiril Kondrashin, the sound was uncongested and delicious, with rich timbre balanced tonality and dynamics. I grabbed hold of the eloquent and fast-talking Scott, asking him how he selects music to play at shows.
– What sells a good system is playing music that is filled with human expression, where everyone involved have gone to the end of the world for the end result. I use the same music sensibility choosing which records to play that I use when I design speakers or curate hifi systems: You want to let the music lead the process. The music, and the system's reproduction of it, should be full of character, full of music making artistry and storytelling. You hear many systems that sound very «good», but lacks any poetry. 
According to Scott, it's all about expressing music's unique ability to create a direct connection between the composer or artist's inner world and the listener's inner world.  He finds there is generally too much left brain and too little right brain amongst audio designers and audio critics:
-  You want the system to express the character of the music. I look for recordings with a rightness of capture that allows you to evaluate the integrity of the performance. Too many designers and audio critics get lost in minute engineering issues and technical details. It's like looking at a painting and focussing only on how tightly the canvas is stretched, or reading a book and saying the adjectives were fantastic, while not having a clue what the book was about. This approach is endemic in some corners of the industry. Yes, you need to be an engineer and you need to use scientific tools, but you also need passion. That other part of the brain doesn't seem to be that well developed in many audio designers. 
Ouch. Scott brought a bunch of LPs out of the room to our talk. Unsurprisingly, none were what  he labels «pornographic audiophile music». The selections ranged from Vivaldi and heavy doses of Shostakovitch, via the Estonian composer Arvo Pärt played by pianist Jeroen Van Veen, my fellow Norwegian violinist Mari Samuelsen, and Alberto Iglesias' soundtrack to «Tinker, Tailor, Soldier, Spy», to Shankar on ECM, Louis Armstrong's and Duke Ellington's The Great Reunion and the heavy dub reggae of Scientist Dubs Culture Into A Parallel Universe.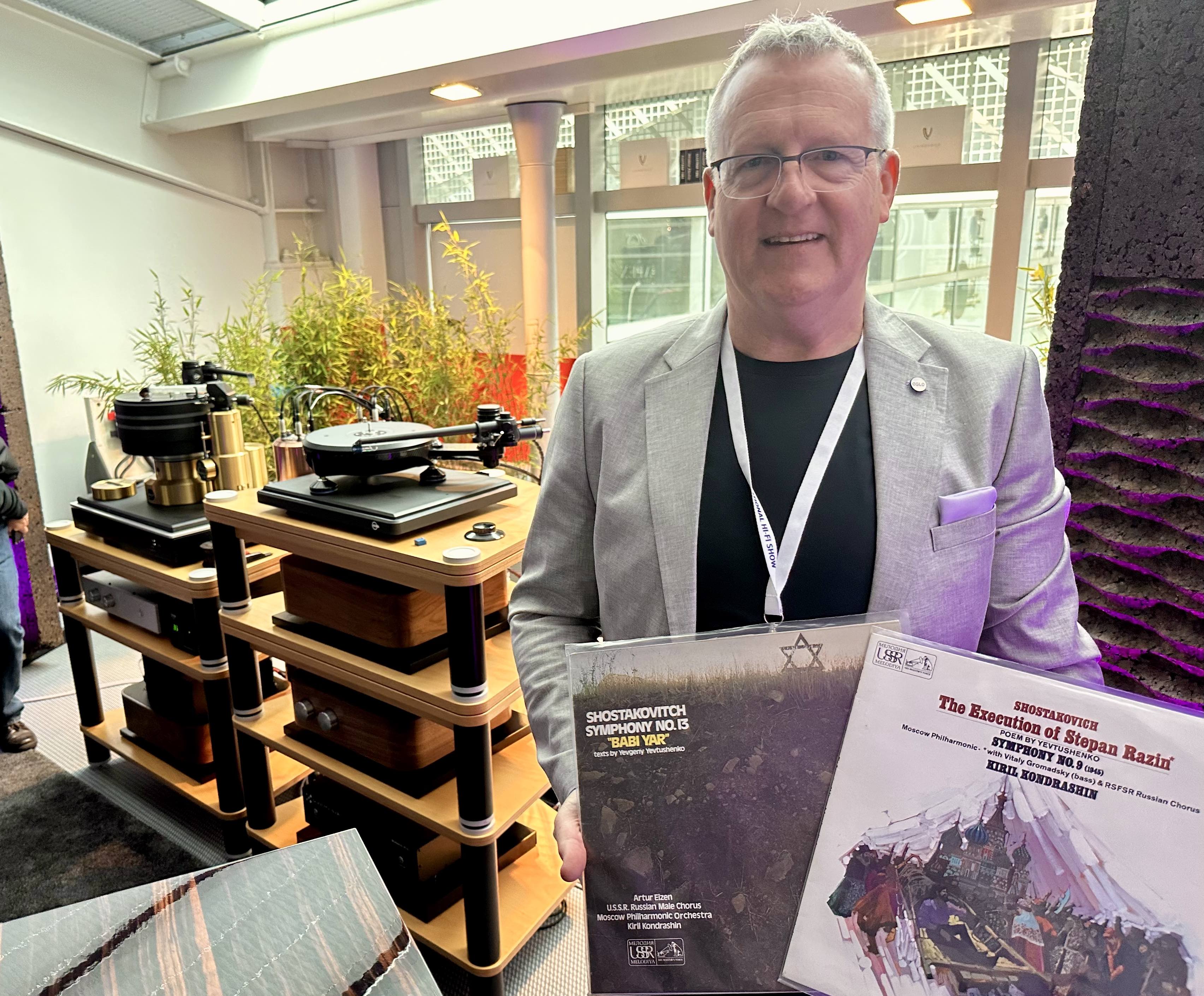 Kevin Scott showing off some Shostakovitch. Photo: Jan Omdahl
– Yes, you need to be an engineer and you need to use scientific tools, but you also need passion. That other part of the brain doesn't seem to be that well developed in many audio designers. 
***
There is no room in Munich I've had more fun in over the years than the big Silbatone room. The South Korean maker of exquisite tube electronics is also a sort of analog audio think tank and travelling show, coming to Munich each year with awesome-sounding vintage horn speakers from makers like Western Electric and Altec Lansing. Sources are turntables designed and built by, and sometimes operated by, designers Thomas Schick or Frank Schröder.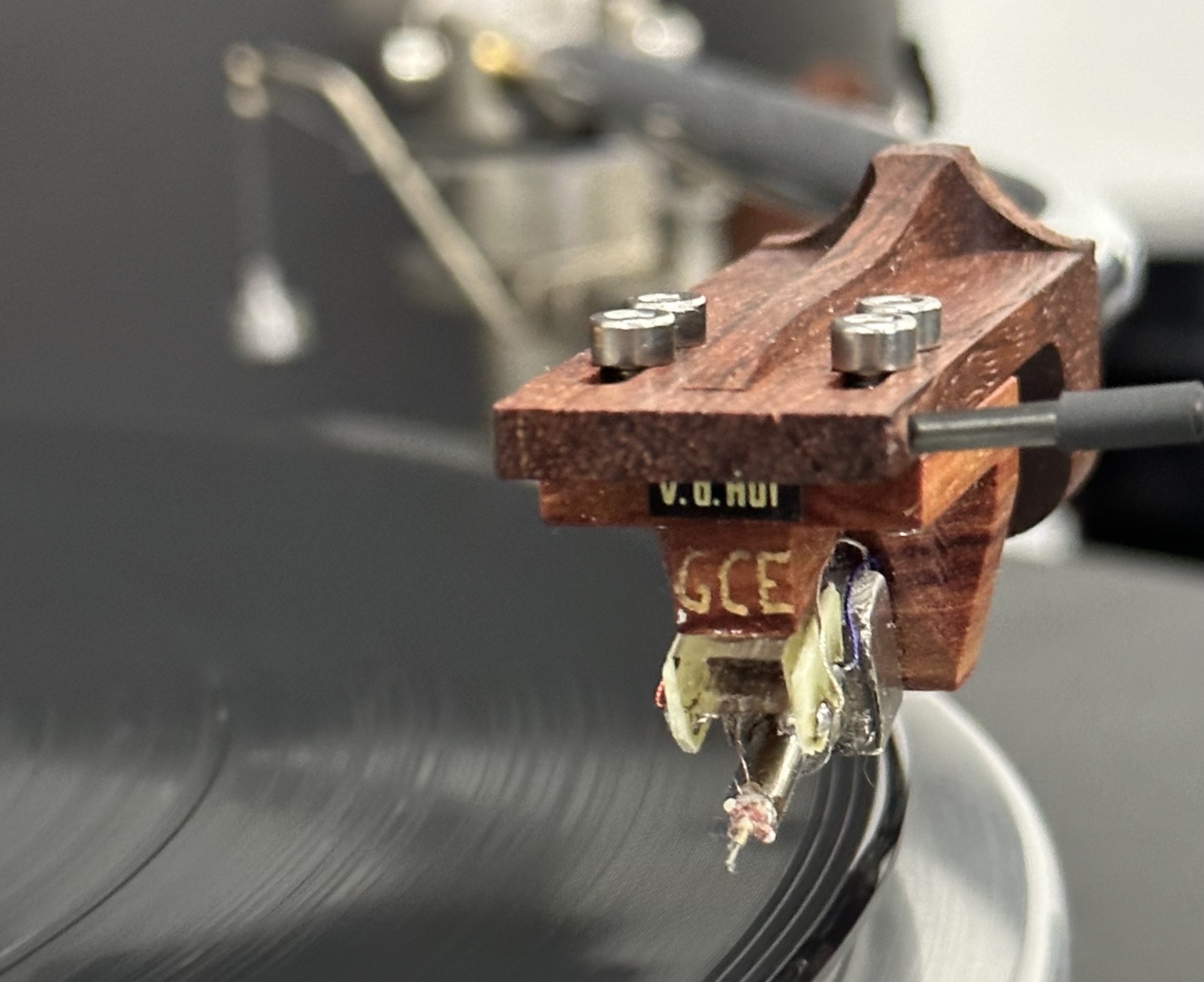 Thomas Schick used a Van Den Hul cartridge on his own arm and turntable in the Silbatone room. Photo: Jan Omdahl
The speakers are from the world's greatest collection of vintage horn speakers and other rare 20th century vintage hi-fi, owned by the wealthy Silbatone founder Michael Chung. The collection will have a permanent home  in the soon to be opened Kenzo Kuma-designed Museum of Sound in Seoul. The star of this year's Munich showing were a pair of original 1926 prototypes of the Western Electric WE-12B horns with 555 drivers. Apparently, this very pair was in the New York movie theater where Al Jolson's The Jazz Singer was first screened in 1927. Not just audio history, but history, there for us to learn from.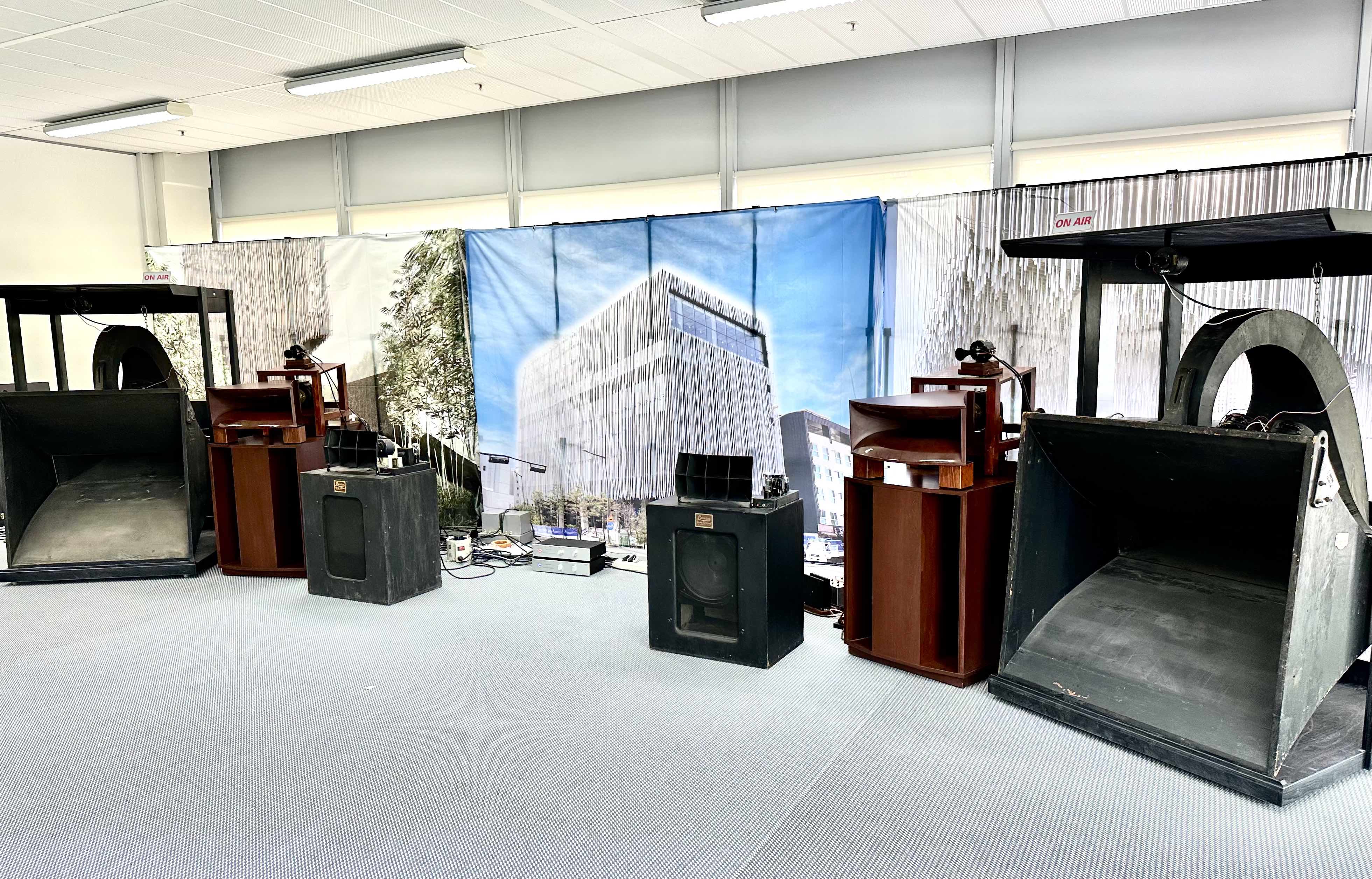 Western Electric WE-12B prototypes from 1926 and other rare horn speakers in the Silbatone room. Photo: Jan Omdahl
When one of Mr. Chung's assistants cranked Led Zeppelin's «Whole Lotta Love», the 100-year old speakers, designed to fill a large movie theater with sound from a low-powered tube amplifier, rocked like nothing else at the show, with unforced musicality, high resolution and enormous scale.
***
Like John DeVore, Jonathan Weiss of Oswalds Mill Audio (OMA) tapes notes to his records to keep track of favourite cuts. At his listening space tucked away at the far end of the exhibition area, Weiss played records on the stunningly engineered K5 turntable, a slightly less extreme smaller sibling to the K3. 
Weiss scored bonus points for playing «As Above So Below», a deep cut from Tom Tom Club's epyonymous album. A written note on the inner cover of Ali Farka Touré's Talking Timbuktu, featuring Ry Cooder, made him choose the track «Ai Du», before switching gears to the solo viola da gamba of Nima Ben Dabid on Résonance from Todd Garfinkle's M.A. Recordings. Afterwards I bought the album from Garfinkle, who was there selling his records in the OMA space.
– I play music that I love and want to share, and that sounds great, commented Weiss: – I don't play the stuff everyone else plays. I play George Michael, OMD, Tom Tom Club. And I play black music! Have you noticed that the music here is so white, apart from Kind of Blue? 
– It's racist, actually. 
A little later, legendary record mogul, producer and maverick yogi Rick Rubin showed up. All hair, beard and smiles, he wanted to hear Garfinkle's recording of Ita Umo playing Bach's Goldberg Variations on the K5. He also got a dose of tango from Garfinkle's 45 rpm disc of excerpts from Será una Noche.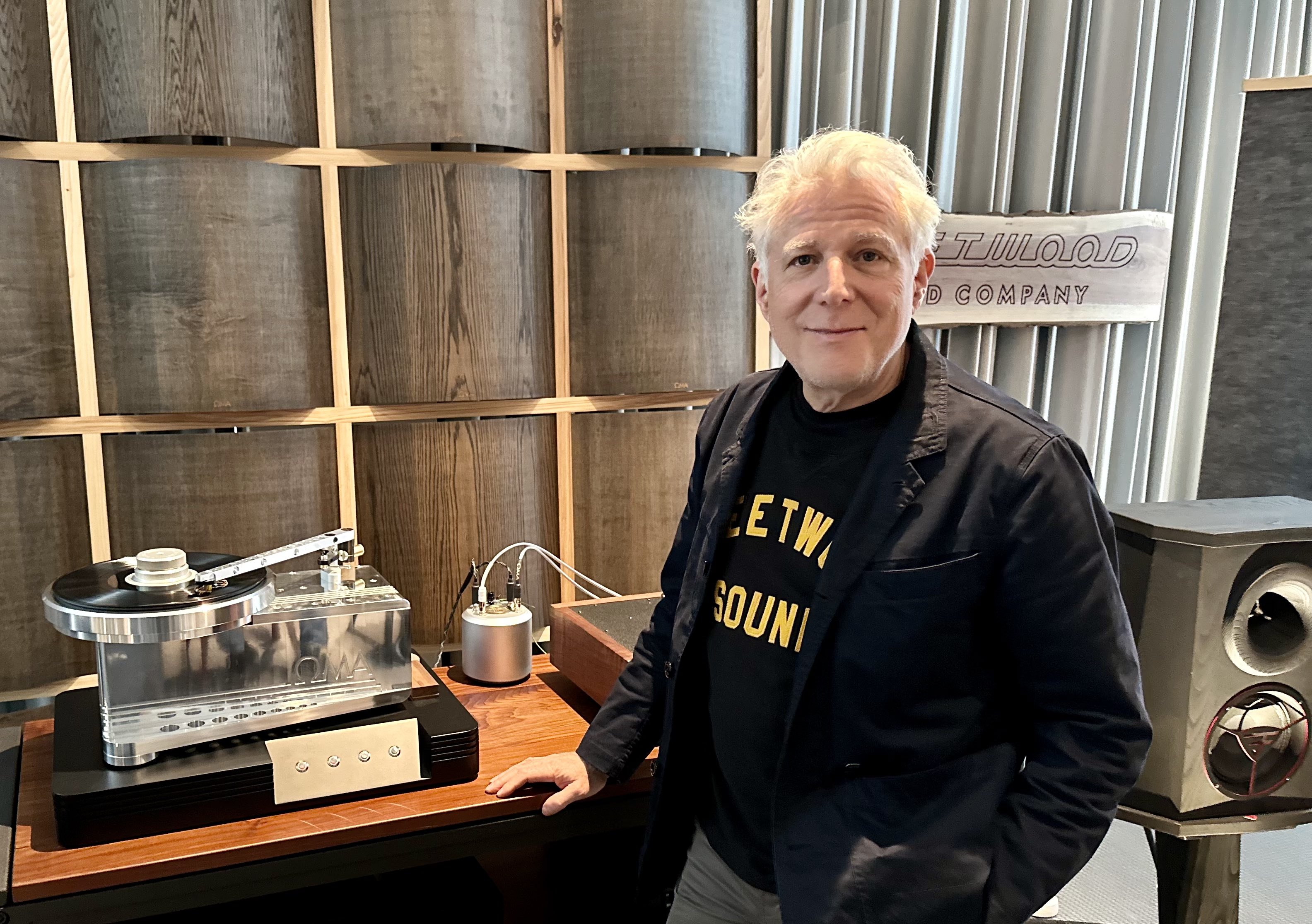 Jonathan Weiss of Oswalds Mill Audio with the K5 turntable. Photo: Jan Omdahl
***
Sure enough, the 2023 High End show brought the usual overdose of Vaughan, Lofgren, Masekela, Barber and the other tired audiophile staples.
Who in their right mind plays Ella Fitzgerald performed by Claire Teal when you can play Ella Fitzgerald?
In general, though, I was pleasantly surprised by the width and depth of music played at this year's show. Boring audiophile music syndrome (BAMS) was less prevalent than at some earlier shows. I heard great music and sound in rooms operated by or heavy with gear from TAD, Soulution, Kawero/Ypsilon, Kondo Audio Note, Engström, Nagra, CH Precision, darTZeel, Areis, Stein Music, Wadax, MBL, Cessaro, Voxativ, MoFi Electronics/Aestehtix/DS Audio, Balanced Audio Technology, Zenzati/Brodmann, VAC/Von Schweickert, Sigma Acoustics, Klipsch/McIntosh, and more.
***
At some point I still felt the need to escape the buzz of the huge Munich crowd, so I walked a bit down the road and across the street from the M.O.C. exhibition center, through a run-down gate to the Motorworld Munich compound, where a tight-knit group of maverick German audio designers and gearheads of the highest order gather in an old brick warehouse to play music and enjoy each other's company. 
Here you're likely to meet people like the fabulous Martina Schoener of L'Art Du Son (photo at the top of the story), turntable designer and maker of the Garrard 501-based Transcription Reference high end turntable. Schoener also designs and rebuilds other exquisite Garrard-based turntables, like the 301 I enjoy every day.
You'll also meet Basil Martion of Martion Audiosysteme, makers of the Bullfrog, Einhorn and Orgon horn speakers, and Joachim Gerhard, the Audio Physic founder who now designs speakers, phonostages and other equipment for Suesskind Audio, the company he established in 2011. A prototype of Gerhard's Rauschfrei (noiseless) phono stage lives at my house, sold to me quite insistently by Schoener when she installed my turntable here in Oslo, Norway. It all happened due to our mutual connection to her friend and business partner Stig Bjørge, the Norwegian owner of Tokyo-based cartridge maker Lyra.
Other people you might meet include tonearm and turntable designer Thomas Schick. The atmosphere is friendly and relaxed, but heavy with deep knowledge of all things audio and music.
Imagine a DIY vibe, but genius level.
Martina played me records on one of her earlier 401 builds, with an Origin Live tonearm and a Lyra Delos cart. Last year, she spun Billie Eilish and Yusef Lateef, among others. This year, it was a japanese reissue of Sahib's Jazz Party by Sahib Shihab, The Absence by Melody Gardot, and Gregor Schellenbach Spielt 20 Jahre Kompakt, where the multi-instrumentalist Schellenbach reimagines dance music of the two last decades as contemporary chamber music on acoustic instruments. Another selection was a 45 rpm reissue I also have at home, of Japanese ambient artist Midori Takada's Through The Looking Glass. I learned that the man in the seat behind me is Frederic Stader, the German mastering and cutting engineer who cut the record. Small world!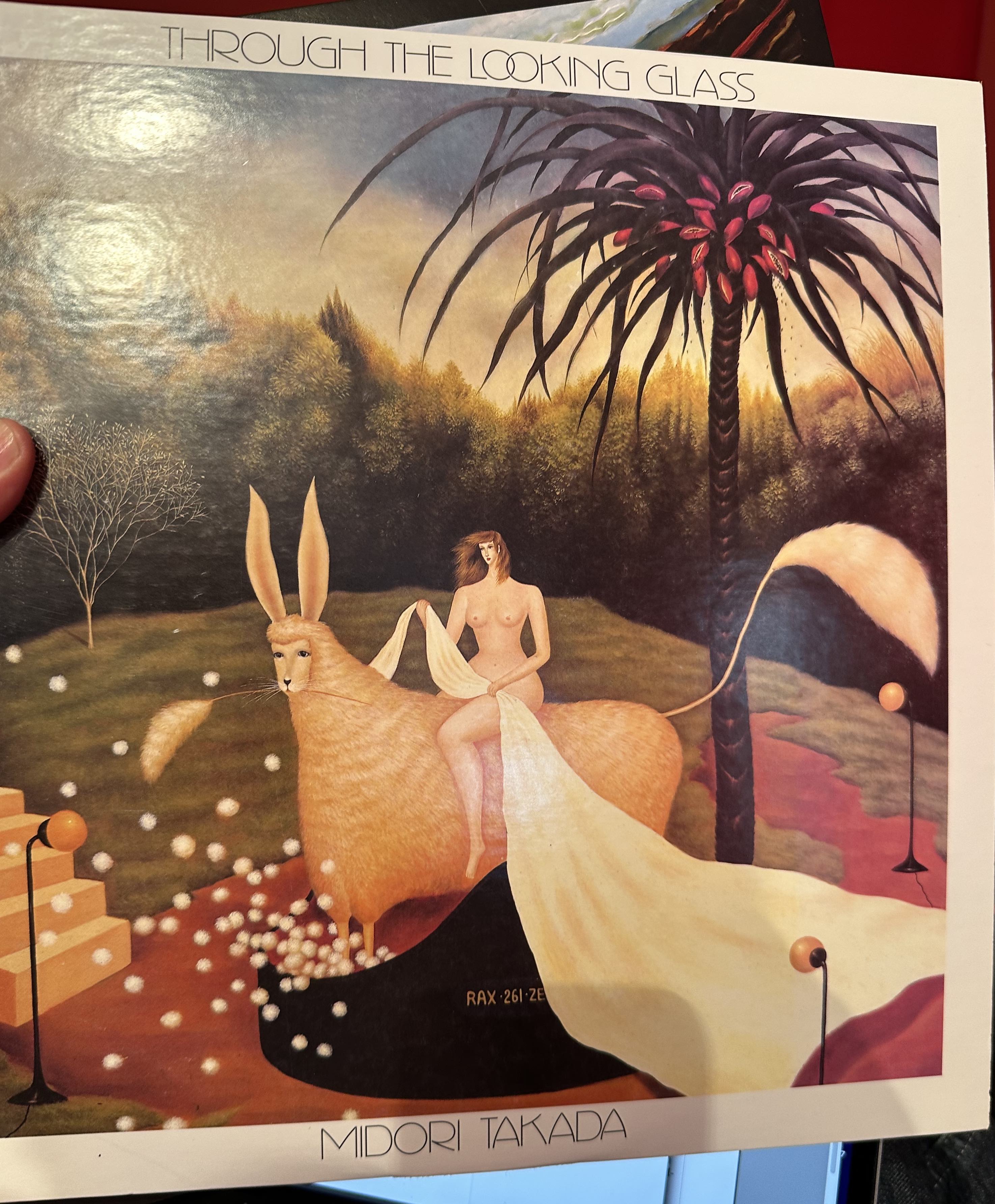 Schoener commented on her selections: 
– I want to show off what the equipment can do to make you, the listener, experience the music. We recreate the art, and we want as much as possible of it to be experienced.
Asked if she uses particular records when she tunes her turntables, she replied: 
– Most records are good enough. The artifacts shouldn't come in the way. The turntable is not an equalizer, we are reading engravings. For my personal enjoyment, one of the greatest problems is the human voice. The male voice can lack the low sonority, for example. 

– The turntable is not an equalizer, we are reading engravings.
Later, composer and record producer David Chesky dropped by. On the 2nd of June, his work The White Rose Trilogy, about the non-violent, intellectual resistance group in Nazi Germany, will be performed as part of the Dresden Music festival. Meanwhile, upstairs in the old brick house in Munich, Chesky made clear his preference for the acoustic stuff:
– Much high end music sounds like a Jackson Pollock painting: It's an artificial aesthetic, it's not trying to reproduce reality. That's ok. But I come from the Vermeer school. I like acoustic music, I like organic sound.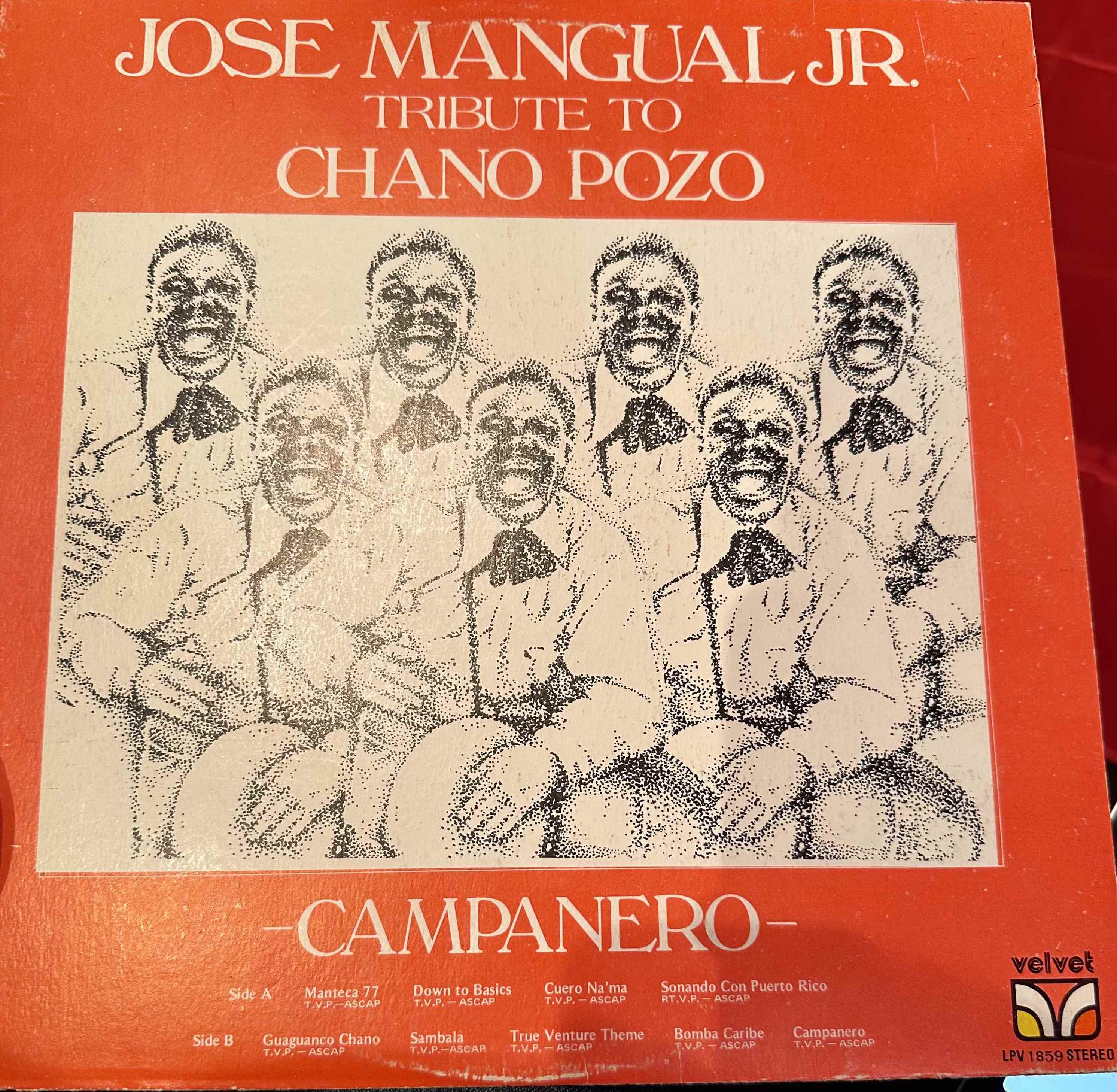 Chesky had a request in that vein: Campanero, the Salsa percussionist Jose Mangual Jr.'s tribute to his idol, the cuban jazz percussionist Chano Pozo. The corner-placed Einhorns of Basil Martion filled the room with wildly dynamic, undistorted percussive life and presence, and some very non-audiophile audiophile qualities. Chesky was digging it:
– Crank it up, It'll be like we're in Brazil!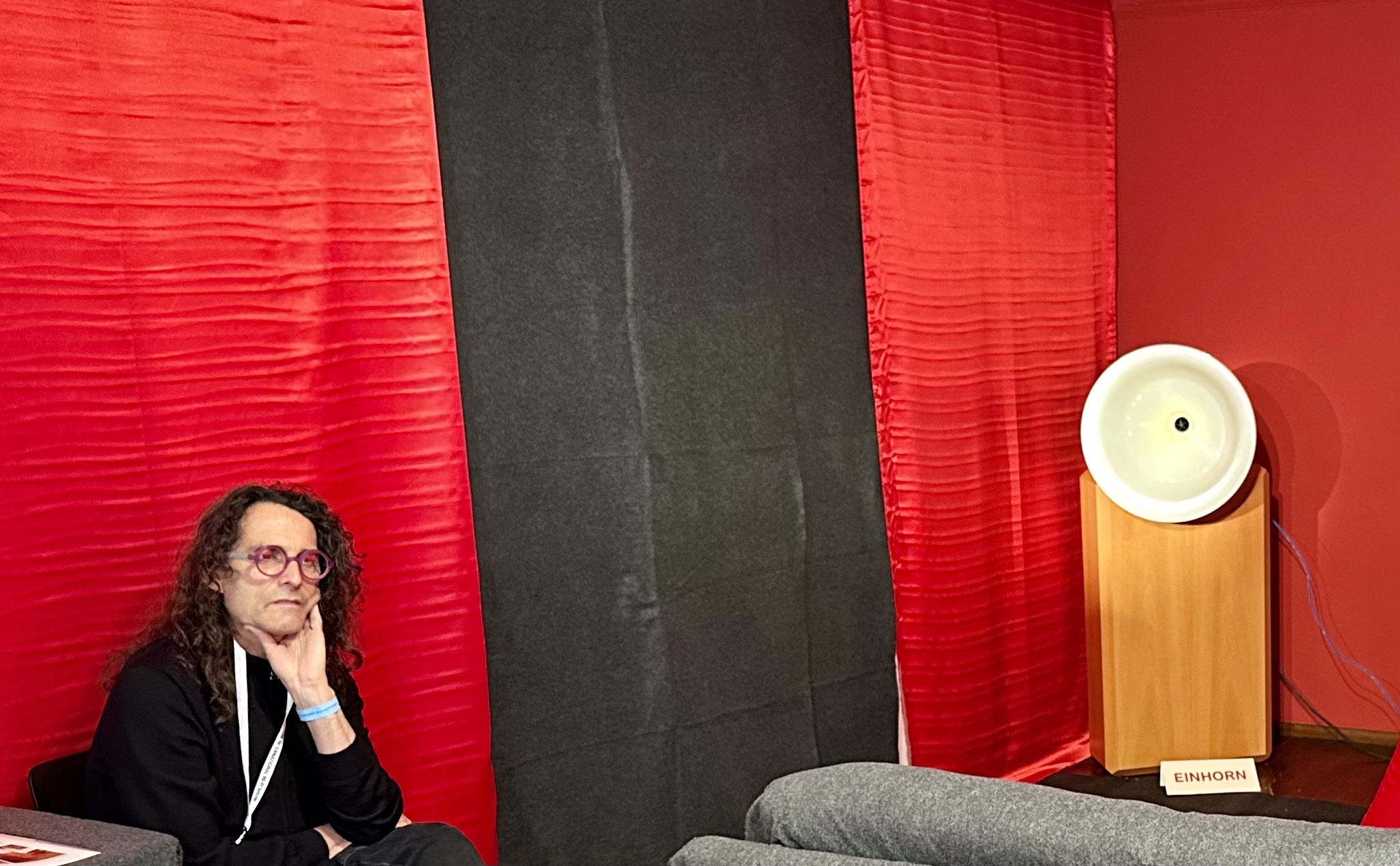 David Chesky, the Einhorn speaker, and some distortion-free Brazilian percussion. Photo: Jan Omdahl
Jan Omdahl is a columnist, critic and author. He recently published a book in Norwegian on the 1970 ECM recording «Afric Pepperbird» by the Jan Garbarek Quartet. He is a music freak, record collector and audiophile, in that order.