EBS's Rainer Maillard Responds To Michael Johnson's Gilels Brahms "The Piano Concertos" Record Review
regarding tracking difficulty and sonic "breakup"
(Photo of Rainer Maillard at Emile Berliner Studios, 2019 by Michael Fremer)
Tracking Angle invited DGG "Original Source" Series producer/mixer Rainer Maillard and cutting engineer Sidney C. Meyer to respond to Michael Johnson's review of the "second batch" of titles, specifically with the tracking issues he encountered on the Brahms The Piano Concertos disc.
Mr. Maillard responded:
With each cut we had to make decisions and thereby were forced to make trade-offs.  We are absolutely convinced about the way we did it.
If the level becomes too high, the danger of audible playback distortions increases. If the average level (loudness) becomes too low, the danger of disturbing surface noises increase. The higher the dynamic, the lower the safety margin to both ends. Setting the best compromise is one of the challenges of disc cutting.
 The Original Source Series releases have one huge advantage: We have had plenty of time to prepare the cuts before the release and there were no restrictions in doing recuts as a special collaboration with Optimal Media. Before cutting, we always make test cuts on lacquer and listen back with two different systems. A lacquer behaves differently than a vinyl record, so after we received the first test pressing, we listened to those again with two different systems. We always digitized two copies of test pressings to sort out individuals errors. Whenever we found any issue, we did a recut and the process started anew. Throughout the project, we always had a great collaboration with Thorsten Megow (QC Optimal media) who always gave us detailed feedback. In one case, we even did five rounds of cutting and TPs, which is unusual nowadays as time and cost efficiency are often the top priorities.
 Playback distortions
Distortions, which are created by the playback system are summarized in the term playback distortions. They are produced by the pickup system while playing the disk and are not part of the modulation stored in the groove. We have to distinguish between different situations where these tracking difficulties come into attention. The most prominent are:
 First:  THD (Total Harmonic Distortion). A pickup system is an electro-mechanical system that adds by principle overtones to the signal. With increasing velocity, the amount of these harmonic distortions can be enhanced dramatically. Unlike with microphones, amplifiers or loudspeakers, no manufacturer of cartridges name these THD in their specifications. As a deciding factor is the velocity, this type of distortion is independent of the program diameter.
 Second: The general difference in shape between a cutting stylus and a pickup stylus add to harmonic and disharmonic distortions the closer the dimensions of the pickup stylus comes to the wavelengths on the disc. This kind of playback distortion increases by principle the smaller the program diameter becomes. In theory, you could calculate with mathematic models these errors. It is a very complex situation and depends on many factors, which are subject to constant change depending on the program. To evaluate these errors, which are a principle component of every vinyl record, we have to consider that our ears do not notice them most of the time because the program itself could mask them.
Third: Each playback system has to be dampened to reduce distortions. Most playback systems could handle horizontal excursions much better than vertical ones. Since the side signal is encoded in the vertical plane, the stereo effect has an influence on possible audible playback distortions as well. A mono recording will be subject to less tracking issues compared to a conventional stereo recording using omnidirectional microphones as an AB main setup.
Fourth: We know from playing back lacquers, nickel mothers as well as the final products that each one sounds different although the groove is absolutely the same. The reason will be found in the hardness of the material of the medium itself. Regardless of the shape of the groove and the velocity of the stylus, there are certain effects caused by the tracking ability on a specific material. Therefore, any change in the formula of the PVC or lacquers has an influence on playback distortions.
In reality, it is usually a combination of all of these types of distortion since we are looking at a complex interaction of devices and materials.
There is also to take into consideration, that the 50 years old recording already contains a certain amount of tape saturation. Even if we skip one tape generation by using the originals, the saturation is already existent and still might be audible with a good cut.
We are very glad that out of this case a discussion could start. More feedback on how playback distortions, surface noises and other effects which set apart vinyl records from any digital medium affect the joy of listening will help us to make it even better. We encourage all listener to come back with comments about the sound and how they perceived these effects.
This discussion is not new. I found documents from the 1940s and 1970s with exactly the same dispute. The only difference is that in the meantime cutter heads and cartridges have constantly improved. As long as no one tells me that we have reached the limits of development for playback systems, I am keeping my hopes up that a new generation of pickups will succeed even better here with the challenging grooves of Brahms. We have to be aware that the playback distortions are a weak link in the chain and format inherent.
Used space on the Disc
There are specifications for the start and end diameters of vinyl records. Between these marks is the space that can be used for the program, counting from 0% (lead-in end) to 100% (maximum program diameter). For the longest side of the Brahms set (playing time 27:13) the program ends at 97% of the available space. Michael Johnson mentioned that he never saw an LP cut this far towards the label in his collection. I want to reveal some statics from our cutting room: The average percentage of used space out of our last 300 cuts is 76.2%. We have had 10 cuts (3%) that used more than 95% of disc space with an average playing time of 26:05 minutes.
We all know that the playback quality decreases with a decreasing program diameter. We've had to live with this characteristic for more than 125 years now. Anyone who would like to avoid this effect is free to switch over to digital formats. In the analogue world, trade-offs have to be made all the time, as we can only make copies (as close to the original as possible) but not clones as is possible in the digital domain. Making trade-offs means making decisions. And each decision has a cost or consequence. Few examples:
·       Spreading the program across twice as many sides: yield 100% more space, costs: price of the product will be at least 20$ higher per copy.
·       Reducing the overall level by say 3dB: Save about 12% of space, costs: 3dB lower signal to noise ratio, therefore more surface noises
·       Cutting bass: Save some space, costs: unsatisfactory sound
·       Reducing the stereo image below 300 Hz: Save some space, cost: unsatisfactory sound
·       Mix everything down to mono: Save about 40%, cost ……
I could imagine that all manufacturers of cartridges are forced to make similar decisions as well, to find their best solution for balancing all the potential issues that could occur. Let's look at it this way: With this Brahms set you could test any pickup system and see how the manufacturer chose to balance it in terms of tracking ability.
One general comment about the bass response
Both Mark Ward and Michael Johnson as well as some listeners are leaving comments about the question, whether there is a certain "DG sound" in terms of lacking bass. This discussion surprised me, I have been working for this label for 38 years now. I'd say I know a little bit about the techniques and I can guarantee that there is nothing that suggests that (apart from individual reasons) the low end was reduced or kept low in general.
Still, I have to agree that many DG recordings were done at Jesus-Christus-Kirche in Berlin. This church was discovered as a recording venue just after World War II, when most other concert halls had been destroyed. It quickly became clear that this place was very good for recording even with less microphones (at this time they used between one and three microphones only, even for large opera recordings) and musicians and conductors reported, that in this place they could hear each other very well, which is of course beneficial for the performance. To figure out why this church seems to be such a good recording space, acousticians measured the reverb time and quickly found out, that the reverb has a special characteristic, with differs from other great halls like the Musikverein in Vienna, the Symphony Hall in Boston or the Concertgebouw in Amsterdam. In these rooms (to take only 3) the reverberation time is longest below 200 Hz and decreases as the frequency rises. However, in the Jesus-Christus-Kirche the reverberation time is longest around 1100 Hz and decreases on both sides. As the reverberation time is shorter in the low end, there is more clarity, which the artists loved.
Recordings from the Jesus-Christus-Kirche seem to sound brighter in general. From the recording perspective this only means that the direct sound is just as even as in other rooms and the length of bass reverb is shorter, but not that it has been actively reduced. If anybody notices a difference between the recordings from JCK and other rooms they are absolutely right, because this is the characteristic of this great venue. DG did many recordings in this hall, if anyone should conclude that there is a lack of bass with this label, please check if you do not hear a lack of reverberation time.
I'm not an expert at comparing recordings issued by different labels from the same venue. If anybody still feels that DG recordings from other venues have a lack of bass too, please keep in mind: it is a part of each engineer's freedom and taste to boost low frequencies just by turning an EQ-knob. EBS philosophy is to keep it as pure and honest as possible.
Thorsten Megow, Quality Manager, Optimal Media Responds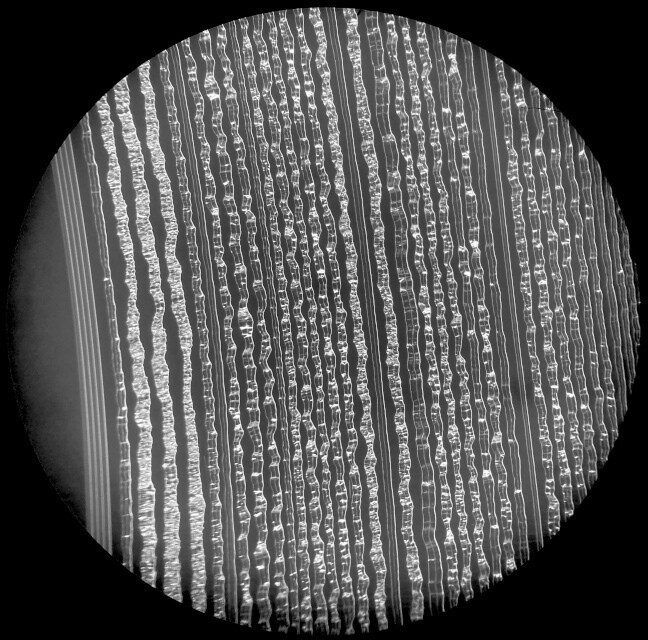 My plan was to post the following as a comment under Johannes Gleim's article but I quickly ran out of space. Therefore I decided to post my personal experience with the truly exciting Original Source Series as an article:
I'm thankful that I was allowed to be part of that project on the manufacturing side. Of course there was a lot of planning and talks upfront to find out how this can be done and thus I knew that something special was going to come my way.
But when Sidney and Rainer eventually showed up to deliver the very first cuts of this series and we looked through one of our micrsocopes to get an idea of the cutting quality it was nothing else but stunning. I realised merely from looking at the grooves that the records will sound exceptional. The modulation looked spectacular. It dawned to me that all the needles that were going to play these records would be due to a roller coaster ride.
But things got even better: After our team had processed the lacquer discs I scrutinised the metalwork in order to identify possible issues with out-of-spec grooves that might cause play-ability trouble. (Rainer and Sidney had announced that they would be maxing out the technology to achieve the absolut best possible sound. And boy they did!)
Grooves look best on metalwork where both, contrast and light reflection are high. The multi-faceted excursions of the high-frequency modulation look so shiny and bright on the nickel mothers resembling diamonds spread out on black velvet. I took photos and sent them to Rainer and Sidney to share my excitement, even knowing that those pictures look pale compared to the live microscopic sight.
My listening exerience fully justified the expectations. Despite the wild looking modulation there was no distortion noticable. The tespressings played like a charm confirming that Sidney and Rainer had done a phantastic job. I've never heard any classical record sounding nearly as good as these do. It's really as simple as that.
Although it is certainly too early to claim that these records are a milestone I'm sure they will become one. Time will tell.
I'm glad for Sidney, Rainer and the team at Deutsche Grammophon that all their efforts turn out to be so successful. Thank you all!
Sample Sonic "Snippets"
 Here are files of short 30 second "snippets" (all we could post and not get caught up in copyright disputes). There are four from side one and three from side three labeled as to source.
You will hear "snippets" produced by mastering engineer Sidney Claire Meyer, production described below, and by Michael Fremer using a Lyra Atlas SL Lambda on an SAT CF1-12 arm mounted on the OMA K3 prototype and a Shure V15VMxR mounted on a Schröder OMA K3 tonearm. Below the Soundcloud embeds is an additional microscope photo provided by Thorsten Megow of Optimal Media.
From Sidney Claire Meyer:
"Thorsten Megow from Optimal will kindly be taking the time to take a picture of the grooves at the very end of the A-side. You are going to be able to see that this will put any pickup system to the test. Going to the limit of what the record can do as a medium, we implicitly accept that some systems will be able to track this better than others. Unfortunately there is no right or wrong answer here, since no specs exist for the velocity and in the end we have to submit to what the market offers. It seems our range of pickup systems does not appropriately cover what our audiophile audience have at home. We will be taking this as grounds for expanding the options we have available here at EBS so that our QC may cover a wider range of systems. This might result in overall lower disc levels and therefore lower SNR.
Since the velocity is significantly responsible for playback distortion, I applied the RIAA recording equalization to the stereo mixdown of the digitized 4-track tapes of all 4 sides. Based on the peaks of the resulting files, the passages where the velocity is particularly high are easy to locate. These are not necessarily the passages with the highest level btw. I have just digitized 7 passages of the TP (A, C & D two each and the ending of the B side) with our EMT948/Ortofon VM Red. In all passages with moderate or low velocity, we can assume that there is no playback distortion at all, even with simpler playback systems. I checked this with our entry-level turntable Pro-Ject/Ortofon 2M red (we bought it especially for cases like this).
Admittedly, I can hear some playback distortion at the very end of the A and C sides, where the program diameter is already very small and the program is very loud. However, I still have to respectfully disagree with the statement "considerable distortion in extended passages". Otherwise the product would neither have passed the QC at Optimal nor at EBS.
Another image from Mr. Megow: This one shows the seriously difficult to track grooves within a red box