Starting a Jamaican Music Collection Part 2a—Rock Steady: The Singers
Delving into the best of Jamaican rock steady.
In Starting a Jamaican Music Collection—Part 1:Ska, we highlighted ska, the first of the big three genres (the others are rock steady and reggae) that made Jamaica famous worldwide. Indeed, this Third World country has carved out a place in 20th century music history that far belies its small size and population. And again, IMO Bob Marley is THE musical artist of the 20th century.
Ska, which dominated from around 1960 to 1966, was essentially upbeat and boisterous music with horn sections playing a major role. Then, gradually, a change occurred in the island's music and by 1967 rock steady dominated. Horns became secondary and frequently were completely eliminated. More importantly, the tempi slowed down and became mellower, resulting in a sweeter sound. Without getting too technical, this slower tempi allowed more space for the bassists (now exclusively playing electric) and drummers to improvise and add to songs nuances limited by ska's faster pace. In a word, rock steady was "cool," much cooler than ska. It also had its own cool dance, the aptly named "rock steady"
Ska was in part driven by the optimism surrounding Jamaica gaining its independence in 1962 from Britain, but by the mid 1960's it was apparent for the vast majority of Jamaicans, especially young men struggling to eke out a living, that nothing much had changed . As more youth migrated to the cities in search of work, overcrowding became a serious problem, giving way to violence. These trouble-prone young men became known as "rude boys"; their weapon of choice a German-made knife called "ratchet" and sometimes a gun. Many rock steady songs were about these rude boys, with songs both warning against them and championing them. We'll hear both sides in our survey. One final thing—it has been posited that an unusual heat wave that swept Jamaica in 1966 was responsible for the emergence of the more relaxed rock steady and the departure of the frenetic ska. It was just too damn hot to dance to ska and to play all those fast notes that ska required.
Before we delve into some of the most famous rock steady singers and groups, I think the following two songs provide a clear understanding of the differences between ska and rock steady. Both are by Justin Hinds and the Dominoes (referenced in part 1 of this survey) and both songs are "Carry Go Bring Come"—the first in 1964 ska style, the second is 1966 rock steady. Notice the difference in the bass and drums in these two versions.
"Carry Go Bring Come" (ska version)
"Carry Go Bring Come"  (rock steady version)
I once had a friend who probably knew more about Jamaican music than anyone on earth. He had a huge collection of Jamaican records, wrote liner notes for several Jamaican albums and was the drummer on one Burning Spear song. He used to introduce me to his friends as "This is Willie Luncheonette. He doesn't like ska and he doesn't like reggae. He only likes rock steady." Of course he was joking, but let me tell you, I love rock steady. I did a survey of over 70 rock steady tracks when I had my Google Plus channel and the response was overwhelmingly positive. So you know I'm all in with these wonderful songs. Though rock steady only lasted from late 1966 to early 1968 it exerted a lasting influence on all subsequent Jamaican music. We'll hear the singers here in part 2a and the groups in part 2b.
The Singers
Alton Ellis
Born in Trenchtown, Kingston, Jamaica, Ellis (1938-2008) is one of the best loved singers the island has produced, his voice appearing on more than 300 songs. "Murial," a slow R&B ballad from 1960, was his first big hit. He continued in this style, with a few late ska sides thrown in, until 1966 when rock steady first appeared and it was in this genre that he became a mega star. He has been called "the godfather of rock steady." His classic songs were recorded as Alton Ellis & the Flames and these five songs, "Don't Trouble People," "Dance Crasher," "Cry Tough," "Blessings Of Love" and "The Preacher" expressed an outspoken rude boys condemnation that put him squarely at odds with groups like the Wailers who were supportive of these troubled youth. Unfortunately, none of these songs appeared on his classic album Mr. Soul Of Jamaica. Nevertheless if you are one of the very few who can find a decent first pressing, grab it, because it contains prime rock steady. Discogs says it has been repressed 34 times and I'd say your best bet here is the 2CD Mr. Soul Of Jamaica on Treasure Isle/Trojan. You get 40 tracks, 28 are prime rock steady, including the original mixes of all the songs on the Mr. Soul Of Jamaica album, not the overdubs that most listeners know.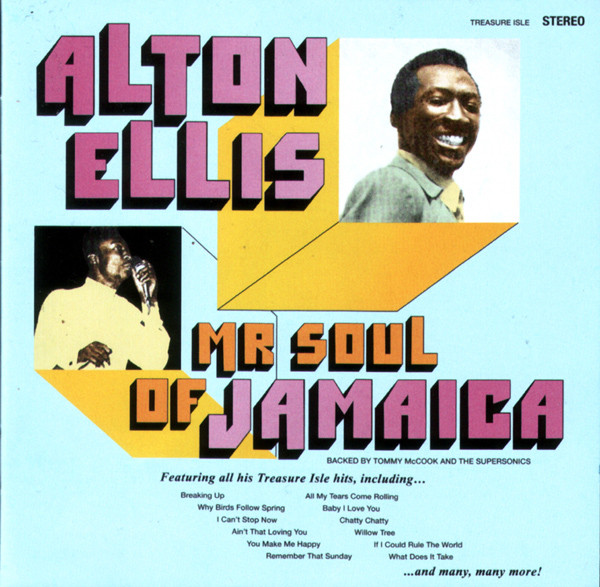 Originally released on Treasure Isle in 1974 with drum overdubs.
Double CD released on Treasure Isle/Trojan/Universal in 2013.
Disc 1. "Breaking Up"
"Why Birds Follow Spring"
"Chatty Chatty"
Disc 2 has all five of his anti rude boy songs.
"Cry Tough"(On this famous song Ellis and The Flames are joined by the deep voice of Lloyd Charmers warning "How can a man be tough, tougher than the world?/For if he's rough, he's against the world." Wise words, I'd say. Tommy McCook & the Supersonics, Treasure Isle's house band, provide the backing.)
"Blessings Of Love"("Rudie at large/Must stop your shootings, no more killings/Away with ratchets, show some friendships/Shootings everywhere")
"The Preacher"("I wholly thank the Lord I have/Opportunity is a preacher who don't like rudie/Best to be a goodie (You gotta be a better boy)/Or something's gonna burn you."  A prime example of why Tommy McCook & the Supersonics were the best rock steady band ever. Absolutely wonderful!)
"Alton was a bigger artist in Jamaica than Bob Marley." said Dennis Alcapone, himself a famous figure in Jamaican music." Everybody, even Bob, would love if he could sing like Alton Ellis. All of them would sit back and listen to Alton because Alton was the king."
If you want to complete your appreciation of Ellis in the rock steady era you also need the album Sings Rock And Soul, recorded for Coxsone Dodd at Studio One and released in 1967 at the height of rock steady. It was Ellis' first LP and had him singing solo without his group the Flames. He left Studio one on bad terms, explaining in an interview " I left Coxsone and walked the streets for about 18 months 'cause me and Coxsone couldn't take tea because it's one game him play, 'all is mine.'" A common refrain in the Jamaica music business. Nevertheless, this is a great album chock full of top notch songs, many being covers of famous hits and they sound wonderful with Ellis singing and a rock steady beat behind them.
As with the Mr. Soul Of Jamaica album, proceed with extreme caution if you want to acquire one of the 1967 pressings. Discogs lists only a few in VG condition with prices ranging from $80-$400. Unless you can hear the actual record, I would say "pray or pass." On many of the listings of old Jamaican albums Discogs has added " The seller assumes all responsibility for this listing. The seller is responsible for the sale of their items and for managing any issues arising out of or in connection with the contract for sale between the seller and the buyer." In other words, Discogs is tired of receiving of emails like "Hey Discogs, get my money back for me. The seller said it was VG+ and the record has pops and ticks all over the place. I've emailed him many times and have yet to get a response. I want a full refund including shipping charges!" So I would recommend one of the many CD reissues of Sings Rock and Soul.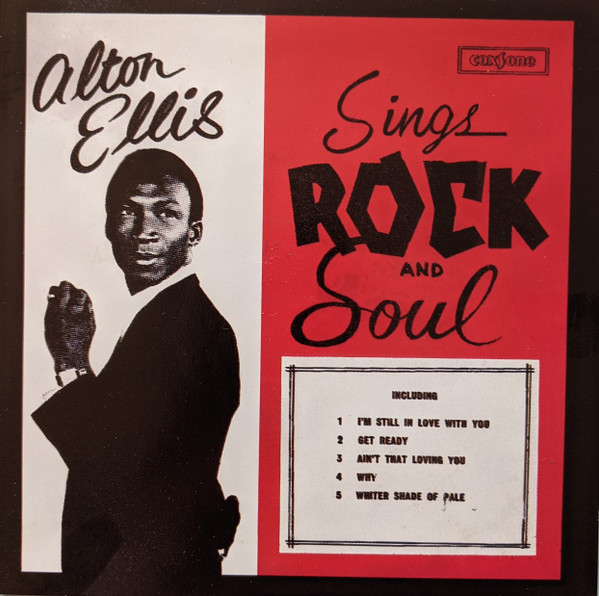 Originally released on Coxsone Records in 1967.
"I'm Just a Guy"
"Massachusetts"
"I'm Still In Love With You"
PRINCE BUSTER
Part 1 highlighted Prince Buster (b Cecil Bustamente Campbell 1938-2016). And indeed, Buster is that era's best known artist, but he also recorded many songs in rock steady style, actually, some of the most iconic.
He was called "the voice of the people" due to his popularity, prodigious output and his many talents as a singer, songwriter, band leader and producer. As mentioned, the rude boy phenomenon that swept Jamaica coincided with the rock steady years and Prince Buster took sides too. His first effort, "Judge Dread," is arguably the most famous rude boy song of them all. It was obviously tongue-in-cheek but it created quite a stir on the island.
From a 2018 Azizi Powell article: "It was only a record, but the real-life rudies were stunned. They were the untouchables, above the law, beyond the law, and here was one of their own, the Prince himself, lyrically condemning them all to the slammer. Immediately, other artists leaped to the defense of the Judge's victims, before Buster, astonished at the ludicrous uproar he'd created with one simple song, agreed to continue the saga with a new release, promisingly titled "The Barrister."
Few records, or actual legal verdicts, come to that, or were so eagerly awaited. The results of the rudies' pending appeal dominated street corner conversation, the wiles and ways of the forthcoming barrister were conjectured in coffee bars, the imminent release of the Four Hundred Four even made the radio news. But Buster had a surprise in store for everyone. Judge Dread wasn't about to be swayed by overwhelming public opinion. He jailed the barrister.
Again, the uproar was tremendous, more so, perhaps, than even Buster could stand. Or maybe he was simply bored by the whole surreal affair. Either way, a few weeks later he brought out the final installment of the saga, in which the judge has a change of heart, summons the foursome back into court, turns on a record player and they all dance the pardon. "Judge Dread Dance (The Pardon") became one of Buster's biggest hits yet.
There are quite a few albums of Prince Buster's rock steady tracks but all of them have ska and reggae songs sprinkled throughout. Not a bad thing really, but I think your best bet is his LP Fabulous Greatest Hits from 1968, the most common Buster album in most collections. 39 pressings appear on Discogs, many from 1968 in VG to VG+ condition with prices ranging from around $50-$125. Since this album is not that rare you might be able to score a good early pressing. There's plenty of reissues both vinyl and CD so really no problem adding this classic album to your collection.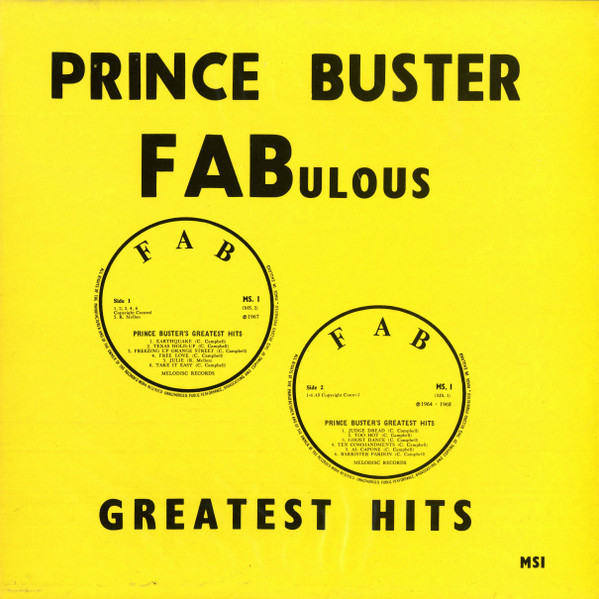 Originally issued in 1968 on the Fab label
"Earthquake"(Buster references Kip Keino, a Kenyan leading long distance runner and boxers Sonny Liston and Muhammed Ali.)
"Judge Dread"(Four rude boys appear in court charged with a variety of crimes including "robbing school children," "killing black people" and "grab and flee" The harsh, pitiless judge hands out 400 year sentences to all, and when one rude boy complains too much he is hit with a contempt charge and sentenced to an extra 100 years. A must hear classic!)
"Ghost Dance"
(A highly evocative and heartfelt memory in the form of a letter written to a friend recalling the dancehall years of his youth.)
"Dear Keith, my friend, good day — hoping you're keeping the best of health / How is the music down there in Bone Yard? / I hear that Busby have a sound system / And that Nyah Keith is the disc jockey / But them can't get no Red Stripe beer to sell in the dance at night / Tell Zackie, the high priest, who used to lead the toughest / Give him my regards / Tell him Prince Buster said, 'Hello.' / And Keith, if you should see Rashie / You know, Rashie from Back o' Wall? / Give him my regards / And if you should see the two brothers, Stinky Pommels and Herman / We grew together / Tell them Prince Buster says, 'So long, / Sorry we had to go, so soon.' / Since music be the food of love / I'll forever sing on / And Forresters Hall will soon get back my shape."
From a 1972 article in the first volume of Rock File by Mark Steedman: "Real people and places are being described here. Busby was indeed a sound system. Nyah Keith, born Albert Brown and murdered by a gunman in West Kingston in 1966, became the subject of a song by Burning Spear included on the 1978 album Marcus' Children. Zackie was apparently a heavy for Edward Seaga's Jamaican Labour Party, shot dead in 1966. Back o' Wall was a Rasta community in West Kingston, demolished in the early '60s and redeveloped as Tivoli Gardens. Forresters Hall was a popular dance hall on North Street in, I think, Campbell Town. On Rashie, Stinky Pommels and Herman, history is silent."
DERRICK MORGAN
Morgan (b. 1940) was already a megastar and household name in Jamaica when he entered the rock steady era, having sold more records in the ska years than any other singer. And when the tempo slowed down in 1966, for this talented artist there was no slowing down or decline in creativity.
Like Prince Buster, he cut three tracks about unrepentant rude boys in court and a presiding Judge Dread—"Tougher Than Tough," "Retrial Of Rudie" and "Judge Dread In Court." From Reggae The Rough Guide—"The origins of these records, which were grounded in the reality of West Kingston's rude boy culture, can be traced to late 1966, when a well known rude boy by the name of Busby asked the singer to make a record about him. Derrick responded by cutting "Cool Off Rudies" for Coxsone Dodd, but the sentiments of the song were not to the real-life rude boy's liking—he insisted he was far too tough to cool off. Derrick then cut "Tougher Than Tough" and handed the dubplate to the rude boy, who played it at a dance in Greenwich Town that night. The tune was a success and Busby duly celebrated by shaking up some beer and spraying it over some girls who happened to be followers of a gang of rude boys called the Vikings. Soaked and humiliated, the girls left the dance. The next day Busby paid the price for his misbehavior. While on his way to another dance to hear "his" tune again, the rude boy was shot dead."
Your best bet to hear Morgan at the height of his rock steady output is the compilation Do The Beng Beng! Rocksteady & Early Reggae 1967-1968. Twenty four tracks of prime rock steady and just a few early reggae (which you won't mind one bit), all but one from the master tapes. The two album set on Discogs in NM and M condition sells in the $40 range and the CD will set you back around $20. This highly recommended compilation was obviously assembled by someone who knows this music.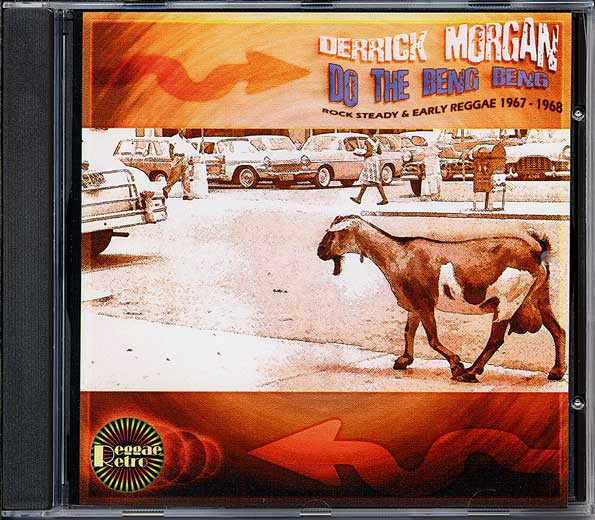 Originally issued on Reggae Retro in 2002.
"Tougher Than Tough"
"Conquering Ruler"
"Woman A Grumble" (I slipped in an original 7" pressing to let you hear how wonderful an original can sound, even with some background noise. And yes, the first word in the song, repeated eight times, sounds like "shit." although the notoriously unreliable lyrics sites on the internet have it as "she.")
HOPETON LEWIS
Born in Kingston Jamaica, Lewis (1947-2014) sang in church as a boy and much of his late output was in the gospel genre. After Jamaica, he lived in Brooklyn, New York where he presented a show on Grace Deliverance Radio. Lewis is famous for recording in late 1966 what is considered the very first pure rock steady song, "Take It Easy," recorded with Lynn Taitt and the Jets. As an arranger and guitarist Taitt was instrumental in creating the rock steady sound and without him no conversation on this subject would be complete. When Lewis was in the studio recording "Take It Easy" he asked the band led by Taitt to play the rhythm slower because he was having trouble fitting the lyrics into the fast paced ska rhythm. When pianist Gladstone Anderson heard the final version he remarked on the rhythm's "rock steady" sound and the name stuck. Lewis quickly released a whole album of the new beat that was to take over Jamaica, Including "Cool Collie" the island's first song about marijuana.
No problem choosing the standout album for this survey; it's Lewis' debut, "Take It Easy" With The "Rock Steady" Beat. And some tracks are in stereo, quite unusual in 1966 Jamaica. Seven first pressings ranging from VG+ to M- appear on Discogs. That's the good news, the bad news is they list from $350 to $700. .A CD reissue from the U.S. that I own on K&K Records in 1999 sounds excellent but as of this writing there are none for sale on Discogs. There is an album reissue on Dub Plate in 2012 that starts at $140 and a CD reissue in 2015 that can be purchased for $25 on Discogs.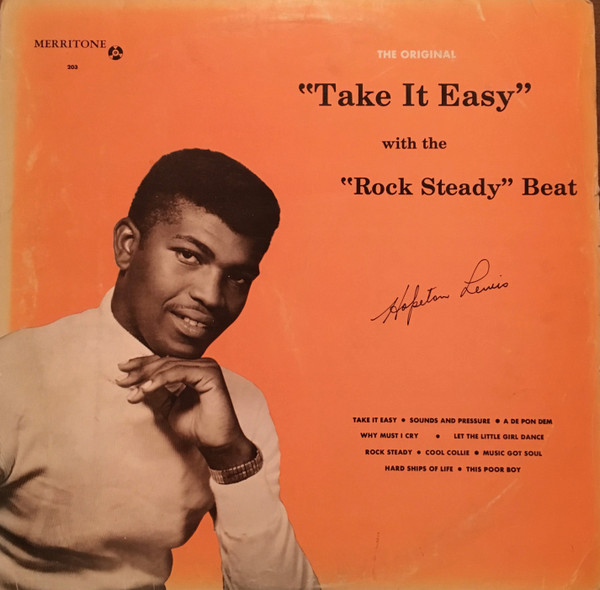 Originally issued on Merritone in 1967.
"Take It Easy"
"Sounds and Pressure"
"Cool Collie"

DESMOND DEKKER
Like both Prince Buster and Derrick Morgan, Dekker (1943-2006) effortlessly adapted to all three genres, ska, rock steady and reggae. As a youth, he loved attending church and singing hymns. His initial recording auditions did not turn out well and were rejected by both Coxsone Dodd and Duke Reid. But Leslie Kong was impressed and signed him to his Beverley's label. During this time he heard Bob Marley singing and recommended him to Kong who recorded Bob's first two songs, "One Cup of Coffee" and "Judge Not." For the rest of his life Marley expressed his gratitude, always giving Dekker the highest praise.
Dekker is an extremely important figure in the history of Jamaican music. He was the first Jamaican to be the pop face of reggae music, before both Jimmy Cliff and Bob Marley. Dekker's rock steady classic, "007," made it to #14 on the British charts and his massive hit, "The Israelites," actually got to #1 in England and amazingly, the top 10 on the American charts. (On a personal note, I remember hearing "The Israelites" on the radio here in New York City in 1968 and stopping dead in my tracks. I'd never heard a rhythm like that and I was hooked, thus starting a lifelong love of Jamaican music.)
Dekker, like many others, recorded songs dealing with rude boys— "Rudy Got Soul," "Rude Boy Train" and the iconic "007." His stance toward these troubled youth evolved in his songs from neutral to supportive, something that might have surprised his fans since in the ska era he had recorded songs like "Honor Your Mother And Father," "Parents" and 'Labour For Learning." He might have had a change of heart or maybe he saw the tide shifting to a more positive view of rude boys as more songs championed them and people started to view them in a larger sociological perspective.
The go-to rock steady album for Dekker with his two backup singers The Aces is Action! from 1968. Discogs lists four. Two are G+ and two are VG. Two have no cover. Prices range from $130-$350. Again, good luck and may the force be with you.. A better choice is a CD on Jet Star in 1996 that adds four songs to the twelve song original album. There are currently 13 mint for sale on Discogs, most in the $20 range with one shipping from the U.S.A, for only $15.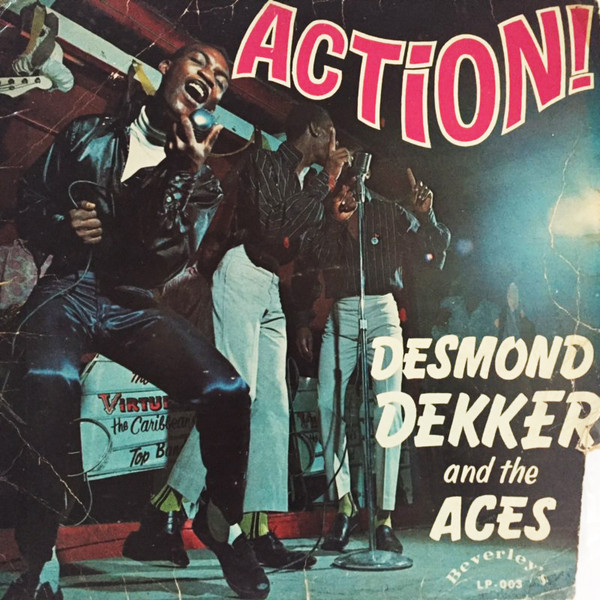 Originally issued on Beverley's Records in 1968.CD with four extra tracks issued on Jet Star in 1996.
"007"
(Certainly one of the all time great Jamaican 45's, yet I'm sure hardly anyone here in America knew what this song was about. The rude boys on the island immediately embraced it with its relentless, upbeat, joyous feeling perfect for skanking. The references to James Bond and the Ocean's Eleven rat pack with Frank Sinatra were perfectly in keeping with the rudies' idea of their own glamorous and dangerous lives. But Dekker has some cautionary words for the youth. "Police get taller at shanty town/Soldiers get longer at shanty town/Rude boy weep and a wail at shanty town." A classic example of "you hear what you want to hear." Nevertheless, this became THE rude boy anthem.)
"Unity"
"Sabotage"
KEN BOOTHE
Possessing one of the most distinctive soulful voices, Ken Boothe (b. 1948) started recording in 1962 in the ska era singing with Stranger Cole, already an established recording artist on the island. Their wonderful duet, "World's Fair," can be heard on the Skatalites' album referenced in part 1. Boothe continued into the rock steady and reggae eras with much success. In September 1974 his cover of Bread's "Everything I Own" hit #1 on the British Charts and in December of that year, his "Crying Over You" made it to #11. In 1972 Bread's original had been a minor U.K. hit reaching #32 on the charts, but with Boothe's lovely arrangement of delicate keyboard and the horns floating outside the singing, his cover version was massive.
Boothe's initial solo tracks (without Stanger Cole) were recorded in 1966 after he had been signed to Clement Dodd's Studio One label. He had success right off the bat with "The Train Is Coming" (backed by The Wailers),"No Good" and "Lonely Teardrops." Boothe felt right at home covering soul classics like "Mustang Sally" and "Lonely Teardrops." In 1967 Boothe and Alton Ellis, two of the biggest Studio One acts became the first two artists to tour successfully outside Jamaica, visiting the U.K. with the session band the Soul Vendors. During the tour, Boothe was promoted as "Mr. Rock Steady."
From an interview in Thrasher magazine in 2018:

     " Q--You come from a rough area called Denham Town in Kingston. Did a lot of famous singers come from there?
      A--The people in this area, they're not so fortunate. But that's where it started out, from poor people. They're not poor in spirit, but poor financially--all because of politics. Fortunately the next neighborhood over is Trenchtown, where a lot of singers came from. Me and Stranger Cole, we used to go to Trenchtown almost every day. Everything started in these communal tenement yards, like the production process. That was about 1950 going up into '55.
     Q--When did you first get started?
     A--Stranger Cole and I were neighbors, and he was established already with his duo Stranger and Patsy. One night he heard the song I had done, "Uno Dos Tres," and he told me that I should go see the producer Duke Reid
    Q--That's the former cop turned producer who used to carry guns at his belt, yes? Were you intimidated?
      A--No, he wasn't intimidating. It was just that when you own a business in these days and place you had to be the security yourself. So he had his gun on the counter, a handgun, and then he had a shotgun also beside him. When he saw me, he said to Stranger, "Why are you bringing this little fat boy? He can't sing," and Stranger said to him, "Yes man, he can sing." What's nice about those days is that the producers, when they hear good singing, you don't have to finish everything, they just know that you can sing and they just say, "Studio!" That;s how I found myself upstairs at his liquor shop--in his studio, Treasure Isle. I waited forever 'cause he got busy at the shop, but I got ten pounds for the recording. And then one day I was passing a bar and I heard my voice on the jukebox. The song had come out. I didn't know."
The one classic album for Boothe's rock steady songs is Mr. Rock Steady from 1968. He was only 19 years old when some of these songs were cut but his voice sounds mature and soulful. Currently Discogs shows 18 pressings but the earliest from 1967 are unavailable. Later pressings in at least VG+ condition range from $55 to $90. One in NM is $125. There is also just one CD listed for $55 shipping from the USA that would be a good choice.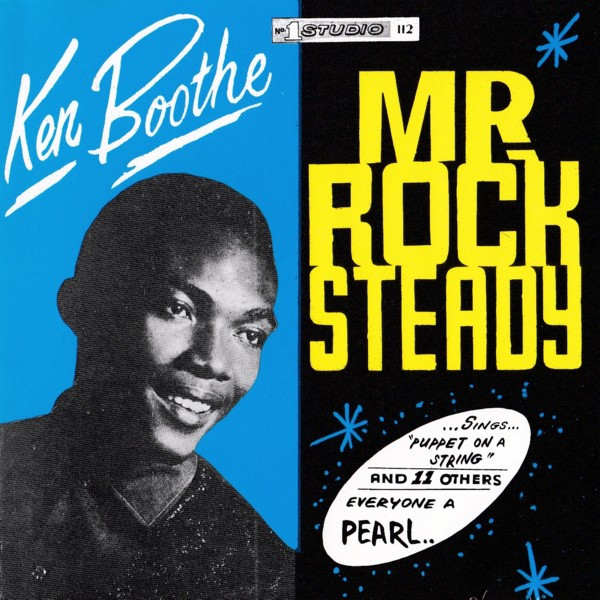 Originally issued with a different cover in 1968 on Studio One
"Puppet on a String"
(A cover of the Sandy Shaw #1 hit. Shaw's original has a herky jerky almost ska tempo like a puppet being pulled up and down. Boothe slows the temp, turning it into a love song. Notice the way he sings the word "string.")
"My Heart Is Gone"
"The Girl I Left Behind"
PHYLLIS DILLON
Now comes the survey's first female singer. Most fans of Jamaican music would say that Marcia Griffiths is the premier Jamaican female vocalist and might wonder why she is not included here since a very famous book on Jamaican music lists her in the rock steady section. But the truth is that Griffiths recorded only one pure rock steady song, "Truly." The rest of her output is reggae.
As a youngster, Dillon (1944-2004) was influenced by American singers Connie Francis, Patti Page and Dionne Warwick. She entered many talent contests. Lynn Taitt discovered her at one that took place at guitarist Duke Reid's Treasure Isle studio. Her first recording, "Don't Stay Away," has been called "perhaps the finest female performance in Jamaican music." That's debatable, but "Don't Stay Away" is simply exquisite.
In 1967 Dillon moved to New York City, where she spent the next five years raising a family and working in banking with frequent trips back to Jamaica to continue her recording career for Duke Reid. Dillon died in 2004 on Long Island. She was posthumously awarded the Order Of Distinction in 2009 by the Jamaican government.
Dillon's first album in 1972, One Life To Live, is her finest LP but it is all reggae. There is a CD on Doctor Bird in 2018 that adds 16 tracks to the 12 on One Life To Live, adding her great rock steady cuts and can be had in the $20 range on Discogs. Also, CD compilations titled Love Is All I Had on Rhino in 1994 and Westside in 2000 contain all her classic rock steady songs for as little as $15.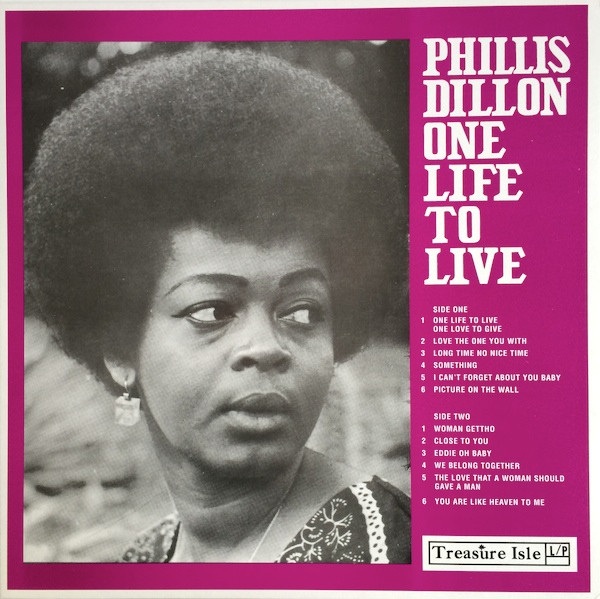 Originally issued on Treasure Isle in 1972
"Don't Stay Away"
"Perfidia"
"Don't Touch Me Tomato"
(Another great song with Tommy McCook and the Supersonics, Treasure Isle's house band again showing why they were the best rock steady band in the land.)
DELROY WILSON
Delroy Wilson (1948-1995), Jamaica's first child recording star, cut his first single, "Emy Lou" in 1962 at age 13 for Coxsone Dodd, with Lee Perry producing. He was a major talent in ska, rock steady and reggae with a huge catalog of recordings and he remained for his entire life one of the most popular and best loved singers. When just a teenager during the ska era, he recorded songs for Dodd that openly shaded Prince Buster because Buster was one of the three major producers on the island and Dodd obviously felt threatened by his success. Wilson has recalled "It seems like I was the missile that could get rid of Prince Buster."
Along with Ken Boothe, Wilson was Dodd's most successful solo singer during the rock steady years. Boothe has said," When I see him on the street, I see a lot of people gather around him. He was Jamaica's first baby star. He inspire Bob Marley, he inspire me, he inspire a lot of us. He was the first one to put his voice on records that start to establish Jamaica's name all over the world." The Clash were big fans of Delroy, mentioning him in their song "White Man in Hammersmith Palais."
Wilson's soulful voice singing rock steady can best be heard on two albums, Good All Over and The Best Of Delroy Wilson (Original Twelve). Good All Over appears 18 times on Discogs. The first pressing from 1969 is impossible to find in good condition but subsequent pressings can be bought in VG+ to M- condition for $45- $80. There is also a CD issued in the USA that sells for $40 with USA. shipping. For The Best of Delroy Wilson (Original Twelve). Discogs notes two original pressings from 1972 in VG+ condition for $50-$104. A CD on Heartbeat Records (which does a good job with the master tapes when they're available) is only $25. If you must own an all analog vinyl copy, a reissue on United Artists with a different cover from 1976 in VG+ sells for under $20 with one in M condition for $26. UA did a good job with these. But wait, there's more! If CD sound is OK for you, Rhino has a compilation, Sings 26 Massive Hits From Studio One, that takes most of the best tracks from the two albums we highlighted and is only $30 in M condition.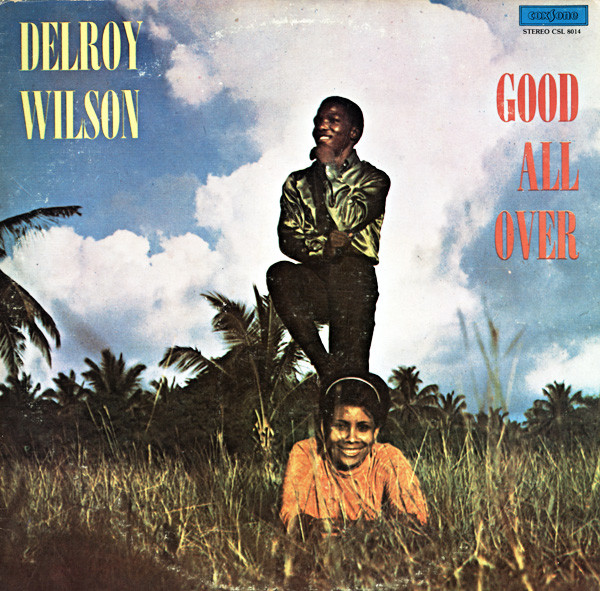 Originally issued on Coxsone Records in 1969. Reissued on United Artists in 1976 with a different cover.
"Rain From The Skies"
(What a soulful song and Delroy was only 20 years old!)
"Who Cares"
"I'm Not a King"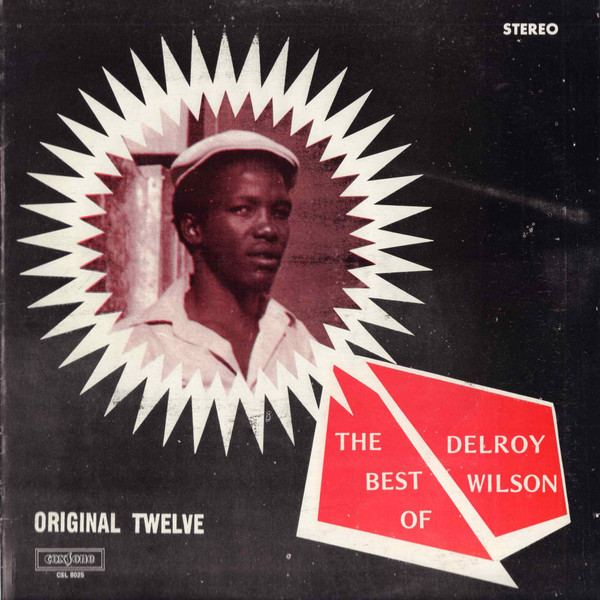 Originally issued on Coxsone Records in 1972
"Impossible"
(Right between ska and rock steady)
"Riding For a Fall"
"Conquer Me"

DERRICK HARRIOTT
Harriott (b. 1948) had a long career as a singer and producer, starting out singing in a doo-wop style with his group, The Jiving Juniors, in late 1950's Jamaica. He emigrated to America at one point and some of the Jiving Juniors tracks were recorded in New York. In 1962 Harriott began a career as a solo singer and producer, responsible in the rock steady years for excellent recordings by Keith & Tex, Rudy Mills, and The Kingstonians. He continued singing and producing with much success into the reggae years.
For his songs and production look no further than Rock Steady Party with five songs by Harriott and his productions of Keith & Tex, Lloyd & Glen, Bobby Ellis and The Desmond Seven, and Lynn Taitt and The Desmond Seven. The original pressing on his own Crystal Records label from 1967 is impossible to find but there have been a few repressings. In 2016 Crystal/Dub Store Records issued it on both vinyl and CD; the former can be bought on Discogs starting at $32, the later at under $20. In 2006 Trojan Records issued a CD compilation that added to the original's twelve, eight tracks, including the top flight Keith's & Tex's "Stop That Train," Rudy Mills' "Long Story" and Derrick's "Solomon." Priced in the $30 range on Discogs.
Originally issued on Crystal Records in 1967.
"Walk The Streets"
"Home Home Home"
"The Loser"

SLIM SMITH
I've saved the best for last in our rock steady survey of singers. Slim Smith (b. Keith Smith 1948-1973) was born in Kingston, Jamaica, with his first public exposure being at informal Friday night cutting contests among singers at a shantytown called Back-A-Wall. Ken Boothe, then in elementary school, recalls," I used to go to Back-A-Wall where I can remember people like the Blues Busters and Higgs & Wilson (Joe Higgs and Roy Wilson.) These guys were older than us. So when we sing, if we don't hear something from them, a compliment, then we didn't feel like singing. Even Bob Marley, the first time I see him was at Back-A-Wall. He just come from country. Everyone was just young and pursuing the music."
Smith first gained prominence as a member of The Victors Youth Band, which in 1964 won the "Ska & Mod" contest at the West Kingston and Jamaica Festival. He later became a member of The Techniques and Uniques, both scoring many hits with the island's record buying public. Smith also had a solo career in the rock steady and reggae years. With his soulful and passionate high pitched voice, reminiscent of Curtis Mayfield's, he scored big with everyone, especially the women.
Smith was plagued by emotional problems toward the end of his life, due perhaps to the way he was treated by various record producers or possibly his difficult relationships with women; it's hard to say definitively. He wore his heart on his sleeve in his songs. You can certainly hear it in his voice and in the lyrics, and this raw nakedness was easily compromised. Smith spent a period in Jamaica's Bellview Sanatorium to recover. He was still living with his parents (he was only 23 years old) when late one night he tried to get into his house but the door was locked. In a rage, possibly fueled by alcohol, he put his arm through a plate glass window, severing an artery. He bled to death before any help arrived. Jamaica had lost a talent of the highest magnitude.
We will return to Smith as lead singer of The Uniques in The Groups, part 2b of this survey.
The lone album that collects many of his solo rock steady songs is Born To Love from 1979. Discogs shows three NM first pressing, all in the $300 range. If you have the money and trust the seller, you'll have a prized album. Believe me, I wish I owned it; I would never stop playing it. Discogs lists eight other vinyl versions of this LP with prices and conditions all over the place and with no issue dates given. IMO your best bet is a CD from 1991 I own on Heartbeat that sounds quite good transferred from the master tapes. It's cheap on Discogs with one copy selling for under $10.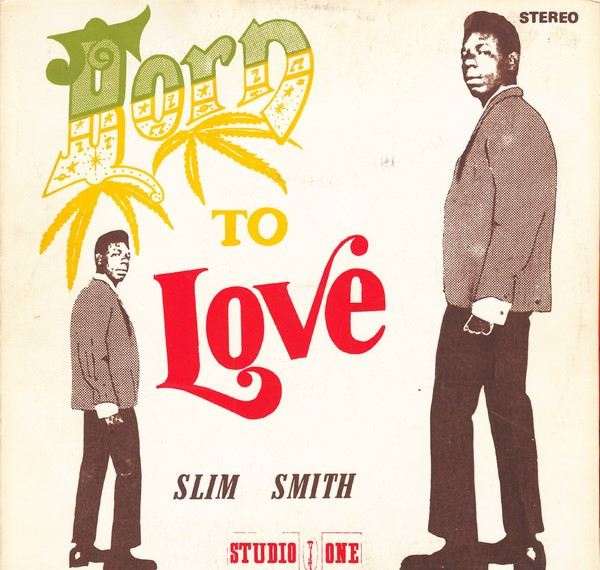 Originally issued in 1979 on Studio One
"Born To Love"
"Rougher Yet"
"You Don't Care"(With the Gaylads, my favorite rock steady group, providing the backing harmony.)
Recommended albums and CD's in this article.
| | |
| --- | --- |
| ALTON ELLIS | Mr. Soul Of Jamaica |
| | Sings Rock & Soul |
| PRINCE BUSTER | Fabulous Greatest Hits |
| DERRICK MORGAN | Do The Beng Beng! -- Sings Rock Steady & Early Reggae 1967-1968 |
| HOPETON LEWIS | "Take It Easy" With The "Rock Steady" Beat |
| DESMOND DEKKER | Action! |
| KEN BOOTHE | Mr. Rock Steady |
| PHYLLIS DILLON | One Life To Live |
| | Love Is All I Had |
| DELROY WILSON |  Good All Over |
| | The Best Of Delroy Wilson (The Original Twelve) |
| DERRICK HARRIOTT | Rock Steady Party |
| SLIM SMITH |  Born To Love |