How Best to Hear Patricia Barber's "Clique!"
some Tracking Angle readers might be surprised
Patricia Barber albums take up a lot of shelf space real estate here. Over the years her many albums have been issued and reissued on vinyl with every reissue sounding better than the previous one, though of course Jim Anderson recorded all of them digitally. Nightclub was recorded to 3348 multi-track and mixed through a Neve analog desk to both digital and analog mix down masters. Anderson said in an email that "....we've always run digital and analogue on the mix, but not on the multitrack."
Split, her 1989 debut had an Alto-Analogue issue (Alto-Analogue was a Germany-based label) mastered by Kevin Gray at his old AcousTech mastering and pressed at RTI—though the liner annotation says Stan Ricker mastered. That tradition carried through to Clique! , which on the jacket says Bernie Grundman mastered but the inner groove area says Scott Hull at Masterdisk.
Premonition did a series of single LPs licensed to Music Direct and mastered by Greg Calbi at Masterdisc (sic), back when he'd left Sterling Sound for a few years. Modern Cool says "directly from the analog master tapes" (which of course began as a digital recording), one says "mastered directly from the session source material", which of course also were digital. A later set of four (café blue, modern cool, companion and nightclub), spread the tunes onto two LPs packaged in deluxe laminated tip-on gatefold packaging, with mastering by Doug Sax at The Mastering Lab in the credits, and in some cases by Bob Ludwig "from the original master tapes" and then mastered for vinyl by Doug Sax. All were pressed at RTI.
Premonition's Michael Friedman sent them, along with this note: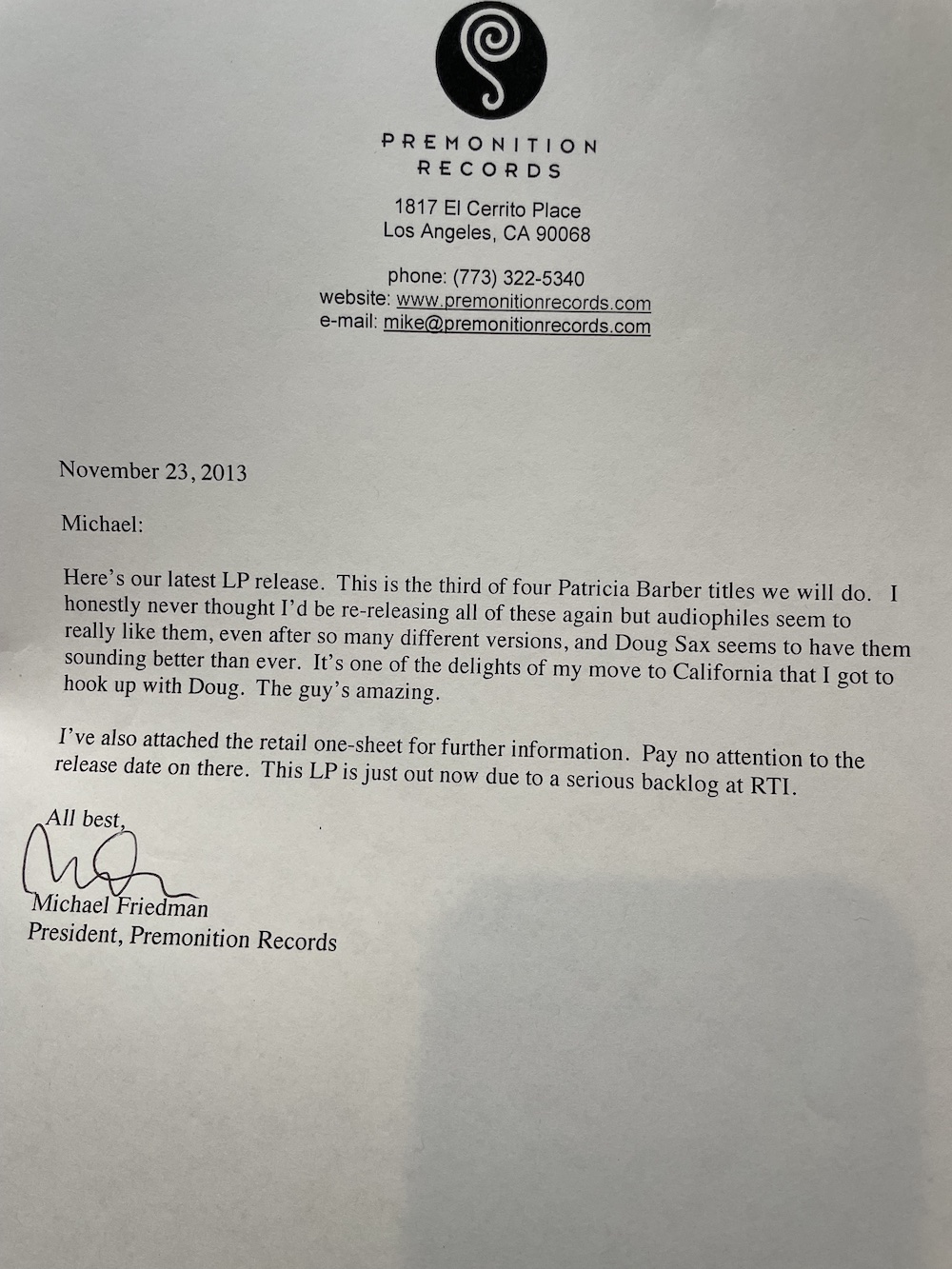 Yes, audiophiles do seem to really like Patricia Barber and her albums! So do non-audiophiles. And Doug Sax did make them sound better than ever. And note the "serious backlog at RTI" ten years ago!
Mobile Fidelity also did a series mastered at 45 rpm, cut by Paul Stubblebine. Interestingly, though there were analog tape mixdowns available, Mo-Fi's notation says "originally mastered at 24 bit resolution from analog sources by ALLAN TUCKER". In other words, instead of using the analog tape mix down from digital, the label chose a digital transfer.
So yes, there are many versions of these Patricia Barber albums available. In fact, yet another edition of nightclub arrived today, this one a double LP set cut at 45rpm by Bernie Grundman using the original analog tape and pressed using the 1 Step process on Neotech VR900 SUPREME vinyl. It's packed in a handsome slipcase in a limited to 7500 copies edition.
But back to Clique!. It's available as a handsomely packaged double 180 LP set, as well as on CD and SACD editions. The SACD includes a surround mix. Both the CD and SACD editions are also MQA encoded, which means if you transfer the CD files onto a computer and load it into Roon or Audirvana, when you stream it from your drive if your DAC does MQA it will unfold the original 384/24 bit DXD "master file". In other words you get the "master tape"! Not a copy of the master, not a third generation of the master, but the master.
So as good as the vinyl sounds cut by Scott Hull at Masterdisk, it only sounds great until you hear the MQA edition through a good DAC. The DXD file sounds better than the disc's DSD layer: cleaner transients, greater transparency, etc. I didn't het play the surround mix but I will.
Is this Jim Anderson's best sounding Barber album yet? I don't like to dance on the head of a superlative so let's just say it's a "you are there" recording. If you're used to the vinyl edition and then hear the DXD version, you'll know from the opening bass line of Lee Hazelwood's "This Town" that this version is in another class. Barber's voice sounds "sweet" on the LP. She sounds eerily in your room on the master file. There's a serious uptick in overall transparency and macrodynamic detail and resolution.
The album's been reviewed all over the place so I'm not going to do that other than to write that if you like Patricia Barber you'll love this album of well chosen and interpreted standards with Barber backed by a trio of sympathetic musical souls. The tunes are "One Note Samba", "I Could Have Danced All Night", "The In Crowd", "Shall We Dance?" "All in Love is Fair" and a freeform interpretation of Monk's "Straight No Chaser". I wasn't familiar with Alec Wilder's "Trouble is a Man". Maybe you are. There is also an instrumental original called "Mashup".
Jim Anderson has co-poduced and engineered all of Barber's albums. All of them sound great but this one and Higher! the previous release from the same sessions are, as annotator and self-admitted Barber cult member says, among Anderson's best recorded efforts and among the best sounding albums you can add to your collection. The sound of Neal Alger's guitar alone should knock you back in your seat. The same is true of Barber's performances. Her "One Note Samba", which she sings in Portuguese as a languid meditation is a highlight.
P.S.: There are many reasons who digital files can sound better on vinyl and why the mixed to analog digital multitrack recordings can as well. However, when you can have delivered to your system the actual master file, there's no arguing with it conceptually or by the hair raising sound it delivers.