Intervention Reissues the Short But "Fantastic Expedition of Dillard & Clark"
it's never sounded better than this!
It runs less than 1/2 hour but "The Fantastic Expedition of Dillard & Clark" is worth its weight in choose your favorite precious whatever. Crazy magic happened in the "small, lonely L.A. studio" A&M's Bob Garcia describes in the liner notes. Obviously the small budget or a previous booking didn't allow Gene Clark, Doug Dillard, Bernie Leadon, Chris Hillman and the others to record at the big A&M Studio, but no matter, A&M's engineer Dick Bogert, late of RCA, was at the board.
"A country's heritage kept pure and acoustic" Garcia describes the music in his fanciful notes. Clark exited The Byrds two years earlier, the pressures of fame and fear of flying had gotten to him. While in The Byrds he wrote the most memorable songs. The ones that leave an indelible mark on his and future generations: "I'll Feel a Whole Lot Better", "The World Turns All Around Her", "She Don't Care About Time", "Set You Free This Time" and of course "Eight Miles High" among others. He made the song writing money and that fueled resentment that also led to his exit.
He signed to Columbia, release an album with the Gosdin Brothers (also in need of a good AAA reissue), that didn't sell, so he rejoined The Byrds for a few weeks and then quit again. In 1968 A&M signed him and he began his collaboration with banjo player Doug Dillard. The two were joined by Bernie Leadon who of course went on to join The Eagles, which recorded on its first album the Clark-Leadon composition "Train Leaves Here This Mornin' first heard on this record, plus Don Beck on Dobro and Mandolin, and David Jackson on string bass. Andy Belling adds electric harpsichord on a few tracks and The Byrds' Chris Hillman guests on mandolin on a few tunes. Linda Ronstadt covered on Silk Purse "She Darked The Sun", also first heard here.
The album defined acoustic country/rock but more to the point it's a perfect record from start to finish. By perfect I mean you don't want it to end and when it does you want to play it repeatedly, which speaking first person, I've been doing since 1968 and living it every play. Clark's voice of course is a never ending miracle of heartache and pain, regret and optimism. Clark either co-wrote or had a hand in every song but "Get It On Brother" by Lester Flatt and they are either mournfully sad like the opener "Out on the Side" (who opens an album with a downer that's addicting?) followed by "She Darked The Sun"—another less than chippy tune. The lighthearted "Don't Come Rollin" ups the mood and before you know it the "Train Leaves Here This Morning" and the side ends!
Side two ends as side one begins with two wonderful downers, one metaphysical "In the Plan" and and one the usual heartache. Wallowing has never been so wonderful!
I've been playing this one for fifty four years (!) and not only does this reissue sound better than the original and the two reissues, one by Sundazed and one a Mo-Fi CD from years ago also containing the group's second and more bluegrass-y record (there was also an unpleasant sounding reissue of that one on Edsel in the U.K. that screams DIGITAL) and I'm hearing things now I never heard before on the original. Andy Belling's electric harpsichord on "The Radio Song" occasionally sneaks out front from the mix on the original but here it weaves its way throughout the song and all of the various string instruments throughout are placed on the musical table so cleanly and clearly it's kind of like finally hearing for the first time after all of these years what all of the pickers are doing —not that the original is anything other than also really fine sounding...just not like this!
The bass lines are cleaner and dig deeper and the vocal harmonies are laid out more cleanly than ever and with greater authority. If you are familiar with this record you'll be astonished. I'm not kidding. Listen to the harmonies at the end of "Get it On". You've never heard them expressed like they are here.
Speaking of all the A&M tapes burning up in the Universal fire, well what do you know? Here's the master tape of this record used by Kevin Gray to cut here: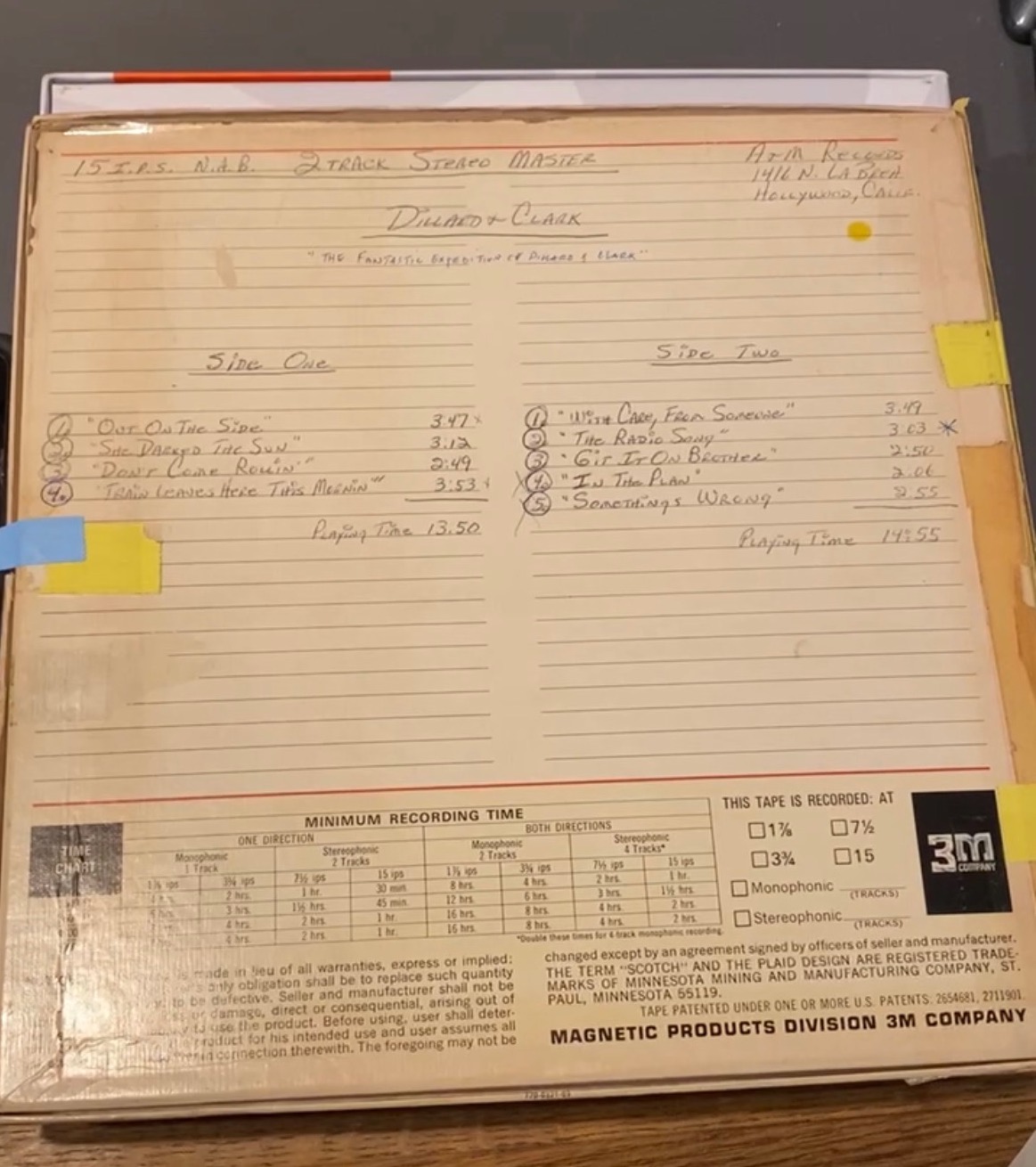 praise to Kevin, not just the tape for doing whatever he did to produce this sonic magic. And let's not leave out plating master Dorin Sauerbier at RTI who plated this one and finally there's a perfect pressing done at Gotta Groove Records in Cleveland, Ohio. Oh, I left out the laminated "Tip on" jacket I assume from Stoughton Press. Looks and feels great and Gotta Groove puts the record in the best rice paper inner.
If you are a Byrds fan or a Gene fan and don't know this one, do yourself a big favor and pick this one up. It's 30 minutes of musical magic. Oh, and thanks to Intervention for intervening!