It's a great, big 'Vacant World'
Mesh-Key records and Kevin Gray ressurect an obscure 60s psych classic
In 1966 The Beatles came to Japan, playing the 15,000-seat Nippon Budokan in Tokyo, firmly planting the flag of western rock and roll in the island nation.  What followed were a series of Beatles and Rolling Stones-esq copycat bands, often assembled by various record labels, playing everything from covers of American blues hits, to sparkly pop ballads written by in-house composers supplied by the record label.  As the Japanese had difficulty pronouncing the term 'Rock and Roll', eventually someone came up with an alternative term; 'Group Sounds', which stuck.  The late 60s in Japan were dominated by these 'Group Sounds' bands, notable groups like The Tigers, The Tempters, The Spiders, and The Mops gained a huge following with Japanese postwar youth.
Out of this heavily commercialized scene of the late 1960s, emerged an upstart group known as Jacks.  Originally formed as a drummerless folk trio known as Nightengale, they were fronted by the dark and mysterious Yoshio Hayakawa who had a penchant for all-black clothing and dark sunglasses.  Eventually switching to electric instruments, their sound was dark and brooding, far too wild for the folk scene, and too angst ridden and melancholic for the preppy Group Sounds scene.  They were in many ways, musical outliers.  The addition of Jazz drummer Takasuke Kida to the lineup solidified their experimental sound, taking fuzzed-out rock and roll into semi improvisatory climaxes of swinging free jazz.
The commercial lifespan of Jacks was relatively short, only lasting from 1967-1969 and comprising two LPs, of which the first, 1968's Vacant World, would become one of the most influential rock albums in the country's history.  Vacant World is an album completely unlike anything released in Japan at that time, it is heavy and chaotic, but also spacious and brooding.  Hayakawa would bring basic songs into the studio and encourage improvised jam sessions on the material until a recording emerged.
Vacant World wafts back and forth between swinging rock jams, and existential ballads featuring Brian Jones-esq instrumentation such as vibraphone on the beautiful "Stop the Clock", organ on "500 Miles From the Sky", and various smatterings of flute played by drummer Kida.  One of the highlights for me is "Gloomy Flower", which contains shrieked vocals that would make Iggy Pop blush, and searing lead guitar lines by Haruo Mizuhashi. The opening of side B, "Love Generation", has one of the best chorus hooks, and serves as an anthem to Jacks outsider aesthetic, while Kida's drumming sounds explosive in a way that foreshadowed the coming punk rock rapture. I don't speak a word of Japanese, but I've been assured that the lyrics on Vacant World match the gloomy existentialism of the sonic aesthetic.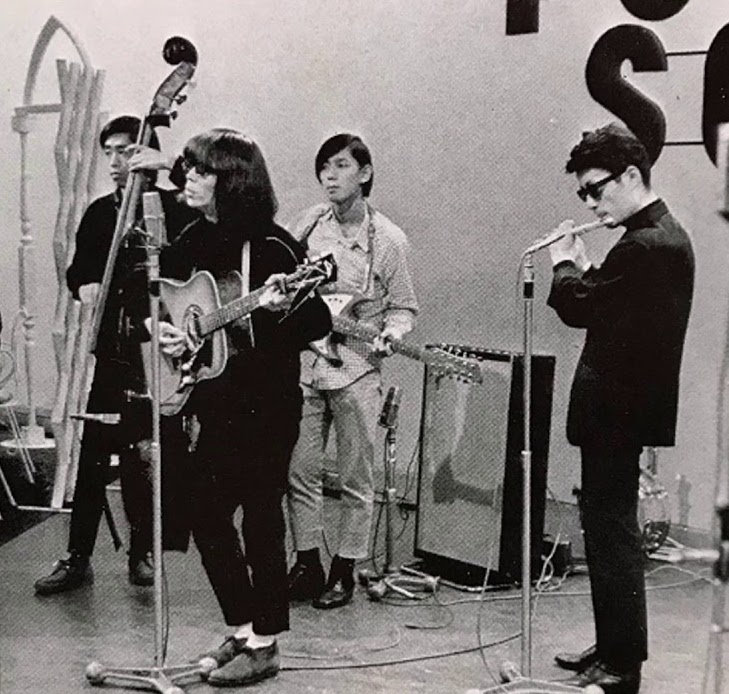 Vacant World has, since its 1968 release on Express Records, achieved cult status among not only the Japanese Rock industry, but among worldwide psychedelic rock collectors.  Thus, the original red vinyl pressing commands a pretty penny.  My 1976 Express Records repress however, sounds very good.  Vacant World is not an audiophile recording, but it's no slouch, and possesses that minimalist 60s sound that reminds you of a good Decca Stones record.  The last official LP issue of this album was in 1996, although low quality bootlegs have been in and out of print for the last few years.
Imagine my surprise then, when I heard that NYC-based indie label Mesh-Key Records was releasing this psych gem, featuring a press release that claimed "remastered from the original analog tapes".  I reached out to the label to get a little more info and learned that while this would not be a AAA release, they did manage to get high resolution scans of the original master tape housed in Japan (they claim originally the label wanted to send them CD masters), and had the files mastered for vinyl by none other than Kevin Gray at Cohearent Audio.  Further, the reissue would be housed in a glossy, tip-on Stoughton Jacket and pressed by Gotta Groove records in Cleveland.
Needless to say my expectations for this reissue were high, but upon arrival this record did not disappoint.  Tonally, my 1976 pressing and the new reissue are quite similar, but there is a noticeable increase in dynamics and also in bass definition.  For much of this record, bassist Hitoshi Tanino plays an upright double bass, and on this new Kevin Gray mastered reissue, that bass is far more full bodied and distinct than on my 1976 pressing.  The vibraphone now has that jarring metallic attack that I'm so used to hearing on my Bobby Hutcherson Tone Poet releases, with plenty of reverberation and decay.  The dynamic headroom on this new version allows the chaotic climaxes of Vacant World to swing for the fences, and the album feels much more live and present because of it. 
 If you are a fan of off-kilter 60s garage psych and/or art rock, and you haven't yet heard Vacant World, often dubbed by internet commentators as Japan's answer to the Velvet Underground, you absolutely need to experience this record, and now that it's available as an archival-grade audiophile pressing, you have no excuse.  According to Mesh-Key, this first run is limited to 1,000, so grab a copy while you can.